Local Play Explores Morality Of Desperate Choices
Friday October 14th, 2022, 9:00am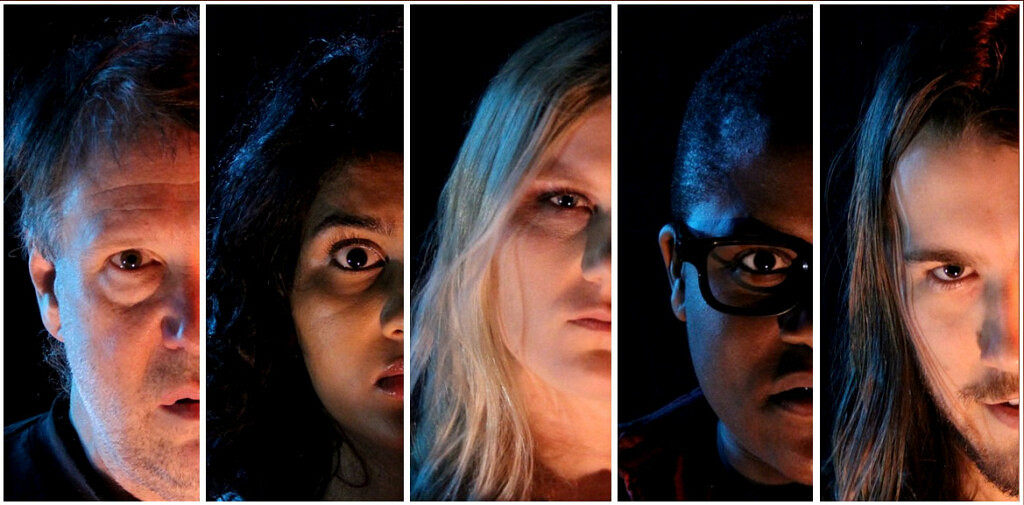 Giving the phrase new meaning, a Windsor play is showing how desperate times call for desperate measures.
Currently being performed at Shadowbox Theatre (located at 103b – 1501 Howard Avenue,) Jonathan Tessier's Stuck is in the middle of a three week run. Co-winner of Post Productions' 2021 Windsor-Essex playwriting contest, it's only the latest success to come from the competition.
As a result, Post was able to ensure the production made sense in tone and scope.
"Although I can't speak for the playwrights, for us one useful consequence of the feedback process is that we're able to suggest changes that would make the play not only fit the Post Productions brand but also make it easier to produce," said director/producer, Michael K. Potter. "Generally – that's 'less expensive and complicated to produce.' A play that requires a small budget and four actors is likelier to be produced than a play that requires a large budget and thirty-five actors."
In Stuck, – Joey (Luke Boughner,) Zack (Ezra Poku-Christian,) Selena (Rebecca S. Mickle) and Kaitlyn (Camryn Kingsley) are four long time friends grappling with morals while trying to survive. After Joey brings home a briefcase of cocaine from an alley, Markus (Joey Ouellette) arrives looking for it. This pushes each character to make hard choices and accept the consequences that follow.
In the context of 20-somethings entering adulthood while influenced by the gig economy, inflation, unaffordable rent and instability, it takes place when morals may shift due to desperation. Because of this, bad decisions get made and ultimately fuel the thriller's major conflicts.
In developing the script, Tessier found Stuck's core message through contest feedback. Receiving a note that his script needed a theme or larger point, this pushed the Windsor native to ask himself why the story was important to tell. Examining what made him excited about it, Tessier came up with the idea of a struggling young person who might do whatever it took to survive.
It then became a central desire that made Stuck feel realistic to the playwright.
"The story has a lot to do with greed," said Tessier when discussing his script last year. "The way greed can control our lives, the decisions we make and also how our society is constantly fueling that lust for greed. It's also about friendship and how it deteriorates over time. I like to think of the script almost as a dark and more accurate version of the sitcom 'Friends.'"
Becoming a co-winner of Post's contest, production began with a conversation between company partners Potter, Fay Lynn and the playwright. It focused on Potter's vision as director and compatibility with how Tessier wanted his work presented.
Logistical issues, along with how involved the co-winner wanted to be in the audition and rehearsal process were also sorted out. From there, pre-production mainly involved the two partners brainstorming what they wanted and couldn't do while figuring out possible expenses.
Auditions for Stuck were held on June 19 with rehearsals beginning later that month. A unique entry into their catalogue, the production marks Post's first to focus on a group of 20-somethings. As a result, many new faces turned up to the auditions and ultimately ended up working with the company.
Even so, the actors who were ultimately chosen stood out above the rest.
"We recognized immediately that [Boughner] was the best choice to play Joey," said Potter. "Joey is a consistently unlikeable character, but Boughner added a playful charm that will keep the audience interested in what happens to him. [Kingsley] really stood out in her audition for Kaitlyn, because she projects a natural innocence without coming across as unintelligent. We actually considered [Poku-Christian] for three of the roles before deciding in consultation with Tessier that they were best suited to play Zack. He's the closest thing Stuck has to a principled character with a strong conscience."
Post veterans Mickle and Ouellette round out the cast as Selena and Markus, respectively. The former brings out an old soul and cynicism in a 20 something's body. Meanwhile, the latter plays a character who is unexpectedly menacing even when silent.
Taking part in auditions, Tessier was happy with their choices and enjoyed the experience.
"The audition process was a lot of fun," he said. "I had never been on the deciding side of an audition before, so it was interesting to see things from that perspective. We had a lot of great actors come out for the roles and I think we really hit the nail on the head with the people we ultimately ended up casting."
With three hour rehearsals, actors then came together three times a week. From the first script reading, they began adding possibilities and psychological dynamics to their specific roles. Interpreting the script from personal life experience, everyone began adapting to each other, coming up with new ideas, motivations and implications.
Beyond learning the play, it allowed the entire production to be sculpted into shape.
"It's always a living and changing dialogue between the actors, the script, the director and even the set design and props," said Potter. "All these combinations affect how the play develops into its final production. Often, after having experimented with different possibilities for several months, we discover who the characters really are and why they're really doing what they're doing in the final week leading up to opening night."
Post encourages actors to think hard about who their characters are and where they came from. Having a history can often help to inform choices made on stage. As an example, Boughner and Mickle decided from the start that their characters had been romantically involved. This informed their entire stage dynamic throughout rehearsals and in front of live audiences.
Fleshing characters out is also crucial when not all of them are likeable.
"I think the idea that characters have to be likeable is a mistake," said Potter. "Characters don't have to be likeable, they have to be engaging and understandable. When a story features characters who are generally unlikeable, people you probably wouldn't want to spend time with in real life, it's especially important that the audience is able to understand why they're doing what they're doing. For example, consider William H. Macy's character in the movie Fargo, Jerry Lundegaard. He's awkward, dishonest, selfish, greedy, indifferent towards his family's wellbeing, self-obsessed and petty. Yet he's thoroughly engaging. One reason for that is that Macy is an excellent actor. But a lot has to do with the script; even though we all hope we would never act the way Lundegaard does, at each step we understand why he makes the choices he makes."
Although he uses it as an example, the director admits film showcases suspense quite differently. As Post's first straight forward thriller, the company had to use other techniques to create this feeling instead. While movies rely on short cuts, fast edits and camera tricks to obscure an image for the purpose of surprise, Post mounts tension in most shows. Constructing a sense of unease and ambiguity, they build on it from there to pull audiences in. This intensifies feelings of danger and compassion for characters.
Staging an intimate show can help with this as well.
"Live theatre has the advantage of being immediate, visceral and present," said Potter. "Especially in an intimate black box theatre like The Shadowbox. There's less voyeurism in our kind of theatre; the audience is very close to the actors and action. That means it's easy to get caught up in the story and invested in the characters. These could be scenes playing out right in front of you in your own life."
One thing both mediums have in common however is using music to create suspense. Working with Adrian Deschamps and Shane Trowbridge for the first time on Stuck, this production is no different.
Meeting after a performance of Blasted in fall 2021, the play was Deschamps' first. Instead of being scared off by its mature content, the musician returned a second time. He and Trowbridge developed an easy going friendship with Post afterwards, which ultimately led to them working on Stuck.
Attending September rehearsals, both frequently provided new ideas. Creating different adaptations and new compositions, it allowed Post to experiment and kept the collaboration relaxed. Focusing on artistic and commercial success, the team were receptive to feedback and always offered more than one piece of music for specific parts of the play.
It also took this element into a direction Post hadn't experienced before.
"[Deschamps and Trowbridge] have created music that is ominous, foreboding and often spine-tingling," said Potter. "It's also playful and light-hearted in a way that feel surreal. Their music gives the play a David Lynch sort of vibe that it wouldn't have had otherwise."
With Covid-19 driving financial issues as Tessier wrote Stuck, he thinks it's still relevant today. In a world now dealing with inflation, its themes will also apply to whatever money problems exist in the future.
This reality is something echoed by the director as well.
"The situation that these characters are in will be familiar to most Canadians between the ages of 18 and 30," said Potter. "Almost no one has a stable job, a job with any prospect of advancement, any sense that they're developing an identity or a career with their labour. They exist in a world of demoralizing part-time jobs and a gig-economy that prioritizes immediacy and convenience over human wellbeing. They live in a world of rapid inflation in which even the basic necessities of life have become unaffordable. Let's put it in a broader context. Their futures are likely to be defined by environmental catastrophe that could threaten the survival of their entire species. What do they have to look forward to? If you don't believe you'll have a future, how might that affect the choices you make in the present?"
From those questions, Potter hopes audiences ask themselves what they'd do in similar situations. In addition, the producer wants people to discuss who was in the right or how their choices were limited by surrounding circumstances. In his view, there's a lot to dissect.
Despite revolving around a grim situation, the show's firsts still make Potter optimistic for the future.
"It's the first play we've produced that focuses on young adults," he said. "It's the first straightforward thriller that we've ever produced. It's our first time working with [Tessier,] a promising young playwright who won the 2021 Windsor-Essex Playwriting Contest. It's our first collaboration with composers/musicians [Deschamps] and [Trowbridge,] two promising young artists. It's also our first time working with [Poku-Christian] and [Kingsley] as actors …Given all these firsts there's a feeling of vitality and freshness in this production that's quite exciting, honestly. Especially as our industry slowly crawls out of a very difficult period. Although I hate the word, it's inspiring to work with so many young artists who are already gifted at their crafts and clearly poised for bright futures in the arts."
Given Stuck's success, Post hopes to work with Tessier again. Wanting to collaborate with him since the first year of their contest, Potter is already interested in a script he's writing. Titled Shooter, Tessier's work-in-progress is about a young man who is interrogated after executing an attack on his high school.
Finishing the year, Post will soon stage the other co-winner of their 2021 playwriting contest. Opening on November 18, Pirate Attack on the 1C Bus Going Downtown will be performed eight times until December 3. Written by Ouellette, the comedy approaches some of Stuck's themes from an entirely different perspective. For one, it definitely doesn't involve cocaine.
In Potter's opinion, it's also a perfect fit for the season.
"It's a completely different kind of play from Stuck, though it shares Stuck's simmering rage against the injustices society allows to persist," he said. "While Stuck is very much an autumn play, a story about decay and decline, Pirate Attack on the 1C Bus Going Downtown is a winter play and even a holiday play. It doesn't accept the frigid cruelty of the present as a given but rather a stopping point on the way to something better. It ends our 2022 season with a spirit of resolve, dignity, and hope."
Presented in association with Waawiiyaatanong Feminist Theatre, Remaining performances of Stuck will take place at Shadowbox Theatre on October 13, 14 and 15. Tickets are $25 each and can be purchased online or at the door if still available. All shows start at 8 p.m. with doors opening a half-an-hour before.
In the end, the director thinks theatre-goers will come away with something to consider as they examine each character.
"I hope audiences will reflect on the morality of theft and whether or not it is justified in certain situations," said Tessier. "I believe characters can still be redeemable after doing bad things as long as you give a fair justification for their faults. Audiences may not agree with what a certain character does, but as long as you're showing the reasoning behind their actions, most people will feel empathetic toward them."
Content Continues Below Local Sponsor Message
Content Continues Below Local Sponsor Message
Content Continues Below Local Sponsor Message