Rare Performance Of Controversial Play Coming To Windsor-Essex
Tuesday September 28th, 2021, 11:00am
Hello time traveller!!
This article is 615 days old.
The information listed below is likely outdated and has been preserved for archival purposes.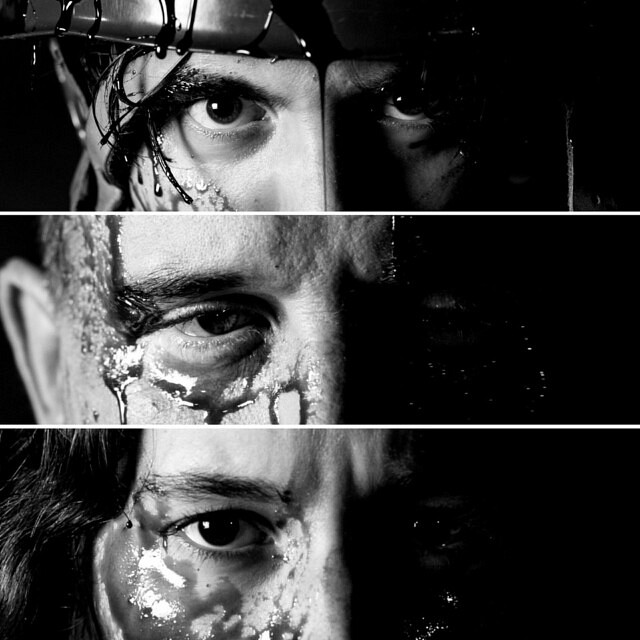 While frequent in Europe, a local theatre group is attempting something rare with their latest show.
Opening at the Shadowbox Theatre (located at 103b – 1501 Howard Avenue) on October 1st, Post Productions will present Sarah Kane's Blasted. A controversial 20th century play, the piece isn't often performed in front of Canadian audiences: Counting this run, it's only been staged by four theatre groups in the country.
Although it may seem like an odd choice as a result, the production is well known to those in theatre.
"Blasted is a famous and notorious play in the theatre world," said director and producer Michael K. Potter. "It's widely taught and studied in universities, there's a fair amount of scholarship devoted to it and it's credited for waking up the world of theatre when it premiered in 1995 – a time when British theatre in particular was kind of moribund, stale and safe. Outside of the theatre world most people haven't heard of it because it's rarely performed outside of continental Europe. I've heard from theatre professionals in the UK saying they want to come to Canada to see our production because it isn't produced there."
Given how rare it is, even those at Post hadn't read the script until 2019. Seeing beyond its controversy, everyone involved was instantly excited to produce the show. Not shying away from risk-taking entertainment in the past, Blasted fit the group's sensibilities perfectly.
In the play, Ian arranges a rendezvous with Kate at an upscale hotel in Leeds to rekindle their years-old relationship. As the middle-aged man and young woman meet, war is coming from an unknown enemy until a soldier enters their room. From there, all assumptions are blasted to pieces.
Described by Potter as "an absolute beast," the show has required cast and crew to bring their very best. It turns out that such dedication extended beyond the stage as well.
"Even obtaining the license to produce Blasted was a challenge," said the director. "Before we could apply for the licence, we had to get permission from [Kane's] estate. They're quite protective of the script. So I wrote a pitch, explaining how I understood the play, my vision for the production, how we would handle the material and so forth. I guess I convinced them Post Productions is the right horse to bet on. They gave us permission to apply for the license in late 2019, at which point I plunged headfirst into the material."
Handling the subject matter with care shouldn't come as a surprise either. Upon its debut, the play was misunderstood, panned by critics and created a public scandal. Accused of trying to shock audiences, the production didn't receive widespread acclaim until years after its premiere.
Given the play's complexity, many overlooked its several nuances.
"[Blasted] is about a lot of things," said Potter. "It's about how the political violence of the public world is mirrored in the domestic violence of the private world, how these kinds of violence are only different in scale, not in kind. It's about the cycle of victimization that leads victims to become perpetrators, always creating more victims and thus more perpetrators. It's about how each of us is a victim, a bystander and a perpetrator, though we don't like to acknowledge that. It's about how love, sex and violence are often intertwined and inextricable. It's about how we crave power out of fear, power that is more fragile than we'd like. it's about the different ways people are affected by trauma, but mostly it's about how the only way forward is through compassion, mercy and kindness — Especially when those qualities are hardest for us to summon."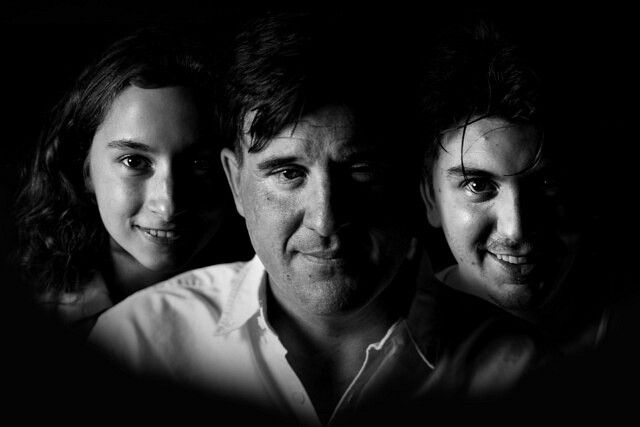 Casting the right actors became crucial to telling such a delicate narrative. Requiring skill, intelligence and trust in one another to present these heavy themes, all three roles were challenging. Because of this, Potter and assistant director Fay Lynn skipped auditions all together and precast the show.
Feeling it would be cowardly not to do what he asked of others, Potter decided to play Ian. From there, Julia Pastorius and Nicholas Prsa were the only actors considered by partners Potter, Lynn and Michael O'Reilly to portray Kate and the soldier respectively.
While looking forward to stepping on stage, the moment will be bittersweet for the director however.
"I decided that Ian would be my last role onstage and that I'd use the role to really lean into the problems that make acting so difficult for me now," he said. "Namely that I'm a blind double amputee. I can't say with certainty that I'll never act onstage again, but the intention is to go out with the most challenging role possible. It's one that forces me to confront a lot of my own fears and do so with as much raw honest vulnerability as possible."
Devoting so much time to his own performance, Potter asked Lynn to be his set of eyes. Knowing his vision, the assistant director also serves another purpose: Given the nature of what takes place to Pastorius' character, Potter wanted to have a woman the actress could talk to about any issues that may arise. Ultimately, Julia Pastorius' mother Cindy came on as stage manager as well.
Keeping the mood light from there, scenes that involved assault, nudity and other mature content were taken slow to ensure no lines were crossed and everyone felt comfortable. Such considerations were a big priority and crucial to everyone's experience.
It's an approach that seemingly worked.
" In all honesty, this has been one of my favourite rehearsal processes I've ever been a part of," said Prsa. "There's only four of us in the room in almost every rehearsal, so we all feel pretty comfortable in our ability to discuss our view on dramaturgy or approaches to our characters. It was clear early on that [Lynn,] [Potter] and Julia take this work very, very seriously and that, in a way, made it easier for me to open up in this way. Open lines of communication for sensitive choreography of the rehearsal process are important, of course, but I feel we've been very effective at making sure we can all have fun at rehearsal as well."
Staying as true to the original as possible, the venue also plays a big role. As Blasted premiered in a 60 seat blackbox theatre, intimacy is key to enhancing all on stage performances. With that in mind, any practical effects are being kept to a minimum. Knowing the audience is in close proximity to the stage, those involved don't want to lessen the impact for anyone by taking them out of it.
After reading several books and articles on the play, consulting others who have studied Kane's work and writing his own thoughts out, Potter can still detach himself from Blasted. Looking at it from multiple points of view, the plot is simple on the surface but also contains many layers.
At its heart, the show delivers a complex but powerful message.
"Kane had a lot to say, some of it bluntly and some of it subtly," said the director. "Blasted has a strong sense of purpose. It's emotionally intense in a way few stories are, where at any given point you feel two or three completely different emotions. You're not sure how you really feel because we aren't accustomed to feeling those things simultaneously. It's also beautifully human. The characters are complex, united by a lonely aching to connect with other human beings."
Although provincial law requires proof-of-vaccination upon entry, Post Productions has been pre-emptive in ensuring the safety of those at the Shadowbox Theatre. In addition to their Covid-19 guidelines, the group jointly decided with Windsor Feminist Theatre that all cast, crew, volunteers and patrons must show proof of full vaccination. Having taken effect on September 1, this will also be enforced moving forward.
Blasted will be performed at the Shadowbox Theatre on October 1, 2, 7, 8, 9, 14, 15 and 16. All shows start at 8 p.m. with doors opening at 7:30. Tickets are $25 each and available exclusively on Post Productions' website. A trailer for the play can also be viewed online.
As far as what audiences can expect beyond that? Actors think it will be surprising to many.
"I like being cheeky and this piece is a total bait-and-switch," said Prsa. "My immediate assumption is that there will be a part of the audience that shows up for the promise of blood and guts – which they're entitled to  – and those audience members are going to be more shocked by Blasted's tenderness than violence and gore. The initial critical reaction in 1995 and its evolution into a modern classic reflects the complexity of the piece; not everything has a clear answer and the entire play revolves around the subversion of expectations. For me, that makes giving Windsor audiences a chance to see this piece even more essential."
&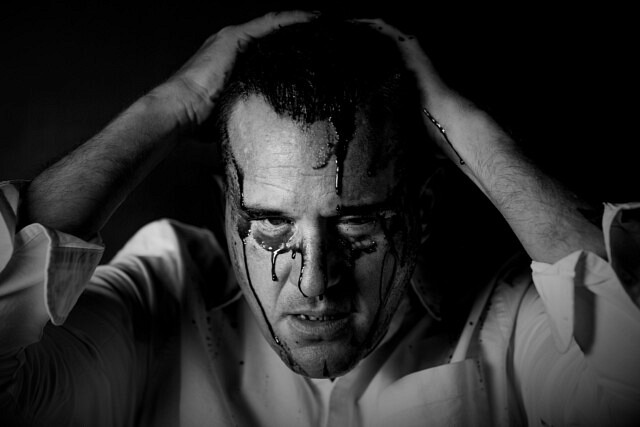 Content Continues Below Local Sponsor Message
Content Continues Below Local Sponsor Message
Content Continues Below Local Sponsor Message