Local Theatre Companies Team-Up To Take Bite Out Of The Absurd
Saturday July 23rd, 2022, 10:08am
Hello time traveller!!
This article is 242 days old.
The information listed below is likely outdated and has been preserved for archival purposes.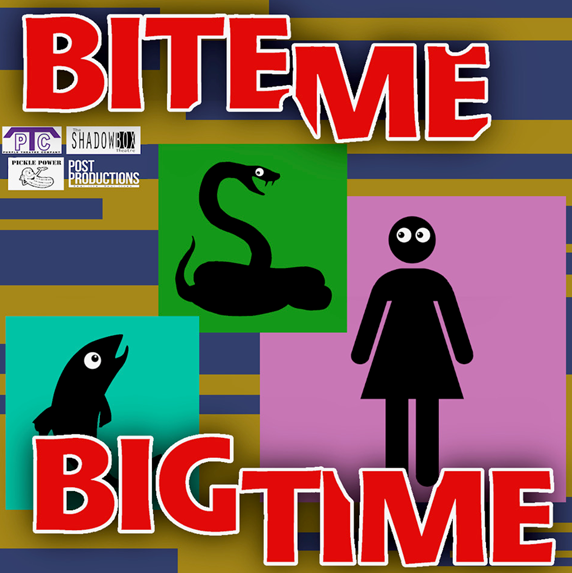 Using animals as a loose thread, local theatre groups are joining up for some laughs.
Opening last week at the Shadowbox Theatre, Post Productions and Purple Theatre Co. are in the middle of Bite Me Big Time's three week run. While it isn't Post's usual fare, the play was put into production on the strength of its script for their 2021 Windsor-Essex Playwriting Contest.
Looking to team with another group, it didn't take long to decide on who to approach.
"The first and only company we thought of co-producing it with was Purple Theatre Co, which is led by [artistic director]Joey Ouellette," said managing director, producer and actor, Michael K. Potter. "Since we first met when he auditioned for Equus in spring 2018, we've worked with him multiple times in multiple different ways. We've developed a lot of mutual trust and respect."
In this series of loosely connected comedy sketches, characters seek therapy for their unusual problems relating to animals. some act like them, others want to be them and some have strange relationships with them.
With such a unique voice however, finding the play's truth was essential to getting things right.
"The tone of Bite Me Big Time is slightly surreal yet somehow also grounded in the reality of human foibles and desires," said Potter. "So to get the tone right we really had to zero in on the truth that underpins the comedy. Human beings often find themselves in situations that make them feel abnormal, even crazy and need help navigating these situations."
Splitting producing duties, Post primarily oversaw that area of the play. Better served to direct because of the show's tone, Ouellette mainly took care of auditions, rehearsals, helping actors find their characters, keeping consistency and giving audiences the best value for their money.
Although both companies took part in casting, Post felt Ouellette should have final say. Even so, Potter and Lynn were unhand as producers and actors during rehearsals: Despite deciding to retire from performances in October, the former came back for the production.
Including Post's two producers, 11 actors are featured as various characters. This makes Bite Me's cast the group's largest since 2018's Another F***ing Christmas PlaY: A F***ing Musical. While it was daunting for those involved at the time, Ouellette's strengths as a director helped make the process easier in this case. Focusing on sketches with a subset of actors at each rehearsal, time was used efficiently and things were more manageable.
At roughly five minutes per sketch, actors also needed to find the truth in each character. Without a first act introduction, they had to be immediately vivid so the crowd could latch on.
Helping to refine their roles, Ouellette ensured everybody connected while being different.
"Certainly the actors had to be openminded because of the outrageous situations their characters found themselves in," said the director. "Did they feel like sharks? Did they mind biting someone? Even though the characters appear only briefly in sketches, they had to be truthful enough to seem real and believable. So the actors had to be openminded, brave and patient as we found our way to the truth in the scenes. I don't think it's that different than a dramatic production; in fact it is a dramatic production that just happens to be funny as well."
Actors also brought their own flare to the show. While little dialogue was changed from the page, usage of words and character movements were all fleshed out in rehearsals. Even fine details such as looks and stage interaction were created collaboratively between actors and the director.
Having the open space to work on ideas took several elements into new directions.
"What's on the page is just the starting point," said Ouellette. "Nuances and quirks brought in by the actors were encouraged and expanded on. The scenes were painted with colours brought in by the actors. Playing off each other made the scenes broader, clearer and more dynamic."
Past the humour, other emotions are explored in relationships with animals. Overlooking their faults, many truths are revealed about each character because of this pure connection. With their own qualities seen in other species, laughs come as universal meanings rise to the surface.
It's also a reminder that humans aren't above sharing the same desires.
"I think human beings tend to forget that they're animals," said Potter. "The biological or zoological world isn't divided into humans and animals; it's all animals. We get a little arrogant and uptight and superior about our species, but all of that is nonsense. Nearly all animals, certainly all mammals, have the same fundamental needs: food, shelter, security, love, companionship and opportunity to name just a few. One theme that nearly all of Post Productions' work has in common is the deep loneliness and longing for connection that all members of our species share. Other species share this with us."
Beyond Bite Me Big Time, Post and Purple Theatre recently announced a partnership to operate out of the Shadowbox Theatre. Sharing a vision of creating art collaboratively, both companies will help each other with casting, resources, promotion and various production elements.
It's something that could only happen due to the trust between both parties.
"From the Purple end, the collaboration concept grew out of an abundance of trust," said Ouellette. "Theatre can be a vulnerable thing; the nurturing and growth of a seed. Post is gentle, supportive and creative – — just what Purple needed to awaken and grow again."
Collaboration is also a big part of the play as it makes local theatre history.
"For the first time in the history of the Windsor-Essex theatre industry, we have leaders of six theatre companies collaborating on and off stage in the same production," said Potter. "Along with [Lynn] and I from Post Productions, [Ouellette] is artistic director of Purple Theatre Company, Rebecca S. Mickle is the new artistic director of Waawiiyaatanong Feminist Theatre (WFT,) Shana Thibert is artistic director of both Revolution Youth Theatre and Rebel Art Productions and Kevin Doak recently resurrected his which has already booked a production at The Shadowbox Theatre next October. This sort of situation is exactly what Post Productions has dreamed about since it was founded."
Starring Mikayla Bondy, Linda Collard, Jennifer Desaulniers, Doak, Lynn, Alyx Magwood, Mickle, Ouellette, Chantel Pare, Potter and Thibert, remaining performances of Bite Me Big Time are set for July 23rd, 28th, 29th and 30th. Tickets are available for $20 online or with cash upon arrival. Shows start at 8 p.m. with doors opening 30 minutes early. It's also presented in association with WFT.
While the subject matter may seem absurd, it's all intended to leave theatre goers laughing.
"[Audiences] can expect to laugh," said Ouellette. "I doubt if people will be offended even though things that sometimes cause offense are touched upon.  It's a hopeful happy show that seeks to find ridiculous answers to the crazy problems of the human psyche."
Content Continues Below Local Sponsor Message
Content Continues Below Local Sponsor Message
Content Continues Below Local Sponsor Message