Theatre Group Shows Off Another F'n Christmas Play
Thursday December 13th, 2018, 7:17pm
Hello time traveller!!
This article is 1637 days old.
The information listed below is likely outdated and has been preserved for archival purposes.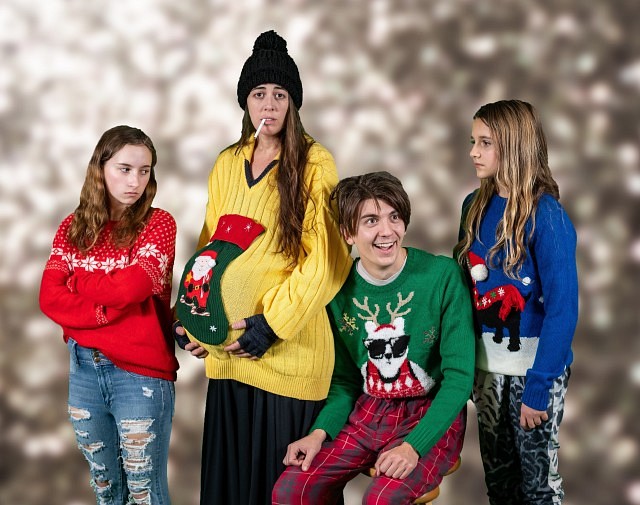 If you're not tired of the usual holiday fare, you'd better make time for Another F'n Christmas Play.
While some may find that crass, it's actually the title of Post Productions' latest show at the Shadowbox Theatre (located at 103B – 1501 Howard Avenue.) Ending its multiple weekend run on Saturday, December 14th, the musical draws from an unusual sense of humour.
Although they've focused more on dramatic fare, those involved are no strangers to comedy either. Did I mention it's also An F'n Musical?
"[Fay Lynn, Michael O'Reilly and I] are comedy fans, though comedy fans with very specific and perhaps even odd tastes," said managing director Michael K. Potter about the three who wrote the play. "We've always added elements of comedy into our dramas. A dramatic moment works best if it follows a comedic moment and vice-versa. In 2017, we wrote and performed a dark comedy called The Worst Thing I Ever Did. It was during the process of working on that when we came up with the idea for Another F'n Christmas Play: An F'n Musical."
Originally a joke by O'Reilly, Lynn and Potter loved the title and thought it should be a play. From there, Potter also jokingly insisted it had to be a musical. Eventually the others agreed and it became a reality.
With a concept in place, things continued to progress from there.
"Once we began discussing ideas for it, the basic structure came together pretty quickly," said Potter. "It would be a loose satire of classic Christmas movies from the 1940s and 1950s, there would need to be a lounge singer and his bitter accompanist as central characters, it would be performed in the pace and style of a farce, it would be an ensemble piece, and it would combine and subvert as many tropes and clichés as we could stuff into it."
Following the misadventures of very different people at Christmas, Another F'n Christmas Play: An F'n Musical takes place at a once elegant resort. Situated in the Colorado mountains, it's been 10 years since an incident destroyed the local economy: Unfortunately, the tourist attraction never recovered.
Still owned and managed by the cross-dressing misanthrope Willie Finch (Potter), with employees Chip Williams (Eric Branget) and Biff Davidson (David Burrows) as its lounge act, the entertainment sings to shrinking and uglier audiences. Several quirky customers still hang out from time to time – including tycoon Marianne Marley (Cindy Pastorius) and her reality-show boyfriend Brody Brosephine (Matt Froese,) along with two local alcoholic Santas, Chris Nichols (O'Reilly) and Sam Klausowitz (Zephyr) who basically live on the premises.
Everything changes when two separate arrivals show up however: Rejected sisters – Noelle (Carla Gyemi) and Yula (Julie Walton) are attempting to reconcile with their estranged famous sister, Holly (Samantha Edwards), whose singing career has fallen on hard times. An impoverished family also enter the resort, after winning a trip in Middle Class Dreams Monthly magazine: Carol O'Pheasant (Lynn) and her three eccentric children, Agnes (Julia Pastorius), Teensy Tim (Nikolas Prsa) and Other (Maria Hausmann). When these clashing personalities meet, secrets get revealed as songs are sung in the process.
Although Potter, Lynn and O'Reilly had written songs before, not having done so for a musical created a challenge. Being more difficult than putting the script together, the songs had to be worked into the play organically instead of feeling like add-ons.
After about a year, they brought in composer/musical director Sam Poole to help.
"[Potter, O'Reilly and Lynn] had lyrics and basic feels for the songs when they approached me in the writing period," he said. "My job was to create accompaniments, taking the lyrics to the next level by attaching a melody, creating vocal arrangements, orchestrations and making the ideas come to life through the thing I know how to do best, music."
Although it was an unusual process for Potter, he admits it was very rewarding.
"[O'Reilly] and I had come up with some songs – a couple of them pretty close to complete, but most of them were fragments and ideas and intimations of various styles and genres," he said. "[Poole] and I took that material and worked on it together in the lobby of the Shadowbox over several months. One of the things that amazed me early on about working with Sam is that I would show him pieces of a song, maybe sing some lyrics to him, and say 'We'd like it to be this particular style' and inarticulately try to explain what I had in mind. Within seconds he'd have a great idea to flesh it out into something real."
Having his own ideas, Poole used different elements to take songs in a more unique or interesting direction. Going back and forth, a demo with Potter singing every part was created before Poole recorded polished demos with his own vocals: This would be used as the basis for the final songs. It was work that Potter found exhausting but fun.
Although Poole assisted with music, the unique production created other challenges. Featuring 14 cast members, Post Productions' biggest, the play wasn't put together like most by the group.
"Obviously the more people involved, the harder it is to get everyone together at once," said Poole. "Scheduling was definitely our top challenge. For music however, I feel that one of the biggest challenges was making the show sound like the Big Broadway Spectacle that it is. The Shadowbox Theatre is a place where patrons do not expect to see something big. However, I feel that we were able to bring the audience to the lost resort while still bringing the spectacle style of Another F'n Christmas Play."
Heading into their final weekend of performances, Post Productions has tightened up the play since beginning at the start of the month. Songs have been described as "musts for dysfunctional family Christmas parties across the land" and even started audience sing-alongs during stage bows.
Given the subject matter of the musical, It's something that surprised Potter.
"It definitely isn't for everyone," he said. "Parts of it are intended to be unsettling, and some of the humour will appeal to some audience members more than others. There is a cynical nihilistic edge to it that will turn some people off. It also has a sweetness and a sincerity that a lot of people find unexpected and disarming. It's all about balance. Honestly, I didn't expect it would be everyone's cup of tea, so I'm surprised by how well it's resonating with audiences."
An original cast recording of the musical's soundtrack has also been released. Now available on CD at Shadowbox Theatre and digital outlets including Spotify, Apple Music, iTunes, Google Play, Amazon and Title, all cast members receive an equal share of revenue to help support local arts.
It's an idea that was born out of the hard work everyone put into the production.
"I suggested to [Poole] that we should record an album for the simple reason that the songs ended up being unexpectedly good," said Potter. "Sam is such an immense talent and his work elevated our contributions to an unexpectedly high level. I wanted everyone in the world to have a chance to hear what he created with our talented cast."
Unique to the soundtrack, all songs have full orchestration as opposed to the musical's piano arrangements. Impressed with the singing talent, Poole wanted to flesh out his songs and put together a group of Windsor's best musicians to pull it off: This includes Sebastian Bachmeier, Austin Di Pietro, Olivia Seal and John Kosty.
"The Original Cast Recording was something very ambitious for me," said Poole. "Our schedules were so tight and we spent two seven hour days in the studio recording. I had two weeks from our first studio session to produce, orchestrate, mix, master and present the album to the cast and crew. Then we had 1 week to get all of the physical copies together for opening night. Somehow, the album came together and I am very proud of it."
Another F'n Christmas Play: An F'n Musical caps off a busy first season at the Shadowbox Theatre for Post Productions. Creating a long streak of hits judging by audience reception, Potter finds it hard to narrow things down when it comes to his favourite production.
"It's hard to choose highlights because I love every one of our productions," said the managing director. "I guess I'd have to say Equus if I were to choose one, because it was a longtime dream of mine to bring that play to the stage — I am immensely proud of what we created with it. The acting, the visuals, the sounds – everything about that production worked better than I'd expected. Every production stands out to me in some way."
O'Reilly agrees.
"Every show is a highlight for me," he said. "I know that sounds trite, but it's the process of knocking out shows that excites me. Our last two shows this season are much bigger and bombastic than anything we've done before — it's impossible to ignore their impact on the season. When I think of how the shows rolled out over the year, opening the ShadowBox with Doubt–a perfect jewel of a show, then the blissful experience of rehearsing and presenting Stop Kiss. Shelter in Place was different in that we worked with writer Matthew St. Amand from proposal through the workshop stage and final product for the better part of a year. An extremely rich experience. And finishing with two monster shows in a row? It's all a highlight."
Post Productions is readying another diverse season of plays for 2019. Looking to keep things intense and intimate, those in charge are already planning a unique blend of genres along with a mix of famous playwrights and up-and-comers.
" The Pillow Man, American Buffalo and No Exit are three deservedly celebrated plays that we're excited to bring to life for Windsor-Essex," said Potter. "Then we also have the Canadian premiere of Nothing but the Truth by Eve Lederman (which we've been waiting to produce for more than a year) and the double bill of plays from our 2018 Playwriting Contest winners, Alex Monk and Joey Ouellette."
Those interested in checking out Another F'n Christmas Play: The F'n Musical still have a very limited opportunity to do so. Although Friday night is sold out, tickets are still available for tonight and Sunday's shows. The play starts at 8 p.m. with doors opening at 7:30 and those interested can purchase tickets for $20 at Post Productions website or at the door — seating is extremely limited however.
"People should see Another F'n Christmas Play because it's a hilarious story they have never experienced – and will never experience once it's over," said Potter. "Once its run is over, it's gone for good."
Content Continues Below Local Sponsor Message
Content Continues Below Local Sponsor Message
Content Continues Below Local Sponsor Message