Local Production Works Through Delayed Memories To Make Theatre Debut
Thursday November 25th, 2021, 6:53pm
Hello time traveller!!
This article is 559 days old.
The information listed below is likely outdated and has been preserved for archival purposes.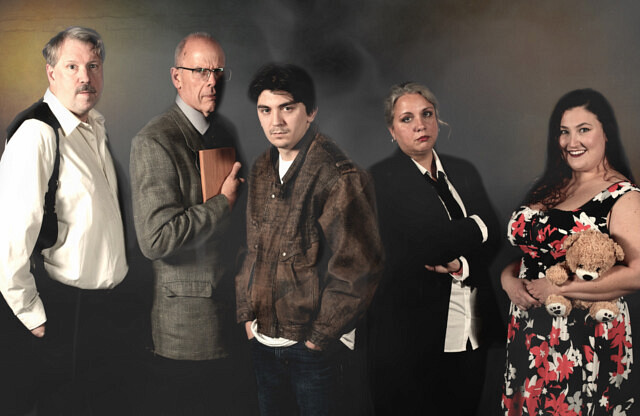 Using bad poetry, Post Productions is tying together their latest show in a unique way.
On Friday November 26th, John Gavey's Dead Bear will bring some extra shadow to the Shadowbox Theatre ((located at 103b – 1501 Howard Avenue.) Winning the group's 2020 Windsor-Essex Playwriting Contest, the 40's noir style detective story will finish Post's 2021 season.
Presenting a rarely staged genre, the playwright's perspective also makes it stand out from the rest.
"[Gavey] has a unique voice, which is always important and honestly pretty rare for a novice playwright," said producer and Windsor-Essex Playwriting Contest coordinator/judge, Michael K. Potter. "He writes like no one else and he writes well. So that made his script stand out from the pack immediately. Add to that the fact that Dead Bear adapts a genre you almost never see in theatre anymore, plus the fact that it moves forward and backward in time by using poetry, and we were quite intrigued."
On his last day before retirement, detective Miles Mallow (Simon du Toit) is confronted by a cold case from 30 years prior. More driven than ever to solve the murder, the audience is soon presented with multiple perspectives of the past.
Although it may seem fairly straightforward, things quickly become more complicated from there.
"First the story seems to be about detective Miles Mallow on the day of his retirement, when an old cold case pops up and won't be denied," said Gavey. "Then we see the story is about lost loves, and how love changes us, affects how we see things, especially the past.  All the characters have been affected in some way by the same woman– all in different ways. Seeing them all, we get a more complete picture of what really happened so long ago."
It's also those themes and questions in the play that make it relevant for today's audiences.
"- The way the story plays with time and the fallibility of memory are both quite contemporary," said Potter. "The idea of an unreliable narrator is used in a way that feels fresh, ambiguous and even playful. This is the story of a detective who finally gets a chance to solve a murder that's been haunting him for thirty years but he seems reluctant to do so. Why? What's he afraid of? The first scene hooks you with questions like these and the more you learn the more questions you have."
Taking many creative risks, the non-linear storytelling and poetry also allowed the genre to work in a modern setting. Still, as part of the playwriting contest, things evolved drastically. In the final round, Gavey's ending changed a lot from his first draft and caught judges by surprise.
Preferring to remain hands off after finalizing his script, it's now put the pressure on the theatre company. Not wanting to compromise the original vision, Potter admits that having the author's voice on stage lets Post Productions expand their reach.
Despite this, Gavey's trust is also what's allowed the play to reach the state it's in.
"We loved the script immediately, but we had some concerns in the first round of the playwriting contest," said Potter. "There were scenes that needed tightening, a major plot point that didn't quite work. Thankfully, [Gavey] handles feedback unusually well. He thought it through and interpreted our advice through his own lens.  So in the end, he made some of the changes we recommended and in some cases he didn't. Instead, he made different changes that showed us he understood the point of our feedback. He used that information to revise the script into something better than even we thought it could be."
Gavey agrees the changes created a more focused story.
"- Feedback from the judges helped to sharpen its focus, which is a funny thing to say about a play that is hazy and full of muddy memories," he said. "There's a lot happening and the revision helped to focus on Miles' struggle to contain the feelings that are overwhelming him.  This is the story of Mile's emotional journey set in a mystery story."
After being read through by volunteers, a final rewrite was done before auditions began. Taking place during the pandemic in fall 2020, a noticeable decrease in actors came forward. Getting pushed back several months due to Covid-19 restrictions, one had to pull out as another almost did the same due to scheduling conflicts.
A judge of the playwriting contest, du Toit was pre-cast as Miles. Loving the script, he was an experienced actor who everyone thought was perfect for the role.
"[du Toit] gets Miles," said Potter. "He understands Miles' frustrated romanticism, and he discovered aspects of Miles that have been buried under layers of grief, loneliness, and longing. The way [du Toit] plays him, it's clear that Miles was once a friendly person who enjoyed the company of others, someone who laughed a lot."
Once that decision was made, casting additional actors became easier. Those making the decisions ultimately focused on two things: Whether or not the person understood their character and had the right chemistry with du Toit.
After Miles, Kasara (Nina Fasullo) was the most important character to get right. Although the actress hadn't worked with Post before, Potter shared the stage with her at Cardinal Music Productions. He and Dead Bear's director Fay Lynn were also familiar with her acting and choreography work on other plays.
In this case, having a deeper understanding of the central figure set her apart.
"[Fasullo] understands Kasara in a way that gives the character a different facet," said Potter. "Kasara is loved by everyone not only because she's beautiful, but more importantly because she's kind and genuine. She makes lonely people feel comfortable, welcomed, wanted. [Fasullo's] found all sorts of little ways to communicate that."
Pulling out a part of themselves in their characters, the cast is rounded out by three of the group's regulars : Cindy Pastorius, Joey Ouellette and Nik Prsa.
Originally intended as Post's 2021 season opener, Covid-19 had other plans. Rehearsals were well underway before a shutdown forced a move to November. As different plays went into production, Dead Bear wasn't worked on for months.
After starting up again on Xoom, everyone came back together in person around the time Blasted opened in October. During this gap, director Lynn rethought the production and came back with an entirely new approach. Everyone involved agrees it elevated the show.
For a story focusing heavily on memory, delays also influenced the final product unintentionally.
"Our initial work became a memory," said Gavey. "Perhaps that helped to add to that sense of the influence of things from the past in the play. The characters and the story now had a history, things to remember that seemed almost not to have happened. The pandemic delay gave us all distant memories as examples for a play about distant memories."
Another huge aspect of each production is set design. Taking it seriously, Post's goals are always to give a strong sense of place while communicating essential aspects of character, story and theme. It's something that allows audiences to be immersed in the world on stage.
On hiatus from Stratford, Matthew Burgess returned to Windsor and helped with this. As he works on The Pantolorian and Clue for Korda Artistic Productions, Lynn and stage manager Sadie Alejandria also assisted: The two did set construction, painting, decorating and prop creation.
Known for his vision and attention to detail, Burgess' work on this show was no different.
"For Dead Bear, [Burgess] used a lot of reference photos of real basement police offices, dank and depressing places where cases go to die," said Potter. "He combined elements from these real-work places to create this set. But it also functions as other locations at times, which we accomplish through a combination of set design and lighting."
An example is one side of the office becoming a laundry room with file cabinets turning into washers and dryers. Lynn also describes it as isolation and neglect with a touch of surrealism.
Gavey views it the same way and is happy with the effect.
"The set is wonderful," he said. "It's like Miles' mind.  A dark office full of books and files he's afraid to look at. He's been hiding for years (both literally and figuratively) and the set is the place he's hidden himself in. But only half the set is entombed in that dark and dreary past. The other half is full of the bright light of memory, memories of Kasara, the woman that Miles loved and could never forget."
Supporting local voices from the start, Post continues to do so in many ways. In addition to their annual playwriting contest, the group casts actors from the area and puts on shows written by Windsor-Essex authors. Using production staff that live around the city as well, they feel it's a crucial part of putting a spotlight on the diverse arts community.
Not having grown up here, it's something Potter is especially passionate about.
"To people like me who moved to Windsor from elsewhere, it's obvious," he said. "When I arrived in 2008, I was astonished at how much art there was in this region, how many great artists, so much going on all the time, all across the spectrum of arts and entertainment. But I think we tend to take things for granted when they've always been part of our world, when we've grown up with them. I think people in Windsor have also internalized the ridiculous stereotypes people believe about this city elsewhere in the province, which makes all the great things Windsor has to offer even harder to see. At Post Priductions, we won't stand for that."
Dead Bear opens at the Shadowbox Theatre on Friday November 26. Additional dates include the 27th, December 2, 3, 4, , 9, 10 and 11. All shows start at 8 p.m. with doors opening a half-an-hour earlier. Tickets are $25 each and can be purchased online from Post Productions website.
It's sure to be a memorable time… for a little while anyway.
Content Continues Below Local Sponsor Message
Content Continues Below Local Sponsor Message
Content Continues Below Local Sponsor Message