2 New Deaths, 30 New Cases Of COVID-19 In Windsor Essex On Thursday, COVID-19 Variant Found Locally
Thursday February 11th, 2021, 10:06am
Hello time traveller!!
This article is 1030 days old.
The information listed below is likely outdated and has been preserved for archival purposes.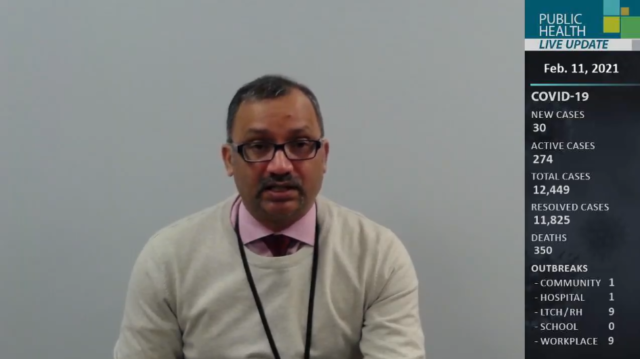 The Windsor Essex County Health Unit announced 30 new cases of COVID-19 in Windsor and Essex County on Thursday, bringing the local total to 12,449.
Today's New Cases

Cases increased from 12,419 on Wednesday February 10th to 12,449 on Thursday February 11th and 274 cases of COVID-19 are currently active in Windsor-Essex.
The Health Unit says 4 cases are outbreak-related, 7 cases are close contacts of confirmed cases, 5 cases are community acquired, and 14 cases are still being investigated by the Health Unit's nursing staff.
Resolved Cases

The Health Unit lists 11,825 total resolved cases.
That's an increase of 51 resolved cases today.
Deaths
The Health Unit announced two additional deaths from COVID-19 today bringing the local death toll to 350.
They say a woman in her 60s from the community and a woman in her 80s from long-term care passed away.
Hospitalizations
The Health Unit lists 42 hospitalizations today: 31 people in acute care (3 less today), and 11 people in the ICU with confirmed cases of COVID-19 in Windsor Essex.
Cases listed on local hospital websites (note: these numbers are not updated at the same time as the Health Unit's):
Long-term Care / Retirement Home Outbreaks
The total number of confirmed cases attributed to current outbreaks (the Health Unit does not publish a breakdown of active cases by location).
Franklin Gardens (Leamington)

Under outbreak since January 25th, 2021
38 resident cases (+4 today)
14 staff cases

Heron Terrace (Windsor)

Under outbreak since January 22nd, 2021
2 resident cases
2 staff case

Regency Park (Windsor)

Under outbreak since January 14th, 2021
23 resident cases
15 staff cases

Devonshire Retirement Residence (Windsor)

Under outbreak since January 1st, 2021
48 resident cases
9 staff cases

Rosewood Erie Glen (Leamington)

Under outbreak since December 31st, 2020
42 resident cases
10 staff cases

Augustine Villas (Kingsville)

Under outbreak since December 26th, 2020
66 resident cases
20 staff cases

Sunrise Assisted Living of Windsor (Windsor)

Under outbreak since December 21st, 2020
15 resident cases
9 staff cases

Huron Lodge (Windsor)

Under outbreak since December 20th, 2020
48 resident cases
26 staff cases

The Village at St. Clair (Windsor)

Under outbreak since December 8th, 2020
175 resident cases
139 staff cases
Workplace Outbreaks
3 outbreaks at agri-farms in Leamington
1 outbreak at a health care and social assistance workplace in Tecumseh
2 outbreaks at manufacturing workplaces in Windsor
2 outbreaks at manufacturing workplaces in Tecumseh
1 outbreak at a personal service setting in Windsor
School Outbreaks
No current school outbreaks.
Community Outbreaks
Kensington Court Retirement Residence (a non-registered retirement or long term care facility that is a "community building dedicated specifically for seniors" according to Dr. Ahmed)
Hospital Outbreaks
Windsor Regional Hospital – Ouellette Campus – 8W
Note: windsoriteDOTca News makes every effort to track the changes in COVID-19 data each day. These numbers are subject to change as the Health Unit makes changes to their numbers throughout each day, and errors and omissions sometimes occur with their data. The Health Unit has also stated that case and contact management is delayed due to the recent surge in cases and that may affect some of the data. Please see this page for the latest, most up to date data throughout each day.
COVID-19 Variant Found In Windsor Essex
Dr. Wajid Ahmed, Medical Officer of Health for Windsor Essex says the Health Unit has been notified about a COVID-19 variant case in Windsor Essex.
"Yesterday we were notified of our first SARS-CoV-2 virus with a variant of concern," he said. "At this time this was identified using the rapid screening and the specimen will now be analyzed for the full genomic sequence. Once we receive the results of full genomic sequencing we will be able to share whether this is the variant from South Africa or the UK variant or any other variant."
Dr. Ahmed says the Health Unit "worked diligently to trace all the contacts" and tracked them down to provide instructions to isolate and/or test depending on the investigation.
"This case during the infectious period was not symptomatic at the time," he said, "and went to a grocery store in Tecumseh."
"While the risk is low, but due to the variant of concern, we want to share the information more broadly with the community with very specific timelines to ensure that everyone who visited Zehrs in Tecumseh on February 2nd between 12pm and 2pm to monitor their symptoms and immediately contact the Windsor-Essex County Health Unit if they develop any symptoms," he said.
"This is a good reminder that while our case rates are stabilizing and showing a downward trend, it can change," Dr. Ahmed said. "Every time any virus is given more opportunity to replicate, the likelihood of mutation increases and the mutated virus can be more dangerous than the original virus."
"I want to urge our community to please continue to follow the public health measures and limit your number of close contacts."
The province announced last week that all positive COVID-19 cases would be screened for variants. Dr. Ahmed estimates it could take up to a week for results about which variant the local case has.
Content Continues Below Local Sponsor Message
Content Continues Below Local Sponsor Message
Content Continues Below Local Sponsor Message