Harrow, Kingsville Hit By Downburst, Not Tornado, Researchers Conclude
Friday July 28th, 2023, 2:23pm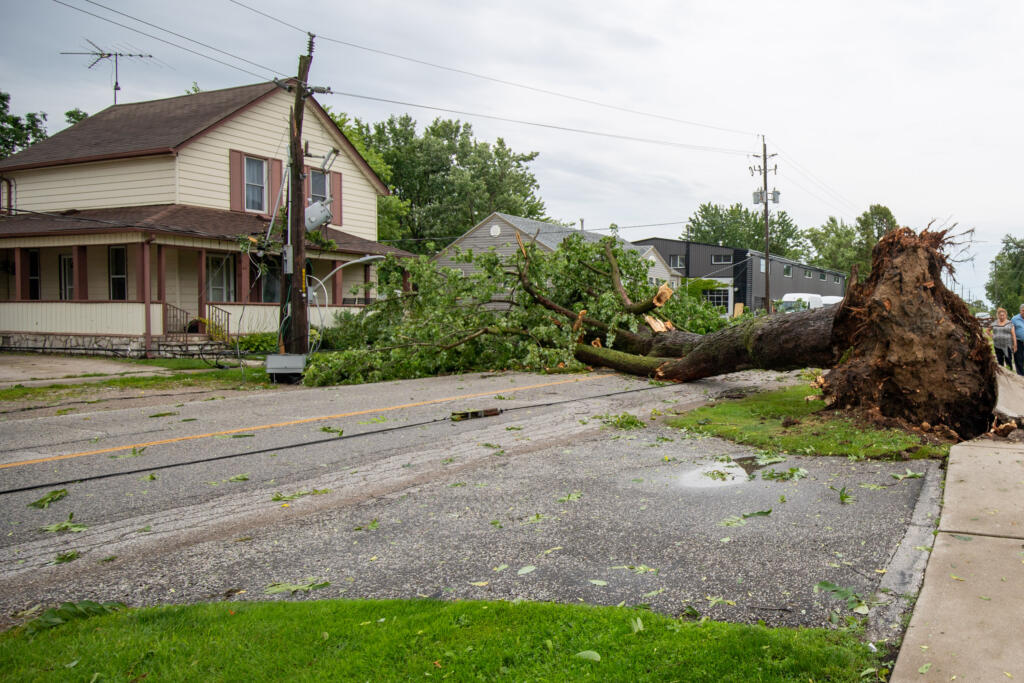 Wednesday's severe thunderstorm damage in Harrow and Kingsville was caused by a downburst, not a tornado, researchers confirmed Friday.
Researchers with Western University's Northern Tornados Project, which "works with Environment Canada to help verify tornadoes across the country through ground surveys, witness reports and surveillance data" said Friday they concluded that damage to the two towns was caused by 145km/h winds from the thunderstorm.
PHOTOS: Harrow Storm Damage To Be Investigated For Possible Downburst Or Tornado
The winds, which were comparable to an EF1 tornado on the "Enhanced Fujita" wind rating system that rates tornadoes and severe wind events between EF0 and EF5, damaged hydro poles, houses, barns and crops, among other property.
Typically, researchers said, a downburst features winds that "descend and diverge beneath the storm and result in outward burst patterns of damage or wide areas with damage mostly from the same direction" while a tornado's winds rotate and "converge at the surface then rise up into the storm, often resulting in narrow paths of chaotic damage."
NTP storm surveys have concluded that in SW Ontario on July 26 an EF1 tornado hit Blenheim while an EF1 downburst caused widespread damage in the Harrow and Kingsville areas, also rated at EF1.

Details here: https://t.co/K6SdW00hOQ#ONstorm pic.twitter.com/yaeISdN6mI

— Northern Tornadoes Project 🇨🇦 (@westernuNTP) July 28, 2023
Content Continues Below Local Sponsor Message
Content Continues Below Local Sponsor Message
Content Continues Below Local Sponsor Message