Windsor Resident Wins $35 Million
Wednesday June 21st, 2023, 9:43am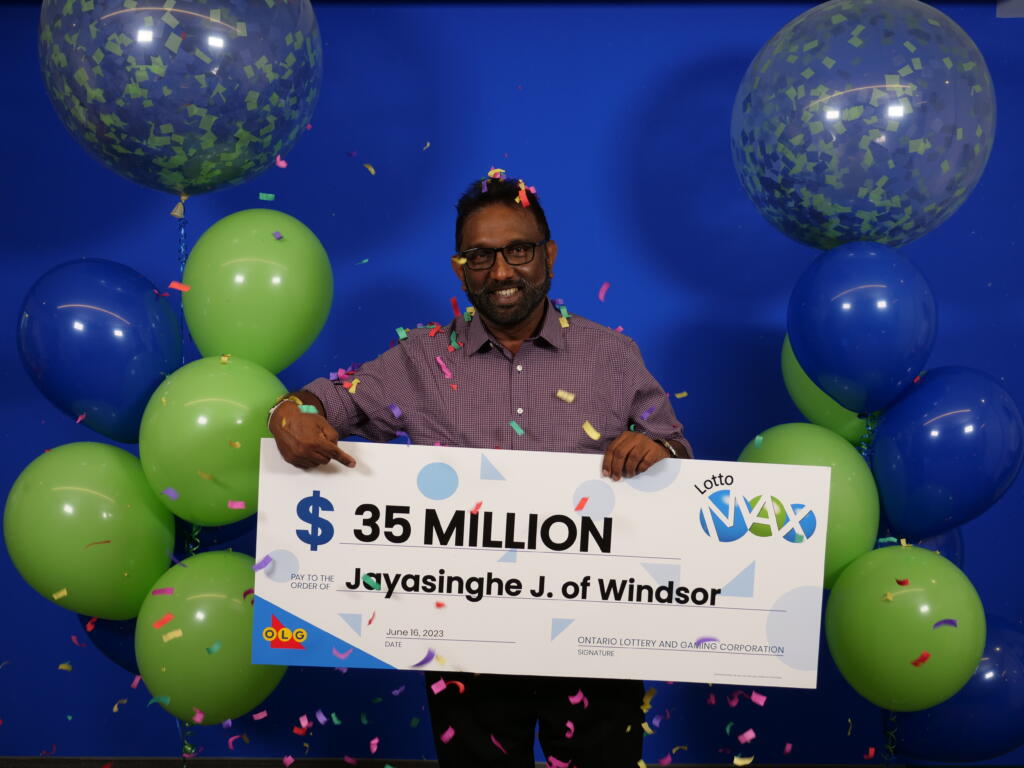 Jayasinghe (Jay) Jayasinghe of Windsor has won $35 million in the Lotto Max June 6th, 2023 draw.
Jayasinghe, a husband and father, said he's been a regular lottery player since he moved to Canada. Jay said he only purchases Lotto Max tickets when the jackpot is big. "I always hoped that my opportunity would come," he shared, while at the OLG Prize Centre in Toronto to pick up his massive windfall. "I won this prize exactly one week after my daughter graduated university – it felt like two wins!"
The day after the draw, he and his wife learned that the winning lottery ticket was sold in Windsor. "In that split second, we thought it could be mine," he recalled. "I didn't really expect it though, so I put it out of my mind."
Later that day, he went to the store to check his ticket. When he saw the prize amount on the screen, he was in disbelief. He repeatedly scanned his ticket and counted the number of zeroes. "It didn't feel real," Jay recalled. "My heart was palpitating, my skin had goosebumps, and tears came to my eyes. I can hardly remember the days that followed that moment!"
Still in shock, Jayasinghe called his wife next. "She knew something had happened from the way I said her name. When I was finally able to get the words 'Lotto Max' out of my mouth, she was so happy and started to laugh! I drove home to pick her up, so we could go back to the store to validate it together."
When he got home, his wife was already anxiously waiting outside. "I got out of the car and gave her a big hug. We weren't aware of anything going on around us," he said. "It didn't feel like we were on this planet!" he smiled. The next person to tell was his daughter. "I picked her up from work and told her the winning ticket had been sold in Windsor, then showed her a photo of the 'Big Winner' message. She stared at it for a minute before I told her it was me! She was surprised and so excited for me."
Jayasinghe, who works in retail, plans to take things slow to process this lifechanging situation. He will put his family's dreams of a new house into reality, support his daughter's education, and travel. "I love road trips. I've always wanted to explore the country, see the Rockies, and appreciate Canada's natural beauty. I also want to visit family," he said. "There are also some special people we want to help – a portion of this win will go to charities that are close to my heart."
Tapping into his inner child, Jay hopes to purchase himself something he's always wanted. "I've loved cars ever since I was young," he explained. "My father used to save automotive catalogues for me, and I still have them. I've always dreamed of having my own muscle car but spending money on it was never a priority. I told my wife that if I ever won Lotto Max, I would treat myself to a Dodge Charger Hellcat."
The winning ticket was purchased at Mac's on Tecumseh Road in Windsor.
Content Continues Below Local Sponsor Message
Content Continues Below Local Sponsor Message
Content Continues Below Local Sponsor Message