Local Production Mirrors Performing Arts Community
Friday June 23rd, 2023, 7:23pm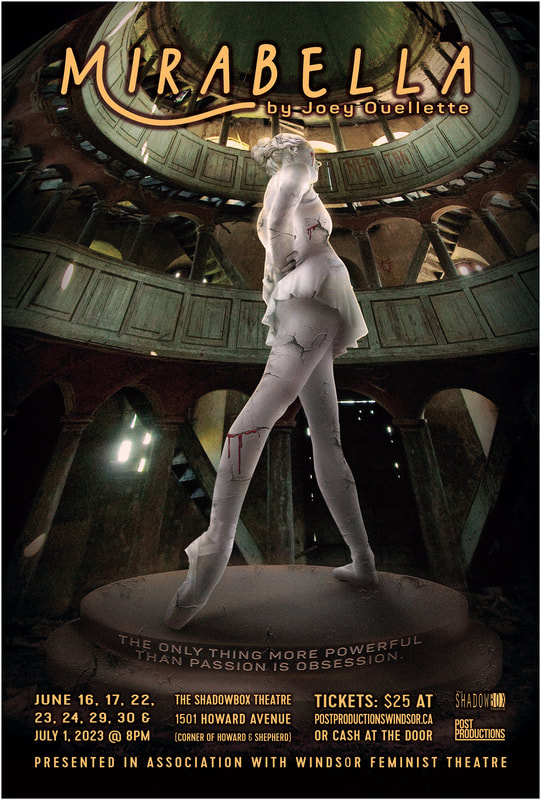 Exploring love and tragedy, a new play has a lot in common with the local theatre community.
With two weeks left in its three week run, Mirabella by Joey Ouellette is currently showcasing the creative's dramatic side. Taking place at the Shadowbox Theatre (located at 103b – 1501 Howard Avenue,) it's the winner of Post Productions' 2022 Windsor-Essex playwriting contest.
Set in Butcher's Town, the story revolves around this small community's Mirabella Ballet. Returning to the place he grew up and theatre he adored, Detective Michael Byrne (Ouellette) investigates the murder of a beloved dancer and teacher. As these layers get peeled back, Mirabella crosses multiple genres like mystery thrillers, romance, noir and drama. It also focuses on friendship, love, ballet and a serial killer in a world where morality isn't neatly defined.
This results in a scenario where raw emotions roam free.
"I'd like to cite something that [[director] Michael K. Potter] said when he interviewed me for the Post Productions website," said Ouellette. "There's a vulnerability in this show, in the characters. I noticed it in our first run through for our technician. We are so open wide. All the characters are tender, they've been hurt and will be hurt again. I'm not sure I've seen that – felt that – the imminent bruising, but they're prepared to carry on. They're taking a risk – a personal emotional risk, and that's very interesting and potentially moving to witness."
Fitting Post's brand, Mirabella also makes Ouellette the only three-time winner of the contest so far.
"We never get tired of reading his scripts, although we're at the point where we're really rooting for other playwrights to beat him more consistently," said Potter, who also plays Eamon Conner, Stephan Illyich and Benjamin Burrows. "It's good to have more names out there in the local theatre industry. Let's face it though, his scripts have won three times because they were really good. Each time he's won, the composition of the judging panel was different with some returning judges, some new judges and the scripts have managed to impress each one."
Staying mostly unchanged in the contest, the play still could've looked a lot different. In its early stages, Mirabella had a different title and one actor playing all seven roles. Although the panel thought it was an interesting experiment, they suggested that three actors take part. Feeling Ouellette's story deserved more, this helps audiences experience the range of emotions and intensity he'd committed to page.
Upon receiving the suggestion, the playwright ultimately agreed.
"Oh [Ouellette] thought he'd written a one-person script," he said, still practicing his speech in the third person. "He was advised to spread it out a bit more — to at least three actors. One person arguing with themselves is quirky. Multiple actors arguing is exciting, dangerous, frightening and all sorts of other adjectives. With multiple performers involved, movement becomes important. Where is one person in relation to the other? What does this mean? By adding more performers, it greatly enriches the experience for the audience.
As a result, Ouellette and Fay Lynn have two roles each and Potter has three. Having worked with Post extensively, auditions were skipped as the playwright simply asked his costars to join.
Sharing so many experiences, this helped in several ways. Revolving around a small town and its ballet, the play mirrored Windsor's own theatre community. While these similarities surprised Ouellette, the personalities, fragile existence and ballet's hard labour of love all showed the same traits. It helped build tension as the murder became an attack on an entire community, one possibly committed by someone from within.
It was something his co-stars could relate to, even if the parallels weren't immediately obvious.
"Maybe I'm stupid, but it took me a while before I realized that Mirabella and the insular world of ballet in general were metaphors for the theatres and the theatre industry in our region," said Potter. "I don't know if [Ouellette] intended that when he started writing it, but I can't help seeing it now — and the metaphor rings true for me. As one character says about the world of ballet, 'The dance unites us.' We speak the same language. We may spend most of our time disagreeing, but we're all members of the same family."
Witnessing Mirabella develop during the contest, everyone had a solid grip on their roles by the first read through. Collaborating many times before, all three knew how to play off one another and focused on adding depth to their characters. By opening night, each one felt real, something helped by the trio's ability to rely on one another's strengths and weaknesses.
Beyond rehearsals, stage design also made the story more immersive. Simple and straight forward, the idea was to open up the backstage area into part of the main stage. Bringing pieces, fragments and souvenirs from past shows at the Mirabella into view, it shows the theatre is always watching. This gives a heightened feeling of tension, foreboding and makes things more ominous.
Despite simplicity being Ouellette's vision, Potter did stray in one aspect though.
"Ouellette wanted the production to be simple and straightforward, focusing on interactions between characters more than anything else," said the director. "I complicated this a tiny bit by manipulating the stage with light, only because I'm obsessed with manipulating things with light, but it's fairly faithful to what he originally wanted."
While the play has a darker atmosphere, Ouellette and Potter both agree that audiences will relate to it through love. With a story about how the emotion develops and connects people, it explores what the word means from several perspectives. Whether it's being forced to suppress the feeling or its relation between truth and beauty, love is key to linking things together.
Although it doesn't always lead to happiness, Ouellette thinks the experience goes beyond that.
"Theatre is about making the audience feel," said the playwright. "In the spectacle theatre the audience is amazed and delighted. In the sharing theatre, the feelings are more personal. They share the joy, the disappointments, the sadness. Is it depressing? No, because it's participatory. The audience doesn't just watch, they live within the actors. They don't see a person fall down. They feel it. They understand the character's entire life. They fall here, but they will rise again."
Presented in association with Waawiiyaatanong Feminist Theatre, Mirabella is playing at the Shadowbox Theatre on June 22, 23, 24, 29, 30 and July 1. Tickets are $25 each and can be purchased <a href="online or at the door through cash, debit and credit if seats remain. All showtimes are at 8 p.m. with doors opening half-an-hour earlier.
It's a tragic story, but Ouellette thinks people can take solace in what gives it that meaning too.
"I think there are more sad clowns than there are happy ones," he said. "It's a pendulum – happy and sad, the clown gets something right only for it all to tumble down again. This is a tragic play, and all the characters are tragic. Perhaps we're just seeing one piece of the arc of their pendulum. They are capable and have experienced great joy. Every opposite is true. If done correctly, the audience can see, can feel that great joy in the tragedy. Joy makes the tragedy deeper. Together they are easier to accept."
Content Continues Below Local Sponsor Message
Content Continues Below Local Sponsor Message
Content Continues Below Local Sponsor Message