McDougall Street Corridor Walking Tour Launched
Thursday April 13th, 2023, 7:21pm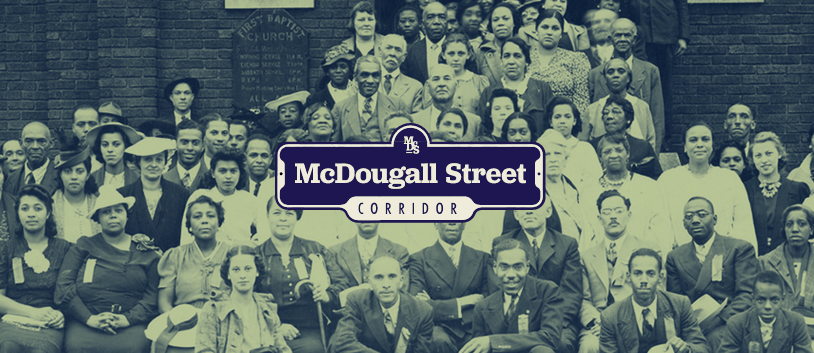 A new walking tour highlighting the rich history of the McDougall Street Corridor launched on Thursday.
The McDougall Street Corridor Walking Tour is an immersive experience meant to bring home the realities of this rich history and show just how much has changed in a short period of time.
The story of the McDougall Street Corridor showcases this city's rich Black history but also demonstrates the devastating impacts of city planning and urban renewal policies on a historic neighbourhood. The McDougall Corridor Walking Tour offers a collection of videos, images, maps, and documentation that depicts this community, and invites you to learn more about a vital chapter in Canadian history.
"By recording the stories and memories of current and former residents, we have been able to share a glimpse of this once vibrant, close-knit community," notes lead researcher Willow Key. "The McDougall Street Corridor Walking Tour makes this history accessible to the public in an engaging format and gives Windsorites a chance to learn more about this city's Black history and the devastating effects of urban renewal policies."
Windsor-based software consultancy Parallel 42 Systems built the software that powers the McDougall Tour experience. Their experience with digital maps and open -ource software made them a natural fit for the project. The software has been released under a permissive open-source license, meaning that the source code is free for any other community groups to use.
"We use open-source software to create a lot of business value for our clients. We are thrilled to be able to contribute a bit of our work back to the commons," explains Doug Sartori, Principal Consultant at Parallel 42.
The physical destruction of Black spaces within the McDougall Street area broke many social and familial bonds and resulted in the loss of Black land ownership and community organizing power. The stories shared by Black Windsorites throughout the McDougall Street Corridor Walking Tour, however, are also a testament to the resilience of the residents of the McDougall Street community and all that they have accomplished.
The McDougall Street Corridor Walking Tour is a collaborative project of the Centre for Cities (C4C) at the Faculty of Law, University of Windsor, the Essex County Black Historical Research Society (ECBHRS), Parallel 42 Systems, the University of Windsor Leddy Library, and the School of Creative Arts (SOCA) at the University of Windsor. Financial support was provided by the Government of Canada through the My Main Street Community Activator Program, which is supported by the Federal Economic Development Agency for Southern Ontario (FedDev Ontario), in collaboration with the Canadian Urban Institute (CUI).
You can find the tour here mcdougallcorridor.ca.
Content Continues Below Local Sponsor Message
Content Continues Below Local Sponsor Message
Content Continues Below Local Sponsor Message