Halloween Rolls On As Local Director Spotlights Scarehouse Windsor
Tuesday November 8th, 2022, 7:15pm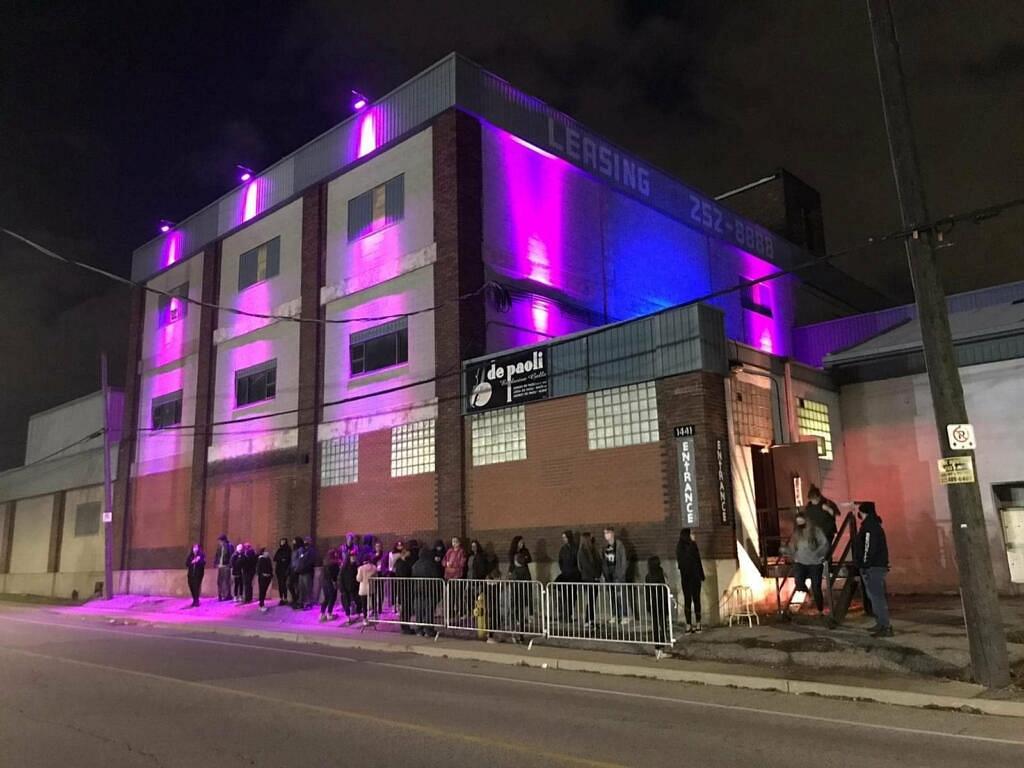 Although Halloween may be dead and buried, a local haunt's spirit is alive in a new docu-series.
Focused on Scarehouse Windsor ((located at 1441 McDougall Avenue,) Gavin Michael Booth has been busy. As the venue grows in popularity, the local film-maker is working to take it to another level: As part of a docu-series he's producing for Bell Fibe 1, the haunt will soon be featured across Canada.
Called The Boo Crew, Booth's project came from his connections to the network and venue.
"I'm working with Bell Fibe 1 on another docu-series titled Spinning Stories," he said. "Through those discussions came the opportunity to pitch another concept. Having shot my film The Scarehouse inside Scarehouse Windsor, having helped behind the scenes and creating marketing material for them for over a decade, I have a wealth of footage in my archives that shows the progress they've had through the years."
Beyond highlighting where Scarehouse Windsor came from, the series will show what goes into designing, building and operating the seasonal attraction. More than that, viewers will see how much hard work, creativity and innovation is required to make it a continued success.
It's a concept that came together organically from asking Bell what types of series they might entertain. From there, Booth thought hard about the core elements he wanted to highlight throughout the series. Eventually eight episodes were decided upon with each one framed around an aspect of haunter culture, the design and creation, the history of Scarehouse Windsor, their commitment to community involvement and more.
With his format now established, Bell provided extra support as Booth prepared to film in Windsor.
"Bell is really great about discussing the concept and shepherding the concept in a direction that will best bring out the core idea," said the director. "The biggest advantage here is being able to use a local production team vs. having to bring folks from out of town. That and the fact that I have archived so much footage over the years, there is a wealth of material to use whenever discussing the past Halloween seasons. Having Bell's support means that there is funding in place to make the project more robust than if it was a passion project. It also means there is an audience across a large part of Canada that will see the show and continue to bring a spotlight to Scarehouse Windsor."
With footage from the previous decade, work on new content began last summer. Coming in early, all aspects of creating the venue's new haunted maze and funhouse were captured. On top of that, filming of actor auditions and rehearsals also took place for the series. Once Scarehouse Windsor opened to the public, cameras started shooting everything behind the scenes each night as well.
This presented some extra challenges however.
"The biggest challenge is that you need light to film and most of Scarehouse's areas and mazes are very low lit to create the amazing atmosphere," said Booth. "It is a big challenge to add a bit of light without changing the customer experience. The other big challenge is that through the build and each night they are open, the haunt is so massive that it is hard to be everywhere all at once, even with two separate camera teams."
Making it work with a small crew also pushed the film-maker to be resourceful. As director and cinematographer, Booth was joined by Garett McKelvie who served as co-cinematographer and lead videographer on nights the haunt was open. From there, various people rotated in and out to help. Even Lippert and his wife Colleen captured moments at the haunt from their iPhones.
Being so closely connected to Windsor, it gave the entire series an added advantage.
"Living mere blocks from your documentary subject has massive advantages," said Booth. "It is easy to be on call when something is happening and capture more than an outside team might be able to do. I've had the help of local photographers and models for a few key shoots as well. The local rental company Gear House Windsor has come on board as a sponsor. We're working with Lakeshore Cinemas to film some interviews at the cinema. Really, the city has been a wonderful supporter of the project."
Wrapping up main filming on Halloween night, a few days of interviews followed. From there, editing will take place over the coming months to have everything ready for spring 2023. While no airdate is currently set, Booth imagines the show will drop sometime in the first half of next year.
Despite this, the director already has an idea of what viewers can expect.
"I think they will see the passion of people in our community that give their all for the Halloween season," he said. "I believe people will connect with the drive and creativity it takes to run a unique business. Based on what we've filmed, viewers will also see some incredible moments that are 'you have to see it to believe it' incidents."
In addition to The Boo Crew, Booth has kept busy with other projects while in town. The film-maker recently attended a screening of his two short films Artifice and Rent Do at the Windsor International Film Festival. He just finished producing a short film titled Honor's Half-Life and will be producing another local film-maker's short in November. If that wasn't enough, the director is set to do his own short and announce his next feature length project soon.
No matter where Booth's career takes him however, Shawn remains a big part. Meeting when the former needed a venue for an Ashes Of Soma video nearly two decades ago, the two have collaborated closely ever since.
It's this connection and desire to continuously get better that still impresses the film-maker.
"What impresses me the most is the 'can we top what we did last year' mentality," said Booth. "There is never a resting on their laurels attitude at Scarehouse. It is always bigger, better and more community involvement. Overall, it's wonderful having a friend like Shawn. We are both dreamers and go-getters. We love being told 'you can't do that'. Negative reinforcement is our protein shake. Having Shawn as a sounding board for all my wild and ambitious ideas is one of the best things my career has brought me.".
Content Continues Below Local Sponsor Message
Content Continues Below Local Sponsor Message
Content Continues Below Local Sponsor Message