Best Things To Do In Kingsville Ontario: Ultimate Weekend Getaway
Saturday March 19th, 2022, 10:55am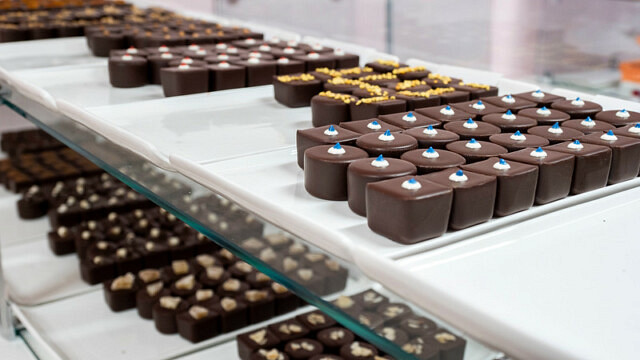 Best Things to Do in Kingsville Ontario: Ultimate Weekend Getaway
Original blog by Lauren Yakiwchuck of Justin Plus Lauren | Published on February 17, 2022
There are so many memorable, relaxing, and fun things to do in Kingsville Ontario. Southwestern Ontario has an endless amount of amazing adventures and getaways that are perfect for couples or a small group of friends. With a quaint downtown street, places to unwind and get pampered, and amazing accommodations, you need to plan a trip to Kingsville as soon as possible.
Did you know that Kingsville is the southernmost town in Canada? It's on the same latitude as northern California and it's also one of the warmest places in Canada, too. In the 19th century, Kingsville was dubbed "Canada's Paradise Garden" as it was an agriculturally productive region. It's right on the edge of Lake Erie, and its home to dozens of vineyards and farms.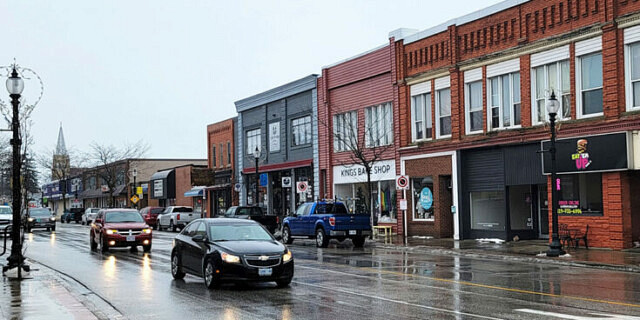 Even if you don't consider yourself to be a foodie, there are so many reasons to visit Kingsville. It's an amazing weekend getaway if you're up for a road trip in Ontario. Drive down from Toronto, Hamilton, London, or anywhere in southern Ontario. It's one of those lesser known gems in the province, and I'm happy to share my experiences exploring this charming small town with you.
In this travel blog post about Kingsville, Ontario, I'm going to share my travel itinerary with you. I hope that my trip inspires you to plan a similar one for yourself! I relaxed at a day spa, participated in wine tastings, shopped at some unique establishments on Kingsville's main street, and spent the night at a beautiful bed and breakfast.
Best Things to Do in Kingsville Ontario: Estate of Health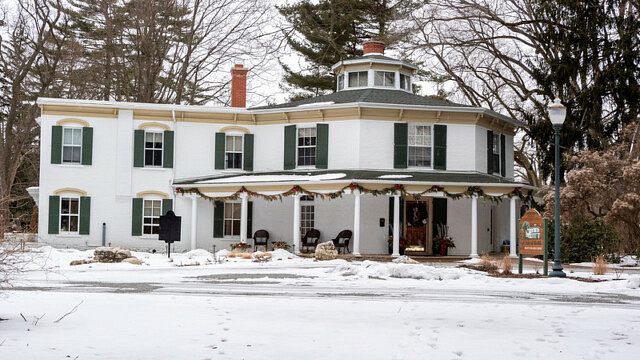 Treat yourself to a day of pampering and rejuvenation at Estate of Health. Situated inside the 150 year old Kingsholme Estate, Estate of Health is a holistic wellness centre with a yoga studio and a boutique day spa. Visiting Estate of Health is one of the best things to do in Kingsville, Ontario, and I'm already dreaming about when I can return for another day at the spa.
I spent the day at Estate of Health for the full experience: a morning yoga class, relaxing at the day spa, staying for lunch, reading and sipping tea in the lounge, and receiving a spa treatment (a facial). You can find this package on their website listed as "A day of selfcare", and I had a yoga class added to the beginning of the day.
Yoga Classes at Estate of Health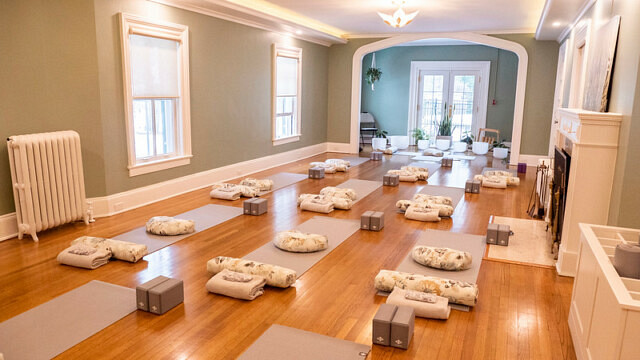 There are a variety of yoga classes at Estate of Health, and you can attend regardless of your age or level of experience. You can browse the calendar on their website to choose a specific kind of yoga. There are some kinds of yoga that you may recognize, like hatha yoga and yin yoga. There are also some unique types of yoga, like yoga nidra (yogic sleep/a deep meditative state), chair yoga, and even aqua yoga.
I attended an "inward focus flow" vinyasa yoga flow class, led by Jordan. It was the perfect way to start the day. There was a good combination of focusing on breathing techniques, gentle flow poses, and balancing poses. As it was right around Valentine's Day, Jordan talked a little at the start and end of class about the importance of self love. She also gave a red rose to each class attendee at the end of our yoga class, which was such a nice added touch.
Estate of Health Day Spa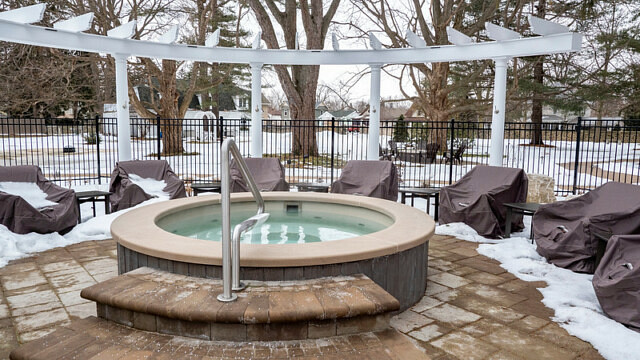 After my yoga class, I spent a few hours enjoying the day spa at Estate of Health. You'll receive access to your own locker and a plush bathrobe for the day. Change into your swimsuit and enjoy these relaxing moments. I suggest bringing a pair of flipflops or sandals to wear between the main house and the sauna/hot tub.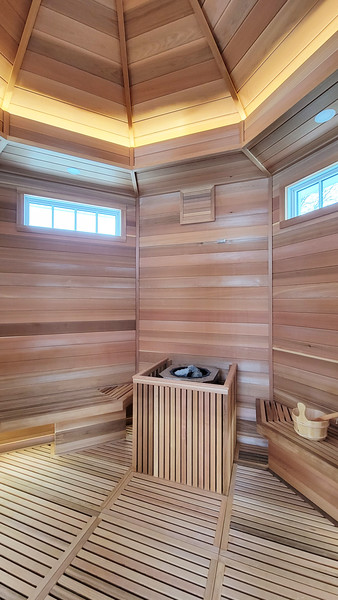 The day spa offers hydrotherapy and thermotherapy, the practice of alternating between hot and cold temperatures, for optimal health. It decreases inflammation, increases circulation, detoxifies the body, improves skin conditions, and provides relief for sore muscles.
While there are a couple of additional spaces in the summertime (namely, an outdoor saltwater pool and outdoor rain showers), most of the spaces are open all year long. I visited in the winter and alternated between the hot tub, the sauna, and the cedar relaxation room. Naturally, you alternate between hot and cold in the winter months. If you're feeling daring, feel free to roll around in the snow after the hot tub (I am not that adventurous!).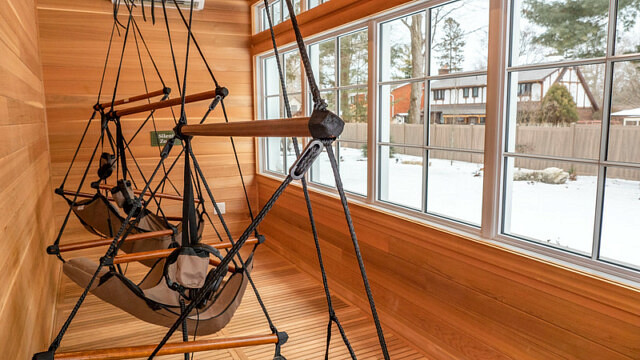 While the hot tub and sauna are very soothing, I personally adored the rest room the most. There are these hammock-like chairs where you'll sit with your legs stretched out, gently swaying. There are headphones at each chair where you can listen to meditative music. Gaze out the window at the trees and watch the leaves gently sway in the breeze. There's a bird feeder outside of the window too. While I didn't see any birds, I watched a lot of squirrels bounce from branch to branch.
I have to admit that I rarely take time like this for myself. I've always got something on the go, and I don't leave much time at the end of the day for relaxation or selfcare. Spending a half day at the Estate of Health day spa was such a treat. I sat alone with my thoughts, and that was it. Pure bliss.
Lunch at Estate of Health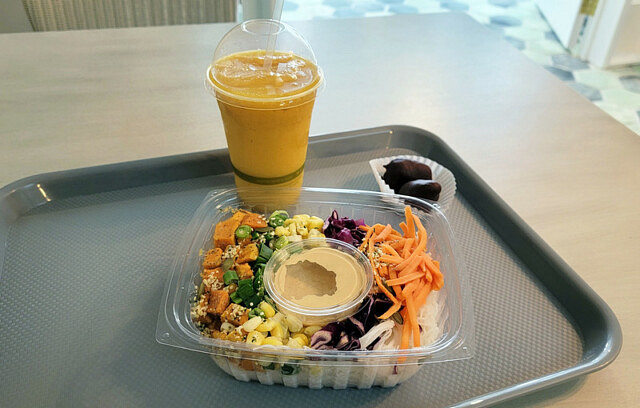 Most spa packages at Estate of Health come with a light lunch option from local business, Green Heart Catering. You can specify if you have any dietary preferences when you book. In my case, there were no issues providing a vegan lunch option. I really enjoyed my delicious Buddha bowl with lots of veggies and rice noodles. It came paired with a fruit smoothie and two chocolate dipped strawberries for dessert.
There's a little fridge in the kitchen and dining area and you'll find your lunch waiting for you around noon. You can eat it whenever you like during the day. After lunch, I relaxed on one of the couches in the tea lounge to read a book and sip some tea. There's always lots of complimentary tea and water available, and there are lots of books to borrow, too.
Spa Treatments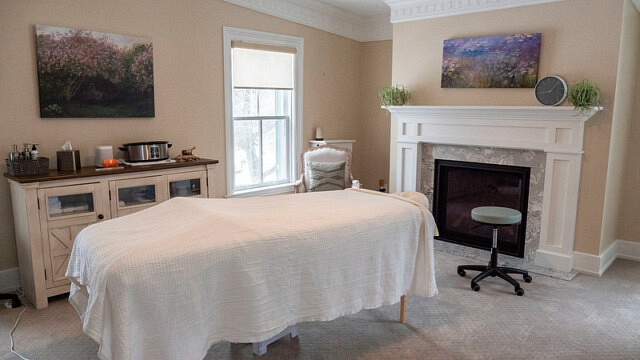 After yoga, the day spa, and lunch, I had a spa treatment. All of the treatment rooms are up on the second floor. As this holistic wellness center is located inside a historic mansion, the treatment rooms are set up in the former bedrooms.
I received a facial treatment and it was amazing. I couldn't stop raving about it afterwards to Justin and my friends! Their signature facial includes a cleanse, exfoliation, mask, hot towels, and a gentle face and head massage. I loved the aromatherapy scents and my skin felt fabulous afterwards. I am also sure that I drifted in and out of sleep a couple of times during the facial. It was just so relaxing.
Things to Do in Kingsville Ontario: Pelee Island Winery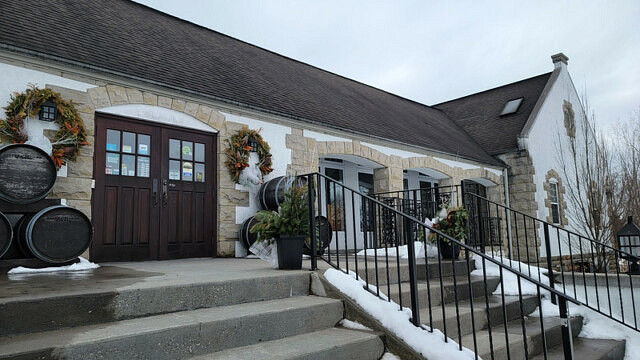 Pelee Island Winery is Canada's southernmost winery with two locations: the winery pavilion on Pelee Island and the winery in Kingsville. While the majority of the vineyards themselves are across on Pelee Island, the retail boutique in Kingsville is a beautiful place to visit. Please note that the Pelee Island winery pavilion is only open seasonally, but you can visit the Kingsville wine boutique all year long.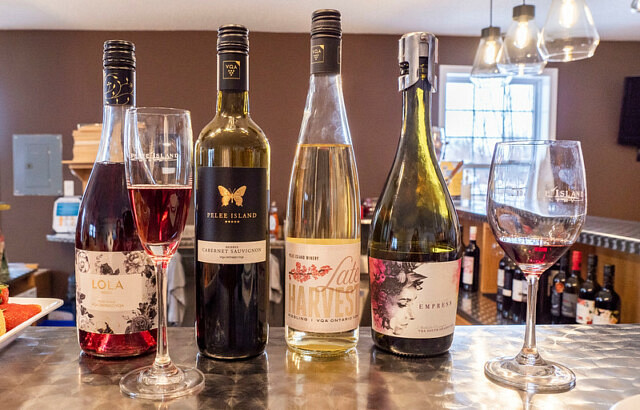 Visiting Pelee Island Winery is one of the best things to do in Kingsville. You can make an appointment online for a wine tasting where the proceeds go towards a charitable organization. I sampled several different kinds of red, white, and sparkling wines during my visit. While I enjoy both red and white wine, I'm a little partial to white wines. Pelee Island Winery's late harvest Riesling is spectacular. They also prepared a huge vegan cheese, veggie, and dip platter for me, which was so thoughtful!
It's also a treat to browse their Kingsville wine shop. They offer a wine for every taste. You can wander around the store or order online/call for pick-up options. In the summer, you can enjoy their patio with live entertainment and check out their interactive tours. We will definitely be back in the warmer weather!
More Wineries in Kingsville Ontario
There are lots of fantastic wineries along Lake Erie in Kingsville and the surrounding area. You could definitely spend a whole day visiting all of the wineries in Kingsville and Essex County. After you've visited Pelee Island Winery, here are some more Kingsville wineries to check out:
Things to do in Kingsville Ontario: Go Shopping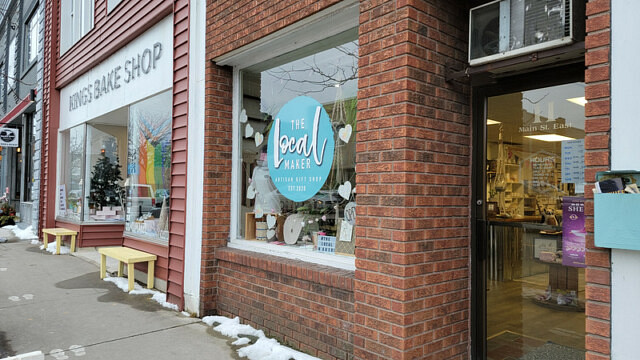 Kingsville is a quaint Victorian town and that becomes evident when you go for a stroll on its main street. It's easy to fall in love with this cute main shopping street with numerous shops, restaurants and cafes. I suggest going for a walk and taking the time to browse all of the shops, indulging in a little retail therapy. It's also a great way to shop local and support small businesses in Kingsville.
The Local Maker is a gift shop featuring the works of 25 local artisans and crafters. It's right on the main street of Kingsville, and there are all sorts of unique treasures to discover. It's the ultimate way to shop local. You're support a local small business, The Local Maker, as well as 25 makers from the region.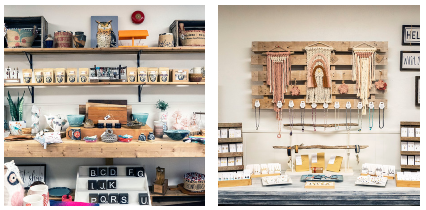 I browsed The Local Maker and found beautiful handcrafted jewelry, pottery, embroidered items, clothing, knit wear, plant hangers, tea towels (I found the best one featuring cats and coffee…two of my favourite things!), and even cat toys. I bought some catnip pouches for my kitty cat, Tiny, that he loved!
Dutch Boys Chocolate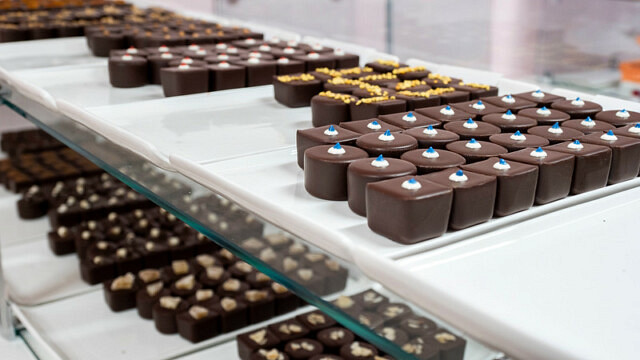 Dutch Boys Chocolate is an amazing place to visit in Kingsville, both for the chocolate and the captivating characters who make the chocolate! This chocolate shop started when two retired Dutch men decided to learn how to make chocolate, perfected the art, and added their own creativity to the mix. I went behind the scenes to see how the chocolate was made.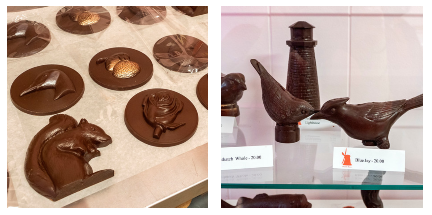 Some of the chocolate is poured into unique hand carved molds, highlighting various landmarks, animals and birds that you'll find in the Kingsville and Pelee Island region. It's also amazing how many of these chocolates resemble sculptures where they're made out of solid chocolate (no disappointing hollow chocolate here!). Dutch Boys Chocolate also makes truffles where the ingredients are sourced from around the world to create the perfect flavours.
People come from all around to seek out Dutch Boys Chocolate as it's some of the best chocolate in the province. During my time at the chocolate shop, there was a constant stream of customers that never ended! Be sure to stop by for the chocolate and to have a chat with the friendly and funny Dutch boys themselves.
Things to Do in Kingsville Ontario: Stay at The Walnut Grove B&B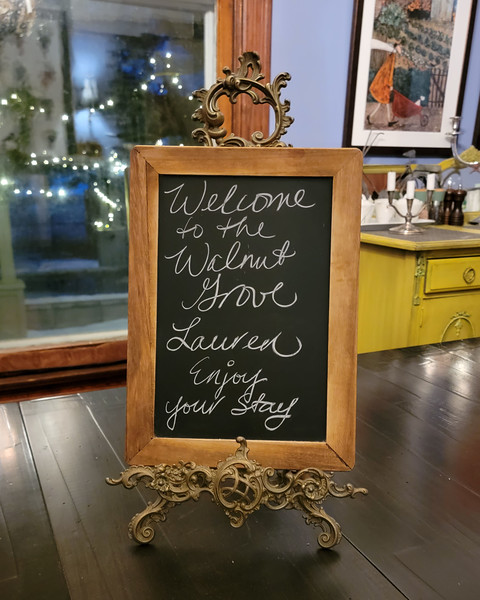 The Walnut Grove B&B is a luxurious place to stay in Kingsville, and it's also an entire experience in itself! Some guests visit The Walnut Grove and decide to spend their entire holiday there. Bob and Leslie go above and beyond to create a magical and memorable holiday for their guests, from the meals to the activities on the property itself.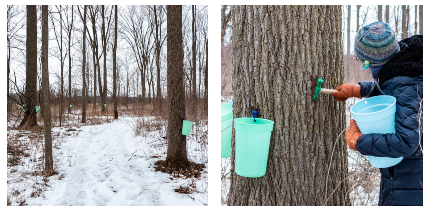 The Walnut Grove B&B sits on a 10 acre forested property, just a short drive outside of Kingsville. There are many tall maple and walnut trees and you are able to have the full sugarbush experience. Bob and Leslie showed me how to tap the trees for sap. Yes, you can also collect sap from walnut trees to create walnut syrup!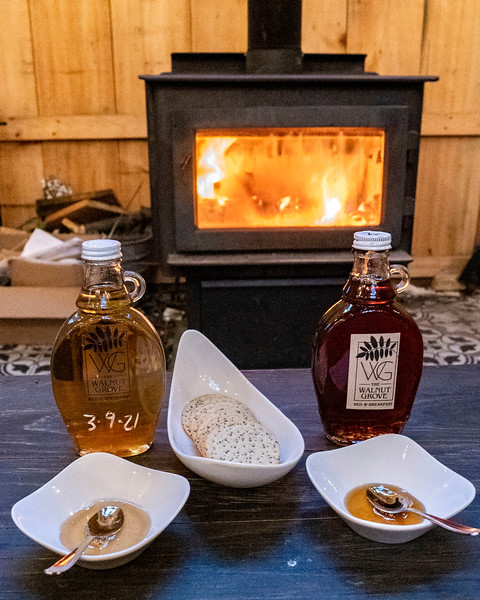 After we tapped the trees and added the buckets, we went inside their own sugar shack for a tasting. I sampled their own homemade maple syrup and walnut syrup, and it was sweet and delicious. In the summer months, you can enjoy the heated swimming pool, play yard games, admire the koi pond, or go for a stroll through their woodlands.
My Room at The Walnut Grove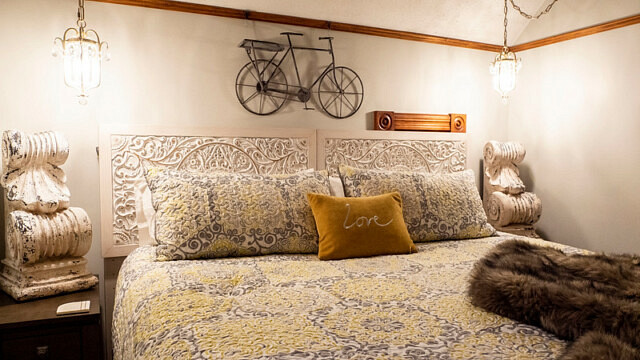 There are three rooms at The Walnut Grove, and I chose to stay at "The Dusty Sprocket" on the second floor. I loved that The Dusty Sprocket had a bicycle theme to it with several bicycle decor items sprinkled throughout the suite. The bed was so comfortable and the room gets pitch black for anyone who requires complete darkness while they sleep. I had the most restful night's sleep here, it was blissful!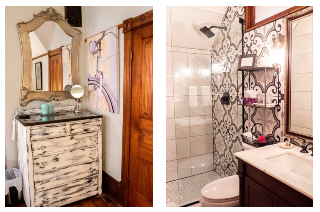 There are a few places to sit, whether it's on an armchair or the designer ottoman at the foot of the bed. Cuddle up in a faux fur blanket. The bathroom itself is clean and modern with luxurious bath products, including handmade soap and lotion bars.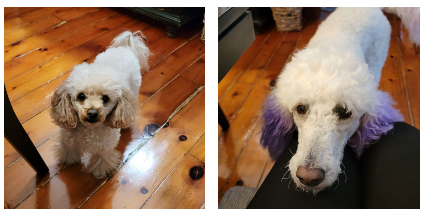 The entire home has such character as its situated inside a completely renovated 1902 farmhouse. The property itself is pet-friendly, and you can inquire as to which rooms are pet-friendly as well. If you love dogs, you'll adore their two pups, Riley and Phoebe.
Dining at The Walnut Grove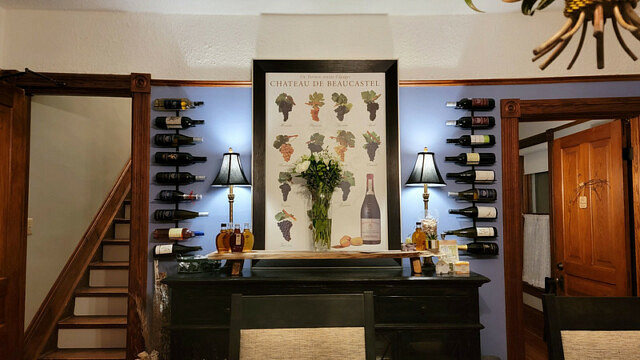 The Walnut Grove B&B offers a delicious breakfast, and there's also the option to have a candlelit dinner. All of the ingredients are as locally sourced as possible and the courses come paired with locally produced wine. Bob and Leslie are happy to cater to any special diets or allergies, and they provided expertly prepared vegan dishes.

For the candlelit dinner, I had a green salad to start, topped with sliced grapes and a seed mix. For dinner, I devoured my black bean veggie burger with fries and roasted Brussels sprouts. The wine was really lovely, too. And save room for dessert – I had this delicious pastry bundle filled with a chocolate brownie, nuts and dried fruit, drizzled with a cashew cream sauce.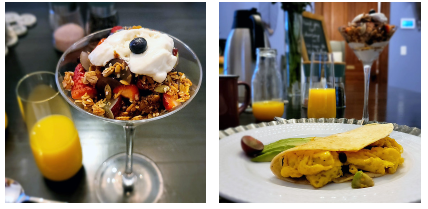 The next morning, the culinary delights kept flowing from the kitchen. There was a fruit and homemade granola bowl with cashew cream, as well as a breakfast burrito (black beans, Just Egg vegan egg, veggies and avocado). They serve coffee brewed from the beans of local Kingsville coffee roaster, Red Lantern Coffee.
If you're looking for an accommodation that truly goes above and beyond, you will adore The Walnut Grove B&B. You'll feel immediately welcomed and it truly feels like home. I loved the extra added touches, like chef prepared meals and having the sugarbush experience. It's not only a place to rest your head at night, but a destination in itself. Staying at The Walnut Grove is one of the top things to do in Kingsville, Ontario.
Restaurants, Cafes and Breweries in Kingsville Ontario
When I travelled to Kingsville, I mostly dined at the places that I visited. I had dinner at The Walnut Grove B&B and had breakfast there in the morning. I savoured my delicious lunch by Green Heart Catering at Estate of Health. If you feel like dining in town, there are lots of great restaurants and cafes to check out. I did have the chance to personally experience one of the cafes and a pizza place in Kingsville that I can personally recommend.
Restaurants in Kingsville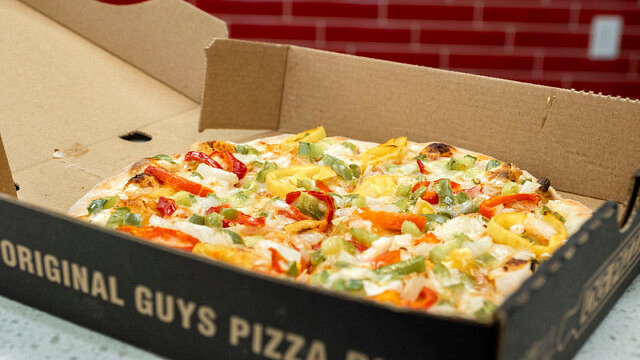 There are so many wonderful restaurants to try in Kingsville, Ontario. You can see all of my dining choices sprinkled within the article above. Before leaving town, I enjoyed a "Windsor style" pizza from OG Pizza – Original Guys Pizza Pies. They have vegan cheese and a ton of toppings, and this thin crust pizza was so satisfying and yummy. They have several locations, including one in Kingsville and one in nearby Cottam.
El Diablo is a Mexican restaurant where the vegan items are marked with a VG. Try the black bean and corn empanadas, Thai peanut tofu tacos, or the jackfruit tacos. Koi Sushi is another great option with vegetarian sushi rolls and veg appetizers. There are also several vegan meals at the brewery taprooms that I'm about to mention in the next section of this article.
Breweries in Kingsville
While I didn't get the chance to visit any breweries in Kingsville, it's at the top of my list for next time. Kingsville Brewery has a taproom with a full menu, whether you feel like stopping by for a beer flight or a meal. There's also a beer garden outdoors in the summer to enjoy some pints with your pals.
Banded Goose Brewing Co brews small batch craft beers exclusively for Jacks Gastropub. You can sip beer at their taproom, Bean15 Coffee Lounge, or outdoors on the patio in the summer. It's also possible to stay at Inn 15 Loft Suites, seven brewery loft suites on the second floor of the brewery itself!
The Grove Brew House is another brewery in Kingsville with a taproom and a full kitchen. It's amazing how you can truly go brewery hopping in Kingsville, and there are quite a few breweries for such a small town. One of the best things to do in Kingsville Ontario is sample the local beer.
Coffee Shops in Kingsville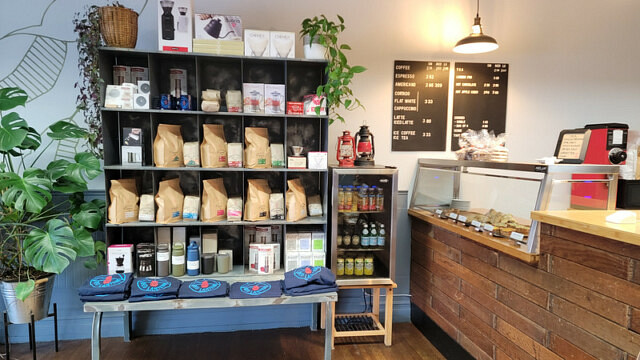 One of the best things to do in Kingsville is check out the local coffee culture. You'll find Red Lantern Coffee Co right on the main street, next to Dutch Boys Chocolate. Red Lantern Coffee is a small batch coffee roaster that provides fresh coffee with beans sourced from around the world.
I stopped by for a vanilla oat latte and it was really delicious. You can also purchase coffee beans if you'd like to try their coffee at home. The cafe itself was very cozy and looked like a great place to gather with friends and family. The service was wonderful, too!
Sponsored story by Tourism Windsor Essex. For more details on Tourism Windsor Essex click their website, or visit them on Facebook, Twitter, or Instagram.
Content Continues Below Local Sponsor Message
Content Continues Below Local Sponsor Message
Content Continues Below Local Sponsor Message