Five Experiences To Do Before Summer Ends
Saturday August 28th, 2021, 10:55am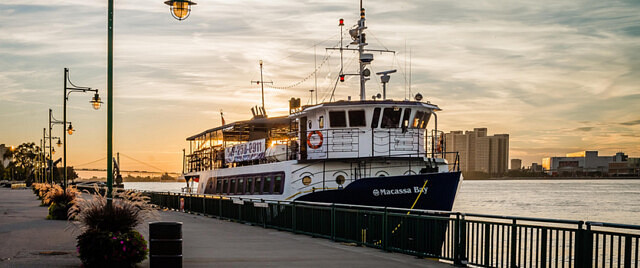 Raise your hand if you've heard (or said) "there's nothing fun to do!" and get ready to be proven wrong!   Though the lazy, carefree days of summer are becoming fewer and we've put together five fun experiences you can still have this summer to make your back to school report (or back to the office recap) stand out from the rest!
Stay Up Late
Grab your peeps and a pile of popcorn and head down to the waterfront for this unique event! There is a movie for everyone with both afternoon matinees and evening double features.  Trust us it will be worth staying up past your bedtime!
Take in the Sights
Cruise along the Windsor waterfront and see if from a new perspective on Macassa Bay with one of the newly launched Windsor Premier River Cruises.  Spend some relaxing time on the water with friends or even charter the boat for a private special occasion.
Spend Time On The Water
If the big boat is not your thing, venture out on the water by canoe, kayak or stand-up paddle board along River Canard.  Catch one of the stunning sunsets or enjoy a day in the sunshine with friends – this is definitely something that should be on your summer to-do list!
Get crafty
Your new favourite coffee mug may just be one that you paint yourself! Let your creative side have free reign as you spend the afternoon creating your next masterpiece.  And if you want to take it even further make sure to join one of the organized pottery workshops out on the patio.
Think Outside the Box
Want a fun, new way to explore the city and see the amazing murals and street art pieces that adorn our neighbourhoods? Grab yourself a spot on the WindsorEats Graffiti Scooter Tour which will take you to some of Windsor's best photo spots so make sure you've got your smartphone or camera handy! It's a great way for both locals & tourists to explore the city.
Bonus: Get Off the Mainland
Go "Beyond the Gates" with a tour of the Vin Villa property – a fascinating historical experience within the 150 year old limestone ruins of Canada's first commercial estate winery!  This top rated Pelee Island tour explores Vin Villa's beautifully manicured grounds and gives you the insider view to this historically significant winery.
And if you are STILL not convinced that Windsor Essex is full of great things to do, make sure you check out our Events Calendar and our Buyable Experiences as we are sure you will find something that will make this summer of staycation one you will remember for years to come!
Sponsored story by Tourism Windsor Essex. For more details on Tourism Windsor Essex click their website, or visit them on Facebook, Twitter, or Instagram.
Content Continues Below Local Sponsor Message
Content Continues Below Local Sponsor Message
Content Continues Below Local Sponsor Message