Your Guide To Windsor Essex Light Shows
Saturday December 12th, 2020, 11:00am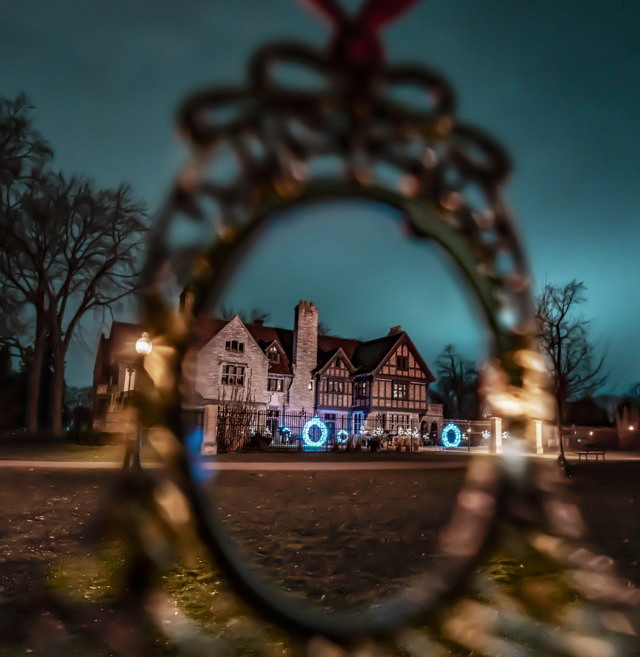 Experience the magic of the holidays!
Even as the temperatures dip and we all start to complain that our toes are cold, there is no denying that this time of year can also be incredibly magical!  Take advantage of the extended dark evening hours and check out the amazing light displays we have here across Windsor Essex.  Grab a cup of cocoa and take a nice long drive around our small towns to check out the magical light displays through the neighbourhoods and downtowns.
Though the now popular custom of decorating with lights for the holiday season has been around since Christmas trees were once decorated with candles, public displays of illuminated trees become increasingly part of each community's holiday celebrations.  These spectacular illuminations transform parks into well lit wonderlands  and create picture-perfect postcard settings and Instagramable photo opps.
So bundle up for a stroll or settle in for a drive and experience the beautiful light festivals and all the winter wonderland illuminations.  These unique holiday experiences provide a special evening for you and your loved ones to capture those perfect holiday memories so get out there and enjoy!
Bright Lights Windsor Citywide
Through January 8, 2021 
Admission: Free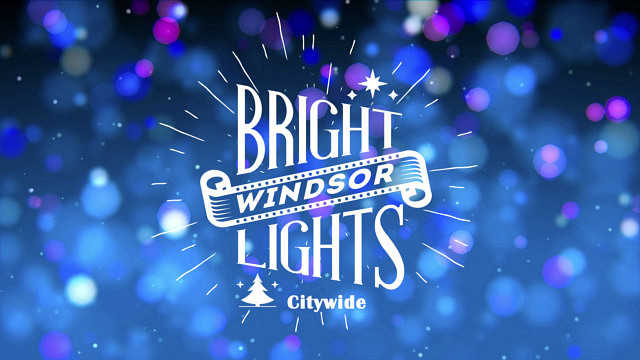 Watch the city come alive with stunning light installations across the City.  Now in it's fourth year, Bright Lights Windsor has been reimagined and The City of Windsor has worked with all the BIAs across the city to help beautify the streets. Bright Lights Windsor Citywide is your excuse to hop in the car and get in some festive fun while being socially distanced. Grab a hot cocoa and take a walk or drive by with your family to enjoy all the wonder and light that the holiday season has to offer! The City of Windsor has also moved some of Bright Lights Windsor (which normally takes places at Jackson Park) across the city at a few different spots. Our easy-to-download map can be found below.  
While you're exploring, make sure to check out the boutique shops & artisans in each business district. Now is more important than ever to support local – and stopping in at some of the shops while you explore is the perfect way to check some people off your Christmas list – and put a smile on a local entrepreneurs face!
You can also WIN while you're exploring. Snap your pics while you're visiting the light installations and share them with us. Hopeless romantics take note—there have even been some epic "lit" proposals in the past at the Bright Lights festival so get creative this year and pick your favourite lit locale!
Use the map to help plot your way across Windsor to visit all of the displays & business districts.
Download our 'Bright Lights Tic Tac Toe' and print it out to play with the family as you explore.
SNAP & WIN
Grab a pic at each of the stops and share the pic with us. Just click here and upload your pics for your chance to win!
Through January 4, 2021
Downtown Amherstburg; King's Navy Yard Park & Toddy Jones Park 
Admission: Free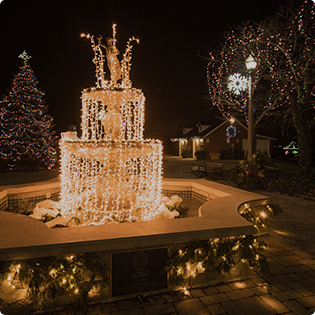 What started as a project to get people out of their homes in the wintry holiday season has now become a tradition for thousands every year.  This annual festival reimagined for 2020 runs from mid-November to early January and boasts 100's of customized LED light displays illuminate the town.
Stroll through two of Amherstburg's downtown parks, the King's Navy Yard Park and Toddy Jones Park, and be dazzled by light every night.  Toddy Jones Park features whimsical, playful displays for the kids and the kid at heart to enjoy. King's Navy Yard Park will be home to traditional displays that showcase the warm hearted feel of the season with carolers, angels, soldiers and more. The downtown businesses are lit up for the holiday season too!
The Amherstburg River Lights is sure to put you into the holiday spirit and is not to be missed!  Come make this a family tradition in Downtown Amherstburg.  Click Here For More Details.
KINGSVILLE LIGHT UP THE NIGHT Tour
Through January 8, 2021
Kingsville, ON (9 locations) 
Admission: Free
The Kingsville Fantasy of Lights looks a little bit different this year – and so do the light displays. Every bit as magical and bright as in years passed, the Kingsville Fantasy of Lights has been reimagined and redistributed throughout town for all to enjoy! Visit these locations throughout the Town to view the Light Displays. Help us light up the night!
The Grovedale Arts & Culture Centre, 103 Park St.
Lakeside Park – Upper Bowl, 315 Queen St.
Carnegie Arts & Visitor Centre, 28 Division St. S.
Kingsville OPP, 41 Division St. S.
Kingsville Town Hall, 2021 Division Rd.
Kingsville Public High School, 40 Main St. W.
Kingsville Arena Complex, 1741 Jasperson Dr.
Essex County Library, Ruthven Branch, 1695 Elgin St.
Cottam Rotary Park, County Road 34.
Get ready to ooooohhh and ahhhh and take in all the wonder of these illuminated displays as part of your new 2020 Holiday traditions.  Click Here for more details.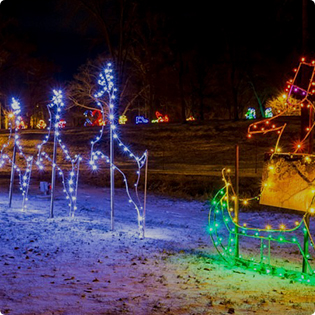 We've also compiled a Holiday Lights Guide with maps and addresses of homes and businesses who have done the Grizwolds proud and created their own light displays and holiday décor to share with other residents.  For a full listing of holiday events happening both virtually and in-person across Windsor Essex,  visit our YQG Holiday Events Guide.
While you're exploring please remember to follow the proper safety recommendations for the region – you can visit our COVID-19 hub by clicking here for more details, including:
Always wear your mask
Please only explore with your immediate household or bubble
While viewing any of the light installations please remember to maintain at least 2m distance from any other group
Original blog published by Tourism Windsor Essex Pelee Island on Wednesday December 9th, 2020.
Sponsored by Tourism Windsor Essex. For more details on Tourism Windsor Essex click their website, or visit them on Facebook, Twitter, or Instagram.
Content Continues Below Local Sponsor Message
Content Continues Below Local Sponsor Message
Content Continues Below Local Sponsor Message