Insiders Guide: Locally Made Must Haves This Season
Saturday December 5th, 2020, 11:00am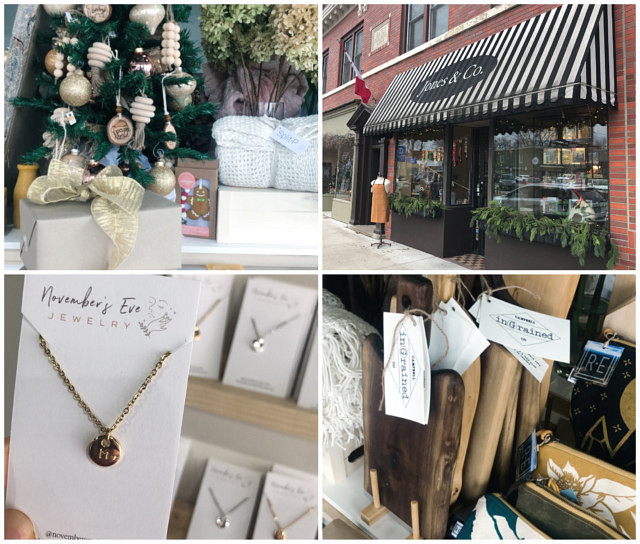 The holiday season is in full swing and there is no better time to shop and support local businesses than now! I teamed up with Tourism Windsor Essex County Pelee Island to #shoplocal this holiday and share with you some of my favorite shops and restaurants in our city.
#butfirstcoffee… because nothing starts the day like a warm cup! Café March 21, located in Downtown Windsor, offers unique beverage and single-origin coffees with a variety of different brewing techniques such as pour over, siphon and cold brew. Their delicious cookies are all baked in-house and they also carry a variety of unique gifts for the coffee lovers in your life! I grabbed their signature holiday drink – Gingerbread Latte and a homemade butter almond cookie to kick off my day.
With coffee in hand, I took a walk down to WhiskeyJack Boutique on Maiden Lane. This cute little shop carries a curated collection of all Canadian-made pieces. I picked up these postcard chocolate bars by Alicja Confections to send to a few friends and also grabbed a few gift certificates that can be used in-store as well as their online shop.
I headed over to Ottawa Street to check out a new shop that just opened in October. Aggregate Shop is the perfect spot to pick up unique gifts for loved ones or some last minute stocking stuffers! They carry a variety of botanicals, small décor, eclectic giftware, and accessories. As well, if you are looking for sustainable necessities and everyday essentials for your home – Aggregate is your place.
Shopping always make me hungry! Luckily, Windsor is home to some amazing restaurants! The Grand Cantina in Ford City is one of my favorite spots for a quick bite and cocktails. We snacked on their yummy cantina chips and a side of salsa and guacamole while we perused their menu. Everything here is delicious but my personal favorite are their ODB (baracoa beef) and pulled duck tacos. And of course, their shaken margaritas!
Oh, and don't forget to leave room for dessert – their churros are soooo good!
After lunch, I headed over to Old Walkerville for a little more holiday shopping… and to burn off that delicious lunch! All the stores in this area have dressed up their shops and window displays for Christmas and I just loved how festive everything was. I started at Urban Art Market on Chilver Street. They carry 100% YQG made products from 40 different makers. From handmade toques to beautiful ceramics, there is something for everyone at Urban Art Mart.
The gorgeous weather led us down Wyandotte Street to Jones & Company (a cute shop with unique and nostalgic gifts for young and old), Timeless Treasures (that perfect place to shop for the antique lover in your life), Envy Boutique (a little boutique where you'll find that perfect holiday outfit) and then to Anchor Coffee for a mid-day caffeine fix.
I decided to head out to Tecumseh, just 15 minutes from Windsor, to check out a few shops in the area. ShopEco, located on Lesperance Road is an independent Canadian beauty and wellness destination. The shop carries a variety of small batch, independent beauty brands that are geared towards those with clean beauty in mind. Their mini lip serum trio, holiday reed diffusers and soy candles would make the perfect stocking stuffers!
Ocean Bottom Soap Company was next on my list. Walking into the store, I was happily greeted by the amazing aromas of essential oils. I was lucky enough to meet the owner Charmaine who told me how Ocean Bottom started, the soap making process and the science behind her soap combinations. With over 40 different hand crafted artisan soaps, there is something for everyone!
My love for cheese runs deep and my favorite local spot to pick-up artisanal cheese is The Cheese Bar. Sarah, the owner, brings in the most delicious selections of cheeses. Her cheese and charcuterie kits are the perfect holiday gift and best part, they can be ordered online and delivered anywhere in the city. I couldn't resist bringing home some cheese (a truffle brie that has now become my new favorite) as well as a gorgeous knife set (a little Christmas gift to myself)!
After finishing all my holiday shopping, I met up with my husband and some friends for dinner at FRANK Brewing Co. FRANK is a local craft brewing company in Tecumseh. Their local beers are available for purchase in-store and at select beer store locations.  Lori, their events coordinator was kind enough to give us a brewery tour and teach us all about the different beers FRANK offers and how they are all made.  Their Sunshine IPA with it's tropical fruit flavours was my favorite! Easy to drink, it paired well with the warm pretzels, spinach dip and Jonas pizza we ordered.  FRANK is also a member of the Barrels Bottles Brews Barrel Trail here in Windsor Essex – the Flight Log is a great gift idea for the beer lover in your life.
It was such a great day checking out all the local gems in our city. I feel so fortunate to live in an area with so many talented artists and makers. I loved how every shop and restaurant I visited through the day were so diligent about practicing measures to keep their staff and patrons safe. From hand sanitizer stations at their entrances to social distancing markers, regular sterilizing to proper mask wearing – I felt so safe shopping in-person at every stop. Be sure to check out some of these amazing places for gifts this holiday season. Whether in-store, online, for curbside pickup and/or delivery – it is the best time of the year to give where you live and #shoplocal.
For more great local gift ideas, thumb through the 2020 Holiday Gift Guide featuring over 175 local artisans, shops, districts and more.
The 2020 Holiday Gift Guide is in partnership with the Windsor-Essex Small Business Centre , the Windsor-Essex Regional Chamber of Commerce, the Ontario Greenhouse & Vegetable Growers Association and our W.E. Made It program created by Tourism Windsor Essex Pelee Island, and partners participating in their programs.
Original post by @withMable published on December 2, 2020 
Sponsored by Tourism Windsor Essex. For more details on Tourism Windsor Essex click their website, or visit them on Facebook, Twitter, or Instagram.
Content Continues Below Local Sponsor Message
Content Continues Below Local Sponsor Message
Content Continues Below Local Sponsor Message