Insiders Guide: Serve Locally Grown With These Recipes
Saturday November 28th, 2020, 11:00am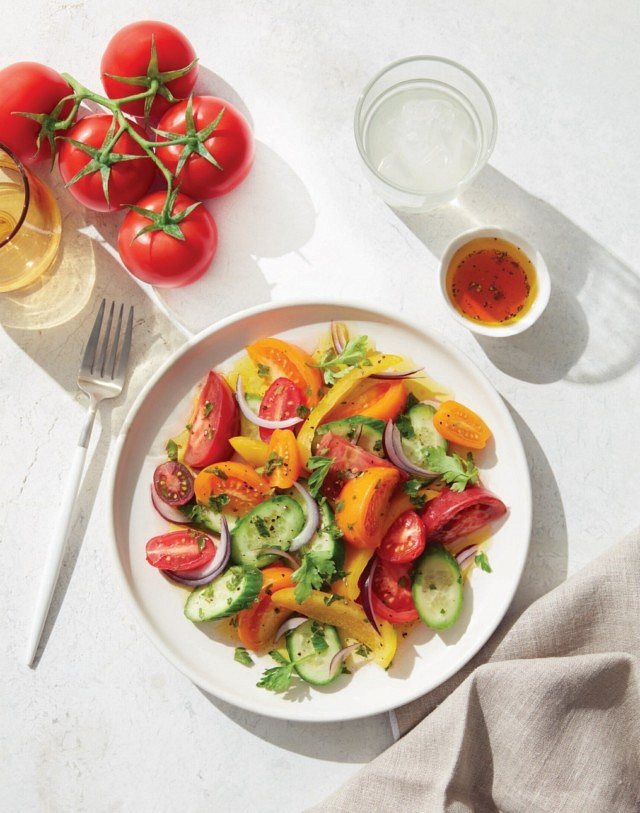 Make This Holiday Delicious!
Created in partnership with Tourism Windsor Essex Pelee Island and the Ontario Greenhouse & Vegetable Growers Association.
The foods we prepare for holidays are often rich in tradition and memories making them a significant part of how we celebrate.  From Roasted Turkey to Christmas pudding and all the fixings in between – what we serve to our family and friends often is full of both thought and care.
So this year, even if holiday dinners may look different than in years past, why not create a menu that involves the bounty of Essex County and check out these delicious recipes created by the Ontario Greenhouse Vegetable Growers made with locally-grown produce!  Whip up something delicious for your family and friends using items sourced close to home including Ontario-grown greenhouse vegetables.
The Essential Village Salad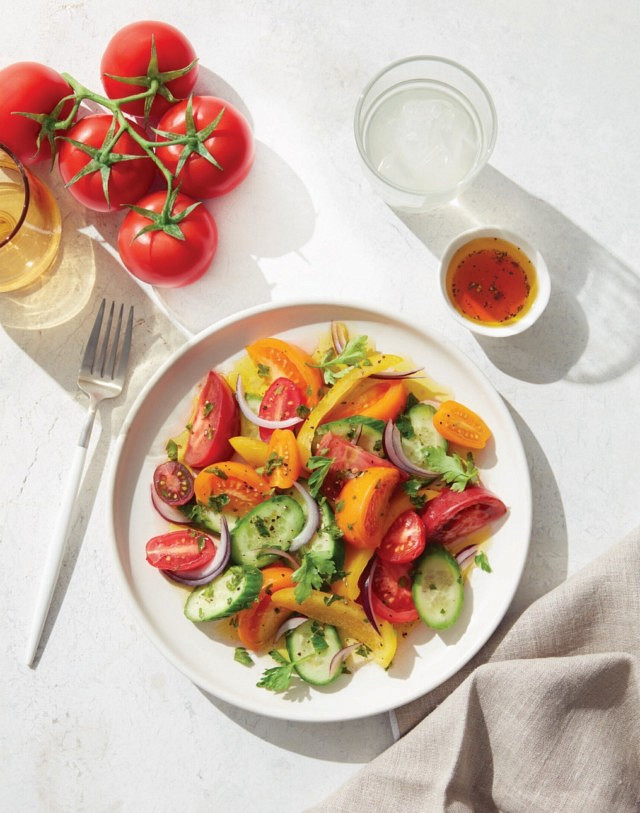 Ingredients: 
1lb (455g) mixed ripe Ontario greenhouse tomatoes (heirlooms can add a punch of colour)
4 Ontario greenhouse mini cucumbers (or 2/3 Ontario greenhouse English cucumber)
1 Ontario greenhouse pepper (be as colourful as you want)
1/3 cu (80mL) thinly sliced red onion
1tbsp (15mL) chopped flat-leaf parsley
3 tbsp (45mL) extra-virgin olive oil
2 tbsp (30mL) red wine vinegar
Salt & pepper to taste
Directions:
Cut tomatoes into wedges.  Cut cherry and grape tomatoes in half.
Slice cucumbers on bias (if using English cucumbers, halve lengthwise first.)
Cut pepper into bite-sized pieces.
Place vegetables in large mixing bowl with onion and parsley. Drizzle with oil and vinegar. Season with salt and pepper.
Mix thoroughly.  Transfer to serving dish. Enjoy!
More Recipe Ideas
Looking for even more ideas? Why not change things up a little and mix in the veggies that your family likes to eat with the following easy substitutions for the Village Salad.  We almost guarantee they will be asking for seconds!
Greek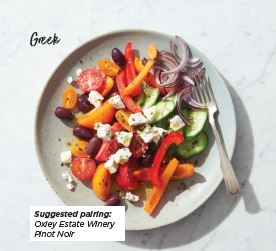 Directions: Omit parsley, and arrange vegetables on serving platter. Drizzle with oil and vinegar. Season with salt and pepper. Top with 1 cup (250 mL) cubed feta, 1/2 cup (125mL) pitted kalamata olives and 1 tsp (5 mL) dried oregano. (Alternately, toss everything together in bowl.)
Middle Eastern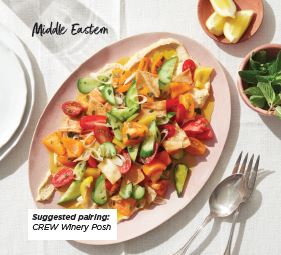 Directions: Cut vegetables into 3/4-inch (2-cm) pieces, substitute fresh lemon juice for vinegar, and omit parsley. Add 2 green onions thinly sliced on bias and 1/4 cup (60 mL) chopped mint. Spread 1-lb (455 g) container hummus on bottom of serving platter. Gently stir 1 cup (250 mL) pita chips broken into 1-inch (2.5-mm) pieces into salad then mound on top of hummus.
West Coast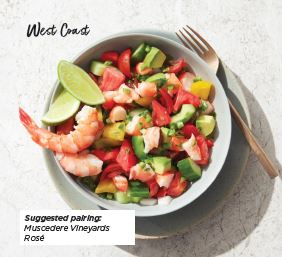 Directions: Seed tomatoes and cucumbers (if desired), and cut vegetables into 1/2-inch (1-cm) pieces. Substitute  fresh lime juice for vinegar and omit parsley. Add 1/3 cup (80 mL) diced white onion, 1 finely chopped jalapeno and 3/4 lb (340 g) chopped cooked shrimp. Cover and refrigerate salad at least 1 hour. Before serving, stir in 1 diced ripe avocado and 1/4 cup (60 mL) chopped cilantro.
Shop Local
Make it easy on  yourself and pop in to one of our proudly owned local stores, farm stands or suppliers to pick up the ingredients for your special holiday meal(s). Or if you'd rather leave the looking to someone else, there are plenty of great (and delicious) choices available for pre-made, ready-to-serve or take-out options.
Markets & Fresh Produce
Looking to craft a beautiful charcuterie board or bake your own fresh pie? From sustainably raised meats, fresh vegetables and perfectly aged cheese, head in to some of our local butcher shops and fresh markets to score the ingredients for your family favourites!
Pre-Made Local Products
Not sure the difference between the oven and the stovetop? Have no fear because Windsor Essex has some great local restaurants, bakeshops and chefs who will ensure that your table (and bellies) are filled with some of the finest foods!
Get all the fresh details on where to buy farm fresh and our local producers at weheartlocal.ca. 
When it comes to the winter holidays, food traditions are a significant part of the celebrations and often it's said that what is grown close to home tastes even better! Use our Windsor Essex grown fruits and vegetables to make your favourite recipes or try something new with the ones above!
Make sure to use our 2020 Holiday Gift Guide when looking for all your gift or home décor needs and be sure to support our local businesses and shopping districts.
The 2020 Holiday Gift Guide is in partnership with the Windsor-Essex Small Business Centre , the Windsor-Essex Regional Chamber of Commerce, the Ontario Greenhouse & Vegetable Growers Association and our W.E. Made It program created by Tourism Windsor Essex Pelee Island, and partners participating in their programs.
Sponsored by Tourism Windsor Essex. For more details on Tourism Windsor Essex click their website, or visit them on Facebook, Twitter, or Instagram.
Content Continues Below Local Sponsor Message
Content Continues Below Local Sponsor Message
Content Continues Below Local Sponsor Message