A Letter To Parents Of School-Aged Children From The Medical Officer Of Health
Thursday August 20th, 2020, 4:35pm
Hello time traveller!!
This article is 1132 days old.
The information listed below is likely outdated and has been preserved for archival purposes.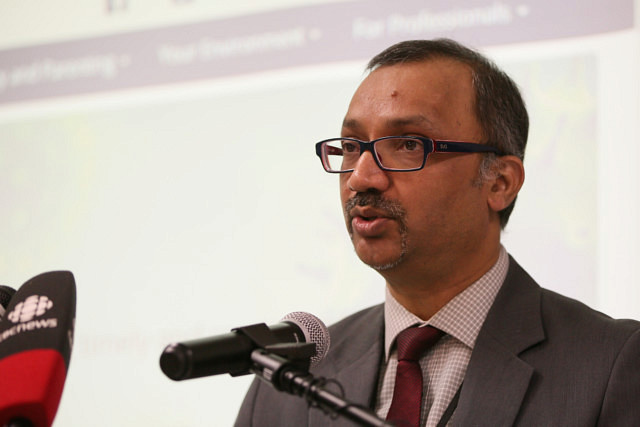 Dr. Wajid Ahmed, Medical Officer of Health has issued the following letter to parents of school-aged children.
Dear Parents and Guardians:

Thank you for all of the work you've done to help our community join the rest of the province in Stage 3. This is good news for our region and it better enables us to make informed decisions around returning to school in September. The Windsor-Essex County Health Unit (WECHU) is working with our school boards and other partners to enable a safe return to the school environment. We have reviewed back-to-class plans and made recommendations for enhanced safety measures to reduce risk.

As you consider all of the factors in sending your children back to the classroom, we want to acknowledge your concerns and the uncertainty you might be feeling. Much of what we see and hear about the world around us right now is worrisome, particularly when it comes to kids and school. But, we're looking at the experiences of other places as they've returned to class and are learning from them. That is what education is all about. This region has great resources available to it to help return to face-to-face learning safely: the WECHU has the ability to carefully monitor for outbreaks of COVID-19 using newly available tools; our assessment centres are responsive to community needs; our school boards have been great collaborators for years; we have the capacity for contact tracing if it is needed. We want to reassure you that this region is equipped for a return to the classroom and that we can respond if there is a need.

There are two important pieces of information to keep in mind as you come to your decision. First, that being in school is good for kids – good for learning, good for socialization, and good for the wellbeing of everyone in the family. Second, that there will continue to be cases of COVID-19 in our community; our goal for schools is to minimize that risk, contain outbreaks, and reduce the impact of the most severe outcomes. This is our starting point. We know September is going to look and feel different for everyone this year no matter how your kids receive their education; the decision about sending your kids to school in person needs to be one based on your unique situation and one that works for your family.

Think about the unique needs of the child you will send to school.

For most children who have become ill with COVID-19, they have experienced mild illness and recovered without the need for medical help. A very small number of children get a severe inflammatory disease, but we do not yet understand what puts kids at risk for this. Consider whether your children will be prone to severe disease if they get COVID-19. For example, do they have underlying medical conditions like lung diseases or cancer or diabetes that is not well controlled that might predispose them to a bad outcome? A conversation with your child's health care provider about their individual risk if they have medical vulnerabilities may help you have information to make a decision about face-to-face instruction. If your child is very medically fragile, returning to in-person instruction right now may not be the best choice for them. For most kids in our region, the benefits of going to school will outweigh the risks.

Think about your household – anyone who lives with your child.

Again, most people will make a recovery from COVID-19 without significant medical help. People at the greatest risk for poor outcomes are those with chronic diseases like diabetes or high blood pressure and those over the age of 70. Additional protections for people like this, if they live in the same household as someone going back to school, is another important consideration. You can reduce the risk in your household by having a plan for isolation that keeps sick kids away from anyone who is vulnerable. If there is someone who is medically fragile in the same household as a learner, you will need to consider the risk to that person and the important benefits of the classroom environment for your kids. This is a case where there is no ideal answer – make the best decision you can for you and your family for now, as there will likely be opportunities to reassess later.

We'll think about the community – and provide you with information to help guide your decisions.

The WECHU and our partners in schools are committed to keeping kids safe, no matter what form their learning takes in the fall. We have experience managing communicable disease outbreaks in schools and working closely with school boards on communication, risk reduction, and back to school planning. We've been engaged with schools throughout the pandemic, and as we move back into the classroom environment that will not change. It is very important to remember that our best chance to keep kids in school, to protect staff in their workplace, and to protect our community is to have low rates of transmission of COVID-19.

Measures in place to support a return to classrooms and protect children and educators include:

Screening for staff and students to ensure no one who is sick is at school
Isolation of anyone who becomes ill while at school
Physical distancing – in classrooms, on playgrounds, on school buses, and as you enter and exit schools
Good cleaning and disinfection practices
Cohorting to the greatest extent possible to prevent wide transmission if an outbreak occurs
The use of masks or face coverings for staff and students

The WECHU will be actively monitoring any cases or outbreaks in school settings. We'll also be doing our work around schools to try to reduce transmission in our communities. If we see worrisome trends, such as big outbreaks related to schools or many cases of COVID-19 in our region, there will be a discussion about changing course. We will work with school boards to keep you up to date about these decisions.

It is important to emphasize that there is no risk-free option. Sending your kids to school may increase the risk of getting COVID-19 in the classroom setting. Keeping your kids at home may have an effect on their social and developmental wellbeing, and it won't necessarily prevent you or your family from getting COVID-19. The only right decision here is what is right for your children and your family right now. Whatever decision you make, we will continue to work together to help your children learn and grow safely. By following the public health measures we know work and staying home when you are ill, you'll be protecting schools no matter what.
Content Continues Below Local Sponsor Message
Content Continues Below Local Sponsor Message
Content Continues Below Local Sponsor Message