Windsor Mayor Calling On Farm Operators, Provincial, Federal Governments To Take Action
Monday June 22nd, 2020, 3:59pm
Hello time traveller!!
This article is 1012 days old.
The information listed below is likely outdated and has been preserved for archival purposes.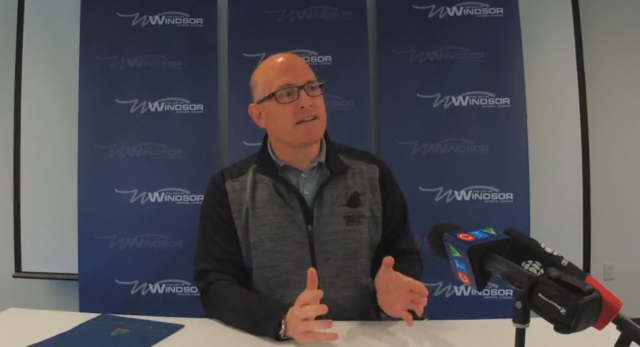 Windsor Mayor Drew Dilkens is calling on farm operators in Essex County to take action and have all farm workers tested this week.
"We cannot face another week of delay on the part of local public health officials to assess and contain the spread of COVID-19 among the farm worker population," Dilkens said in a blog post.
"As Mayor of Windsor, it would be politically expedient for me to suggest, as many have, that our City be allowed to progress to Stage 2, while those harder hit in the County remain in Stage 1," he said. "But I know that we rise and fall as a region and it just won't be possible for one community to move forward while others struggle."
Dilkens said data from the Health Unit shows within the past month that 82% of cases in the region are located within Kingsville and Leamington.
"The local agricultural sector contributes significantly to regional prosperity, employing thousands within Essex County, helping to feed countless others across the Province and Country," he said.  "At this time, our local agricultural power-house is holding the rest of Windsor-Essex back from re-opening our economy."
"While the local health unit has thus far refused to test the full temporary foreign worker population, this next week presents an opportunity for our local agricultural community to step in where public health officials have failed," Dilkens said.  "On behalf of the residents of the City of Windsor, I'm calling for all Essex County farm operators to voluntarily have all farm workers tested this week – so that our region can seek to assess and contain the spread of COVID-19."
At a follow-up news conference, Dilkens spoke about repeated calls for levels of government to conduct mandatory testing.  He told reporters he's not asking to make testing mandatory in the sense of forcing workers to take a test.  "I understand that you can't hold someone down and shove a swab up their nose," Dilkens said. "When we talk about mandatory testing, that's not what we're talking about."

Dilkens said mandatory testing can be similar to what was done in long term care.
"They've now opened up long-term care for visitation," he said.  "But they say if you're going to visit someone in long-term care, you have to prove that you've had a COVID test and that you're negative within the last fourteen days."
"The person doesn't have to get a test," he said. "But if they want to go into long-term care, they do, otherwise they just can't go in.  So the person does have a choice they can make."
"The same thing can happen on these farms," Dilkens said.  "You can't hold someone down and shove a swab up their nose to test them, but the province, the federal government can step in and say you cannot work on one of these farms unless you prove that you've had a test and you're COVID negative in the last fourteen days."
Dilkens said food safety also contributes to his call for action.  "The cucumbers that are being picked today are in Costco tomorrow," he said.  "So we all want to make sure that our food supply is also safe. So there's a good reason for them to move forward and undertake this type of measure if they have to, if they can't get voluntary compliance."
"The Health Unit should have stepped in long ago and mandated things to happen, used Section 22 of their Act, the power that is granted under that, and made things happen," Dilkens said.  "I don't mind being loud and vocal, and speaking up for the people of my community and the businesses here and I intend to do that each and every day.  Because what's happening here is just not right."
Content Continues Below Local Sponsor Message
Content Continues Below Local Sponsor Message
Content Continues Below Local Sponsor Message