Haunted House Innovates While Releasing Evil Energy
Sunday October 14th, 2018
Posted at 10:00am
Hello time traveller!!

This article is 1152 days old.

The information listed below is likely outdated and has been preserved for archival purposes.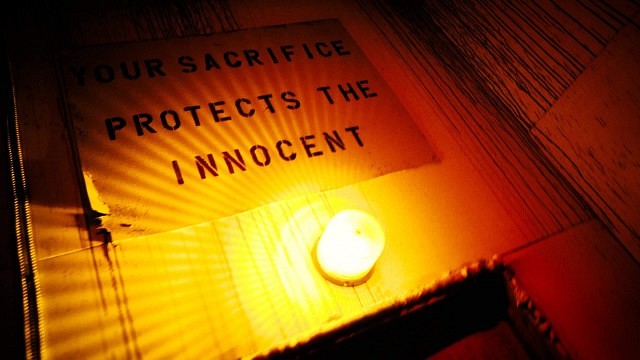 With Halloween less than three weeks away, a local haunt has some evil energy that needs to be purged.
Operating at its permanent home for the second year, Scarehouse Windsor's Scared Evil Haunted House located at 1441 McDougall Avenue is serving up frights for the Windsor-Essex area. Not having to relocate after closing up last season, work for this year began a week later.
Unlike the past, it's something that put those involved ahead of the game.
"Having the ability to take out what didn't work last year and building off the successes puts us light years ahead for 2018," said Scarehouse Windsor owner Shawn Lippert. "The plan goes into motion and construction starts happening about May. Try Outs for actors were in May also with call backs happening in July. We upgraded our Make Up Department with professional air brushing to make our crew look amazing."
This year's theme for the haunt is purging energy and called "the release." Keeping nightmares from childhood in storage, The Scared Evil Haunted House opens its doors every year so they can be used — if not, the results would create "hell to pay."
It also gives the haunt's actors something to reference for a unique experience. Calling them "crazy good," the improved make up has also made each character difficult to look at.
For a business specializing in scares, that's a very good thing.
"Having our theme really gives the flexibility to create and design characters with the actors," said Lippert. "We don't won't cookie cutter experiences. We want the actor to decide on a character and meander into the role — make it their own. It's more fun that way: You own it."
Approaching the haunt almost like a movie production, Lippert starts with a budget and general plan. Mapping things out on paper, the layout is then put into a 3D CAD design. Seeing things better on the computer, small adjustments are made and the floor plan gets laid out in the house afterwards.
Building everything has several layers from there.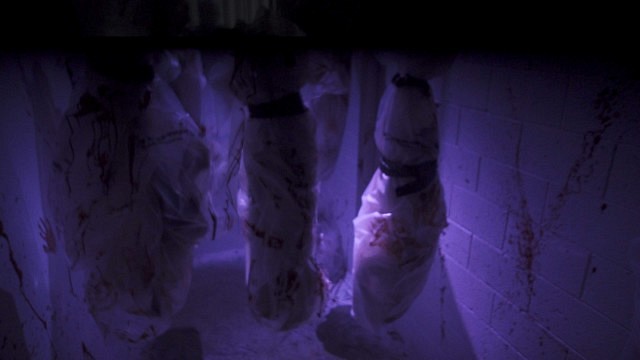 "Building the Haunt is like looking at a person," said Lippert. "The bones are the structure. All the LED lights, speaker cables, air hoses etc. are like the nerves. They all run back to a control room that is like the brain. We have cameras in rooms so that we get a good feel of how the customer is experiencing the Haunt."
Switching out elements that didn't work last year aren't the only changes either. Scared Evil Haunted House's sound system has been completely redesigned and animatronics only seen at major attractions have been added.
Advancements in technology have also allowed Lippert to do things that may have been impossible before.
"LED technology is getting crazy good," he said. "Because we work in the dark, we only have six plugs in the Haunt. All the lighting inside the Haunt runs off of six 15 amp plugs. Think about that, you couldn't say that five-years-ago. We have over 100 LED lights to give us the ambiance lighting to make us really look creepy."
This also allows Scared Evil to compete with similar attractions across North America.
"The Haunt was completely redesigned and upgraded to a level that will compete with majors across Canada and the U.S.," said Lippert. "The first thing you will notice will be the set designs and the magnitude of the scares — it's at a whole new level. The harder stuff to see or feel will be the sound improvements and the lighting, but that is a good thing. It's easy to see or hear bad sound and lighting but when it is done right, you don't even notice."
The owner isn't just innovating with his annual scares either. At 8 p.m. on Wednesday, October 24, The Scarehouse will host 4th Wall Music. The string quartet is set to play creepy classical music in the abandoned section of the haunt. Billed as music "that will send shivers down your spine," limited tickets are available online — a Facebook event page also has more information.
As Halloween approaches, demand for the haunt's main attraction will also continue to grow. The week before October 31 usually finds it at full capacity and it's recommended people pre-purchase tickets in advance. Getting them online for $15 each ensures entry within the hour with limits: The only exceptions are when peak capacities cause the haunt to run over. Group rates are also available though and without buying a ticket, there's a risk of having to wait multiple hours.
Enjoying community support for over a decade, providing a quality experience is important to Lippert. Not being able to see his vision through until last year, he's now dedicated to going above and beyond.
"We have always dreamed of bringing a world-class Haunted Attraction to our area," said Lippert. "We could never do that until we had a home. Our fans of Haunted Attractions have kept us in the game for over a decade — the social contract with them is pretty simple, 'we will keep coming as long as you keep moving forward with your dream.' We have done that this year and we are already planning for NEXT YEAR."