Local Director Brings The War To Amherstburg
Monday February 12th, 2018
Posted at 6:35pm
Hello time traveller!!

This article is 1165 days old.

The information listed below is likely outdated and has been preserved for archival purposes.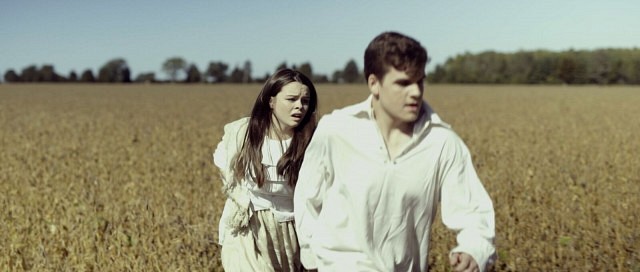 Debuting on Rolling Stone's website, Gavin Michael Booth's latest collaboration hits close to home.
Released to the world at the end of January, the local director's latest music video for Seattle-based SYML was shot in Amherstburg. The War focuses on a chase between two villagers and their elders in the 1600's. Accused of witchcraft, the pursuit plays out in the clip.
Knowing the area well, Booth had the perfect location and enjoyed coming back.
"It just made sense," he said. "I was working with the same cinematographer as [SYML's] Where's My Love? video, Karl Janisse and I needed another very specific location. The woods we used I knew because they are on a friend's farm property. I had been in those woods before when I was in high school and knew they would work perfectly. Home is always home and any chance I have to work so close to home makes it even more desirable to land the production there."
Booth generally listens to any song he receives while taking a walk or drive and comes up with a few different ideas. This time he was inspired by The War's lyric, "Don't push him son, for he's got the power to crush this land." It made him think of superpowers while the song's raw power created images of a different time. It resulted in a pitch similar to an X-Men prequel set in the 1600's witch hunt era.
With the video relying on tension, Booth used a simple technique to convey the drama.
"Slow motion," said the director. "The entire video is told in slow motion. For certain songs, their emotion is paired perfect with slow motion. It makes all of the drama more intense, it ramps up the suspense of delaying when you see the next beat, what happens next. Then it all falls on the casting — you have to have actors that can translate that tension and urgency."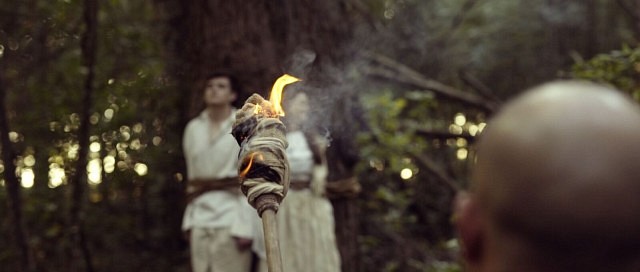 To accomplish this feat, Booth turned to people he'd worked with before and casted others through Fusion Talent Agency. Everyone in the video lives in the Windsor-Essex County area and the two leads are still in high school, having little to no on-camera experience before this shoot.
Despite this, Booth feels that actors Makenna Pickersgill & Calum McMillan brought too much of a presence for people to notice: The director even admits he wouldn't believe their lack of experience if he wasn't involved with the project.
Another important part of the video was getting the tone right. With superpowers involved, Booth had some freedom when accurately portraying 1600's clothing. From there, he reached out to local theatre companies and got some help from Korda Artistic Productions and Lakeshore Academy of Fine Arts. The director also reached out to past collaborator Shawn Lippert and his wife Colleen: Having several costumes in their Scarehouse Windsor wardrobe archive, all of Booth's needs were covered.
Torches and key props were designed by Emily Eansor. Her experience with several film projects in the area led to designs that worked for the video right from the start.
The only challenge left from there was ensuring the surroundings looked believable.
"Location wise and framing it is all about finding horizons where you can't see roads or traffic," said Booth. "The biggest challenge for this was finding the opening vistas where you cannot clearly see the giant wind turbines all over the county. The last thing you want to have to do with an indie budget is special effects to remove things from the shot."
From cast and crew to the weather, it was an easy shoot for the film-maker. Working with SYML several times now, the relationship continues to thrive as well.
"SYML actually said it best," said Booth. "'This story is beautiful but has an undertone of sadness and unrest. I have loved working with Gavin because I think our minds and hearts both see the world through a dark but beautiful lens.'  From my perspective, his music is the type of music I listen to and love. That makes my job of creating the visual story so much easier. Also, he is incredibly collaborative and doesn't micromanage my creativity so there is freedom in creating that always has me putting my best foot forward."
Since shooting a video for The War, Booth has been keeping busy. He's directed short-films Vinder and Tupperwho, shot the next SYML video while his short film Are You My Mommy? is in the final stages of being finished and released.
The Amherstburg native will also be coming back to Windsor this month and sometime in the spring. His first trip will be to shoot a video for a country band in a building downtown. Booth's second project will be more work however as he starts his next film.
"There are no official details out there yet but I will tell you that it's a film unlike anything I've directed thus far," he said. "It is a very small cast and crew and due to the unique circumstance of the film's story, Windsor is the perfect place to shoot it. The dates aren't locked yet but I anticipate it being filmed in a few months."
To view Booth's latest videos and news, those interested can visit his website.