Fans Get Ready To Celebrate Batman Despite Hijacking
Thursday September 14th, 2017
Posted at 9:00am
Hello time traveller!!

This article is 1593 days old.

The information listed below is likely outdated and has been preserved for archival purposes.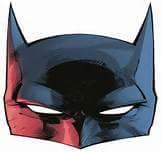 Although a hero is in line for a celebration, someone in the family is looking to steal his thunder.
On Saturday, September 23, comic shops across North America are celebrating Batman Day. With several deals available at retailers in the Windsor area, it's an opportunity for fans across the county to get their fill of the caped crusader.
Unlike in past years however, not everyone is happy about the event.
"Batman Day was started a few years ago to celebrate Batman's 75th Anniversary," said Scott St. Amour, owner of Paper Heroes: Comic Book Lounge & Collectibles. "The day was so well received that DC Comics has turned it into an annual event. With Harley Quinn's popularity continuing to grow though, she's being thrown into the mix by hijacking the event."
Even though the villain is a part of Batman's universe like the Joker, Robin and other characters, DC is promoting her involvement heavily. Celebrating 25 years since her debut on Batman: The Animated Series, people coming out can even get Batman and Harley Quinn masks.
Paper Heroes (located at 2857 Howard Avenue) has several deals and activities planned for the day as well. Anything related to Batman (and Harley Quinn by association) will be on sale. Merchandise including toys, statues, collectibles, clothing and back issues will be 25% off. Graphic novels are also set to be marked down by 40%. Three free comics will be available for customers while supplies last.
Despite these savings though, there's something that fans may be even more excited about.
"We also have someone selling off their entire Batman collection through the store at some ridiculous prices," said St. Amour. "Currently we have over 150 boxes of unopened Batman related toys and memorabilia that we will be bringing out….as soon as I figure out where to put it all. I have never seen so much Batman stuff in one place."
Batman himself will also be on hand to take photos with kids and help raise money for Hope For Michaela. T-shirts and bracelets will also be sold to support the local charity.
Cartoon Kingdom (located at 2001 Provincial Road) will be carrying the free Batman Day editions of Batman, Harley Quinn and Super Hero Girls comics. In addition, all Batman and Harley Quinn items will be 20% off along with in-store Batman themed giveaways.
They aren't the only ones getting in on the fun however. Border City Comics (located at 4449 Tecumseh Road East) will be handing out copies of the day's free books as well. All in-stock Batman and Harley Quinn trade paperbacks, graphic novels and hardcovers will also be buy-one-get-one-free.
Finally, Rogues Gallery Comics (located at 327 Chatham Street West) is using the day to celebrate another anniversary. Starting at noon, the downtown comic shop will host its 12th annual birthday sale. It's the only store slashing prices for more than just their Batman items.
The main floor will feature $2 back issues, variants at cover price, trade paperbacks, sets, toys, games and apparel for 50% off, reduced statue prices and regularly priced pops for $7. Upstairs will have $0.25 heroclix, $1 loose toys, $0.50 comics and $100 long boxes that customers can fill with comics they choose.
For fans of The Dark Knight, the day is a chance to celebrate their favourite hero. Although he's undergone many changes over more than 75 years, many feel that's why he's endured for so long.
" Batman is more than just another character in a story," said the host of The Bats, Bows n' Books Podcast, Paul Williams. "It's been an integral part of my life. Being one of the first fictional characters I would be influenced by at a young age (my first Batman comic I got was at the age of three,) growing up with the Adam West Batman and the SuperFriends, Batman just became as common as a household sofa or television. It was a part of life."
As for his favourite version of the character?
"Batman: The Animated Series," he said. "The whole series is basically perfection. Between the amazing writing and the stellar voice acting of Kevin Conroy, as Batman[]you really can't do any better than that. I would also include the Arkham games, all of them including Origins. We really get to experience what it would be like to be the Batman. No, we don't get to dress up like him, but we get to be the detective and walk around the world of Gotham City, facing the challenges the Batman has to tackle."
A top-seller at comic shops everywhere. Batman still outperforms other well-known characters. In the end, it's something St. Amour links to quality storytelling — past and present.
" Batman's books have consistently been good," he said. "The new 52 run by Scott Snyder was fantastic and the current run under the 'Rebirth' banner by Tom King is great. For me, my favorite era of Batman was when it was written by Alan Grant with art by Norm Breyfogle. These were some of the first Batman books I ever read and were what introduced me to the comic world of Batman."
Whatever the reason, any fan of the caped crusader has a favourite story. When explaining his popularity with comic fans and casual ones alike though, Williams has a simple theory.
Why do I think he's a compelling character," he said. "Probably the same reason so many others do, because Batman can be anyone. This also applies in the comics, as Bruce Wayne hasn't been the only Batman we've had. Batman is mortal and someone who just wants to do the right thing. Many people aspire to do the right thing and his actions and the reasons behind them are something people can relate to."
The Bats, Bows n' Books Podcast is on iTunes, Google Play and most podcast apps. Current Batman comics can also be found at all shops in the area.