Students Take To Twitter To Show Frustration Over Strike
Thursday October 20th, 2016
Posted at 5:10pm
Hello time traveller!!

This article is 1643 days old.

The information listed below is likely outdated and has been preserved for archival purposes.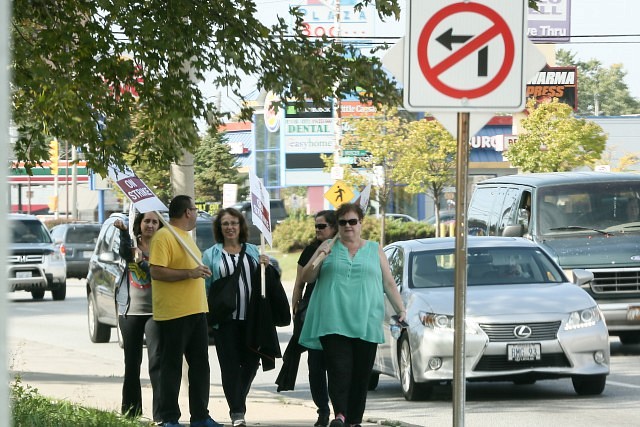 As the strike by 370 custodians, maintenance workers, secretaries, campus ministers, and information technology employees at the Catholic School board continues, frustrated students are taking to Twitter to show how they feel using the hashtag #NOTbusinessasusual.
I dont go to school to be babysat in a caf with 200 other students for 5 out of the 6 hours that Im at school #NOTbusinessasusual @WECDSB

— mar 🦋 (@maria_roye) October 19, 2016
#NOTbusinessasusual because the best buddies halloween event is now cancelled for the first year ever. THEY do not deserve this. @WECDSB

— kat (@katbahn) October 19, 2016
Here is a look at what some are saying:
I dont go to school to be babysat in a caf with 200 other students for 5 out of the 6 hours that Im at school #NOTbusinessasusual @WECDSB

— mar (@maria_roye) October 19, 2016
#NOTbusinessasusual because the best buddies halloween event is now cancelled for the first year ever. THEY do not deserve this. @WECDSB

— kat:) (@itsketo) October 19, 2016
#NOTbusinessasusual because the school board is sneaking in cleaning services during the night instead of letting our own janitors come back

— Eillish (@eyelassh) October 20, 2016
#NOTbusinessasusual because our life skills students are left without EAs to help them in the mornings. Routine is important for these kids

— Katie Butler✨ (@katiebutler37) October 19, 2016
#NOTbusinessasusual because I go to school to learn, not sit in the caf and be watched by teachers! @WECDSB

— Angelina (@Andymoro21) October 19, 2016
#NOTbusinessasusual @WECDSB because they aren't just workers, they're our family

— Kyle Cruz (@NotKyleCruz) October 19, 2016
The fact of the matter is, janitors, campus ministry and secretaries are essential to our school community. #NOTbusinessasusual @WECDSB

— Eillish (@eyelassh) October 19, 2016
#NOTbusinessasusual because our blood drive, an event for those in need of our help, has been cancelled @WECDSB

— haley (@hhaleymiller_) October 19, 2016
#NOTbusinessasusual because semi formal is cancelled and everyone is realizing how important these people's jobs are on the line @WECDSB

— SYDNEY SOLESKI (@sydneymsoleski) October 19, 2016
#NOTbusinessasusual because our semi-formal is cancelled @WECDSB

— Lauren (@laurentoma_) October 19, 2016