Local Musician Finds Natural Beauty In Surprise Success
Tuesday April 12th, 2016
Posted at 10:00am
Hello time traveller!!

This article is 1752 days old.

The information listed below is likely outdated and has been preserved for archival purposes.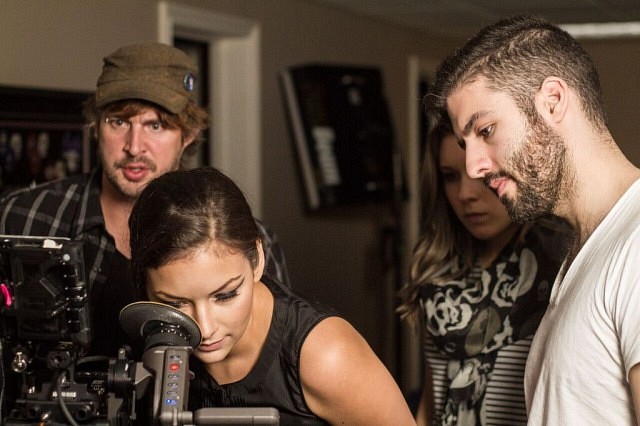 Peeling back the layers, one local artist is showcasing her music in a unique way.
Capitalizing on some surprise success, Windsor musician Crissi Cochrane recently filmed and released a video for her song Pretty Words. Without her knowledge, the song (never intended to be a single) was added to a Spotify Coffeehouse playlist, gaining exposure worldwide.
The end result? It has received over 4.5 million plays — and counting.
"I'm still shocked that Pretty Words has received so much attention," said Cochrane. "It was just a stroke of luck that the song got picked up by a popular playlist with a lot of subscribers, but of all the songs on my album Little Sway, I think it has the most meaningful message. It's about the incredulity and gratitude you feel when someone loves you at a time when you don't really love yourself. I think most everyone struggles with their insecurities or feelings of self-doubt at some point in life, and the song has such a mellow and peaceful sound, so it addresses this complex emotion in a consoling, relaxing way."
Realizing she couldn't let the exposure go to waste, the artist enlisted director Gavin Michael Booth to film a music video. Inspired by the no makeup selfie movement, Cochrane's concept shows her peeling back this layer and revealing her natural beauty by the end.
Although it was a simple idea, pulling off the single shot video required lots of thought and rehearsal time.
"The process of a single-shot music video is not unlike an other shot in a music video or film," said Booth. "You rehearse it until the camera, lighting, make-up, actors, etc have everything timed and marked out perfectly and then you shoot. The difference is that the longer the shot, the longer the logistics are to make sure it runs smoothly. With this video there were questions of "how long will the make-up removal take? Can it be done in the length of this song? The light changes several times throughout the video so that requires crew to manually rotate lights, work dimmer switches and choreograph everything to work seamlessly."
Beyond this, makeup was a huge factor: There were only so many opportunities to film until Cochrane's skin became irritated by applying and removing it. Despite being nervous about getting the performance right however, the artist's rehearsals paid off. After eight hours and two takes, the video was finished.
"We got it right the first take – which I like to do on these things -rehearse rehearse rehearse – work out every single bug until it is perfect and only shoot once," said Booth. "However we had the time and everyone felt so great after the first take that we decided to do it a second time and try to better ourselves."
It went so well that a mistake also ended up improving the clip.
"Actually in the 2nd take – which is the video released, I missed a lighting cue I was in charge of," said the director. "I doubt anyone will know where it is because it worked out BETTER that I missed the cue."
Cochrane knew from the start that Booth was the right guy for this project. They first collaborated in 2012 when he shot a live performance and music video for her song Drive All Night.
Knowing his one-take video experience, she was happy to work with him again.
"Gavin is a very professional yet down-to-earth guy, which makes him extremely easy to work with," said Cochrane. "He's very hard-working and resourceful and I really respect all the effort he puts into each video he creates. On shoot days, I look around the room and see everyone working together on our vision, and it humbles me and makes me so grateful."
Recognizing the no make-up selfie movement's symbolism, it's not something the musician shies away from. Cochrane hasn't warn make-up for most of her life and didn't hesitate to tackle this idea.
It's also something she sees two sides of as well.
"I like the symbolic message behind the removal of makeup, taking off a mask and revealing one's true self," said Cochrane. "I enjoy wearing makeup and the ritual of it, but I appreciate that it can be considered empowering or oppressive, depending on who and when you ask. I think the no make-up selfie is a fine way to celebrate authenticity and vulnerability, and inspire us to respect our own bodies more – they may never be perfect, but they get us through this life."
While Pretty Words's success was a surprise, it isn't the first time Cochrane has gotten exposure in a unique way. Only two months ago, CBC ran a story about the artist nationally. On the verge of being broke, Cochrane decided to write personalized songs for Valentine's Day: People could send her details about their relationship and she'd do her best to write a song about it.
Without knowing if she could pull it off or if there would be any interest, Cochrane launched the offer on February 3. After CBC's broadcast, the artist was overwhelmed with requests.
"I wrote and recorded 12 songs in 11 days, which is something I would never have believed I could do, and I discovered how incredible it feels to create these deeply meaningful songs for people to share with their loved ones," said Cochrane. "I hope other artists steal my idea, not only because it's a way to keep the roof over your head and stimulate your songwriting, but because you can create some very special goodwill in the world with your talents."
Royalties from Spotify have since helped the musician out financially. Earning this income has allowed Cochrane to collaborate on things like the Pretty Words video and — more importantly — connect with people on a larger scale.
"The exposure has connected me with some new industry contacts," she said. "Besides this, I've been hearing from new listeners around the world through social media. It inspires me to think that my songs can go far and lead lives of their own, connecting people and places and moments in ways I'll never know. To think that my song is being heard 20,000 times a day (the average number of hits it receives right now,) that's very surreal."
Following her success, Cochrane also wrote a thank you letter to Spotify. Surprisingly, the company was quick to respond.
"I got a quick and very kind reply back from their office," she said. "They're glad to be introducing their listeners to new music and making an impact on artists' careers."
So what's next for Cochrane? As of right now, her plans include working on a new album this year that she hopes to release in 2017. On top of this, she'll be playing random shows while continuing to accept and fulfill songwriting requests that come in through her website.
Those interested in keeping tabs on what Cochrane is up to can follow her on twitter, facebook, youtube, Instagram and visit her website.