Smashed Apple And Shooters Revolutionizing Food Business
Saturday July 18th, 2015, 11:00am
Hello time traveller!!
This article is 2693 days old.
The information listed below is likely outdated and has been preserved for archival purposes.
"I knew food and I knew it well, and everything else was a big learning curve. It took two years. We didn't really make money for two years, it was really hard, especially the winters. But now we're just kind of on a cusp on being on the rise and making money."
Billy Deslippe, owner and chef on Essex County's own Smashed Apple food truck has been making strides in the culinary industry and is even passing on his expertise to local restaurants through consultations.
The Colchester native started cooking at 16 and traveled out west in his early 20's to gain culinary experience, which he brought with him back home. It all started when a friend of his asked him to cater a wedding.
"I have always wanted a restaurant but knew that it wasn't feasible in the market at the time so I thought why not do a food truck and catering company and get the name out there for catering by doing awesome food on a food truck," said Deslippe. "The food truck is the kind of stuff that I like to eat, that I like to do, and it's fun. The catering is more of what we're pushing towards now. You don't have to worry about rain or if people are going to come, it's more stable."
Smashed Apple just celebrated their two-year anniversary and business is rocketing forward. Deslippe said opening a food truck in the community helped get their name out into the minds of the public. Starting with festivals, going to Amherstburg Town Council to have bylaws amended so he could serve the locals in the parks, and now consulting businesses, Deslippe is seeing his work pay off, tenfold.
The truck offers what Deslippe refers to as "comfort food," from pulled pork, to fish and tacos, and Deslippe said he tries to focus on bringing local food onto the truck so he can also benefit his community.
Most recently, Deslippe paired up with Shooters Roadhouse in Amherstburg. He worked alongside Tim Good, owner and general manager of Shooters, as well as Chris Brown, Shooters kitchen manager.
Shooters Roadhouse has been an Amherstburg staple for 25 years but Good said it was time to address their menu.
"We needed something fresh on the menu and Billy's the hottest chef in the county right now, and he's an Amherstburg local, so we decided to team up with him to put some fresh flavors on the menu," said Good. "He's an awesome chef, great cook and very knowledgeable about the industry. His execution is just excellent. He knew how to pair foods and flavors, I was very impressed with his ability to execute it all."
Deslippe said the reason he's taken on consulting is because he does miss the restaurant industry, but he's not ready just yet to start his own brick and mortar business. In the next two years, he's hoping to open a second food truck and then hopefully a brick and mortar restaurant in five years, but he's not rushing anything.
"I'm not ready to own my own restaurant yet, it's a lot of commitment," said Deslippe. "People are excited about food trucks, not so much the city or the downtown BIA quite yet, I think they're going to be a hard nut to crack but I know for us it's fun, people want to see it, want to do it, and it gets us out there meeting people and it creates more catering business for us."
For Good and Brown at Shooters Roadhouse, they've experienced the benefits of Deslippe's expertise with larger more constant crowds in their small-town restaurant.
"They [the community] have really embraced it," said Brown. "There's a lot of new faces. The dinner crowd, the lunch crowd are getting bigger and bigger. It's non-stop all day now, it's really great."
Deslippe helped the joint by creating a brand new menu, with fresh ingredients and food made nearly completely from scratch. Brown said even the hot sauces and BBQ sauce is made in house.
"We've been around for 25 years and we hope to be around for another 25," said Good. "That's part of the evolution, the business has to evolve and change with the times, so that's what we're trying to do. We've got great regular customers but we're hoping to expand that."
For Deslippe, the constant change in the food truck business is what excites him every day. Just two years ago, he bought his food truck and was making adjustments and bringing it up to code for food preparation, and now he's catering weddings with guest lists of over 250 people, running the food truck at local festivals and most important, overcoming hurdles in the food truck industry.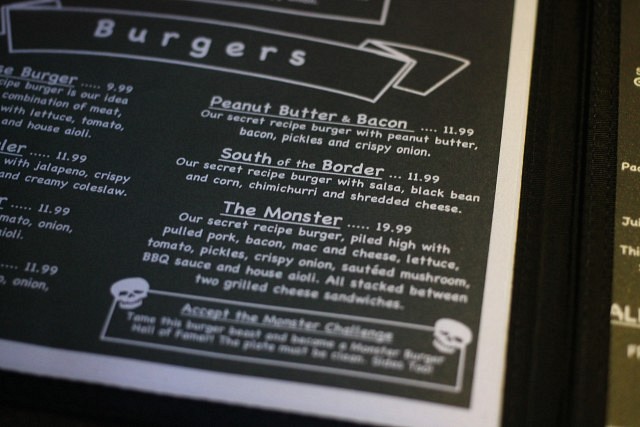 Content Continues Below Local Sponsor Message
Content Continues Below Local Sponsor Message
Content Continues Below Local Sponsor Message