Barenaked Ladies' Path to Caesars Windsor Started With A Big Bang
Thursday February 6th, 2014, 10:00am
Hello time traveller!!
This article is 3332 days old.
The information listed below is likely outdated and has been preserved for archival purposes.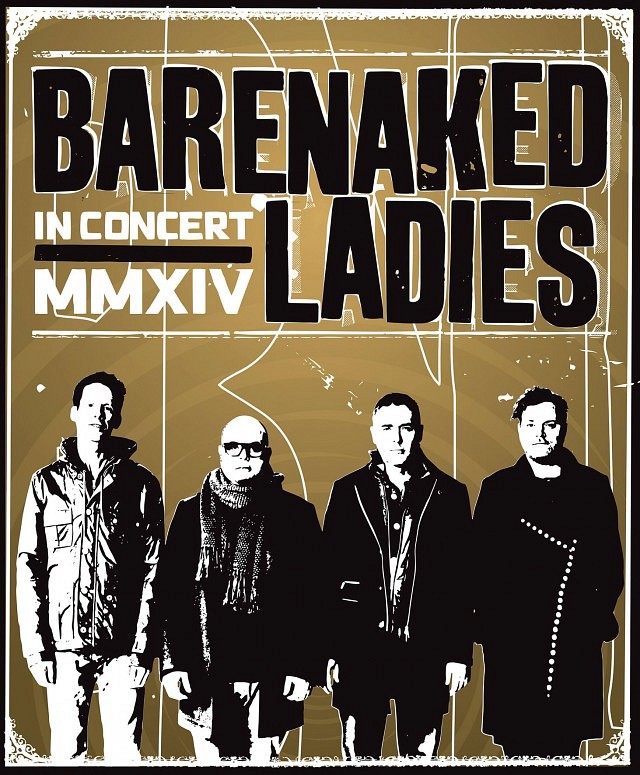 No strangers to triumph and tribulations, some Canadian icons are set to bring their story to town.
With the departure of co-founder Steven Page far behind, Barenaked Ladies continue to defy expectations. Promoting their latest effort, 2013's Grinning Streak, the quartet's Canadian tour will hit the Colosseum at Caesars Windsor on Thursday at 8pm.
Known for their live performances, BNL (lead-singer Ed Robertson, keyboardist/guitarist Kevin Hearn, bassist Jim Creeggan and drummer Tyler Stewart) will be joined by special guests Ladies Of The Canyon. From their first hit, If I Had A Million Dollars, to the theme from The Big Bang Theory and beyond, the band will take their audience through their back catalogue of unlikely successes, coming from hard work and good luck.
Conquering their home country early with songs like Be My Yoko Ono and Maybe You Should Drive (1994) single Jane, BNL set their sights on the United States soon after. Working hard, building-up a fan base and touring wherever possible, their dedication led to a big break. Fellow-Canadian and friend Jason Priestley got them a gig on Beverly Hills 90210, playing The Old Apartment at trendy-club The Peach Pit After Dark. He also directed a music video for the single, which began receiving airplay on MTV. Shoebox, another song from 1996's Born On A Pirate Ship, was also included on the Friends TV series soundtrack.
With things beginning to simmer, the band capitalized on their live show's reputation and released Rock Spectacle, a live album of hits and fan favourites. Brian Wilson, a song from their first record 1992's Gordon, was released as a single and became a huge success on American radio. BNL followed this up in 1998 with Stunt, which debuted at #1 on Billboard's top 100 albums chart. Lead-single One Week was their biggest to date and It's All Been Done quickly followed.
Success still came with its set of challenges, however. Not long before the release of the album, Hearn was diagnosed with Leukaemia and had to undergo a bone marrow transplant. With some uncertainty, BNL forged-on and continued touring without him. He returned for the recording of 2000's Maroon, which spawned hits Pinch Me, Too Little Too Late and Falling For The First Time.
With fluctuating popularity in the years since, BNL have maintained a steady output. Everything To Everyone was released in 2003, Barenaked Ladies Are Me came out in 2006 and Barenaked Ladies Are Men in 2007. Not stopping there, they tackled a children's album, 2008's Snacktime. Unfortunately, promotion was halted after Page's arrest for alleged drug possession in July of the same year. About six months after the incident, he and the band parted ways.
Instead of calling it quits, this changed marked a new Era for Barenaked Ladies: Enlisting Gordon-producer Michael Phillip Wojawoda, the band reconvened and recorded 2010's All In Good Time.
Beyond Page's departure, the record was recorded shortly after the passing of Robertson's mother and has been regarded as a difficult time for the band. Behind the clever wordplay and funny lyrics were introspective tunes about love, loss and loyalty. The album spawned a modest hit in You Run Away, but as it was released, some more BNL luck helped the band once again.
During a gig in Los Angeles with Page still in the band, they began one of their infamous jams that led to something much bigger: Reading a book called Big Bang at the time, Robertson worked up a part about science. What he didn't know however, was that The Big Bang Theory's producers Chuck Lorre and Bill Prady were among the fans in attendance. With the show still in development at the time, they were contacted to do the theme song. As the series' popularity began to rise, so did the song's exposure: It now holds a regular spot in BNL's setlist and appeared on their second greatest hits compilation, Hits From Yesterday And The Day Before.
Continuing their success by doing unlikely things, the band marked their 25th anniversary with the release of their latest record. Working with producers Gavin Brown and 2014 Juno-nominee Howie Beck, the foursome have put together their most confident-sounding set of tunes to date. As a result, the title Grinning Streak seems quite fitting.
Exploring new sonic territory with lead-track Limits, the album has also spawned three singles: country-rock ballad Boomerang, the up-tempo Odds Are and Did I Say That Out Loud? The latter, almost invoking a late-90's boy band vibe, being released just last Friday.
Although the album was much easier to put together in a post-Page landscape, BNL still included plenty of variety. Proclaimers-influenced sing-along Gonna Walk, fuzzy blues-enriched Keeping It Real, Best Damn Friend's Cars-like synth and gang vocals, Hearn's piano-drenched track Daydreaming,Smile's warm folk sensibilities and Crawl's quiet-introspection all stand out as a result of this diversity.
Whether it's goofy pop-culture references, somber songs about love and loss or an improvised moment or two, BNL never stop working to keep fans entertained. This also means that every show is a completely unique experience. As if that weren't enough, the Barenaked Rap — a traditional medley of pop hits by other artists, will have everyone cheering for more by the end of the show.
To sum it up: If you're willing to take a chance on this concert experience, odds are you'll start a grinning streak of your own.
Content Continues Below Local Sponsor Message
Content Continues Below Local Sponsor Message
Content Continues Below Local Sponsor Message