One Suite Deal Helps Feed The Hungry
Wednesday October 30th, 2013, 11:00am
Hello time traveller!!
This article is 3322 days old.
The information listed below is likely outdated and has been preserved for archival purposes.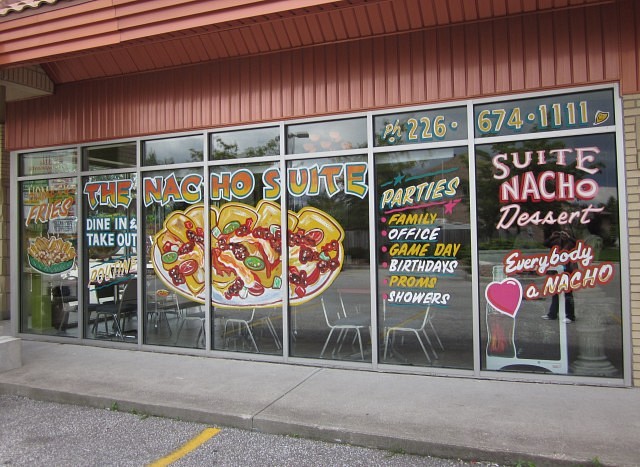 With the holidays approaching, one business is promoting a year-round deal to benefit those in need.
Although Christmas is often linked to canned food drives, one businessman isn't stopping there. Chris Bergeron, owner of The Nacho Suite, located at 3395 Howard Avenue is determined to do what he can to help the Windsor/Essex Food Bank Association (WEFBA) on a full-time basis. While it's a simple concept, he's hoping that providing some savings for customers will make a big difference.
"The canned food deal is when a guest brings in a non-perishable item, they will receive $1 off their purchase," said Bergeron. "the news did a story on the food bank of Windsor and showed all of their shelves empty. It made me realize how lucky some of us are, and how in need others are. It's just giving back to those that really need it."
While only a few customers have donated so far, Bergeron feels that there's more to give and wants to get the word out. With or without the $1 off promotion, he thinks that giving back to those in need is well worth it. As such, the deal will continue indefinitely: With there always being a demand for the food bank, Bergeron is focused on helping in any way he can leading up to the holidays and beyond.
"I think its important to give back to those in need not only in our community, but everywhere," he said. "Most of us have been blessed with a lot, but there are a lot of people in our community that are in desperate need, that have families to feed, and loved ones to take care of. Life throws us curve balls sometimes, and there are times in everyone's life that they need help."
For those interested, the offer will also be honoured at The Nacho Suite's Kingsville location (313 Main St. E,) which opened this past Monday. Their new restaurant will offer the same food, service and deals as the Howard Ave. business but for a whole new audience of nacho lovers in Essex county.
As for why the cause is so important to Bergeron on a personal level and how easy he thinks it is to help?
""Its important to make sure that those around us are fed, children are coming to have what they need to survive, the basics — it's easier said than done," he said. "I would like to focus on this charity, this is the basis to ensure families are surviving with healthy good food. I've heard and seen first hand kids going to school without lunches, no drinks, and more than likely going home to the same circumstances.
I think its time for everyone to donate just 1 can good, and see how far we can take this. I have children and could not imagine if they had to go to school without a lunch, but there are those who do."
You can get more information on The Nacho Suite by following them on facebook. For those wanting to help the WEFBA, you can either visit their website or e-mail them at [email protected].
Content Continues Below Local Sponsor Message
Content Continues Below Local Sponsor Message
Content Continues Below Local Sponsor Message