Monkeys With A Typewriter Present: Shine On You Crazy Diamond
Wednesday May 8th, 2013, 10:00am
Hello time traveller!!
This article is 3556 days old.
The information listed below is likely outdated and has been preserved for archival purposes.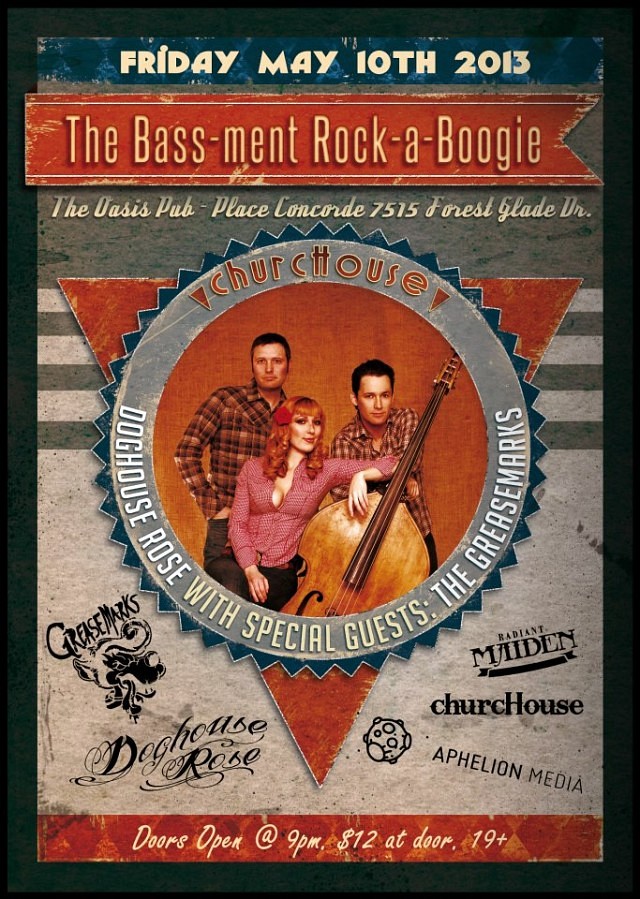 "Where are they now?" has always been a burning fascination in Pop Culture. Celebrities who explode onto the Scene to experience huge success and recognition and then disappear shortly thereafter tap into the morbid curiosity in all of us. We're dying to find out what's become of them after they fell back into obscurity.
The media exploits these often-tragic tales for our entertainment, dragging "Has Beens" (as they're often visciously dubbed) sometimes even out of their graves to be paraded around in all kinds of ironic, and even downright-cruel manners. Only live theatre has been particularly kind to them. Oftentimes these former celebrities get a new lease on life working on stage. Comicons, anniversary screenings of movies and theatrical productions are a few ways former celebrities can relive a little bit of the fame they once enjoyed.
But that's about to change.
On the second and third weekends of May, local theatre company "Monkeys With A Typewriter" will present its latest full-length, original play: Shine On You Crazy Diamond by Windsor writer Matthew St. Amand. It's the story of a Fire that burned brightly for a short period in 1980s horror movie industry: fictitious actor, Hal Dagon.
"Those 'Where Are They Now?' shows have always been a guilty pleasure of mine," says the play's director, Rob Tymec. "Most people are fascinated by fame, but we're even more fascinated by those who had fame and then lost it."
"The play, however, gives more than a tabloid peek at what happened to this one celebrity who squandered his fame and fortune," adds Mike Lepera, who plays Vinnie, the Supporting Lead. "It's one thing to see a half-hour show about what happened to Gary Coleman or the girl who played Joanie on Happy Days, but Shine On You Crazy Diamond shows that no matter how famous or how rich an actor once was, they're still people who have the same problems we all face — especially when their fortune is gone and they can't trade on their name any more."
The show depicts a week in the life of Hal Dagon, former horror movie king of the early '80s, showing by turns the comedy and tragedy of a life that's hit the skids, where Hal's greatest daily struggle is just to get by.
"I love cult films, so it was something I was naturally drawn to," explains Matt, "I also used to enjoy watching E! True Hollywood Stories. And I guess Hal Dagon's story is a compilation of the stories I saw on that show: Bob Crane, Sal Mineo, Freddie Prinze Sr., Dana Plato, etc. ."
His script begins with Hal Dagon at his lowest point. The money he made from his two classic cult films (Kult Kill and Kampus Kill) is long gone. He's living in a run-down apartment in the bad end of town and his mental and physical health is deserting him. As the story progresses, we learn through a series of flashbacks and hallucinations what brought him to this point.
A ray of hope enters into Hal's life, though. Vinnie, the nephew of Hal's landlord, recognizes the former celebrity.
"Vinnie's plans for Hal don't go so smoothly," Mike Lepera comments on his character. "Mainly because Vinnie is a bit of a dork. He's one of those guys who's trying to appear well-connected but isn't. He attempts to get someone to finance Hal's comeback, but the only person he knows is the owner of a pizza place he orders from!"
"It doesn't help that Hal is not the most cooperative of people," Rob Tymec chimes in. "At one point, Vinnie sets up an interview with a local journalist. Hal does various things to disrupt her line of questionning. He makes several inappopriate remarks, letches with her a bit and eventually just passes out on his couch and won't wake back up!"
Obviously, there's a fair amount of comedy to the whole proceedings, but the play takes more serious turns as it progresses.
"A lot of the drama comes through my character," Tyler Workman, who plays Wayne Dagon (Hal's son), relates. "While we laugh at Hal's half-incapacitated antics, we learn about his tragedies through his son who visits him regularly and tries to take care of him."
The play also becomes more surreal as it moves on. Much of the story is conveyed through Hal's perspective. And, because his mental capacities aren't all quite there, the "reality" of the play becomes blurry. Various characters that Hal interacts with turn out to be figments of his imagination or voices from his past. Even the hospital he ends up in during the Second Act seems very strange.
"Using multiple story-telling devices keeps me interested, as a writer," St. Amand claims. "I see my character in three dimensions and often the most effective way to convey that to an audience is to not only show my character in different settings, but in different times, different eras of their lives."
As we reach the story's climax, the various story-telling devices Matt uses reach a pinnacle, too. Hal finds himself in the deepest and darkest of spaces, confronting the guilt of his greatest sin.
"This is, perhaps, what I like best about the play," Tymec enthuses. "It lures you in with its comedy, but then the very things you were laughing at earlier become the most serious elements of the whole play. And, suddenly, things aren't so funny, anymore. But they are very moving."
"The descent Hal takes in the latter half of the script is very stirring," Lepera agrees. "And the way St. Amand crafts it is an excellent piece of story-telling. There's a couple of good plot twists that we get that should have the audience picking their jaws up off the floor!"
"I think the audience for whom I am writing wants a challenging storyline," says St. Amand. "In movies, at least, there's beginning to be a backlash to these one-note action films and comedies that are aimed at the lowest common denominator. These films just don't do it for me. I want films like Memento, Brazil, The Fisher King, Pulp Fiction and The Big Lebowski. So, I take the old advice: 'Write what you would like to see.'"
So, if you're in the mood to see some theatre that isn't just fun and laughs, but is also multi-layered, check out Shine On You Crazy Diamond. Spend an evening in Hal Dagon's head — it promises to be quite the ride!
The play will be be performed at the Korda Zone Theatre, located at 2520 Seminole. Show times are Friday and Saturday May 10th and 11th and 17th anbd 18th at 8pm.
Tickets are $15 for adults and $10 for students and seniors.
Guest article written by: Mark Rivard
Content Continues Below Local Sponsor Message
Content Continues Below Local Sponsor Message
Content Continues Below Local Sponsor Message