Windsor Gets Hacking
Tuesday January 22nd, 2013
Posted at 2:00pm
Hello time traveller!!

This article is 3188 days old.

The information listed below is likely outdated and has been preserved for archival purposes.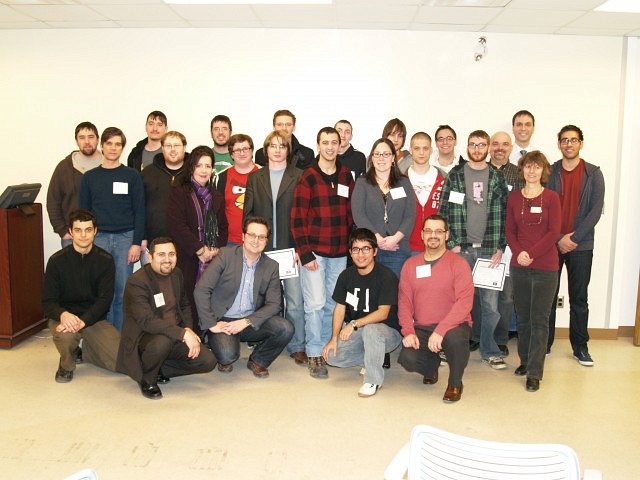 The University of Windsor hosted the inaugural HackWE computer coding competition this weekend.
Five teams of computer science students from the university spent 27 continuous hours developing web and mobile apps using Open Data provided by the City of Windsor on anything from bike routes, to heritage sites, school locations and parks.
The hack-teams came up with some real innovative programs.
Alexander Chernoukhov and Adrien Gagnon created a crowd pleasing game for mobile phones called "Windsor Garbage Zombies". Sehaj Chawla created an iPhone application with a crowdsourcing component in which users can report how full a parking lot is when they get there, helping others choose the best place to park. Alexander Nikolic and Jordan Willis created an application designed to help Windsor house-hunters make a decision by tying together City of Windsor and third-party data to identify nearby amenities and services.
WEtech Alliance, the local Regional Innovation Centre that promotes the technology and innovation sector in Windsor and Essex, came up with the idea for HackWE and partnered with Hackforge, a local organization of programmers that promotes computer literacy in the community, to make it happen.
"HackWE is about showcasing our tech talent in the region, being creative and having fun," says Irek Kusmierczyk, one of the organizers and a program manager at WEtech. "But it is also about building connections between industry and students, the kinds ofrelationships that spark careers or spawn technology entrepreneurs who want to launch startups in Windsor and Essex. It's planting the seeds of economic development".
The top prize for the top teams is sponsored by local IT company AlphaKOR. The prize includes dinner with the president, Frank Abbruzzese, at the prestigious Windsor Club.
Kusmierczyk says he got the idea after seeing a picture of Mark Zuckerberg, founder of Facebook, on the cover of a business magazine and wondered how to help the University of Windsor or St. Clair College graduate the next Zuckerberg or Steve Jobs.
"For that to happen, we need industry and community partners to come together, to build that ecosystem, and that's what happened at HackWE over the weekend" he says.
For example, recent graduates from St. Clair College served as mentors to the hack-teams from the University of Windsor, providing timely technical support.
The mentors were members of Hackforge, a community organization operating out of the Central Library that promotes computer programming andtechnology learning in the community.
The City of Windsor contributed not only their Open Data, but several employees from the city's Engineering – Development and Geomatics department who served as judges.
The University of Windsor's Computer Science department opened up their top-notch programming facilities and provided tremendous support throughout the weekend.
The entire competition was sponsored by a grant from the Ontario Trillium Foundation awarded to WEtech.
Two teams were awarded the top prize, one for their creative use of the city's data sets, and the other for their technical achievement.
Adam Heinermann and Eric Brisco had the most creative entry.They created a game, which uncovers a "fog of war" as players physically move around the city, and awards achievements for players who find landmarks like parks and heritage buildings.
Chris Drouillard, Alex Velazquez, and Kevin Yavno won for technical achievement. They were able to create an application that works on desktop computers and phones, visualizing city data sets like ward boundaries, sidewalks and bike trails on a map. Their application also shows detailed information about locations within the city as reported by city data sets.
"They won because they were able to do an incredible amount of work and created a highly polished application in just 24 hours," says Doug Sartori, a founder of Hackforge and the co-organizer of HackWE.
The HackWE organizers will now be working with the teams and community partners to make their innovations available to residents of Windsor and to commercialize their ideas.