Comic Convention Spreads Christmas Cheer in Windsor-Essex County
Thursday November 29th, 2012
Posted at 10:00am
Hello time traveller!!

This article is 3243 days old.

The information listed below is likely outdated and has been preserved for archival purposes.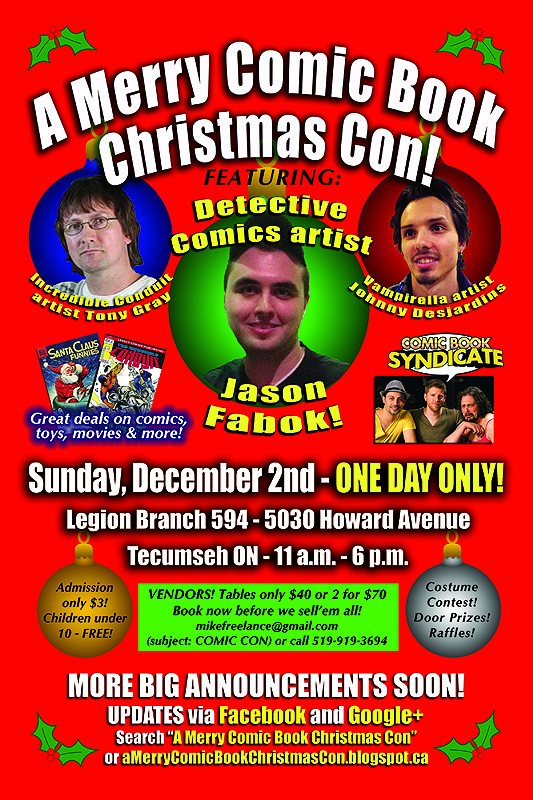 After a long wait, true believers will soon be rewarded for their super-patience with an uncanny event.
With Marvel's The Avengers' success, it's no shock that comics are currently hot. Giving Windsor-Essex County a piece of the paneled-pie, A MERRY COMIC BOOK CHRISTMAS CON is hoping to satisfy hardcore and casual fans alike. Taking place at the Royal Canadian Legion hall (5030 Howard Ave.) from 11 a.m. until 6 p.m., there will be plenty of time for people to get their fix.
Created for the public, the organizer admits that his motivations are slightly self-indulgent, however.
"Well, I've always wanted to have my own collectibles shop – I guess that's the basis of it," said Mike Michalski, writer of Legacy Comics Publishing's The Grey Matter Anthology. "That, and after being plied with far too many pierogies from local artist Tony Gray (of Legacy Comics, with whom I now also write a story with) he convinced me of what a great idea it would be. He's really been a great help to me in organizing this. He didn't have to sell hard though – I knew this market would react well to a convention."
Still, With great power comes great responsibility and Michalski – a man with 20-years of media and marketing experience – has been hard at work. In addition to promoting the event through social networks and in the community, he's also secured 27 big tables of merchandise. vendors will be selling comics, collectibles, classic toys, movies and more. In addition, Legacy Comics Publishing will debut its new titles as well.
Those looking to strut their stuff as a favourite costumed vigilante, super-villain or larger than life character are also in luck. A costume contest is being held for Cosplayers at 2 p.m. with the grand-prize being a gift certificate for Cartoon Kingdom (2001 Provincial Rd.).
Anyone tuned into local TV and radio may not be surprised with who's judging the entries either.
"Arms Bumanlag will be judging our costume contest," said Michalski. "I worked with Arms during my more than four years as a reporter/writer for CTV Windsor. I knew where to turn for the perfect judge. The man's enthusiasm for the medium is truly genuine."
Beyond Bumanlag's judging stint, many guests of honour will be at the convention. Detective Comics artist Jason Fabok, Vampirella artist Johnny Desjardins, The Incredible Conduit artist Tony Gray, The Comic Book Syndicate gang and others will all be making appearances. There's even a guest from the North Pole who is rumoured to be arriving for the event.
Response for the convention has been positive already. Dealers and private collectors from out-of-town have expressed enthusiasm and demand is high locally. Michalsky hopes to attract 500 people, a number he thinks is good for a first convention, and will organize more if support is there.
"I do [believe Windsor has a large comic book fan community,]" he said. "Windsor in general has a ton of people interested in art of all sorts. Make no mistake, comic books are art. I'm hoping this convention will help people realize this. Superhero movies are the most-popular of all at the box office. That's not just comic book fans doing that. Obviously people like the material. Discover these tales at the source and branch out from there. It's a whole medium just waiting for so many people of all ages and tastes to explore."
Admission is $3-per-person and free for children under 10. Those attending are also encouraged to bring canned goods and an unwrapped toy: Windsor's own superhero, the Crimson Canuck, will be on hand to collect all donations. Full concessions, door prizes and raffles will also be available for attendees.
While championing the medium and having his favourites, Michalski admits that it's a bit hard not getting too wrapped-up in what's on the page: Sometimes it almost feels personal.
"Right now, I'm too busy writing my own stuff, (along with adapting 'From the Depths of Outer Space: The Billy Meier Story') for Legacy Comics to read much," he said. "Besides, when I'm creating, I don't like to read too many similar things that may influence me at that particular moment. It's too easy to just steal ideas (laughs). Historically, I've always been a classic Spider-Man, Batman, Superman guy – and Alpha Flight. I'll never forgive them for killing Vindicator in issue 12 when I was a teenager though. Finally, Canada had its own super-team and they went and killed the leader during the first year. It really zapped a lot of my enthusiasm for comics, for a long, long time. I took it personally!"
For more information about the event, those interested can contact Mike Michalski at [email protected] or call (519) 919-3694. There are also event pages on facebook and Google+ and a blog for the convention.