Festival Works Beyond Overtime To Score
Thursday October 18th, 2012
Posted at 5:15pm
Hello time traveller!!

This article is 3630 days old.

The information listed below is likely outdated and has been preserved for archival purposes.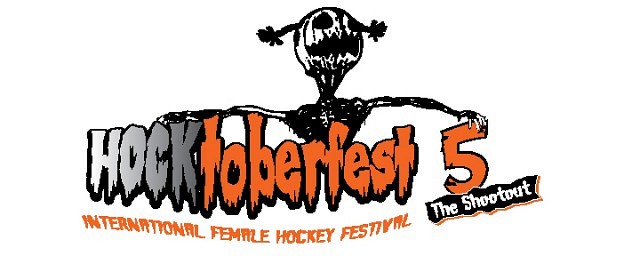 While the National Hockey League's (NHL) season is in limbo, 204 games will soon be played locally.
Kicking off at tonight's Spitfires game, HOCKtoberfest 5: The Shootout will bring 1,800 athletes and over 2,500 people to the city. The festival includes 86 female teams playing in a weekend tournament where everyone will take part in at least four games. After watching the Spits in action, the first puck drop takes place the following day at 8 a.m.
With teams coming from as far as England every year, it's hard to believe how the festival got started.
"Four hockey Dad's came up with the idea," said Hocktoberfest Director of Media & Public Relations, Cathy Murphy. "They were sitting around a table, talking about travelling with their daughter's hockey team each year. They were tired of playing the same teams In the same manner every season. Brent, Doug, Rod and Brad came up with the outline for HOCKtoberfest and recruited people to volunteer their time …they wanted to offer a four game minimum, instead of three. They wanted to feed the athletes healthy nutritious food, so we got the local schools involved and they use their culinary classes to prepare the food. We try to involve the community wherever we can."
After HOCKtoberfest's original success, organizers saught to increase the number of those participating in its second year. With such momentum, they didn't realize you can, in fact, have too much of a good thing sometimes.
"Riding on the success of year one, we gladly accepted 122 teams for 2009," said Murphy. "This was a challenge in only one aspect: We ran out of hotel rooms! Our board managed to bring it all together nicely and learned a valuable lesson. We now accept 98 teams or under. Each year we learn something new and use it to move in a forward direction."
Having gained past attention, it isn't hard finding teams to participate either. Following two days of registration, all 86 spots for this year's tournament were taken. Those lucky enough to be included will play their games at the WFCU Centre, Tecumseh, Forest Glade, South Windsor and Windsor arenas. The tournament also encompasses three age brackets: PeeWee (11 and 12-year-olds,) Bantam (13 and 14-year-olds) and Midget (15, 16 and 17-year-olds.) 135-200 volunteers are required to ensure everything runs smoothly.
All match-ups are open to the public and admission is free. People looking to watch those competing can find a schedule on HOCKtoberfest's official website. In addition to action on the ice, there are also several free events for everyone to enjoy.
"We have tons of extras," said Murphy. "All State All Canadians will be bringing (Toronto Maple Leafs') Clarke MacArthur to the WFCU Centre (8787 McHugh St.) for one-hour on Saturday to pose for photo's. They have their Photo booth set up and it duplicates a locker room. I cannot wait to see this set-up."
Opening ceremonies will take place at the same location on Friday, October 19. Starting at 5 p.m., the free public event will feature live entertainment and a drive-in movie at 8 p.m. A concession stand will also be operated by members of UFCW Local 175 with all proceeds benefitting the Children's Leukemia Foundation. Dragonboat racing team The WonderBroads, who hope to have their boat set-up on-site, will be on hand to provide education and awareness regarding breast cancer.
Partnering with Arts Council – Windsor & Region (ACWR) & Leadership Advancement for Women in Sport (LAWS,) organizers plan to showcase a community arts program – Professional Graffiti: Beyond the Rink. The collaboration will leave the community a legacy project symbolizing HOCKtoberfest and women in sports.
Athletes and coaching staff for each team are treated to free breakfast and lunch all-weekend at the WFCU Centre and South Windsor arena (585 John Fitch Blvd.) These two locations will have live entertainment, vendor exhibits and various activities to fill time between games as well. A commemorative HOCKtoberfest 5 shirt, listing every participating team, will also be on sale.
While it isn't about who wins, those on top will be awarded prizes too.
"We have eight different divisions this year," said Murphy. "Each Division winner will receive a BEST OF THE FEST Banner and a wonderful Champion medal presented by All State All Canadian or Tim Hortons. The Finalist will also receive a medal presented by All State All Canadians and Tim Hortons."
Operating for half-a-decade, HOCKtoberfest has helped many community-based organizations. Although they originally attempted to create a Legacy fund, organizers' dedication and fundraising events have since led to donations for Knobby's Kids, the University of Windsor Female Lancer hockey team and the Sun Parlour Female Hockey Association.
Still, those behind the event maintain it wouldn't be possible without such generosity.
"We cannot make our event possible without our sponsors," said Murphy. "Allstate All Canadians, Tim Hortons and AM800 CKLWhave been behind us all the way. Our volunteers also are a huge part of our success. Without them, where would we be? To say THANK YOU to our volunteers, we have a dinner for them and have wonderful prizes too. This year, Boston Pizza is hosting our thank you dinner which is again, free to our volunteers and our way to say THANK YOU for helping us make this happen."
Further information on HOCKtoberfest can be found on their official website.