Rare Film Art on Display at Juniper Books
Saturday September 29th, 2012
Posted at 10:30am
Hello time traveller!!

This article is 3649 days old.

The information listed below is likely outdated and has been preserved for archival purposes.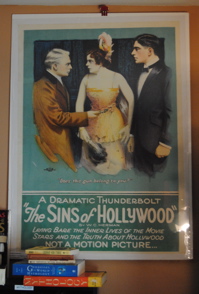 Imagine standing under the first film posters ever to be produced, the display case light bulbs casting a yellow glow across your face as you contemplate the marvels of this new motion-picture technology, and wonder at the delights awaiting you in the darkened theatre.
At Juniper Books you can stand before the very same posters that hung on the walls of early cinemas and independent nickelodeons across the nation, because Windsor's House of Books is now also home to over 100 pieces of film art dating from the early 1900's to the 1960's.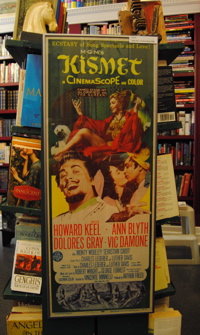 Unlike the mass-produced commercial film posters that now arrive by the box-full at stores across the country, these artworks were never intended to be available to consumers.
After circulating through the cinemas and independent nickelodeons, with each proprietor obligated to pass them along to the next theatre scheduled to screen the film, they were promptly returned to the studio that produced them and soon filed under "trash". Despite the unfavorable odds, a small percentage of these posters managed to eventually make their way into the markets.
I imagine them escaping their fates carefully concealed behind the jacket of an an usher and avid fan, rushing out after a shift to be swept along with the enthusiastic post-flick crowd, or saved by proud artists, admiring film studio employees, or some of the first film art collectors on the scene. Over the years the posters accumulated their own unique histories as they travelled; changing hands and passing through houses and buildings, witnessing the unfoldings therein from the walls before coming to rest (for some of them) amidst the thousands of books that fill the rooms of Juniper Books.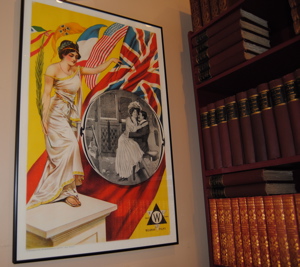 Only a small number of film posters were produced for each film in the early days of cinema, an even smaller number escaped the awaiting garbage cans and fewer still survived the passage of time.
As a result, original film art, like the posters available to be seen, enjoyed and purchased at Juniper Books are some of a very few left in existence or even, in some cases, the very last of its kind.
You can experience these vestiges of early cinema first hand Monday to Saturday from 10:30a.m. to 5:30p.m. and Sundays from 1p.m. to 4p.m. at 1990 Ottawa Street.
For more information on Juniper Books visit them online.