Olympic Gold Medalist Showcasing Talent For Home Crowd
Friday November 25th, 2011, 4:15pm
Hello time traveller!!
This article is 4141 days old.
The information listed below is likely outdated and has been preserved for archival purposes.
Playing across Canada, the U.S. and worldwide, there's no place like home for one local sports "Star."
This weekend Ruthven native, two-time Olympic gold medalist and Canadian Women's Hockey League's (CWHL) Montreal Stars forward Meghan Agosta will be in the city. Playing two games at Windsor Areana (572 McDougall St.) against rivals the Toronto Furies, she's anxious to compete in front of family and friends.
"It's been awhile so I'm pretty excited about it – my teammates are pretty excited about it too," said Agosta. "For me it's going to be nice to be able to play in front of friends and family who haven't seen me play live in a long time. I'm pretty excited about it, like I said and I know there's no doubt in my mind that Windsor's going to put on a great show."
Part of that show includes a pasta dinner tonight and after party concert on Saturday, November 26, featuring The Trews. Proceeds from these Stick It To Cancer events, the two games and an auction for Agosta's equipment will benefit the Breast Ride Ever and local breast cancer research.
Speaking of Agosta, who set a record for most points in NCAA Division I women's hockey, she hasn't played at Windsor Arena since childhood: A lot has changed since her days of local competition.
Finishing her junior year with the Windsor Wildcats, Agosta was on Leamington's South Point Capitals and Windsor Sun County Panthers boys teams as well. From there she played triple A in Chatham and eventually made her way to Mercyhurst college, setting records left and right – even landing in the pages of Sports Illustrated. It was a challenge but an opportunity Agosta is glad she experienced.
"College was such a great experience for me, I'm glad I decided to go to the states," said the Mercyhurst alumn. "Just being able to go to school and play on campus – division I for Mercyhurst was only the women's and men's ice hockey program so everybody was cheering for us, especially the women's side of hockey. We didn't only have the school but the community as well, so it made it a lot more fun to be able to play in front of not only your classmates but the community. Talent-wise there's a huge huge jump in college hockey … I was honoured to go to Mercyhurst and I'm happy that I graduated and now I have an education because of it."
While in college, Agosta also won Olympic gold twice and was named MVP in Vancouver last winter. She scored a record third Olympic-career hat trick and had nine goals total during the team's run. Still, it was her first time at the games in Turin that she remembers most fondly. At 19, Agosta was the youngest on her team to win gold but just being there was a dream come true.
"Being so young, when I first got the call to say that I would be centralized – one of 27 girls – I had tears in my eyes," she said. "Ever since I was six-years-old, it's been my dream to play for Canada and go to an Olympic games. For me it was like 'holy cow, this dream can come true' and …right before Christmas they told me that I made the team. To be honest with you, it's such an honour to play for your country and it's pretty cool – my dad is Italian and he was born in Italy. To have my first Olympics in Italy was a pretty cool experience, my whole family got to come."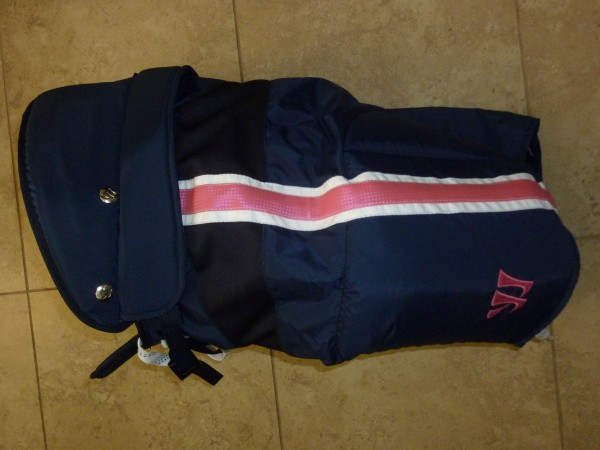 Continuing her career in the CWHL, Agosta feels the league is very competitive. With a lot of Olympians from Canada, America, Finland and even Sweden on different teams, the challenge keeps players sharp while remaining fun. Coming in as Montreal's first pick in the 2011 draft, the 24-year-old wanted to be on a laid back team and is happy she's been accepted by everyone there.
As for what drove Agosta to compete in the CWHL?
"I still want to continue growing and developing as a hockey player," she said. "My goal is to be one of the best female hockey players in the world and in order to do that, I need to continue working hard – not only on the ice but off the ice – and you know what? I love my team here in Montreal, I came to a great team – a winning team – I'm honoured to be able to call myself a Star. I learn a lot from my teammates and I'm sure they learn a lot from me too."
With Canada's worldwide success in women's hockey, interest in the sport has also grown. More girls are registering to play and Canada's gold medal win in 2010 has added to the momentum. As players develop, Agosta is proud she can be a role model to those moving up the ranks, as many of her teammates were role models for her. Looking up to Jayna Hefford, Vicky Sunohara and Cassie Campbell, Agosta says she would be honoured if she could do the same for others.
When it comes to advice for young players pursuing hockey, the vetran's first words are "have fun." It made it better for her when she did so and allowed the forward to play to her potential. Agosta also said to dream big, work hard and that great things can happen when you put your mind to something.
As for the path she took and her accomplishments like winning silver sticks and the provincials with "the girls," Agosta has no regrets. Even so, she admits to missing certain things from her youth.
"I miss playing with the boys," said Agosta. "Playing with the boys was a lot of fun and when I look back – you know, all those boys took me under their wings and it was like I was their little sister. We had so much fun and, to be young again, it would be kind of cool."
For more information on tickets and The Breast Ride Ever, those interested can visit their website. Saturday's game starts at 6:00 pm while Sunday's, featuring a public skate and autograph signing with players afterwards, starts at 12:30 pm Agosta is hopeful for a good turnout and thankful to those who have already purchased tickets.
"Hopefully everybody enjoys the weekend and has a lot of fun," she said. "Thanks for everybody's support."
Content Continues Below Local Sponsor Message
Content Continues Below Local Sponsor Message
Content Continues Below Local Sponsor Message