Unique Form of Artistic Expression Available to Windsorites
Tuesday July 26th, 2011, 11:15am
Hello time traveller!!
This article is 4145 days old.
The information listed below is likely outdated and has been preserved for archival purposes.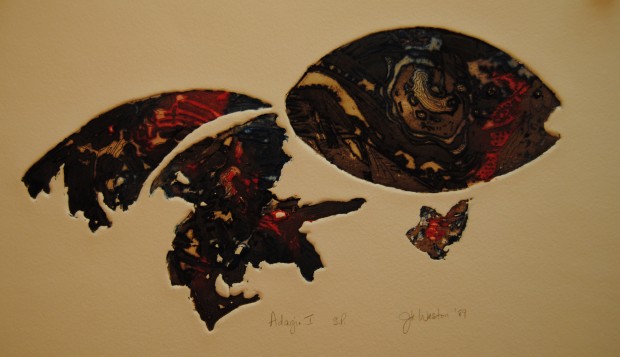 Deep in the interior of the stately, historic post office building in Walkerville, formidable, solid metal machines stand in a row down the center of one long side of the underground space. With their ornately crafted wheels and levers the machines appear right at home in the aged building, looking impressive and mysterious as though perhaps, lying as they do beneath the exposed duct work in the heart of the building, they perform some kind of biological function within the structure, pumping out an expressive and exciting art form that circulates throughout  the space, brightening the walls around them. The antique appearance of the machines belies their frequent use, but walls of textured, patterned, vibrant prints gives it away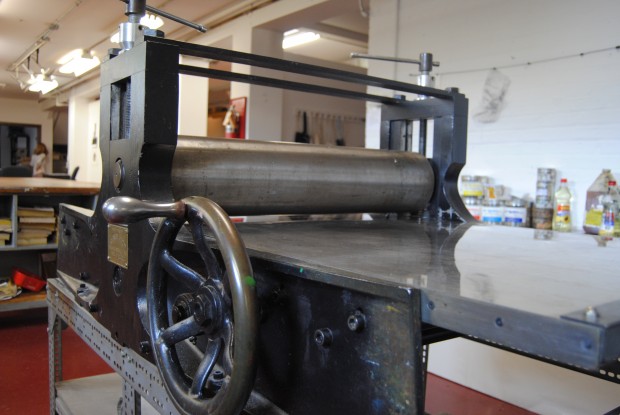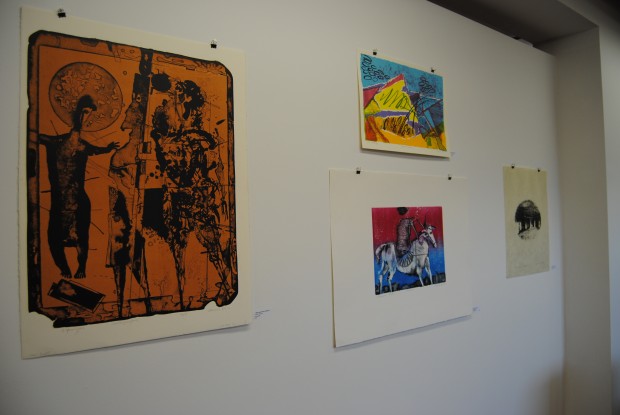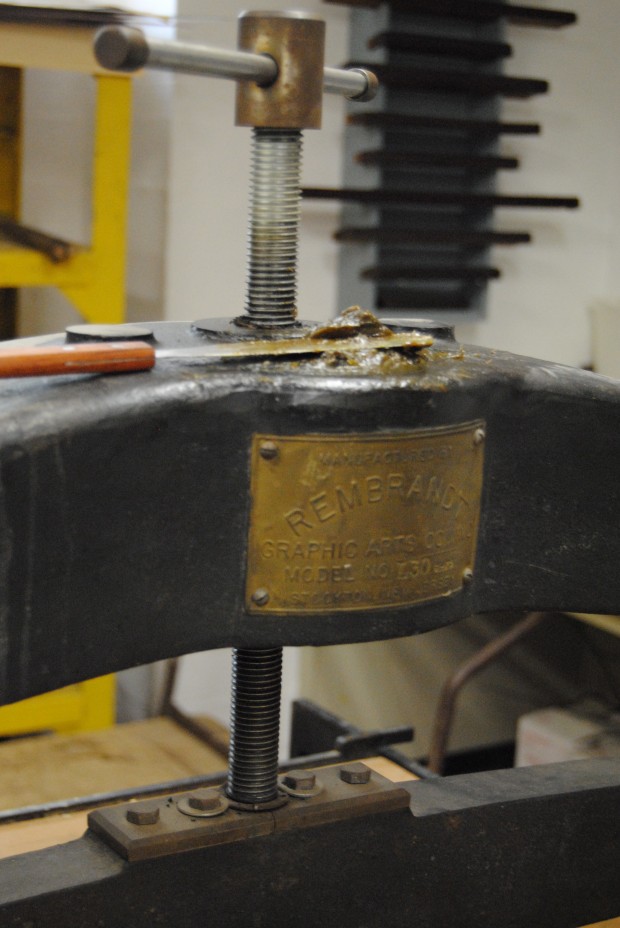 This is the studio and workshop of the Windsor Printmaker's Forum, a non-profit, artist-run organization founded by local artists in 1987. The organization makes the printing art forms of intaglio, relief, letterpress, screen-printing, paper-making and lithography accessible to Windsorites either through the purchase of a membership, or through workshops tailored towards different age groups, from children to seniors, which are open to the general public.
As I approached 420 Devonshire Road to take in the Annual Member's Show I was greeted warmly in front of the building's tall stone columns by WPF President Patricia Coates and Dr. David Coates. Throughout my visit I felt welcomed by the thoughtful and sincere Dr. Coates offering refreshments and supplementary information while Patricia Coates energetically showed me around, shining with a catching enthusiasm and bright plans for the WPF.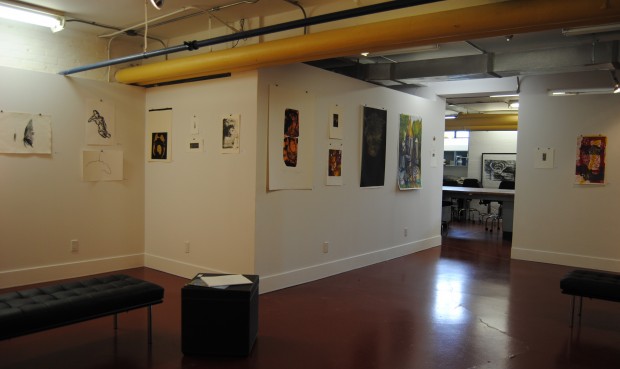 Patricia Coates took the time to explain the uniqueness of printmaking as an art form as we stood in the studio surrounded by the member's work. "Printmaking is an art medium that's based on original work. You'll see here," Coates indicates a print on the wall next to us, "this one is a six out of six. The nominator tells you that this was the sixth print of an edition of six. Each one is original though, because it has to be inked individually."
The studio space is also not limited to prints, members have the opportunity to display their artworks of any medium in the annual show, and this one includes watercolour and pastel, as well as the photographs and light-boxes from Coates' own mixed media works focusing on ecological subjects, which often find their inspiration in her connection to nature at home on sixty acres located south of Amherstburg.  "Everyday [on the property] I see evidence of prey/predator activity, which in urban life you sort of forget about; its a different kind of prey/predator in urban spaces!" Coates explains as we regard the light-box entitled Quarry 2010 displaying an animal print produced using the animal's actual hoof mark dried in earth.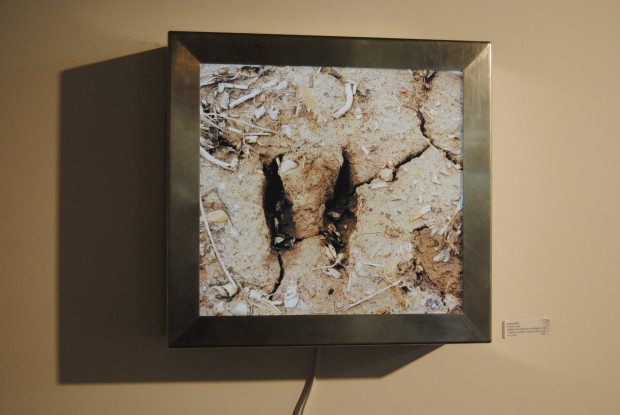 As I move through the studio space, taking in the various artworks, I am struck by the versatility of printmaking; it becomes quite clear that this is an art form that lends itself readily to many different artistic styles. Under a Tree, a lithography by Otis Tamasoukas for example, with its deeply absorbing earthy textures of shadowy rivets and swirls and faintly visible figures against a burnt umber pigment gives me the feeling of gazing at a very primal expression, reminiscent of the mysterious markings on stone cave walls. Meanwhile Night Journey-Chamber, also a lithography on kitakata paper by Margaret May, has quite a different effect. To me it's like catching a glimpse into a secret world; there is a whisper of mystery, romantic and soft, about this one. Then I reach Coming to Cape Town Self Portrait with Dali Giraffes by Wolf Mendritzki, which provides another strikingly different application of the print medium, one which is evocative of graffiti art with its vibrant colours and eclectic composition, rich with texture and geometric design. One thing is certain as I walk across the brightly painted red floors gazing at the many conceptions, printmaking is truly a unique and exciting art form.
In addition to offering facilities and instruction for Windsorites, The Windsor Printmaker's Forum also attracts international artists to our fine city through a residency program in which artists have the opportunity to make use of the studio facilities and give an artist's talk, as well as representing the city in many exciting events. Currently, WPF has an exhibition called Sense of Place curated by local artist Iain Baxter&, (the ampersand was added to Ian Baxter's name as an expression of his philosophy that art does not end with the artist but is rather an ongoing collaboration with the viewers) James Patten from AGW and Nancy Sojka from the Detroit Institute of Art, which is touring across the country. "Our guests, Ian Baxter& and Alistair MacLeod came to the studio and had a conversation based on the idea of place and art and literature that was facilitated by writer Nino Ricci," Coates explains of the tour launch, "So it was a really special time. We recorded their conversation and from the transcription we published the show and launched the catalogue in Toronto at the University of Toronto Art Center." The success of the show didn't end there either. WPF received a grant for a provincial and national tour and travelled to the Yukon an excursion which lead to an article on the show, the tour, and the idea of place and taking that idea to different venues across Canada getting published in the July and August edition of Canadian Geographic. More good news arrived on the day of my visit in an unassuming white envelope which was opened to reveal a grant from The Ontario Arts Council to put towards a tour of Sense of Place to Iqaluit (the community of Nunavut) and Atlantic Canada (Corner Brook, Newfoundland and Cape Breton, Nova Scotia)!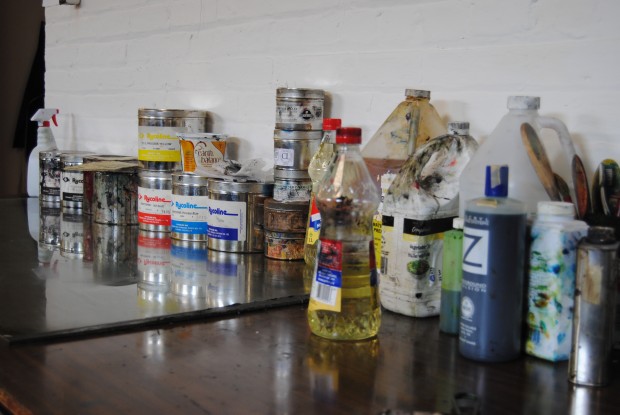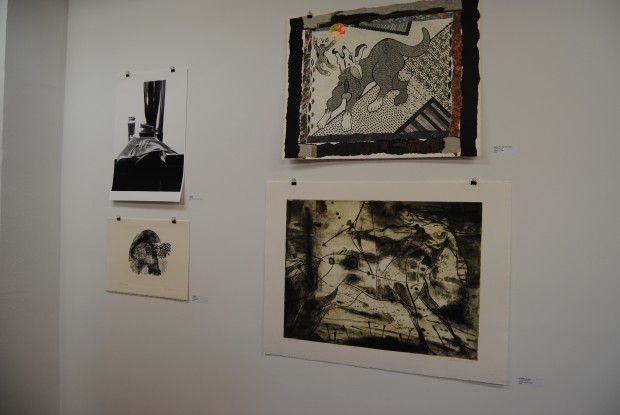 You can experience this exciting artistic expression for yourself at The Windsor Printmaker's Forum located at 420 Devonshire Road on Wednesdays from 11a.m. to 3p.m. or by appointment. The member prints will be on display and for sale until August 27th 2011.
To check out upcoming workshop events and WPF news visit their website. 
The Canadian Geographic article on Sense of Place can be found here.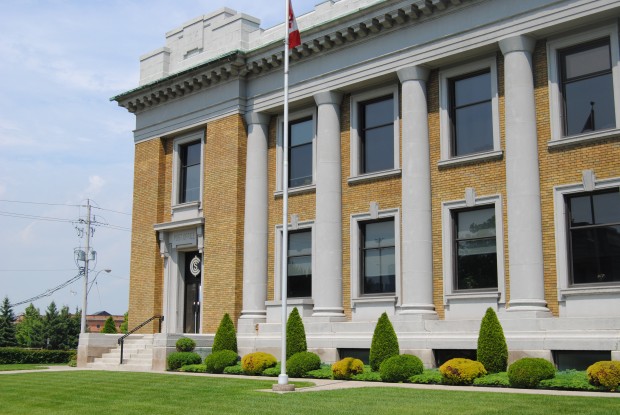 Content Continues Below Local Sponsor Message
Content Continues Below Local Sponsor Message
Content Continues Below Local Sponsor Message