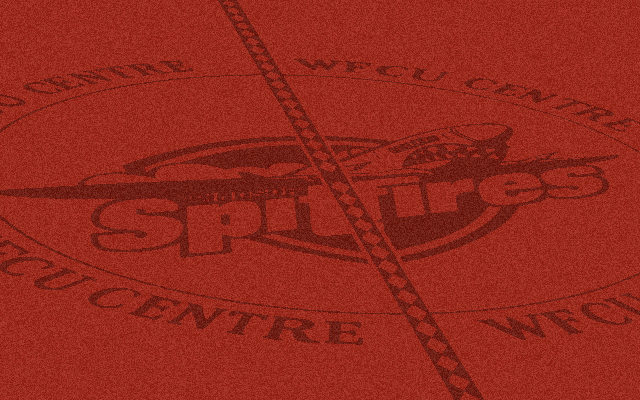 Call it the comeback of the year. The Greyhounds chomped, but the Spitfires fired back. Windsor was down 3-1 before scoring three straight to overcome the odds.  The Spitfires gained a little bit of ground by beating the Sault Ste. Marie Greyhounds 4-3 Thursday night in Windsor. 
It was all business for the two Western Conference teams once the game got underway. At first, the Spits couldn't keep up with the Greyhounds. The visitors moved the puck well up and down the ice, and cycled effectively in the offensive zone. With those skills, they struck first on a goal that Dalen Kuchmey would like to have back. Jared McCann had patience as he skated towards the goal and lifted the puck over Kuchmey. It was the period's lone goal as Sault Ste. Marie took a 1-0 lead to the locker room at the intermission.
The Greyhounds picked up where they left off from the previous period. They kept a good pace and scored their second. Jean Dupuy's shot hit the inside post, but Patrick Watling was there to pick up the scraps. When it seemed liked the Spitfires weren't going to be able to solve Matt Murray, they managed to put the puck past the goaltender. Josh Ho-Sang and Remy Giftopoulos set up a rebound for Steven Janes, who slapped it behind the goalie. The Spits had some newfound energy, but the 'Hounds recovered and pounced only 47 seconds later. Jean Dupuy's wrap-around attempt was tipped in by Tyler Gaudette to restore a two-goal lead. Before the end of the period, Ben Johnson brought his team back to within one. Ryan Foss' short-side try was stopped but Johnson swatted the rebound over the pad of Murray. Windsor trailed 3-2 after two periods.
Early in the third, after exchanging a few chances, Slater Koekkoek's wrist-shot was tipped past Murray by Remy Giftopoulos. The goal tied the game with plenty of time remaining. Back and forth, the teams got their share of chances. Just over 5 minutes later, the Spits completed their comeback – thanks to their captain. This time, Slater Koekkoek's shot beat Murray cleanly as Windsor celebrated its first lead of the night. Still with nearly 9 minutes to play, Sault Ste. Marie hounded the Spits. However, Windsor's defense was prepared. Trevor murphy slid in front of a shot for a huge block. The rest of the players kept clearing the puck out of the zone. Time ran out on the Greyhounds as the Spitfires fought back to win 4-3.
For his efforts, Koekkoek was named the game's first star.
The Spitfires look to continue their momentum this weekend, both away and home. They are back at the WFCU Centre this Sunday, February 9th to battle the North Bay Battalion at 2:05pm.