Very Relaxing & Veggie Friendly: A Wellness Day In Windsor
Monday October 23rd, 2023, 5:30pm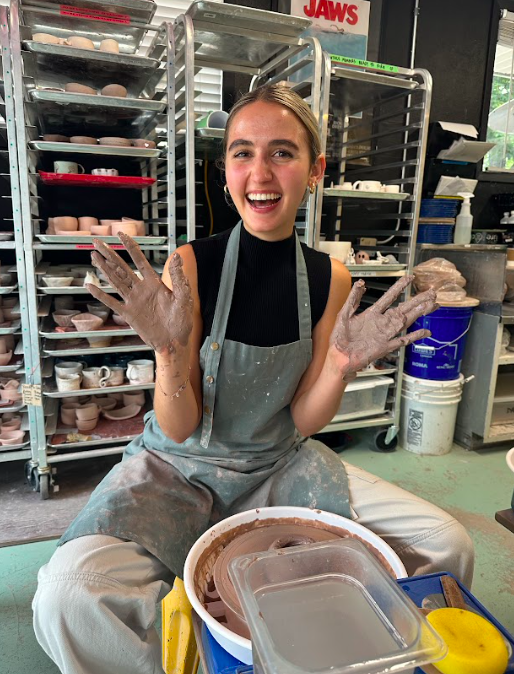 Very Relaxing & Veggie-Friendly
Original blog by Hope Monaco
If you ever feel like you need a little bit of Wellness Weekend or day, the good news is you don't have to travel far. We are very fortunate to be surrounded by so many experiences, views and little shops that can help support you on your wellness journey here in Windsor Essex. Wellness looks different for everyone – to me, it's finding some downtime to relax, moving my body in a loving way, getting out in nature, nourishing myself with wholesome foods, and being surrounded by other people. I have put together a day that hits all of my Wellness pillars.
My first stop was Taloola Cafe. When in Windsor, visit Taloola's. It's one of my favourite cafes to catch up with a loved one, or to just find a moment of peace and quiet on your own. It's quite different than any of the other cafe and that's why it is such a fan favourite. Taloola's has a very quirky, old-style vibe that reminds me of a mixture of a coffee shop/library. They have a wide variety of plant-based options, classic cafe dishes, herbal teas, cozy drinks and fresh baked goods. I ordered their vegan bagel with veggies and a homemade dill plant-based spread with their maple latte. Let's just say they were so good that I haven't stopped thinking about them since. I highly recommend bringing a book and a journal when you're here, especially if you're coming alone. It's a great place to check in with yourself, write about something that's on your mind, or just a place to keep your phone on silent.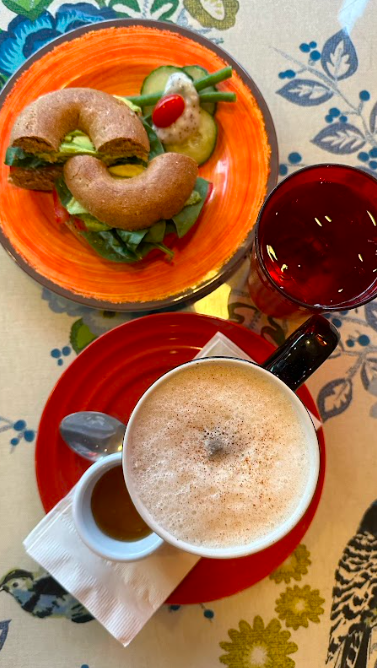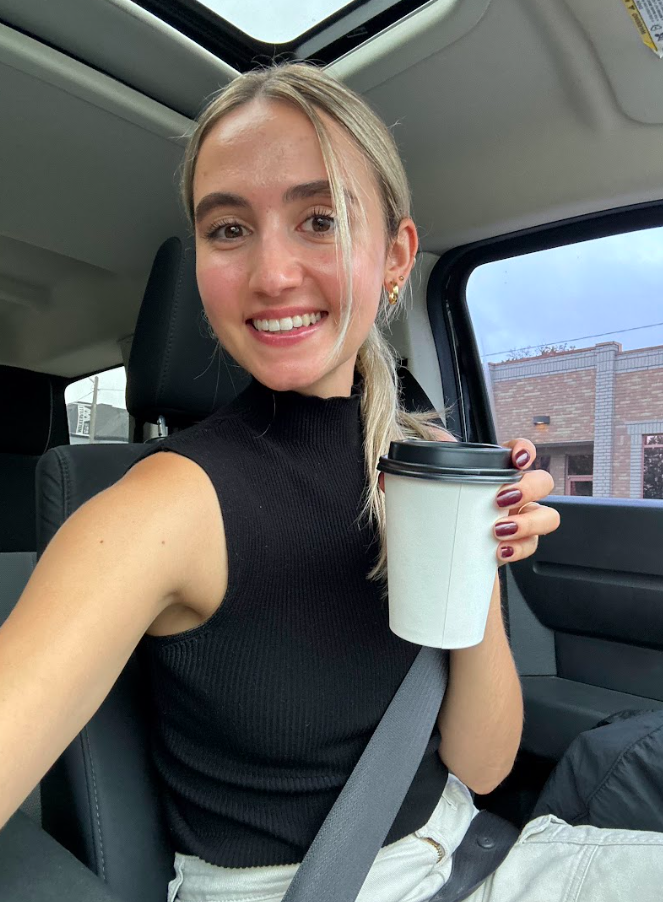 After my morning cup of tea and quiet time to digest, I signed up for a Sculpt Barre Class at Barre House. If you have a hard time finding motivation to work out, I highly recommend signing up for a group fitness class. It's a great way to feel a sense of community and to hold yourself accountable. Since you sign up for the class in advance, the teachers and other people in the class are counting on you to show up! Also if you don't know how to do a proper workout, you are being led by awesome teachers who know how to curate a class to help you see (and feel) the results. I met with one of the owners who had such great energy, she made everyone in the class smile and feel welcomed. The class was 1 hour but it went by so fast. The class started with a warm-up, moved into the workout, and ended with a nice relaxing cool down. It was a bodyweight workout, with a few extra props to use to help you elevate the workout if wished. They have a wide variety of classes that are for beginners and those who are advanced in their movement practice. You will leave this class sweaty I can guarantee you that, but don't worry – they have a shower available with towels, lotion, body wash, shampoo and even extra deodorant. They know how to make you feel very welcome and special at Barre House. Now that you have all of those endorphins after a great workout, sweat and shower, it's time to head over to Colour Pop Florals.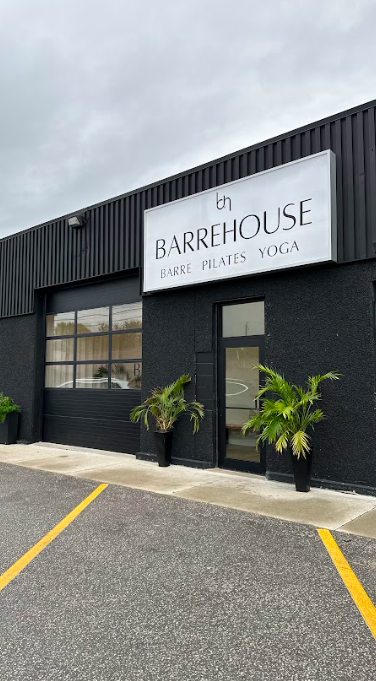 Colour Pop Florals is the largest Pick Your Own Flower Farm in Southern Ontario and the only one to offer to pick your own dahlias. They specialize in growing premium ranunculus, peonies and dahlias. When I was here, I honestly felt like a fairy in a magical garden. I think my jaw slightly dropped when I saw the rows of flowers. I met Shelley the owner, who has been farming her beautiful flowers for 8 years now. These last 4 years she has opened up her fields to people coming in to pick their own flowers, she even has had a few engagements take place there. It's the perfect place to disconnect and spend time in such a beautiful space. You can see all of the hummingbirds flying through, and watch all of the bumble bees pollinating. I picked my own bouquet of flowers to take home with me. If you come alone, Shelley will offer to hold a whole photo shoot for you in the fields to remember the special moment.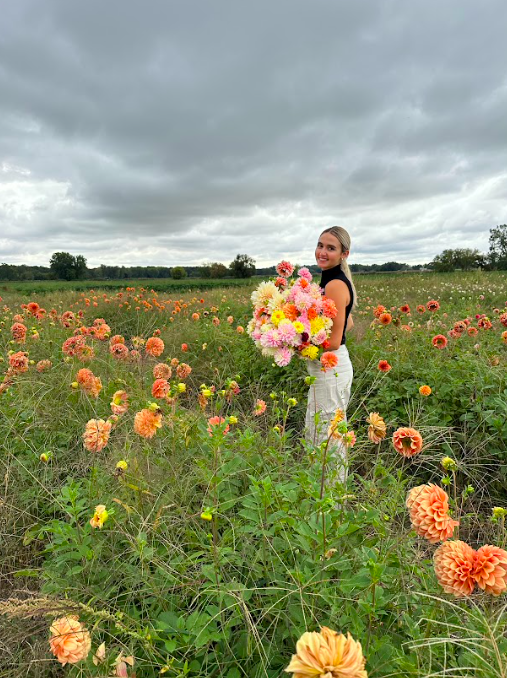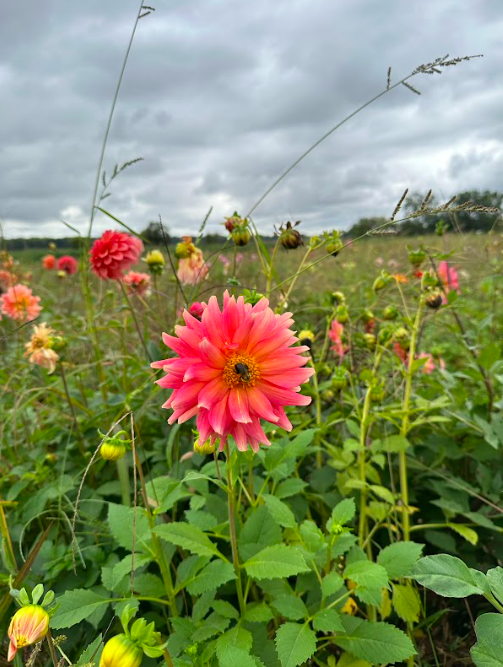 I then went to Hawksview Honey and met one of the owners. I got a tour of their bee farm and a walk-through of how the whole process works. They have over 1 million bees on their property. It's turned into a growing family business, where they now sell to other farmers' markets, and even are open for retail at their own location every Saturday from 9 am-3 pm. They have chocolate honey, lemon turmeric and lavender honey. They have fresh lavender from their backyard that they dry out to make their lavender honey. People travel from all over for batches! Hawksview Honey has been so passionate about beekeeping, that they now offer supplies to start your own bee farm in their storefront. It's a great place to take your kids or to learn something new. I had a deeper appreciation for honey and bees after coming to Hawksview Honey. I also left with a little jar of honey; let me tell you it's delicious. I have to hide it from my family so they don't use it all.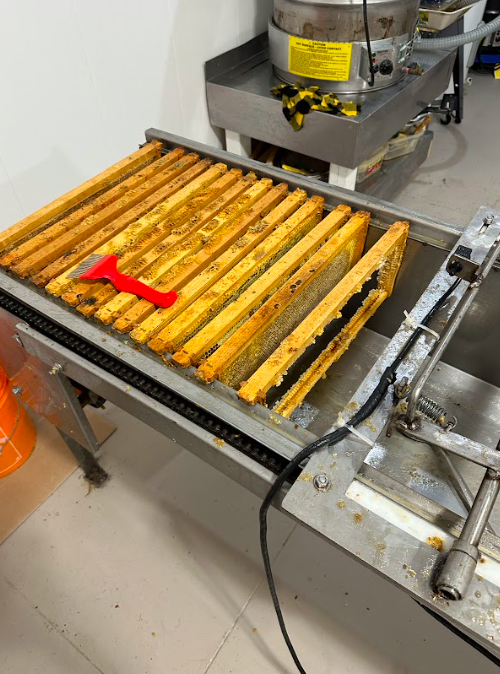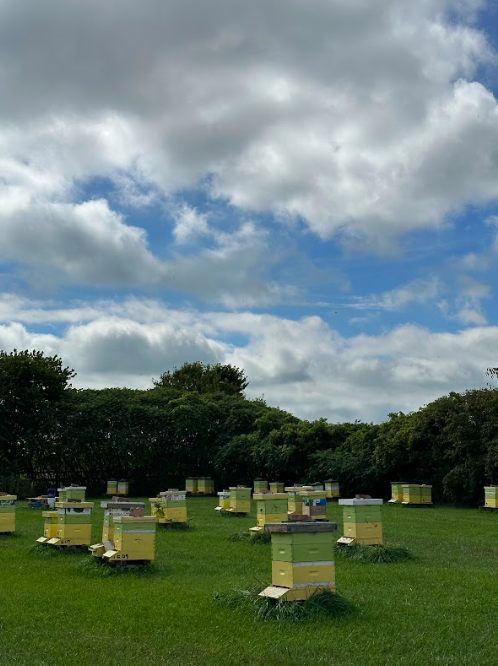 Get ready to be introduced to your new favourite bakery! I am plant-based and I try to eat gluten-free as much as possible. So when I say Mary's Mindful BakeHouse was heaven, it was. Everything that Mary makes is gluten-free. She had a wide variety of fresh and frozen baked goods in her storefront. I had a vegan and gluten-free turtles cupcake, and I brought home two pumpkin spice cinnamon buns. When I tried everything, if you told me they were gluten-free, I wouldn't have believed it. Mary makes eating plant-based, gluten-free and refined sugar-free easily accessible for everyone. If it's for your own personal preference or a specific allergy, there are so many options for you to choose from. Mary's story is inspiring as well – she started her business from her home, and then she visited the Windsor Farmers Market to sell her items and other pop-ups. She was so in demand that she opened her own storefront and has been there for the last 3 years. Once you try even just one of her sweets, you will want to come back for more!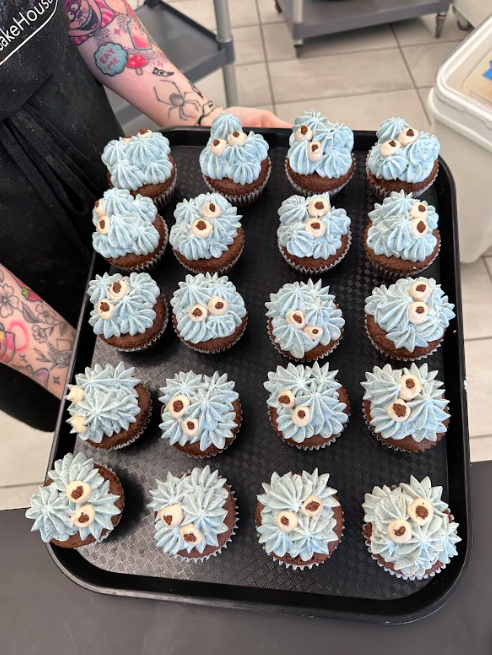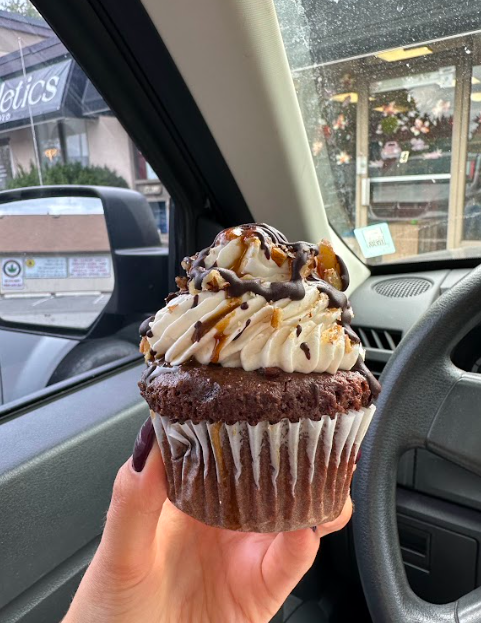 Every adult needs a afternoon or evening at SKETCH Clay + Pottery. I was led by one of the owners Dani on how to use their pottery machines. I got to get my hands full of clay and I have to say it was one of the highlights of my day. As someone who is always on a screen with work, I really appreciate moments where I can find a way to be creative and disconnect. After I was done putting together a piece of pottery, I sat outside on their deck and painted a mug that was already made. They had music playing, I was sitting by the water, and just intuitively painted whatever I felt like. It's important for us especially as adults, to find ways to be creative and connect to a craft. They offer pottery classes here, as well as a pottery membership.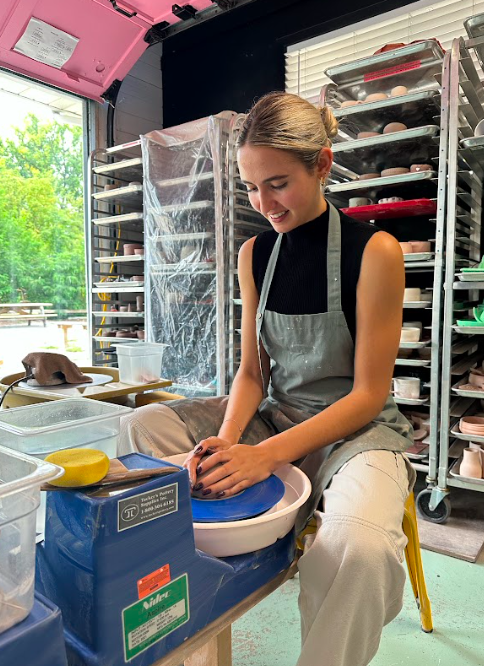 COPPER BRANCH
Again, as I am on a plant-based diet, I am always looking for some healthy wholesome restaurants. Copper Branch is a recently new location in Tecumseh that has a variety of plant-based dishes. They have gluten free and keto options as well. Copper Branch has a full all day breakfast menu, and a variety of sweet and savoury options. I picked up my favourite bowl called the Aztec Bowl, and I had a Fusion smoothie, paired with some pumpkin pie and carrot cake to go. Copper Branch has a beautiful dining room where you can even bring your laptop and pick up a coffee and sit to work in.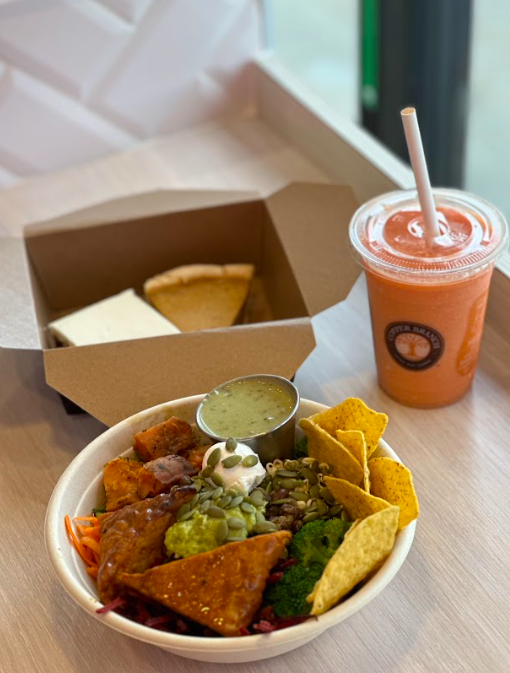 I sat inside of Copper Branch to enjoy my meal, and took the rest to go to visit Lakewood Park. Lakewood Park is one of my favourite parks in the area, it's right along the water on one side, and the other side of the park has a beautiful walkway with so much open space, benches and trees. I walked around by the water and sat to enjoy the rest of my meal. I am convinced this park has one of the best views of the sunset. This night I went it was a bit clouded over, but I listened to the waves crashing and watched the leaves fall from the trees. This day was full of connecting to my creativity, feeling a sense of relaxation, community and appreciation. I had a lot of appreciation towards Windsor Essex when I was on my way back home. There is so much to do, so many people to meet, and so many places to explore. Just when you think you have seen it all, there is more!
Original Blog Post By Hope Monaco @localplanteater
Sponsored story by Tourism Windsor Essex. For more details on Tourism Windsor Essex click their website, or visit them on Facebook, Twitter, or Instagram.
Content Continues Below Local Sponsor Message
Content Continues Below Local Sponsor Message
Content Continues Below Local Sponsor Message