Unwinding & Relaxing In EPIC Wine Country
Friday August 25th, 2023, 11:53am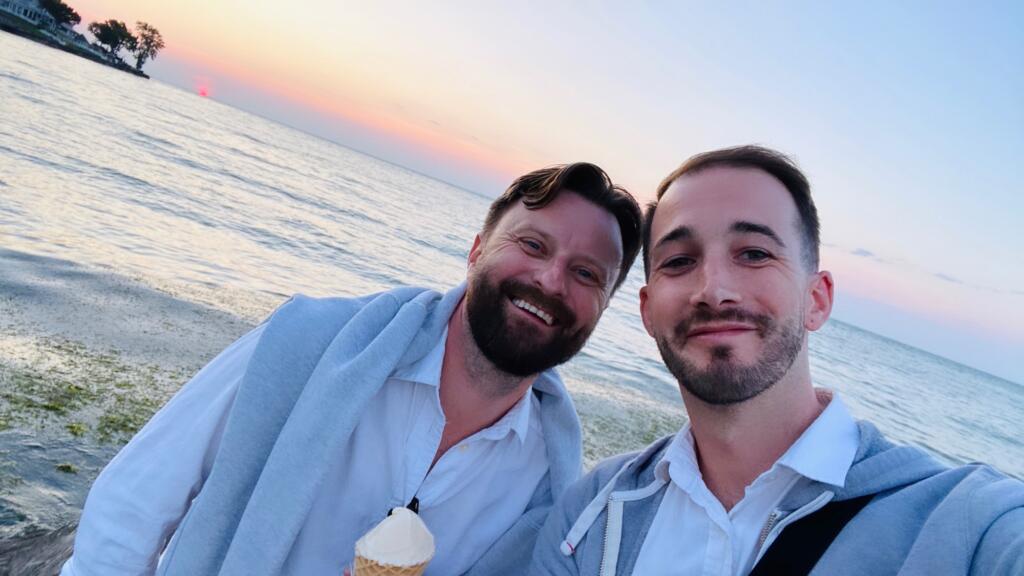 Unwinding & Relaxing In EPIC Wine Country
Original blog by Millar Hill
Anyone who has ever planned a wedding knows that the week leading up can be stressful and overwhelming at times. Even though it's one of the best days of your life, it's still a lot to take in all at once. That's why finding a serene getaway after the wedding was essential to recharge our spirits, and also to celebrate the fact that we just got hitched. I'm here to tell you to look no further than the charming towns of Colchester and Kingsville, where relaxation meets natural beauty. Nestled in the heart of southwestern Ontario, Canada, these hidden gems offer a perfect weekend retreat for those seeking tranquility and a touch of romantic charm.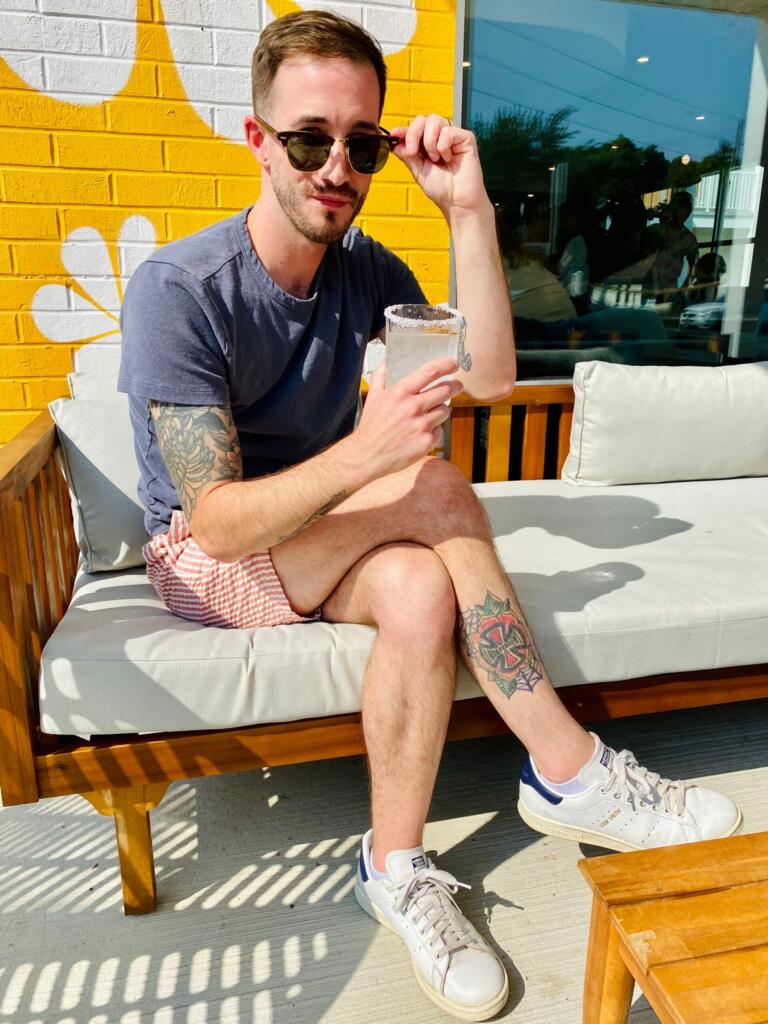 Whether you're looking for a cozy bed-and-breakfast, a quaint cottage, or a boutique hotel or motel, Colchester and Kingsville offer a range of accommodations that guarantee a peaceful retreat. We stayed at the Grove Motel – a new fun, retro-style motel located in the heart of Colchester – just a stone's throw from the beach and excellent food and beverages. I would recommend staying at The Grove Motel when visiting the surrounding wine country or the community of Colchester. The building's bright colours and mid-century modern design brought me right back to Palm Springs, California. Every room has its own creative theme, so there's definitely something for everyone. The attention to detail is spectacular, especially for someone who appreciates design. We stayed in Room 15 which is called "The Wink." I would recommend any couple looking for a weekend getaway – or even just a romantic night away from home – to book this room. I don't want to give too much away but trust me, you won't be disappointed. (And if you're a Schitt's Creek fan like I am, just wait until you see the wine and beer fridge located inside the motel's reception area.) After checking into the motel and exploring all that our room had to offer, we were off to grab some dinner.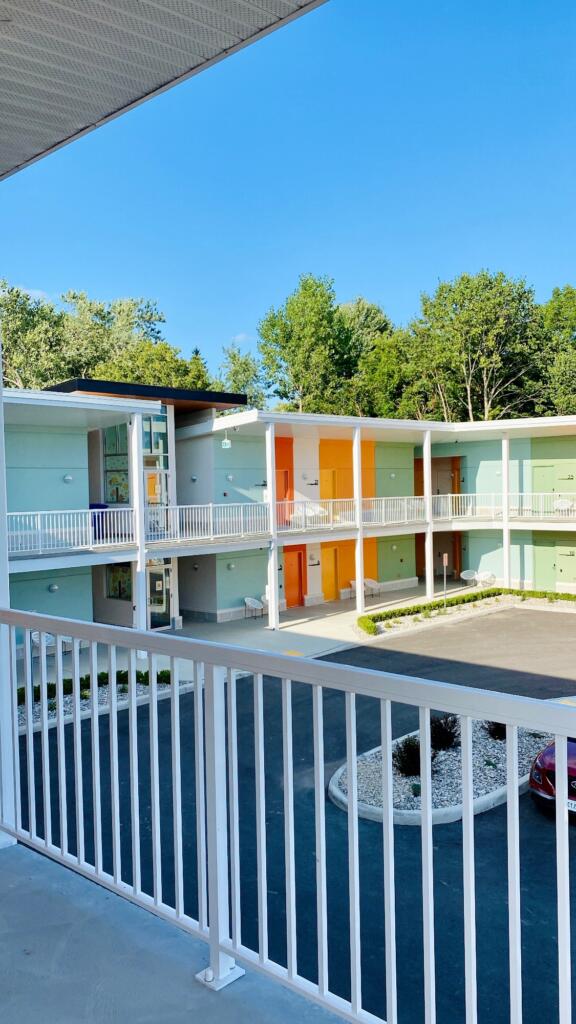 The Wreck is located at Colchester's Harbour and has the best views of Lake Erie to take in while you're enjoying fresh cocktails and locally sourced food. To start, we ordered their bruschetta, which is housemade with fresh tomato, garlic, basil, red onion, parmesan cheese, and a balsamic reduction all on top of a baked flatbread. It was delicious and I would order it again and again. For dinner, I had their ribeye steak with their potatoes of the day and seasoned vegetables. The food was cooked to absolute perfection. My partner can be a little picky when it comes to what he eats, but the staff went above and beyond to cook him something that wasn't even on the menu – talk about exceptional service. If you find yourself in Colchester, I recommend stopping by The Wreck for lunch or dinner, and take advantage of the upstairs patio – there's no better way to eat dinner than to watch the sun go down on Lake Erie.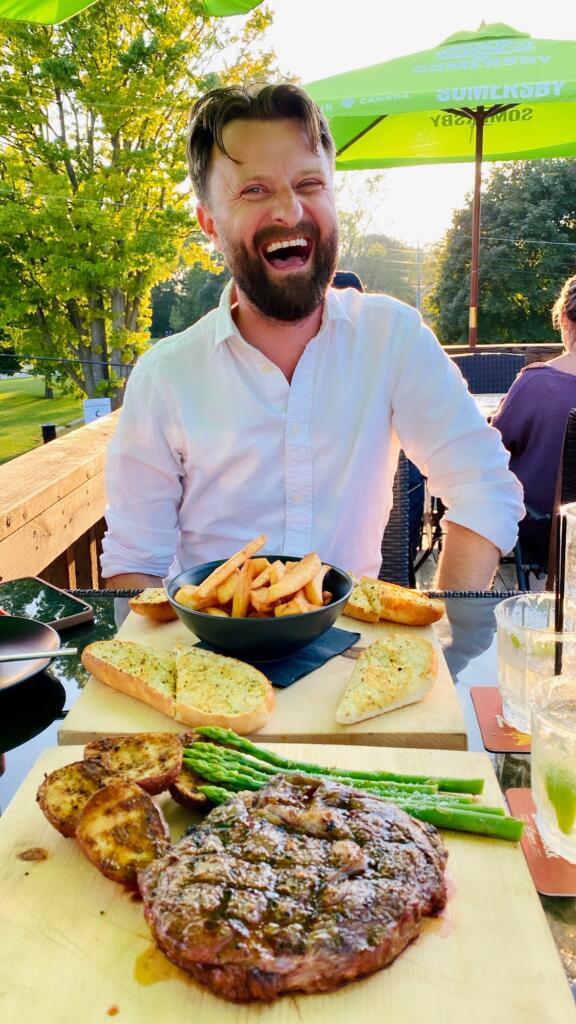 After dinner, we got some ice cream at Coolchester Creamery, conveniently located right beside The Wreck and just a few steps from the beach. It was the perfect ending to the first night of our first weekend together as husband and husband.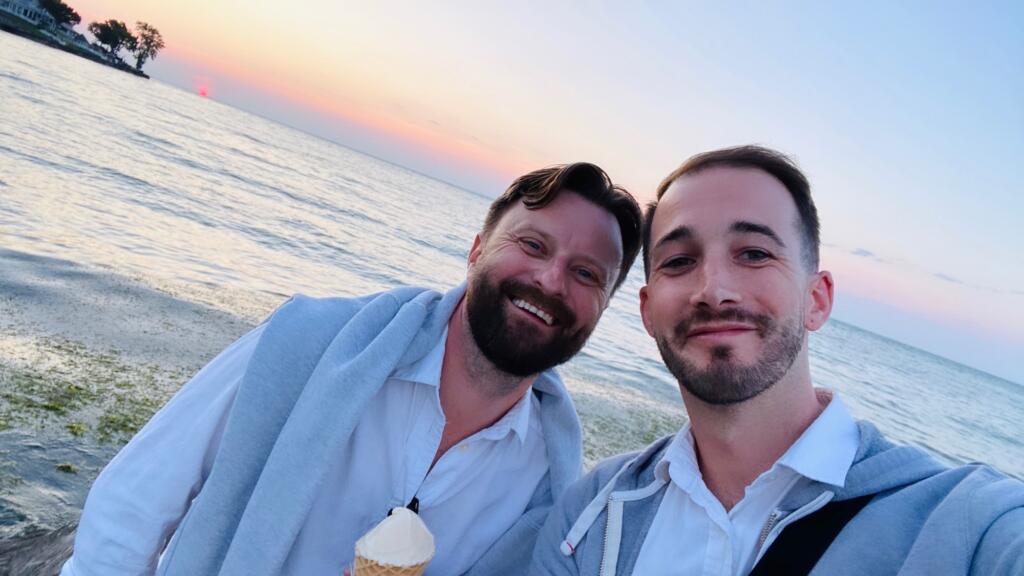 We wanted to get as early of a start to our day on Saturday as possible. The day started with coffee and breakfast at the Red Lantern Coffee Co. in Kingsville. For those of you who have never been, Red Lantern is a specialty coffee roaster that provides fresh, roasted coffee from around the world. Craig, the roaster behind it all, is the most welcoming guy and you can tell he's got a passion for his craft. I opted for their latte and a delicious quiche for breakfast. It was the perfect pair to get the day started. However we didn't buy just coffee, the cafe also sells a variety of small plants, handmade jewelry, brew gear, and more. We took home a Red Lantern mug along with some cute little pots to fill our home with even more plants.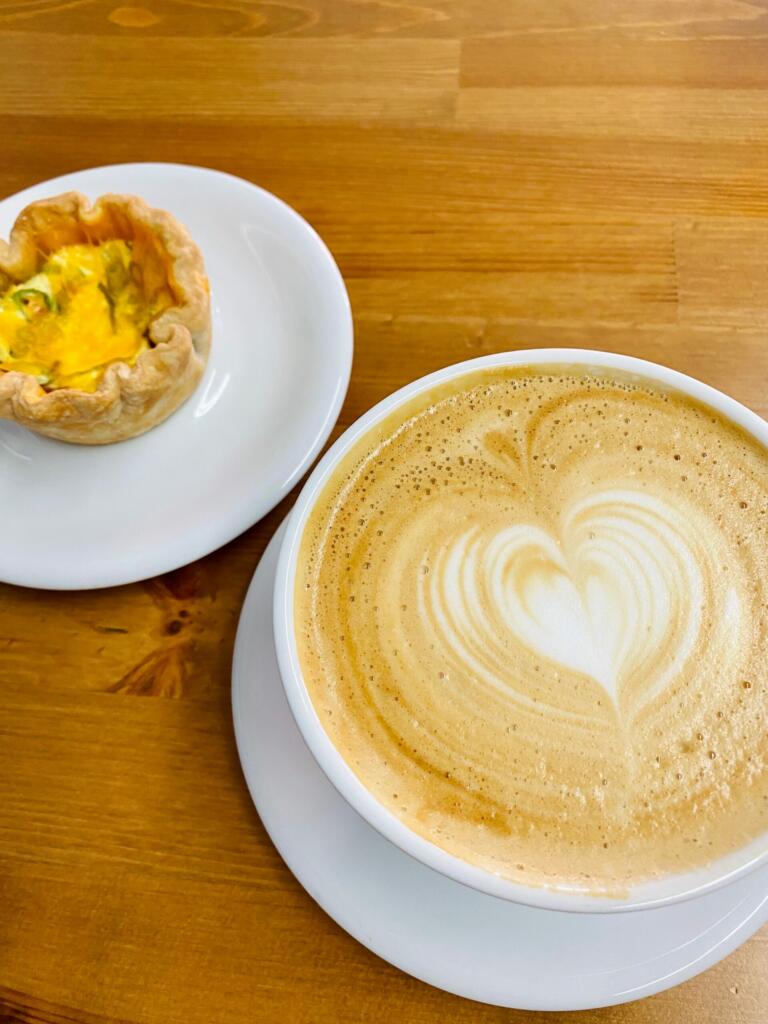 After coffee and breakfast, we made our way to the Estate of Health in Kingsville for a slow-flow yoga class. This was my first time visiting and I was taken aback by how beautiful the setting was. Estate of Health offers one of the most relaxing environments for you to explore your path to wellness. The centre includes many exceptional features to help you restore, nourish, and revitalize your body, mind, and spirit. The slow-flow yoga class was perfect for both of us beginners and our teacher Stephanie ensured we both felt comfortable throughout the class. We left feeling relaxed and grounded.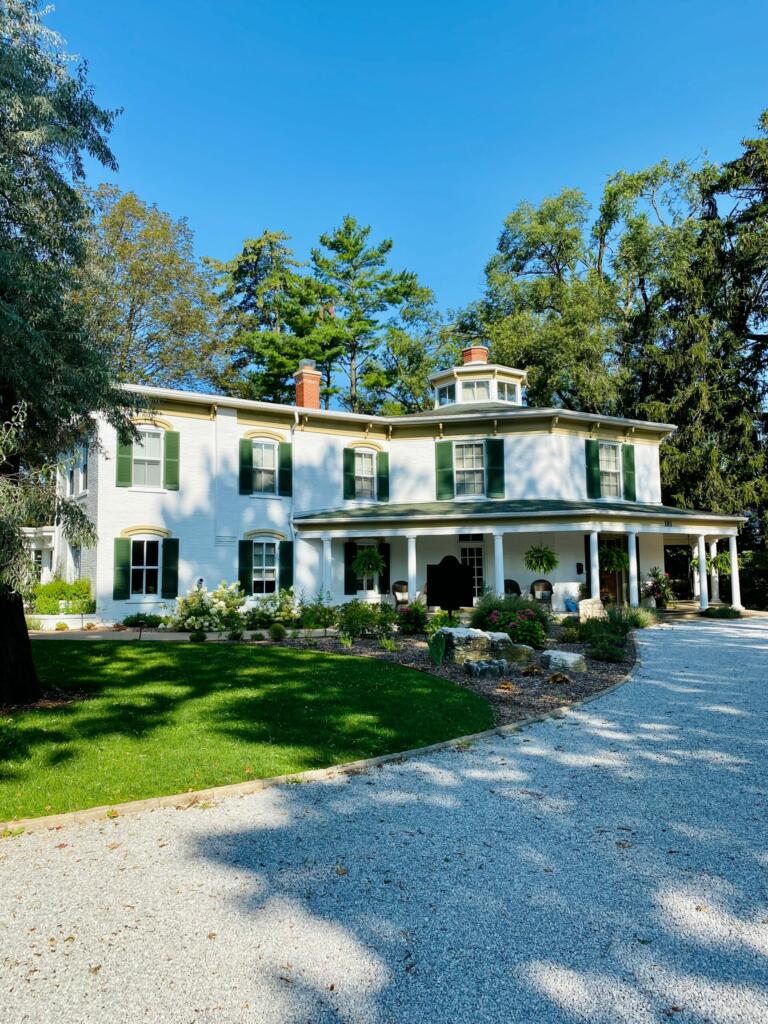 For lunch, we made our way over to Mettawas Station Mediterranean Restaurant. It's located inside a historic train station and features a beautiful platform patio. Their diverse menu includes pizza, pasta, seafood, steak, veal, lamb, and all the seasonal features you could think of using locally sourced ingredients. I was feeling adventurous and ordered their featured pizza of the week and I am so glad I did. It was the Summertime Pie which had a garlic butter base, mozzarella cheese, housemade peach salsa, roasted red peppers, and was finished with feta cheese on top. When I tell you I am still thinking about this pizza, I am, and I will be for a really long time. It was one of the best pizzas I have ever had. It was so good, that I even tried to convince the chef to add it to their menu. (I was unsuccessful.) If you find yourself in Kingsville, or even just driving through, Mettawas Station is worth making a stop for lunch or dinner. Trust me.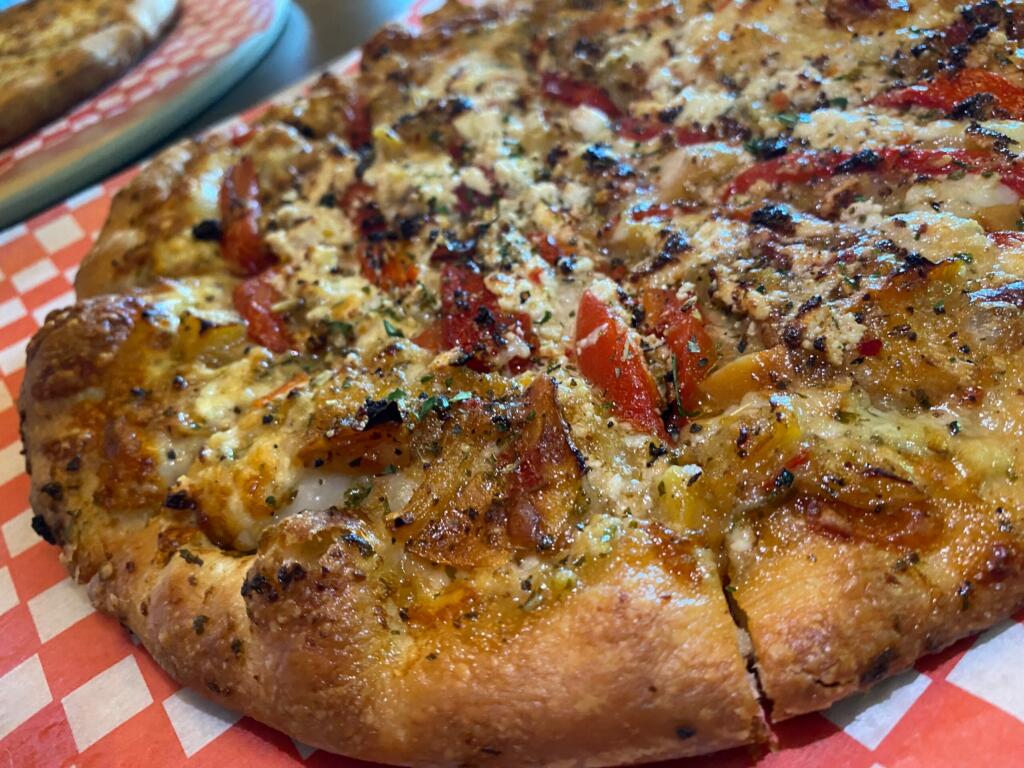 From lunch, we made our way out to Leamington to check out Pelee Wings Nature Store – one of the best places to go to if you're looking for the ultimate experience out on Lake Erie. Despite it being the perfect summer day, the water was a little choppy from the wind out on the lake, so we opted for kayaking over paddle boarding. For two guys who don't do a whole lot of kayaking, we had the most fun thanks to Derik at Pelee Wings. He walked us through everything we needed to know and ensured we felt safe before getting us out on the water for an experience that was nothing short of exceptional. Pelee Wings Nature Store is nestled along the shore of Lake Erie with a beachfront property that offers endless opportunities to explore the region.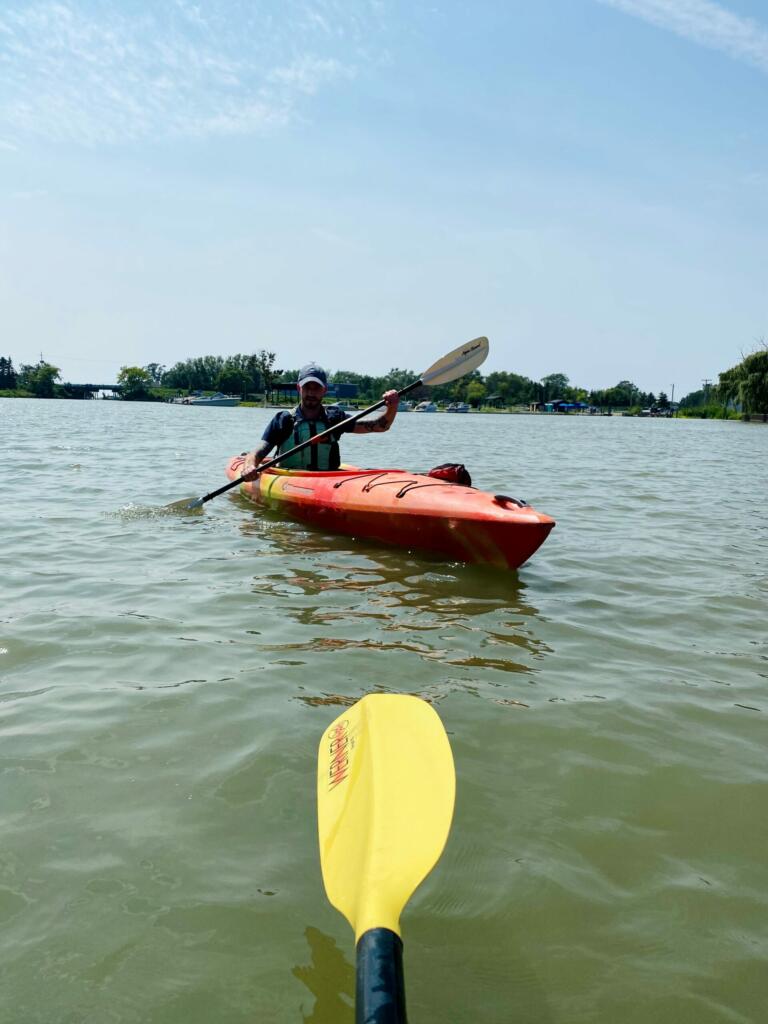 After catching all the sun that we could out on Lake Erie, we made our way back to the Grove Motel to freshen up for dinner at Oxley Estate Winery. The winery is located in Harrow, Ontario along the north shore of Lake Erie. It's a casually elegant place that can accommodate groups of all sizes with comfort and the utmost style. The outdoor tasting patio is encapsulated by vineyards and is the perfect setting for sipping on some wine and enjoying a delicious meal. We started our evening off with a wine tasting, which I would recommend to anyone visiting for the first time. My favourite was the 2019 Cabernet Franc – a rustic mouthfeel with notes of dark fruit followed by a tannic spice and lip-smacking aftertaste. For anyone who knows me, I love a good burger and the Cabernet Franc was the perfect glass of wine to pair with their Barn Burger. The atmosphere was so vibrant you could not help but have a good time. If you find yourself in EPIC Wine Country, Oxley Estate Winery is a must. Before heading back to the motel for the night, we decided to hit Colchester Beach one more time to catch the sunset. If you're reading this, grab a blanket, pack some drinks and snacks, and head out to Colchester to catch the sunset with your partner, friends, or family. The peacefulness of the setting was just what we needed after riding the high of such a great week and weekend.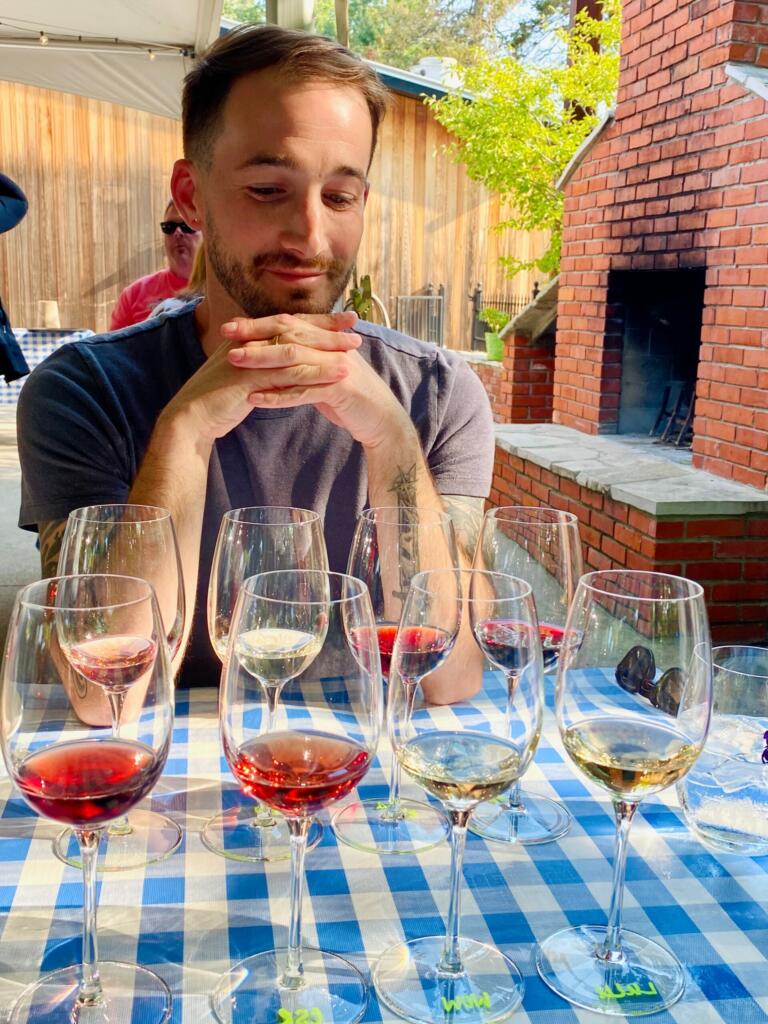 We started our Sunday morning off by heading down to JOE. Hot + Cold Coffee at The Grove Motel for some breakfast and of course, coffee. Whether you're staying at the hotel or find yourself in the area, stop by and see the cafe for yourself. There's plenty of seating inside as well as a funky patio outside. They offer a great selection of caffeinated beverages for a boost in the morning but also a variety of other beverages throughout the day – including happy hour.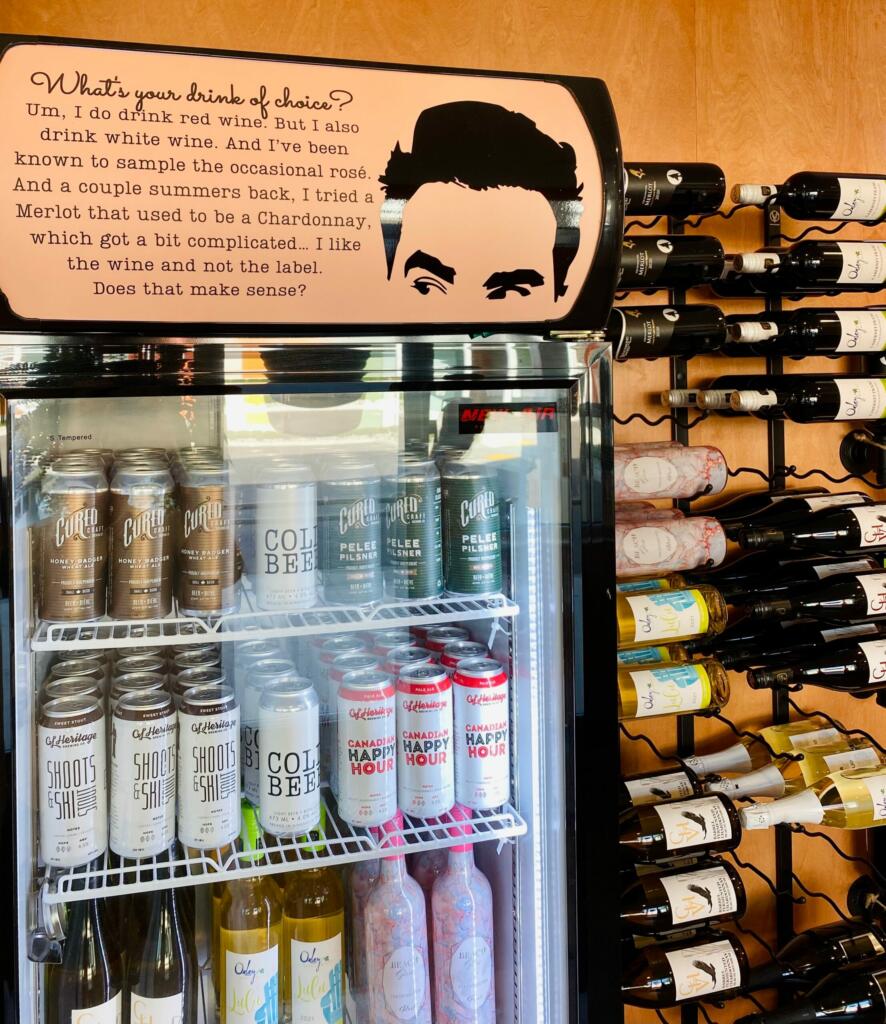 After breakfast, we made our way to Kranicz Orchards for a cider tasting. Kranicz is a fourth-generation fruit farm that specializes in sweet, tree-ripened peaches, plums, nectarines, and apricots. I recommend trying their peach cider mixed with their peach juice. (Think of a mimosa but with peaches.) Everyone was so friendly and welcoming, we had such a great time getting to meet the family, including Daisy, their farm dog.
From the orchard, we made our way to the Colchester Harbour to pick up our electric-powered bikes from The Grove Bike Co. This was our second time renting these bikes, and we had just as much of a blast as the last time – especially, my husband Colm. (He loves not having to pedal.)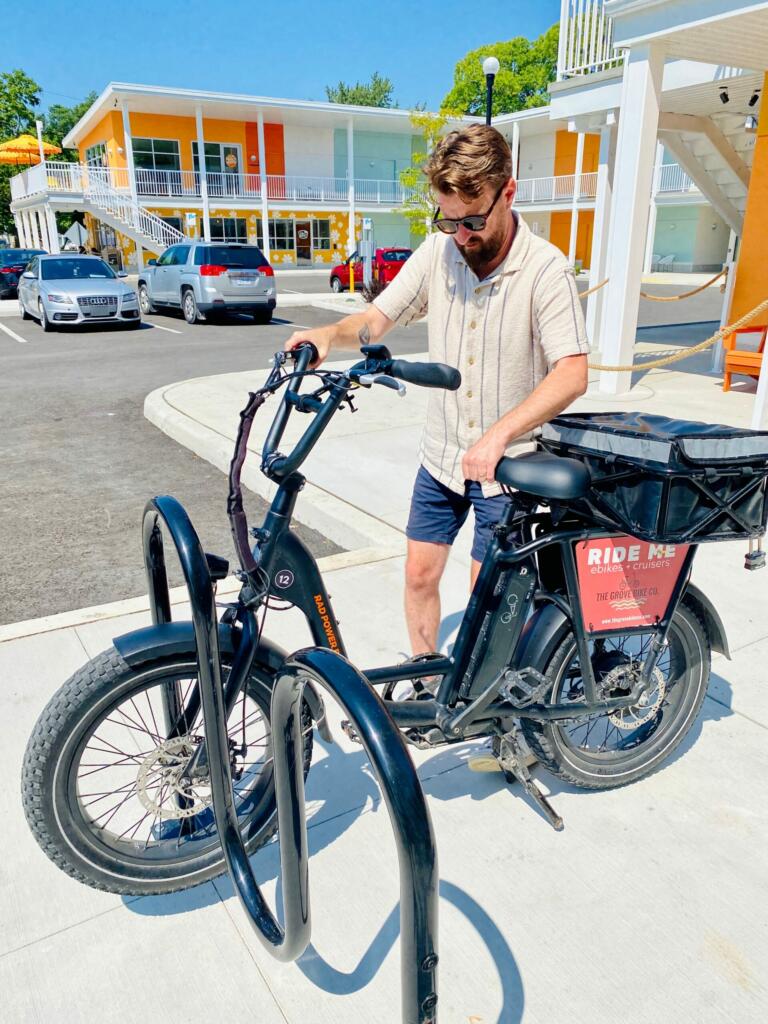 Once we got our bikes, we rode them out to Serenity Lavender Farm. This was our first time visiting, and we were delighted to learn that the farm is the most southern lavender farm in Canada. As soon as you arrive you are greeted by a lavender garden with over 40 varieties of lavender that's set against a vineyard. Across the road lies the lavender farm that has over two acres of lavender. The colours and fragrances are like none I have ever seen or had the pleasure of smelling. The farm's gift shop is filled with a huge selection of lavender-themed products from home decor, soaps, bath and body products, and even culinary treats. I was astonished to learn that everything is made on-site with lavender from their fields. We loved the products so much we couldn't leave without grabbing their lavender essential oil, as well as their lavender facial toner.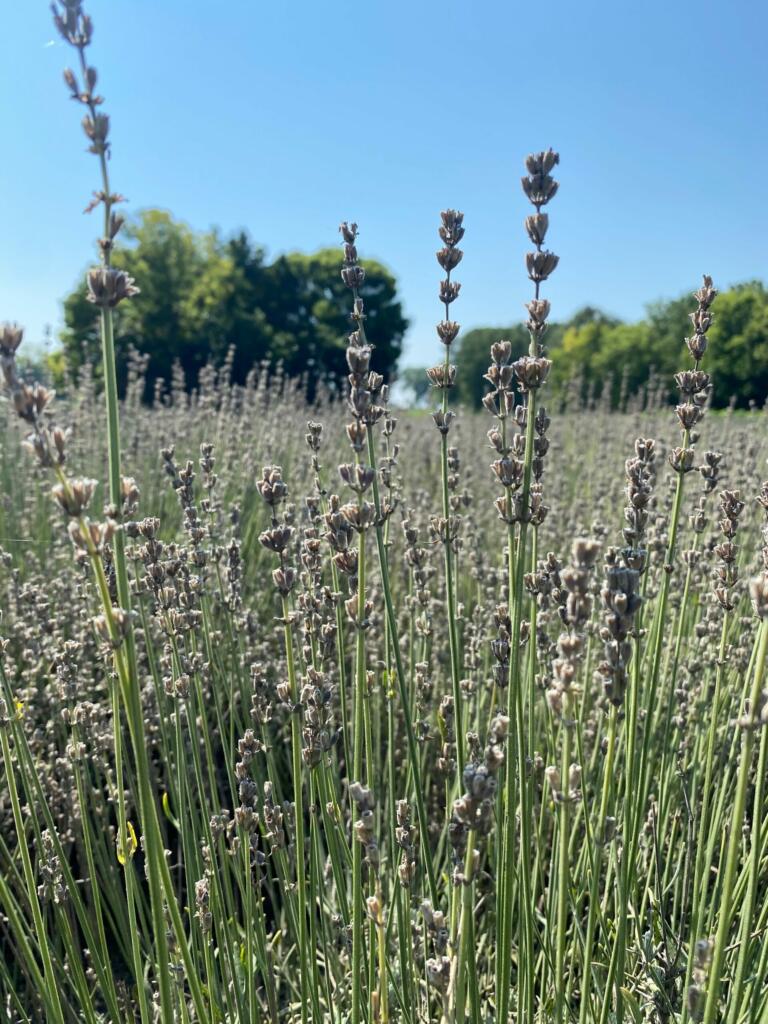 Our second last stop of the day was to visit Sprucewood Shores Estate Winery – Canada's only beach-accessible winery right on the sandy shores of Lake Erie. The winery is owned and operated by the Mitchells, siblings Steve, Tanya, and Jake. The staff is so welcoming and never hesitate to go above and beyond to make sure your time there is the best. It's the perfect place to indulge in one of their picnic baskets or charcuterie boards and take in all the winery has to offer. This visit was emotional for us because we had just got married at the venue the previous weekend, but we were able to soak it all in with some wine, a tasty charcuterie board, and some live local music. I recommend grabbing one of their picnic baskets, a chilled bottle of wine, and heading to their beach to soak in all its beauty.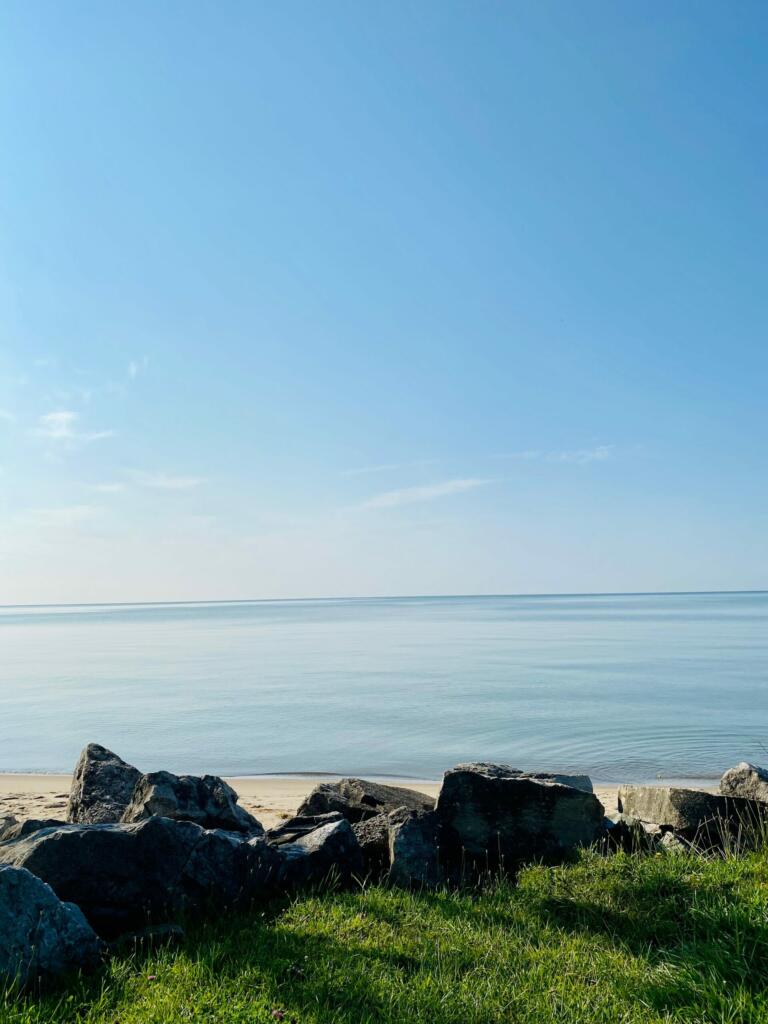 After such an amazing weekend full of much-needed rest and relaxation mixed with the perfect amount of adventure, we couldn't go home without a pizza for dinner. Thanks to Original Guys Pizza Pies, we were able to end our weekend with one of the region's most beloved foods – a pizza.
I am so glad my husband and I celebrated our marriage so close to home. Spending the weekend discovering Colchester, Kingsville, Leamington, and all the places in between was one of the best ideas we've had. We had so much fun just the two of us, and we were right in our own backyard. I couldn't imagine spending the weekend exploring our region with anyone else. I could go on and on about our weekend but I want you to get out there and experience it all for yourselves.
Sponsored story by Tourism Windsor Essex. For more details on Tourism Windsor Essex click their website, or visit them on Facebook, Twitter, or Instagram.
Content Continues Below Local Sponsor Message
Content Continues Below Local Sponsor Message
Content Continues Below Local Sponsor Message