Patio Parties & Open Streets: Six Ways To Add Some Sizzle To Your Summer
Thursday July 20th, 2023, 12:39pm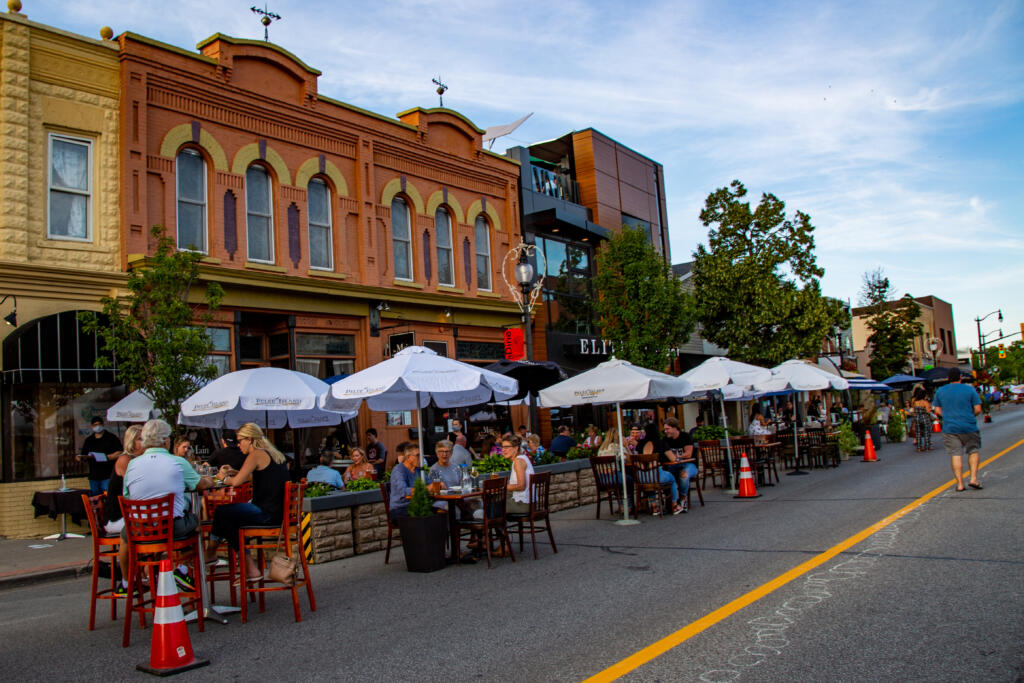 Patio Parties & Open Streets: Six Ways To Add Some Sizzle To Your Summer
Original blog by Tourism Windsor Essex
Summer is in full swing in Windsor Essex and it's about time to add a little sizzle to the hottest season! The best way to do that? Grab your favourite people and park yourself on a patio, stroll the Open Streets, taste your way through Essex County and meander through the freshest markets around. We have all of these options and more to make sure this summer is your hottest yet!
Stroll The Open Streets
When the streets shut down you know you're in for a great time. Head to Amherstburg and Kingsville to get your stroll on! Amherstburg Open Air Weekend feature live entertainment, yoga in the park, night markets, children's activities, games in the street, Bagpipes in the Burg and more! Shop Amherstburg's local businesses for clothes, accessories, home decor, jewelry, shoes, candles, books and more! Take advantage of carry out at any Amherstburg restaurant and enjoy it in King's Navy Yard Park or in the Take-Out Court located in the square near the fountain. You can always dine in too! Whether you're looking for fine dining or casual, Amherstburg has it all! Enjoy Music In The Park every Saturday and Sunday at 3pm. Amherstburg Open Air Weekends take place Fridays at 3pm to Sundays at 8pm until Sunday September 3rd.
A portion of Main and Divisions streets are closed select Saturdays in the summer in Downtown Kingsville from 5pm to 10pm. With extended patios and special themed nights (Christmas in July anyone?!) the night will fly right by! Enjoy a stroll through this vibrant community's fresh open spaces, sip on delicious cocktails and delectable eats and sway to the sounds of live music. This is what summer nights are made of! Open Streets Kingsville runs until Saturday August 26th.
Take It From Day To Night
There isn't much more versatile than a patio in the summer. Looking for a cool place to grab a lazy brunch? Patio! How about a sophisticated night out with a chic cocktail in hand? Patio! Or a quiet afternoon that stretches into a party night? Patios are the answer for whatever mood you may be in and whatever drink or app you want in your hand! Windsor Essex has no shortage of patios and the great weather that go along with them. We love patios so much we've dedicated an entire section to them. Click here for a comprehensive list and keep reading for a few of our favourites:
Bull N Barrel, Downtown Windsor: located in the heart of Downtown Windsor The Bull and Barrel Urban Saloon bring authentic country rock to a whole new level. With great food to match their great energy they're also home to Windsor's largest outdoor patio! PLUS: Check out Disco Inferno right next door and dance the night away on Windsor's first LED Disco Dance floor.
Twisted Apron, Walkerville: Did someone say brunch? This is THE spot to enjoy comfort brunch foods ~ with a twist! The Twisted Apron is located in the heart of Windsor's historical Walkerville neighbourhood. Go for a great meal, stay for the great shops and sights!
Erie St. Gastropub, Erie St.: With elevated pub fare and delicious Asian fusion, this is a patio you won't want to leave! A wide-ranging cocktail menu and even alcohol-infused ice creams make the Erie St. Gastropub a patio that you can take from day to night and enjoy the bustling energy of Erie Street in the heart of Windsor's Little Italy.
Jack's Gastropub, Kingsville: A visit to Kingsville isn't complete without a stop at Jack's Gastropub for an authentic farm to fork experience complimented with local wines and spirits. Of course you'll also want to enjoy a pint of beer from Banded Goose Brewing Company, the brewing wing of JACKS GROUP.
Wolfhead Distillery, Amherstburg:  There's no better spot to sip an exquisitely crafted cocktail than on the patio of the distillery where the spirit was created! Head to the patio of Wolfhead Distillery and enjoy small batch whisky, vodka and gin cocktails along with a full menu of tasty bites!
Meander Through A Market Or Two
Nothing sounds and tastes like summer quite like a farmers market does. Grab your basket and head out to one of many that pop up in Windsor Essex each weekend (and throughout the week!).
Downtown Windsor Farmers Market: Discover locally grown farm fresh fruit, vegetables, flowers and unique artisan foods. Browse art exhibits, crafts vendors, community booths, entertainment, food demos and kid's corner. The DWFM season runs Saturday's from 9am-2pm from April to December 2023.
Amherstburg Farmers Market: The Amherstburg Farmers Market is a welcoming space offering a high-quality lineup of local agricultural produce, healthy foods and artisan craft products. Open rain or shine every Saturday from 9am-1pm, April-October, this family- & pet-friendly community hub also offers live music, homemade breakfast, fresh coffee, craft beer, learning experiences and smiles every Saturday.
The Farm House Market, Amherstburg: The Farm House Market offers a convenient location to shop for fresh produce, dairy, baked goods, and specialty items, all locally sourced from throughout Ontario.
Mailloux's Farm Fresh, Amherstburg: locally grown and sourced seasonal fruits and vegetables, plants, baked goods, frozen prepared foods and preserves right on the farm. Their approach is food less travelled and collaborate with local vendors to offer customers the best foods Windsor Essex County has to offer. Open seasonally, May to October.
Willow Tree Market, Kingsville: Willow Tree Market is a local family farm market with a variety of fruits and vegetables, locally homemade pies, sweets, Lebanese foods, Picard's Nuts and more!  Open seasonally.
Sip Your Way Through Summer
EPIC Wineries have the perfect ingredients for you to sip your way through summer: GRAPES! If it's a quiet weekday afternoon or a weekend getaway plan your wine tasting route with our Wine Route Map. Explore the 17 wineries along the Lake Erie North Shores that call EPIC Wine Country home and use the map to plan your accommodations and attraction stops along the way. The EPIC Digital Wine Tasting Pass allows you to try 4 x 1 oz tastings at six participating wineries. Learn more at visitwindsoressex.com/wine. 
A Brew A Day … Keeps the Sun Shining!
Summer is for sipping, and sipping an ice cold craft beer or handcrafted cocktail is just what is needed to keep the sun shining. Explore and pour the 11 craft breweries and 2 distilleries in Windsor Essex that make up the Barrels Bottles & Brews trail and visit the stops along the way: the birthplace of Canadian whisky, award-winning vodkas and craft breweries featuring some of the finest ales, lagers, stouts and more. Purchase a 1 day, 7 day or 1 year Flight Log for a self-guided tour with tastings of the Windsor Essex Barrel Trail. 
We Heart Summer almost as much as W.E. Heart Local!
There's no better taste than local and summer is the time that Windsor Essex shines! We are one of the most agriculturally productive regions in Canada and welcome you to explore the bounty of locally-produced fruits, vegetables, meats, crews, wines and more. Register for the W.E. Heart Local digital pass and check in at participating partners for offers and your chance to win great prizes! We'll keep you in the loop with the freshest details on markets, stand, farms and producers in Windsor Essex!
BONUS: A Night With A View
Elevate your night and raise your glass to some of the best views around at a couple of our roof top patios.
Vu Bar at Caesars Windsor: Breathtaking views are only the beginning. Enjoy the stylish, intimate bar offering the best views of the Detroit Skyline and an exterior veranda stretching the length of the bar.
Elite Restaurant, Kingsville: Located in the heart of downtown Kingsville, Elite is the destination for an elegant dining experience.
Dining Under The Stars: For an extra special night out enjoy a themed, 3 course gourmet dinner on the outdoor terrace overlooking the Detroit River and Detroit Skyline at St. Clair Centre for the Arts.
Sponsored story by Tourism Windsor Essex. For more details on Tourism Windsor Essex click their website, or visit them on Facebook, Twitter, or Instagram.
Content Continues Below Local Sponsor Message
Content Continues Below Local Sponsor Message
Content Continues Below Local Sponsor Message