How To Spend Two Days In Windsor: Your Guide To A Quick, Memorable Visit
Tuesday October 3rd, 2023, 11:45am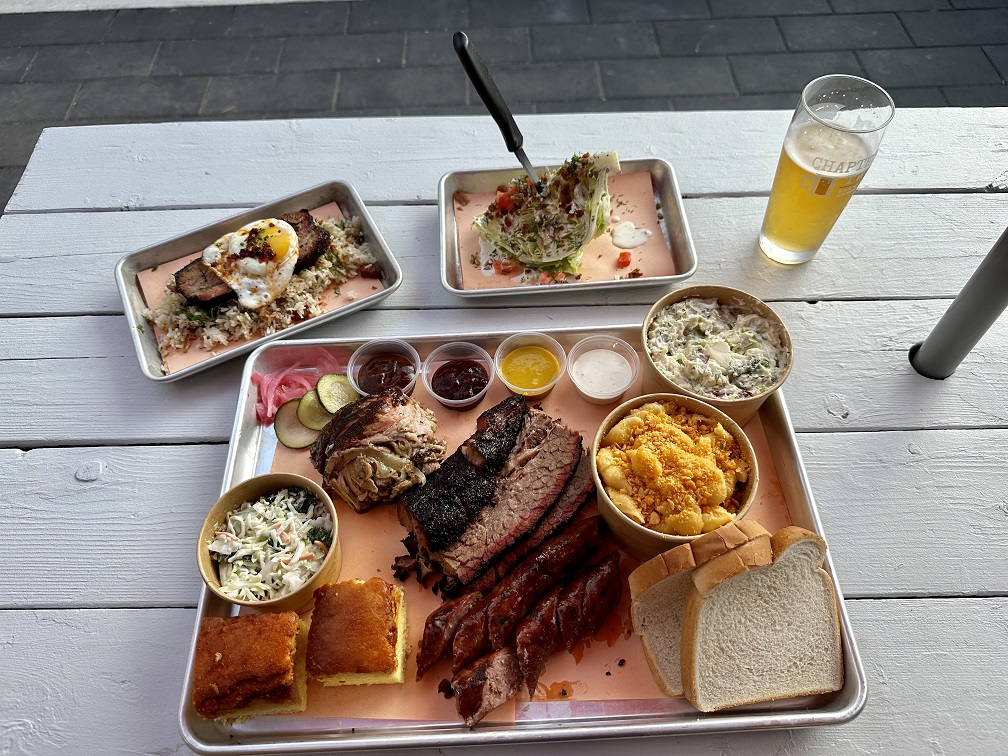 How to Spend Two Days in Windsor: Your Guide to a Quick, Memorable Visit
Original blog by Chris Mitchell – Traveling Mitch
For years, I've been coming to and fro between Toronto and Windsor. I've driven and I've flown with Porter. I've visited alongside my brother, with friends, with Bri, and on my own. I've cycled the region with fervor, sipped on beers at many a brewery, and dined at plenty of the city's best known tables. I've set eyes on the WIFF murals, and I've walked up and down the riverfront.
On this most recent trip, I set out to, in a sense, do what I hadn't. The beauty of a city like Windsor is that there's always something new to add to your to-do list. Sure, I may have dove in headfirst on my last visit to Windsor's unique, vibrant pizza scene (shoutout to Armando's!), but this time I can try the new barbecue spot that's just opened up in Ford City. That's the sort of mentality that I carry with me on visits to Windsor, and I firmly believe it's one that pays dividends.
I remember sharing my love for Windsor on the Detroit subreddit of all places, and I don't think I've ever seen my passion for a city reciprocated so entirely. They all knew what I know and more people need to know – that Windsor is a city that is full of experiences, worth experiencing.
My most recent visit was as memorable and enjoyable as visits I've had the pleasure of making in the past (if not more so), and I'd love to walk you through my experience, so that you too can expand that Windsor to-do list, and embrace what this southwestern Ontario gem has to offer.
How to Make the Most of 2 Days in Windsor
GET AROUND IN STYLE ON A BIRD SCOOTER 
If you, like me, want to ensure that you're making the most of your time here, I'd strongly consider renting yourself a Bird Scooter. I downloaded the app when I got there, and was quite literally off to the races.
I kicked things off by using my Bird Scooter as a vessel for exploring the Windsor Sculpture Park in more depth. There are over 30, large scale pieces of contemporary art that you can set eyes on, and having the Bird Scooter meant that I was able to explore more than just what was on the waterfront. You can find a full list of the sculptures and their respective locations here. 
After I wrapped up my sculpture exploration, I decided that I'd jet down the entirety of the waterfront, and pop into Walkerville, followed by some quality time in Ford City. Using a Bird Scooter helped me be efficient in exploring, but also – these things are just plain fun to ride.
DISCOVER WHAT MAKES WALKERVILLE, WALKERVILLE
I never visit Windsor without setting aside some time for Walkerville. Today, Walkerville stands as a testament to the vision and legacy of Hiram Walker, who not only built a successful distillery but also created a thriving community that has left an enduring mark on the city of Windsor.
A fun way to double click on that history is to visit the J.P. Wiser Experience Centre. It's the place to go in Windsor to "experience the story of Canadian whisky." I took part in one of their tours, and the good times started right away with our bartender, Alex, and our knowledgeable guide, Alex. The tour allows you to sample some of their award-winning whiskies (J.P. Wiser's Deluxe, Lot No. 40 Rye Whisky, Pike Creek 10 Year Rum Barrel Finish,  and J.P. Wiser's 15 Year Old, to name a few), but also to see where and how it's all made.
At this point, it feels almost blasphemous for me to visit Windsor, and specifically Walkerville, and not pop into Walkerville Brewery. They've got a nice diversity of beers on their taps, which means there's something that everyone at the table is going to like. I also feel it's worth mentioning that, on this most recent visit, it became very clear to me that they've upped their dining game. The pizzas are absolutely delicious!
I personally went for the Deluxe (mozzarella cheese, shredded pepperoni, mushroom, onions and green pepper) and added hot oil, jalapenos and chili flakes. You can see their menu here. The atmosphere is warm and welcoming, and it's fantastic to see that Walkerville Brewery continues to be an epicenter for great quality and service in this city.
The following day, when looking for yet another excuse to come on back to Walkerville, I settled on Funky Chow Kitchen, who have put together a restaurant with an electric vibe, and a menu filled with creative twists on Asian culinary classics. Baos, delicious karaage, edamame, dumplings, sushi, and so much more. Personally, I was very happy to see some Filipino staples on the menu here, as oftentimes Asian cuisine in Ontario can focus on Japanese, Thai, Vietnamese, Chinese or Korean, but not venture much further than that.
EXPLORE THE ARTIST ALLEY & MAIDEN LANE 
On my first visit to Windsor, many moons ago, it was the street art that first caught my eye. The downtown core offers a cornucopia of work for street art enthusiasts, and I've often spent hours in and around Artist Alley and Maiden Lane with a camera the size of my head, appreciating the vibrant work.
In particular, art enthusiasts are going to want to set eyes on "The Lampshade Installation" which can be found at the Pelissier Street Parking Garage, and phase II of that project is even more exciting.
The Downtown Windsor BIA notes, "artists Derkz and Moises 'Luvs' Frank have lent their talents to the parking garage; Derkz' work can be found on the storage unit at the parking garage to the beer garden, as well as on Copper Rose Distillery's and Berkshire Enterprise's properties, while Frank's work, entitled 'Bury Me in Lavender Roses' can be found on 423-437 Ouellette Ave. Indigenous artist Quinn Smallboy's work has been unveiled as well; his string art installation can be viewed at the parking garage. And it's not over – Phase II will see the brilliant work of another half dozen artists over the coming months."
Playing the role of photographer (or explorer) can be hunger inducing though, so don't miss your chance to visit Maiden Lane Wine & Spirits. Maiden Lane is a relatively recent addition to the scene, but its founders come with a wealth of experience. Mark Dutka, a third-generation bartender, and Sarah Dewar, a sommelier with two decades in the wine industry, launched this establishment in June of 2019. Their selections mirror their personal preferences – meticulously crafted cocktails, distinctive wines, artisanal beers, and ciders, all complemented by uncomplicated yet high-quality cuisine, a superb playlist, and a laid-back atmosphere.
They're known for their cocktails (my vote is for the "Pigs Can Fly," blended scotch with lemon, honey, smoked cherry, served smoked on the rocks), but they have an extensive wine and beer list. You also should strongly consider getting a charcuterie board to go with your beverage of choice. A large board comes with 3 meats, 2 cheeses, pickles, condiments and bread, and you can expect top quality.
SEE WINDSOR FROM A NEW ANGLE
One thing I certainly hadn't done in the world of Windsor tourism that I'd been dying to do was to get out on the water, and see both Windsor and Detroit from the middle of the Detroit River. That's precisely what I was able to do with Windsor Premier Cruises. 
You can check their website to see which cruise suits you best, but I personally took the 2 hour Sightseeing Cruise of the Detroit River which allows you to "relax and enjoy a view of historic Detroit River, including Hiram Walker, Belle Isle, waterfront mansions, and other notable locations on this Windsor Premier Cruise." It's the perfect "overview" cruise, and I also appreciated that you could get a beverage on board to make soaking in the views that much more of an event.
The romantics of the world may also be keen to hop on their 3 Hour Sunset Cruise or 3 Hour Sunset Dinner Cruise.
From start to finish, I felt Windsor Premier Cruises were professional and did an excellent job, and I have no problem enthusiastically recommending them to visitors coming on down to Windsor.
MAKE TIME FOR FORD CITY
Come to see the Ford City Murals, which show respect for the neighbourhood's remarkable industrial history – but stay for the shops, restaurants, and the chance to putt around an area that is also quite the photographer's playground.
My choice here is the newly opened Sawyer's Craft BBQ. In short, it's top-notch Texas BBQ that is made with a lot of love and care. The Jalapeno Cheddar Sausage is something to behold, and I'd recommend also tasting some of their famous brisket. The "Brisket Burger" is a popular option and is served with cheddar cheese, sautéed spanish onion, bread and butter pickles, and burg sauce on a toasted brioche bun."
I also adored the Wedge Salad and Apple Dill Potato Salad. It's the sort of place that I went on my own, but immediately knew that I had to bring Bri back on our next visit!
MAKE YOUR DAY AT ADVENTURE BAY
Adventure Bay is known as a "family water park," and that it is, but I had an awful lot of fun going there on my own, especially because I got to spend a fair bit of time boogie boarding on the Flow Rider!
There are over 35,000 square feet of wild water adventures to be had, meaning there's a little something for everyone. There are 5 waterslides to choose from (Python, Whizzar, and Masterblaster to name three), but you can also simply grab a tube, and melt away your worries on the Lazy River.
Kids and families can also look towards the Splash Zone and Tot Loch Area, where great new family memories are pretty much sure to be formed. I had no idea that this place had been sitting in the heart of the city all along, just waiting for me to hop on that Flow Rider and make it clear that I should stick to writing, and not surfing!
TREAT YOURSELF TO A STAY AT THE DOUBLETREE WINDSOR
Part of the reason that I was back in Ontario's Southwest this time around was to stay at some top-tier properties in the region. Well, the DoubleTree by Hilton Windsor Hotel & Suites certainly fits that bill.
I am not kidding you when I say that my stay in the King Studio Water View Suite was one of the most memorable accommodation experiences that I've had in Ontario. The views across the water to Detroit were sensational, but also the room itself was everything you'd want. A big, beautiful bed, a sitting area, a desk with plenty of natural light, a kitchen area, and a newly renovated bathroom. As far as I understand, they've recently put some money into updating this hotel, and the updates look great.
There are, of course, other rooms available depending on your price range. A common theme in this article – there's something for everyone.
I also want to give a shout out to the new River Room Restaurant. They've brought in Chef Stan Spanos to spice things up, and thus I'd encourage you to visit River Room for more than just breakfast, as dinner is where the new menu really shines. It's a playful nod to Mediterranean fare, which means you should be looking towards their mezze options as appetizers, and something like the Mediterranean Burger for your main, though they're known for their pizzas and pastas as well, to be fair.
For one of my meals there, I actually ended up having the Seared Salmon Fillet, served on a polenta and herb tart with a light citrus butter sauce, and was more than pleased with my selection.
Windsor Awaits
What I love about Windsor is that I know that even after all this exploring, I can return and easily fill up another couple of days or a weekend with new activities, while of course revisiting a few of my favourite spots. From a tourism perspective, Windsor is always on the move, and that makes it a darling for me in the world of Ontario travel, and a place that I already know I'll be returning to over and over again. Suffice to say, I already can't wait to return.
Original Blog Written by Christopher Mitchell 
Sponsored story by Tourism Windsor Essex. For more details on Tourism Windsor Essex click their website, or visit them on Facebook, Twitter, or Instagram.
Content Continues Below Local Sponsor Message
Content Continues Below Local Sponsor Message
Content Continues Below Local Sponsor Message