County Pints & City Flights: Celebrate Ontario Craft Beer Week
Monday June 12th, 2023, 11:48am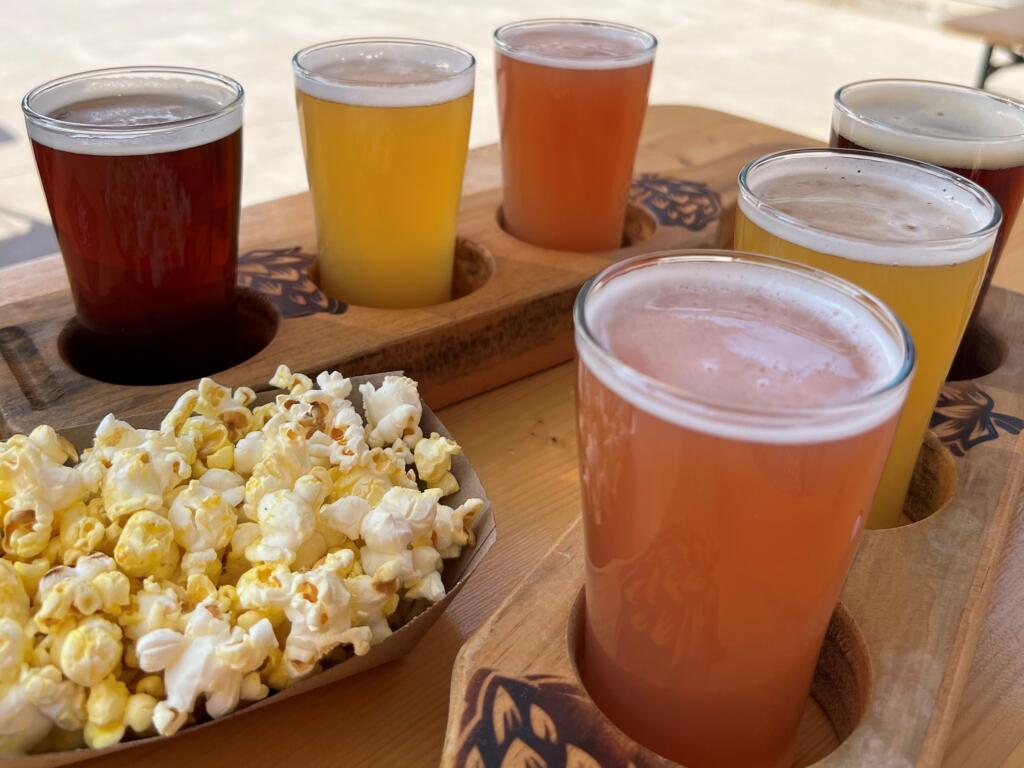 County Pints & City Flights
Original blog by Dave Eats
Ontario Craft Beer Week returns June 12th to 21st and there is no better time to hop on the trail to appreciate the 11 craft breweries in Windsor Essex that make up the Barrels Bottles & Brews Trail.
Craft beer drinkers enjoy the freedom to explore and choose their own path into the unknown. If you're in pursuit of hoppiness, the Flight Log passport, through Barrels Bottles & Brews gives adventure seekers an exciting way to experience what each of these unique breweries have to offer. If you are determined to explore it all, the Frequent Flyer Flight Log is your first-class ticket.
While no two beer drinkers are alike, I decided to take flight, and find out what makes each of these 11 breweries worth the trip…
If you walk a mile in my shoes, there's a good chance you'll end up here.
Technically, I walked just over 2 miles to Walkerville Brewery, to rediscover Windsor largest craft brewery. With 13 beers on tap, a flight was a great way to experience a range of their multi-award-winning, seasonal, and special edition beers. Michelle, at the brewery, was kind enough to help me pick a balanced flight. The team at Walkerville Brewery have always been welcoming, that's what they are all about. The brewery often hosts events, festivals, and fundraisers to bring the community together.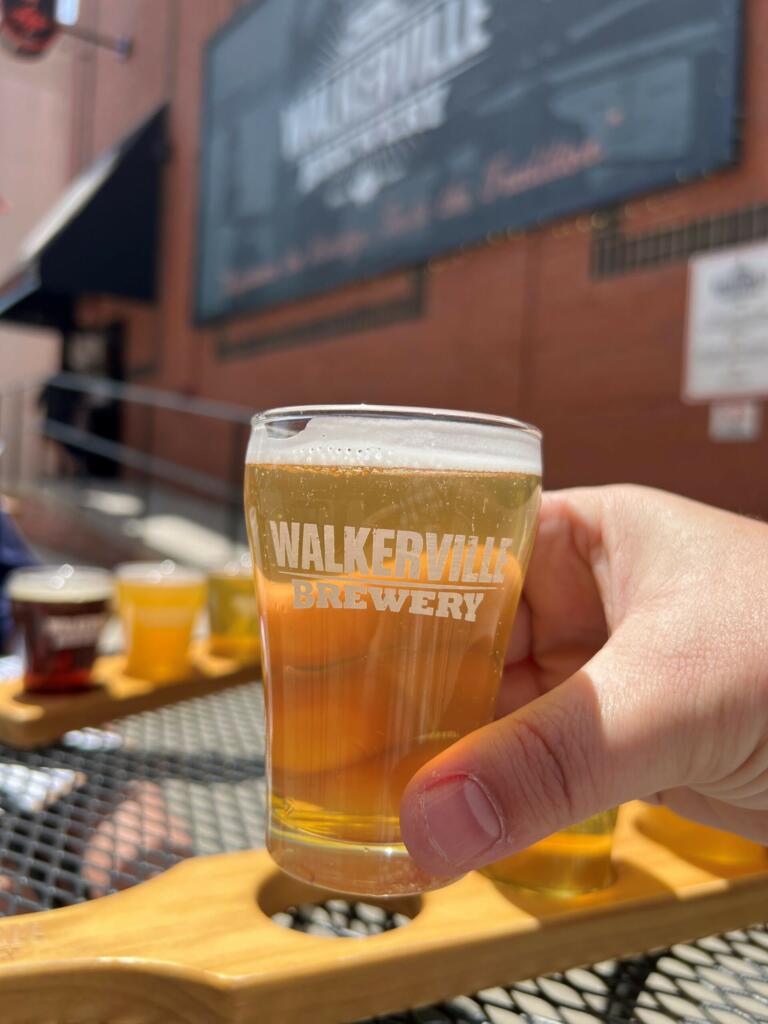 We went to Walkerville Brewery early on a Saturday afternoon and enjoyed our flights on their busy patio situated right outside the main entrance. They also have a good size extended patio, between the building offering more seating and shade. My beer flight included the Cinco Cerveza, the Smooth Sail Summer Ale, the Rob Roy Scotch Ale, and the Electric Haze Juicy IPA. I started with the Cinco Cerveza and was excited that this specially brewed for Cinco De Mayo beer was still available on tap. It's easy drinking but it's anything but dull and watery. It had good carbonation and had a clean and crisp finish. It will be back next year, and I'll be stocking up. Next on tap was the Smooth Sail Summer Ale, that was just rereleased. The name really says it all. It was incredible smooth with quick finish, the perfect cottage beer at only 3.9%. I wanted to sample a stronger beer so in came the Scotch Ale. I could see myself drinking this one later in the evening, its toasty, malty and has a pleasantly dry finish. At 7.0%, I'm shocked at how smooth it was while still hitting all those traditional scotch ale notes you look for in this style of beer. I saved the best for last and ended my flight with the Juicy IPA. This is my favourite beer by Walkerville Brewery. This IPA is packed with fruitiness that balances out some of the IPA bitterness. I rarely walk out of their taproom without grabbing a few cans to go.
Our initial plan was to just have a flight, but they made us feel so welcomed we decided to cap off our visit with a pint of their Argyle Apple Craft Cider. This champagne style cider, with 100% Canadian apples and no added sugar, is as refreshing as they come. Walkerville Brewery over the last few years have been releasing some unique seasonal ciders such as the Rose, Tropical Fruit, Winter Spice Cranberry, and Apple Mulled Cider. They will continue that tradition with a Peach Cider release this summer, and that sounds just peachy.
I was bound to end up here.
Chapter Two Brewery sits right between Walkerville and Ford City and they've been pumping out traditional style craft beers for over 5 years. Not only are they creating hand-crafted beers, but often they bring in large crowds with fun activities like trivia, crokinole and cornhole tournaments. We stopped in for a flight and a bite on the day the brewery was hosting a pop up for Sawyers Craft BBQ. It's hard to beat BBQ and ice-cold beer. Sawyers had a booth at the Downtown Windsor Farmers' market in 2022 and will be officially opening their very first brick and mortar restaurant in Ford city.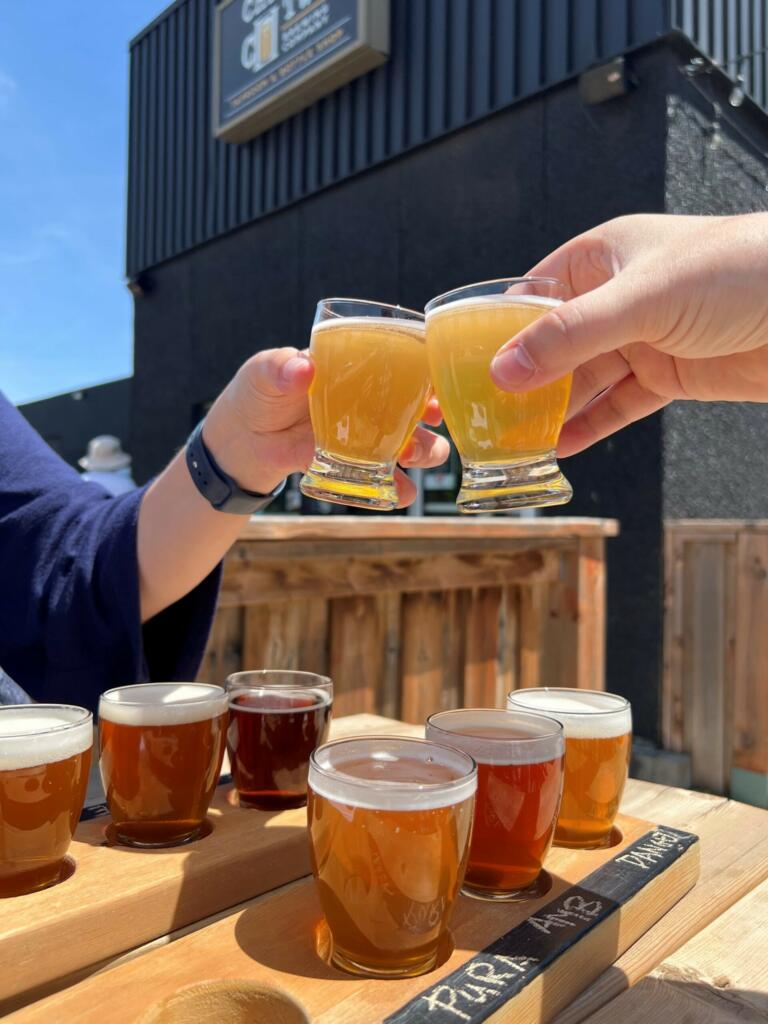 My beer flight included the Halles Hath Frozen Over Lager, the Pura Vida Cerveza, the Lloyd's Javelin Amber Ale and the Danger Bird West Coast IPA. I started with the Pura Vida. If you enjoy a Mexican style lager and plan to stay awhile, this is the beer for you. Much like any lager, it has low bitterness and is perfect for easy and casual drinking in the sun.  I followed it up with another lager. This one was also very smooth and even lighter at 4.7%. Both lagers were perfect for the patio. The Amber Ale was the first beer I ever tried from Chapter Two and remains my go-to. I enjoy the slight caramel sweetness that is balanced out by the toasty malt. Again, very easy drinking but offers beer drinkers a lot more body and depth of flavour. Last up was the West Coast IPA, and at 6.5% and 70 IBUs, I'm impressed at how easy drinking it was. I don't often pair food with IPAs, however the hops and dry finish paired nicely with our food. We ordered the beef brisket, jalapeño cheddar sausage, maple chipotle cornbread and the baked beans with a big hunk of pork. Just reading that probably made your mouth water.
Chapter Two is bound to have more tasty events like this one, so come check them out!
I feel the need… the need for beer. 
Banded Goose Brewing is part of the Jacks Group and have been producing beer at Jack's since 2013. Jacks expanded their operation and Banded Goose Brewing Co. hatched in early 2019. They now have a taproom, coffee lounge, Inn and even an outdoor Food Truck. This place has it all, not to mention some unique craft beers with playful names.
I was excited to see what was brewing, as this was still a relatively new brewery for me. As soon as we arrived, we headed out back towards their Blackjack Food Truck and found a spot in the shade on the patio. Live music was setting up and we were set to order. My flight included the Raspberry Wheat Ale, the Bock n' Load, the Kick a Ginger, and the Sex Panther Sweet Nitro Porter.  I later ordered a pint of the Switzerland! And my wife ordered their recently released Lemon Lime Seltzer.
The beers were as creative as their names. First up was the Raspberry Wheat Ale, it delivered on the fruitiness with just the right amount of tartness and mild amount of earth bitterness with each sip. I could drink this one all day. Next up was the Bock. I don't normally go for these all-malt style beers, but since I was on this journey I wanted to branch out. I could picture myself drinking this beer at my next summer BBQ and I'm glad I gave this one a try. I followed it up with the Kick a Ginger. This ginger style beer had a spicy ginger kick, hence the name. I would drink this one again after a heavier meal. Finally, I ended my flight with the Nitro Porter. I got a lot of chocolate and coffee flavour when sipping this one. It was Nitro, so was velvety smooth with minimal carbonation. Shortly before trying the Nitro Porter, we ordered the cinnamon dusted doughnut holes from the food truck and you doughnut want to miss out on that perfect pairing.
After having so many bold flavoured brews, I decided to end with a light and neutral beer, enter Switzerland! If you're not yet ready to go full in on craft, Banded Goose has you covered with this very easy drinking brew. But if all you want is to Kick a Ginger or bring the Boyz to the Yard, you'll find what you are looking for at Banded Goose Brewing Co.
Wander to either the Taphouse or Beer Garden (or both). 
I was in an adventurous mood and strolled into both Kingsville Brewery's Taphouse 127 restaurant followed by the Beer Garden patio. I was excited to experience both spaces and sample some of their traditional style beers and a couple appetizers from their revamped menu.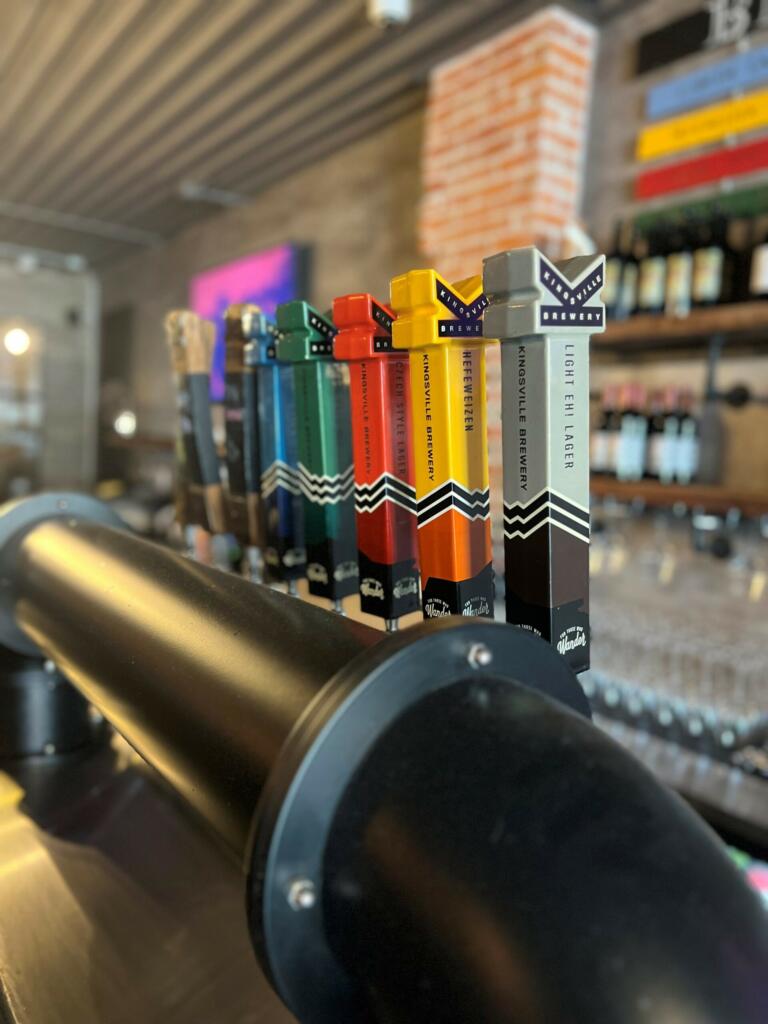 I started at the Taphouse 127.  This former bank turned brewery is a real cool and comfortable space. I started by ordering a beer flight and picked a couple creative sounding apps from their new food menu. I thought I would go the more traditional route and order the wings and poutine, but they were anything but traditional. We went with the salt and pepper dusted Smoked Chicken Wings with the BBQ dipping sauce and pickled carrot ribbons. We also ordered the extremely large Smoked Meat Poutine, with salt and vinegar brined fries, smoked meat, cheese curds, mozzarella, pickled blueberries, green onions and smothered in gravy. Passion is truly the magic ingredient that went into creating this menu.
For my beer flight I started with the Hefeweizen Wheat, followed by the Czech style larger, the India Pale Ale and finally the Hazy IPA. With the Hefeweizen, it was served with an orange slice, which really brightened up this beer. It has summer written all over it with traditional bready, banana and clove flavours perfectly balancing out this beer. Next up is my favourite Kingsville beer, the Czech style larger. It's a beautifully crafted beer with some sweetness balanced out by some toasted malt. I often order the Czech by the case. I followed it up with the India Pale Ale, which almost reminds me of a session IPA. It's not overly bitter or hoppy. It was nice to have the Hazy IPA side by side with the OG IPA as I found the Hazy more hoppy and bitter, but the citrus really helped cut some of the fat and saltiness in the food.
As a little bonus, Kim at the Taphouse came by with a sample of the Pink Lemonade Gin Smash Seltzer which was released last fall. It's made with their in-house Heaton's gin. This has been popular at the brewery since it's release and will soon be available in cans. After trying the seltzer at the Taphouse, we thought it would be the perfect patio sipper at Kingsville's Beer Garden. We headed there next to wrap up our day with Kingsville Brewery. Tucked away on Park St, this Beer Garden with plenty of seating, is a great spot to sit back and relax with a beer while listening to some live music. All the beers at the Taphouse 127 are also available at the Beer Garden, so wherever your adventure takes you, Kingsville Brewery has an experience waiting for you.
A toast to the host, where you can discover great beer in the neighbourhood they love most.
Sandwich Brewery sits in Windsor's historic Sandwich Town. This beautifully restored building with dog friendly biergarten in the rear are only some of the reasons to make your way here. I've always been drawn to the charm of Sandwich Town, and the modern restoration that was completed a few years back really helped bring new life to this neighbourhood gem.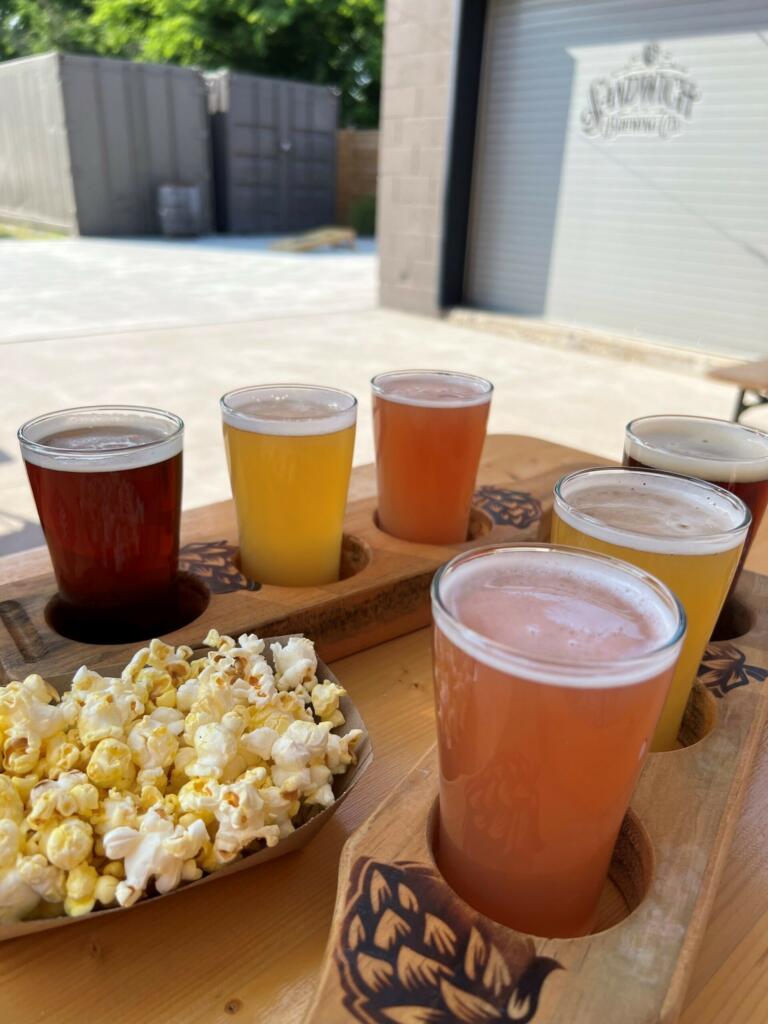 We headed to their back patio on a late afternoon during the week to enjoy a beer flight and some sandwiches (of course) from their food menu. They ran out of the two of their more popular beers, the White Bronco IPA, and Quick Lunch Session IPA, however given I've enjoyed them both so many time before, it gave me the excuse to sample three different beers from their tap list. I ordered the Ruby Sue Canadian Dark Mild, the Prairie Sunshine Blood Orange Wheat and the All That Razz Farmhouse Ale. The impressively deep rich colour flight arrived at our table, and my tasting kicked off with the Ruby Sue. With such a dark and hazy colour I expected it to be on the heavier side, but it was the complete opposite. This extremely smooth and crushable brew at 4.9% was the lightest beer in my flight. I really enjoyed this one on the patio, and the night was still young so had another pint of this beauty after my tasting. My second beer on flight was the Blood Orange Wheat. Traditional wheat style beers are never my first choice, but this one was balanced out perfectly with the citrus from the blood orange. I'm recommending this one to all the wheat beer fans out there. Non beer drinkers might like this one too, as it's low bitter and fruitiness makes it very easy drinking. Descending on my flight I ended with the Farmhouse Ale. The raspberry was very pronounced, giving it a slightly sour and funky flavour profile. It's more of a sipper at 5.9%, but still equally refreshing. I like funkier style beer, so I was glad to save it for last.
It happened to be trivia night, so it was not our last. Being a sucker for trivia, which was hosted on their back patio, we enjoyed a couple more pints on their lively patio.
To be frank, this brewery is straight up a good time.
Frank is a no-nonsense brewery, with a solid lineup of beers. Good beer is a what got me in the door and trivia night kept me inside longer.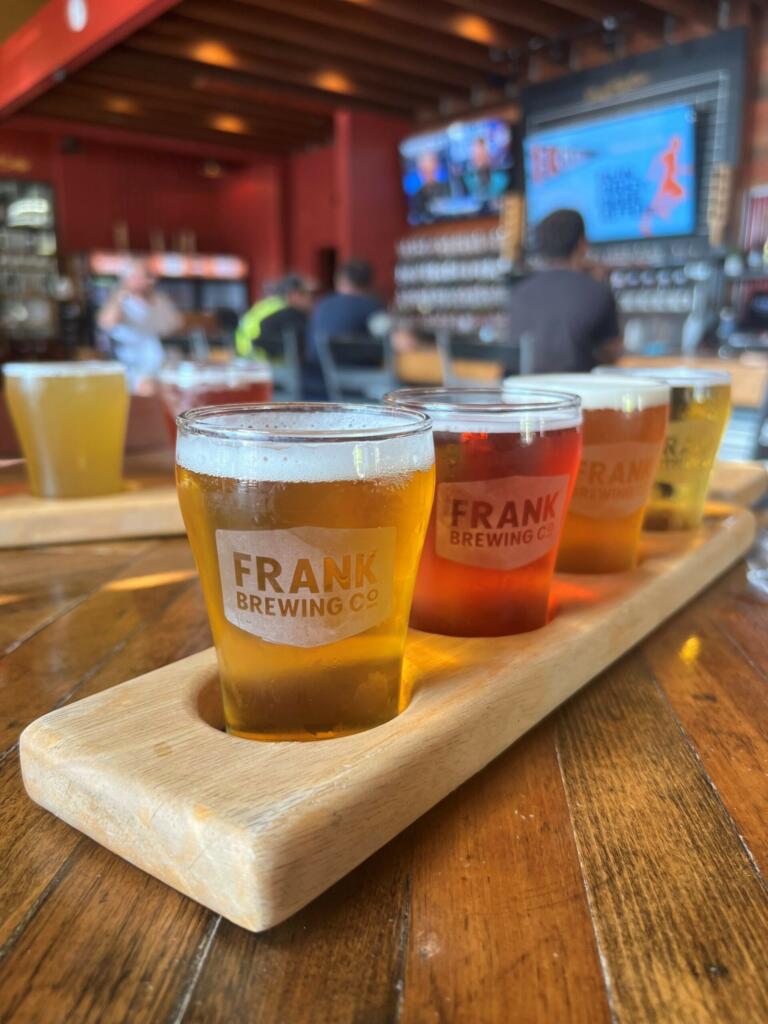 Recipient of Ontario Brewing Awards, this Tecumseh brewery knows quality. When sitting down and thinking about what I was going to order, I knew I couldn't go wrong with any of their ten beers on tap. A flight was the perfect way to truly appreciate the pure crafted beer. I ordered a couple favourites but mixed in a couple new ones. My flight included the Straight Up Lager, the Smooth Hoperator APA, the Hopservation Double IPA and the Pretty Please Cherry Sour. The Lager was first, and like most traditional style lagers its very crisp, clean, and easy drinking. If you like "beer that tastes like beer" you can't go wrong with this one. The 2022 Ontario Brewing award winner APA was next, and it has everything you want in a West Coast style pale ale. Slightly bitter, slightly citrusy, and extremely flavourful. Next up was the Double IPA, and this one came in at 8.5%. It was bitter and strong. I enjoyed the unique blend of flavours in this beer, but for me it's more of a one and done. Don't let that stop you from trying this yourself, especially if you enjoy stronger beers. Last up was the Cherry Sour. It was vanilla forward with just a slight sour tartness from the cherries. It was on the sweeter side, similar characteristics to the Cream Soda Fruited Sour. This is another enjoyable beer by Frank, and the perfect option for those looking for a sweeter alternative. The last Wednesday of every month Mack Flash Trivia is in the taproom. We stayed, we played, and yours truly team: 'Frank Says Relax It's Just Trivia', took home the prize.
We returned a few days later, for Frank's biergarten kickoff event. There was a little something for everyone at this party. Spent the afternoon playing some cornhole, enjoying live music, some eats from the food truck and of course some delicious beer. They have a lot of exciting events coming up in the Biergarten and taproom this summer, so trust me when I say this place is a must visit. I'll always be Frank with you.
The ale that cured me.
Located in a restored heritage building in Leamington, Ontario, this small batch brewery had end-of-work-week healing powers. Took the drive out to the Tomato Capital of Canada to visit this relatively new craft brewery. They opened their doors in June of 2020, and they've got a number of different unique styles of beer that they brew. This was only my second visit to this brewery, and I wanted to try more than one of their beers, so a flight was the right way to go.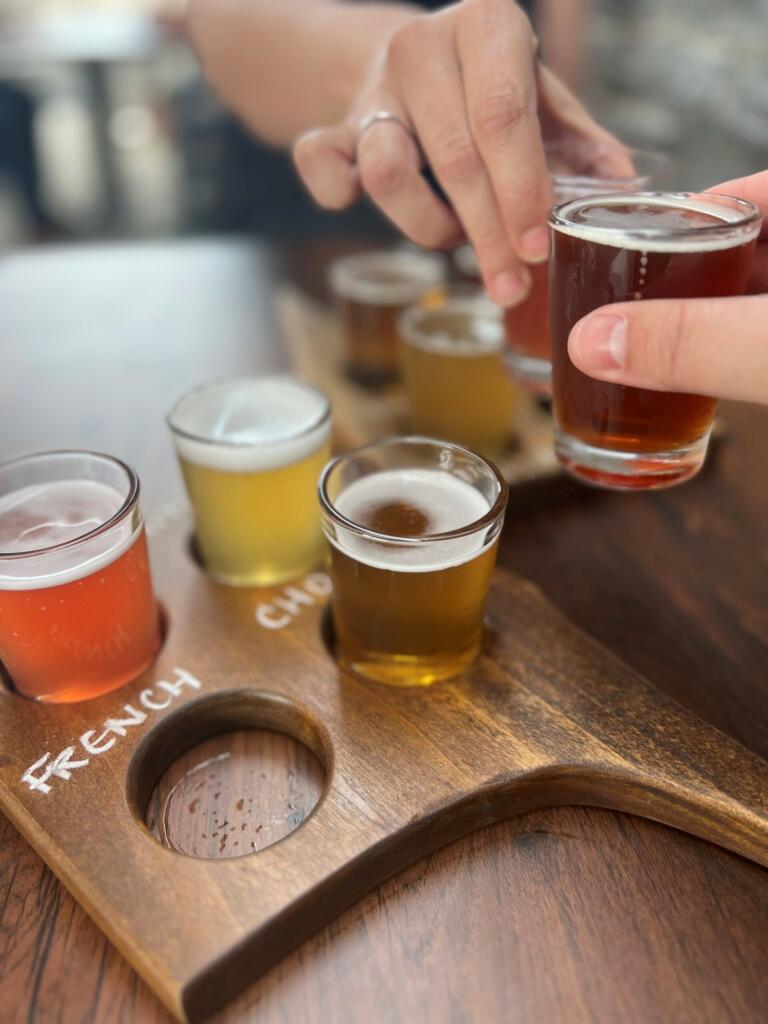 Cured has a lot of space inside and out. We decided to sit outside on their comfortable oversized patio. They had six classic style beers on their main menu and four featured seasonals. We order a more unconventional flight, including all four Seasonal brews. The Bogberry Cranberry Sour, the Chocoholic Hazelnut Blonde Ale, the French Biere de Garde and the Belgian Witbier. I was extremely impressed and glad we went with the more unfamiliar seasonals. We started with the Belgian Witbier. This wheat style brew had nice citrus and hops to balance the clove and banana flavours. It maintained its brightness and was extremely crushable, especially after a long work week. We followed it up with the rich, sweet, and indulgent Chocoholic Hazelnut Blonde Ale. I didn't see this one coming; it was basically Ferrero Rocher on tap. Would be perfect to pair with a dessert, like fresh berries. I enjoyed the blonde ale characteristics with the chocolate and hazelnut as it helped keep it smooth and easy drinking. Next up was a slightly heavier French specialty beer, which had a lot of toffee-like character and some slight bitterness at the end. At 7.5% the French Biere de Garde was still very clean but was more of a sipper. Up to this point, it was my favourite in my flight. Last up was the Sour. A new favourite, it had everything I look for in a sour beer. It was tart, fruity and the sourness lingered.
We experience a little bit of everything from the seasonal small batch flight, which really made us appreciate the creativity from Cured Craft Brewing. Your beer craving can be cured with a stop in the southernmost part of Canada.
There is a whole lot to love here. 
In the heart of Amherstburg, is a microbrewery that is keeping it fresh and new all the time. They take pride in their community and it's evident by the amazing customer service we received when visiting this small-town gem. They treated us like family, and this is one of several reasons why this should be on your short list of, not only breweries, but places to visit in Windsor Essex.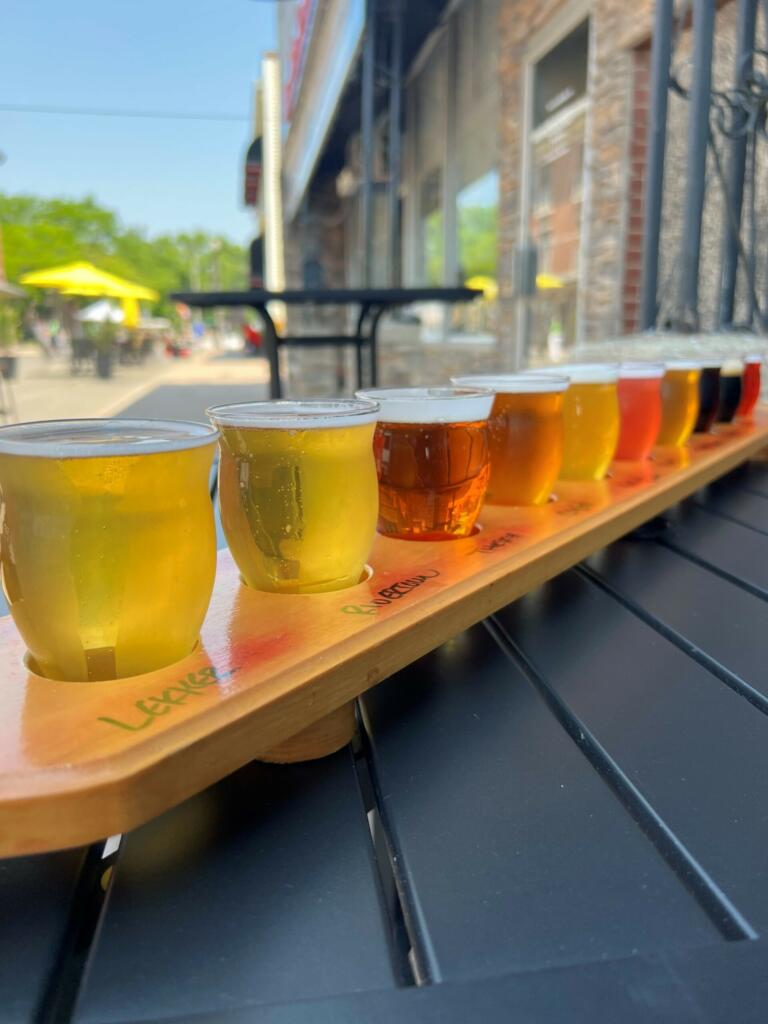 The best way to find out more about a brewery, is to try it all. We ordered the whole lot 10, which was a sample of each beer on tap. The mile long flight board reached our table on the dog-friendly patio. This impressively large flight had to be turned on an angle to fit our table. Each one of these thoughtfully crafted beers hit it out of the park on flavour. We sampled a Blonde Ale, British Ale, 6% IPA, 10.1% IPA, New England Hazy IPA, Stout, American Brown Ale, Lager, Raspberry Wheat Ale and Cherry Sour. Because that wasn't enough, they came out with a bonus sample of their Mango Habanero Ale. There is style for every beer lover at Lot 10. The new Pinky Pledge Raspberry Wheat was one of several highlights. This perfect hazy pink colour wheat beer had a pronounced candy-like raspberry taste and aroma. We went home with a few cans. The three IPAs also were interesting to have in a row as each had distinctly different levels of bitterness and flavour profiles. The lager and blonde ale were very crisp and refreshing that hot afternoon, so perfect for long days on the patio. The small batch series featured a Cherry Sour that all sour beer fans need to get their hands on.
I was blown away by not only the beer but the hospitality, our experience was 10 out of 10.
I like my night starry, my day sunny and my beer county.
This family-owned brewery has a major theme that is unmistakable as soon as you set foot on their century farmland: bringing experiences and memories to the community. GL Heritage Brewing Co. officially opened their taps to the community in the summer of 2017 and remain the only agricultural brewery in the area. They are so much more than a brewery, which I was able to experience firsthand. Not only did we enjoy their small batch beer, but also had the pleasure of experiencing some of the friendly community businesses participating in the Amherstburg Farmers Market.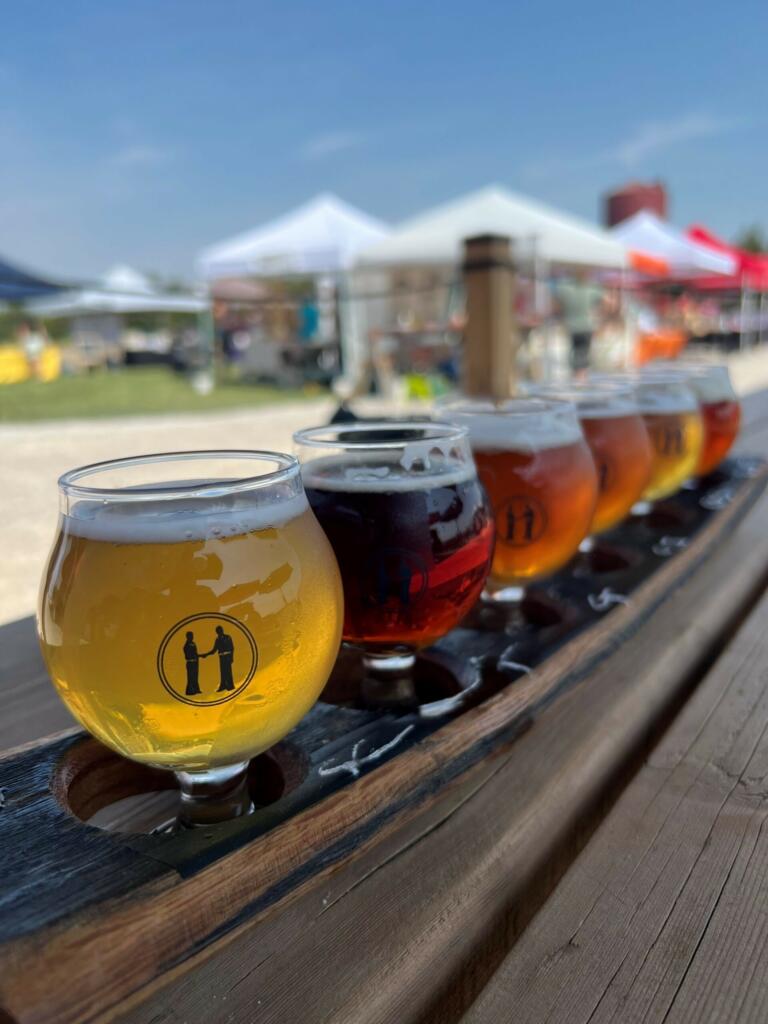 I had the pleasure of visiting on a Saturday during the Farmers Market, that GL Heritage revived in 2020. Several cars were parked on both sides of the road and parking lot. Before experiencing the Farmers Market, we first headed to the tasting room for a flight. We moved outside to the patio to enjoy six craft beer samples in the sunshine, while scoping out the vendors and enjoying the live music. My flight included the Back Shop Brew Blonde Ale, the Common Mutt California Common, the CaJen Pale Ale, the Galaxie Milkshake IPA, the Stompin' Grounds Coffee Cream Ale and the Thom's Irish Red Ale. Started with the award-winning Back Shop Blonde Ale. No wonder this crisp and clean brew took home Best-in-Class in the Ontario Brewing Awards. It was the perfect patio beer, very approachable and refreshing. Next up was the Common Mutt. This lager had some nuttiness which helped elevate this beer over a more traditional lager. Another easy drinking winner. The CaJen Pale Ale was next. I really enjoyed the slight heat that starts and ends this pineapple forward pale ale. The green chili was not overwhelming, which kept this beer refreshing and fruity. The rerelease of the Thom's Irish Red Ale was exciting to see, I had to have it in my flight. I tasted the sweet and caramel maltiness that you traditionally find in a red ale, and it remained smooth and crushable. It was also on the lighter side at 4.2% ABV. The Galaxie Milkshake IPA is always a fun ride. The fresh roasted coconut always surprises and delights. The coconut is quite pronounced, while the lime comes in subtly to balance it out, making it a nice tropical beer that you're going to want to try again and again.  Ended with Stompin' Grounds Coffee Cream Ale which is a collab with Acorn and Oak Coffee Company. The roast coffee flavour with the rich cream ale made this brew the cream of the crop.
It was impossible to leave empty handed, the vendor lineup was impressive, so we took a stroll around the Amherstburg Farmers Market to pick up a few treats to take home. Life is better on the farm.
Fetching me some of that pawsome beer.
This was my first visit to this welcoming microbrewery and pub in Harrow. A hobby turned business; the Beerded Dog Brewing Co. is the story of a passion that developed into something great. We planned our visit on an early Sunday afternoon. We walked through their main bar area and casual dining space to reach the patio. We instantly felt like we've been here a hundred times before.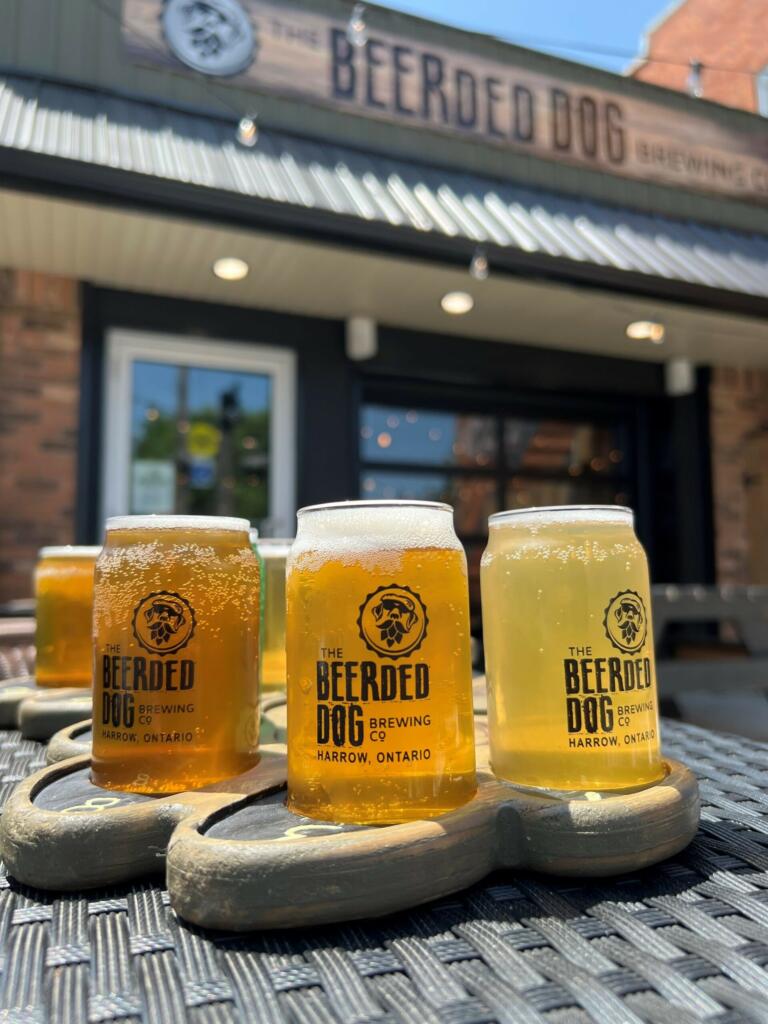 They offered 11 of their beers on tap, plus a guest tap for cider. A great selection of unique sounding brews that all had a playful dog themed name. I was ready to make four choices for my flight. I started with the Who Let the Dogs out? Light Lager, so I could first experience their more traditional style. Next wanted to move to a fruitier beer, so added the Careful She Bites! Tangerine Pale Ale to my flight. The Howl You Doing? White Stout was next. Lastly, I knew I was going to have the Masters of the Brewniverse People's Choice winner, the Slush Puppy Sour. The Light Lager was as advertised, crisp, clean, and easy drinking. If you're not fully into craft beer, this is a safe choice. The Tangerine Pale was nicely flavoured by the tangerine but not overdone. It still was a medium bodied beer with a some maltiness and slight hops. The White Stout was toasty and velvety smooth without the traditional dark colour. This would be my "sitting at the bar" beer of choice. Lastly, we had the amazingly creative Slush Puppy Sour. This perfectly named green coloured sour took me back to my childhood. One sip transported me back to enjoying a Slush Puppy to cool down on a hot summer day. The sour flavour paired with fruitiness worked surprisingly well to create a sour beer I could enjoy again and again.
I'm mutts about Beerded Dog Brewing Co. you will be too.
Everything they Brew, they Brew it for you.
Once located in Downtown Windsor, BREW Microbrewery now sits on a breathtaking 31-acre wooded estate in the middle of the county with their partner VIN winery. This new captivating and rustic space, which was once a spa, transports you to the woods so you get to enjoy nature plus all the great things they have to offer. Onsite Smashed Apple Catering is creating highly innovative and quality dishes that you'll crave once you see it land on the table next to you. Their patio is one-of-a-kind surrounded by trees. If you walk around the grounds, you'll come across trails, even a wedding venue nestled in the woods and a large pond where they have the reception.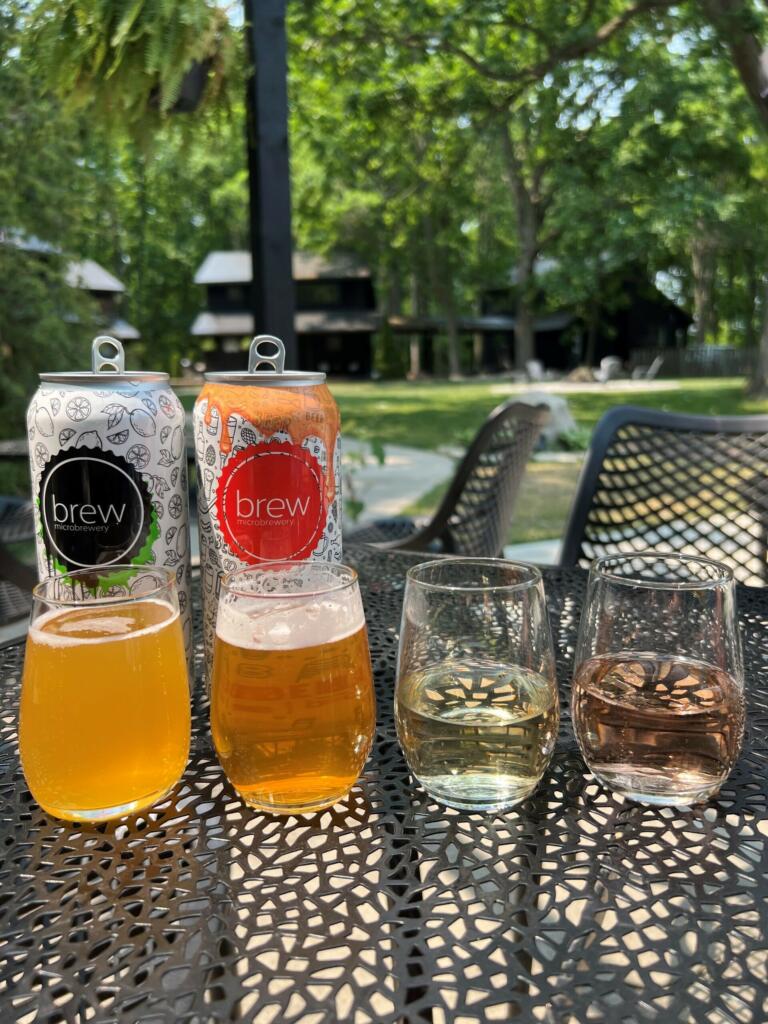 You'll never want to leave, and it doesn't hurt that they have beer and wine. I ordered a flight of both beer and wine. Currently BREW is offering two beers that they make onsite, a Maple Beer and Brew Light Lime. The Maple Beer at 5% has real Canadian maple syrup. It pours a clear golden colour, and in the best way, the maple dominates the taste and aroma. Has some hints of malt, but the maple sweetness is leading the way for the entire sip. My second beer was the Brew Light Lime. This light and refreshing ale is reminiscent of a Corona, but with a big squeeze of lime. This is your patio or at the beach beer. I found it extremely easy drinking. Keeping it fun, both beers had some amusing introductions on the can describing the beers. Following the beer, two wines were added to round out my flight. A nice crisp Pinot Grigio and a bubbly Sparkling Rose. If you have a mix of beer and wine drinkers in your group, this spot has you covered.
BREW Microbrewery and their partner VIN winery have everything you want and more, in their brewtiful neck of the woods.
Original Blog Written By Dave Stanton of @dave_eats_
For all things Barrels Bottles & Brews in Windsor Essex head to visitwindsoressex.com/beer and take to the trail to enjoy flights of craft beer and small batch ultra premium spirits!
Sponsored story by Tourism Windsor Essex. For more details on Tourism Windsor Essex click their website, or visit them on Facebook, Twitter, or Instagram.
Content Continues Below Local Sponsor Message
Content Continues Below Local Sponsor Message
Content Continues Below Local Sponsor Message