Explore Your Artistic Side And Have Some Fun At The Art Lab's New Location
Saturday January 4th, 2020, 1:11pm
Hello time traveller!!
This profile is 1129 days old.
The information listed below is likely outdated and has been preserved for archival purposes.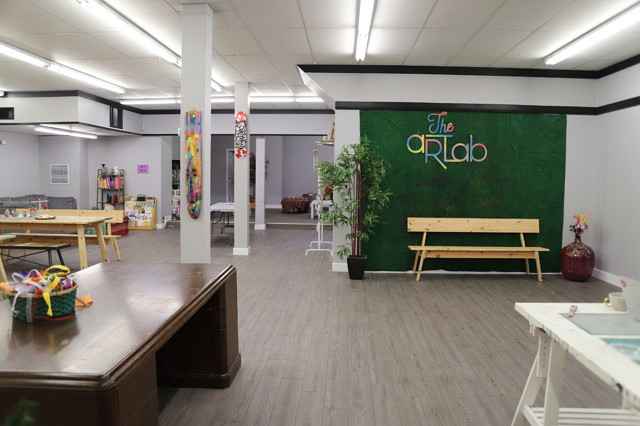 The Art Lab is bringing creativity to Windsor in a fun and experiential way at a new location, fit for little ones and adults alike.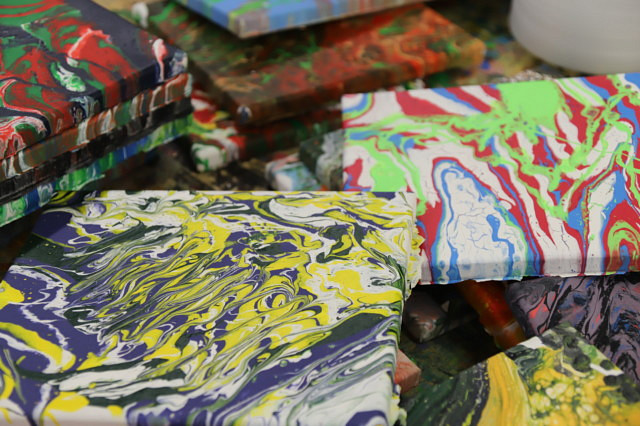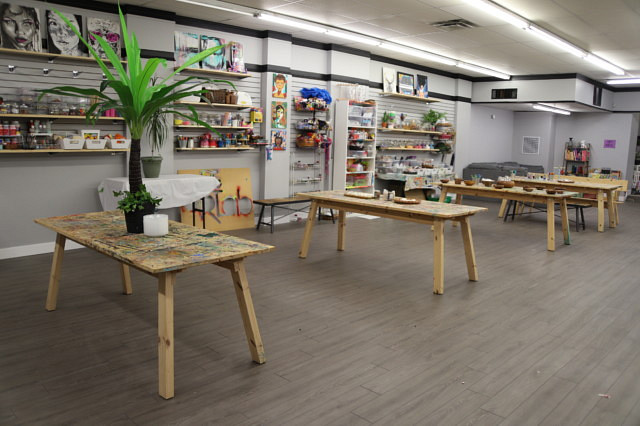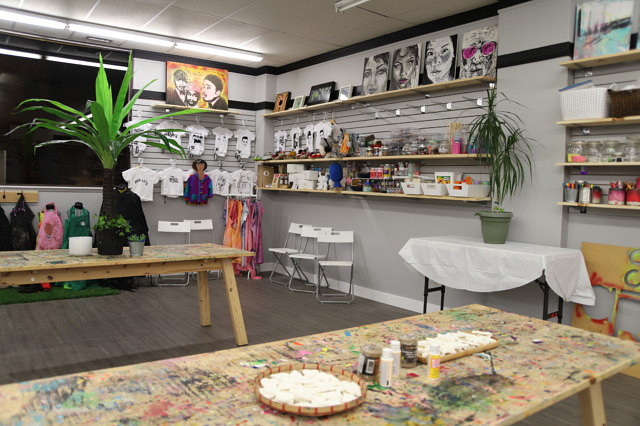 Co-owners and life-partners Samantha Walker and Matthew Bolton aim to bring art play in to the lives of everyone who wants to join.
"Sam has been working with kids her whole life," Matthew explains, as Samantha's education is in child and youth work. "She always loved to do art with the kids but sadly it is something often left out of curriculum."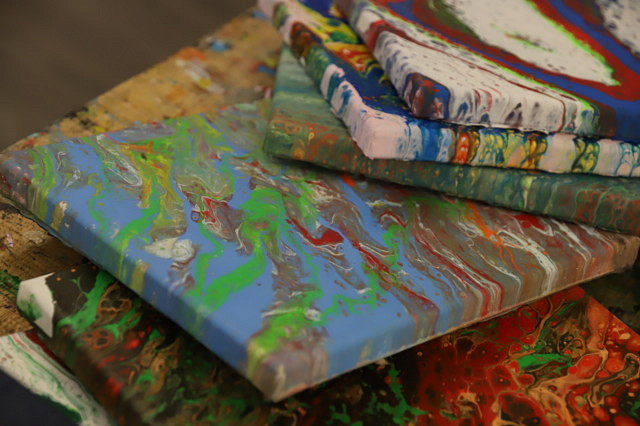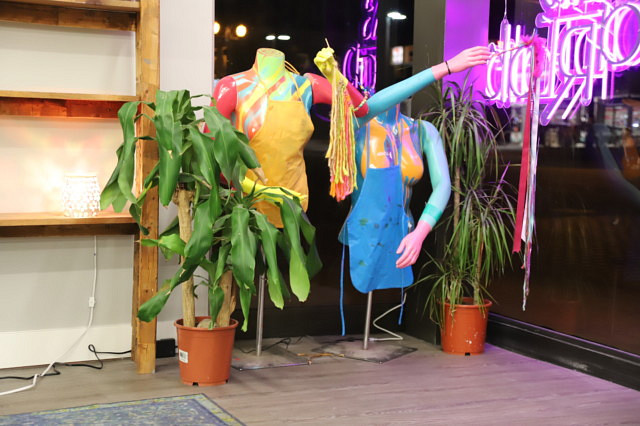 The couple had been living in Toronto and decided to come back to Windsor area, where Samantha is originally from, in order to sink their teeth in to the idea of Art Lab further. Both of the owners are self-taught artists and aim to share that passion for being creative and have fun doing it.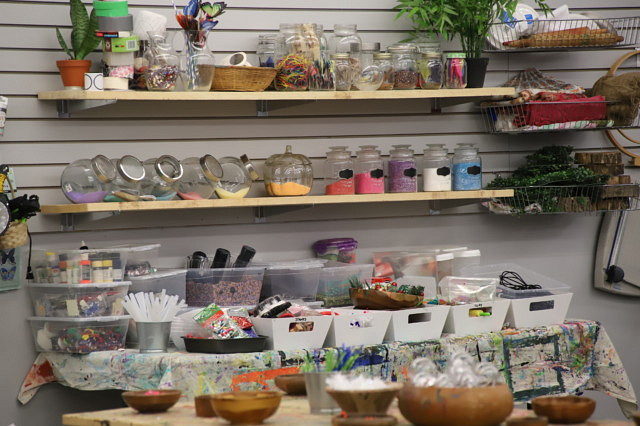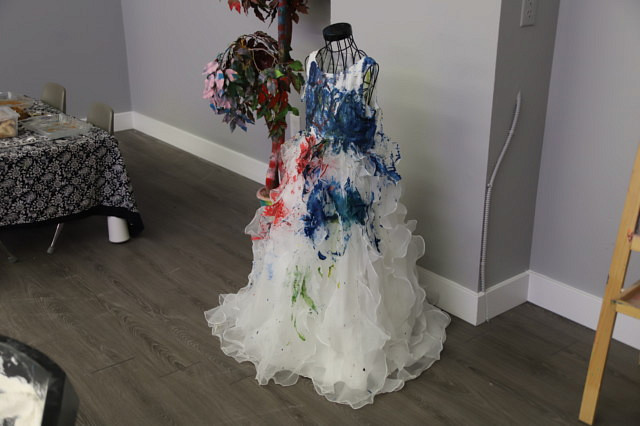 Samantha had previously had a blog about crafting appropriate to do with kids that was enjoyable for all parties involved. She enjoyed that part of her life so much that she decided to take it further and make her living out of it, alongside with her partner.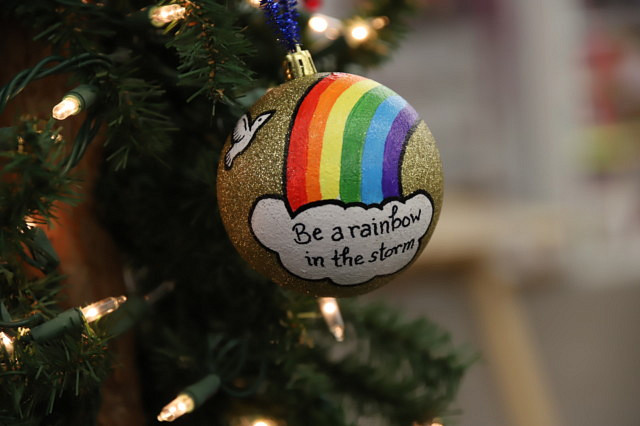 "We don't want people to just…stop their art," Matthew explains. "It just seems at a certain point a kid stops doing art.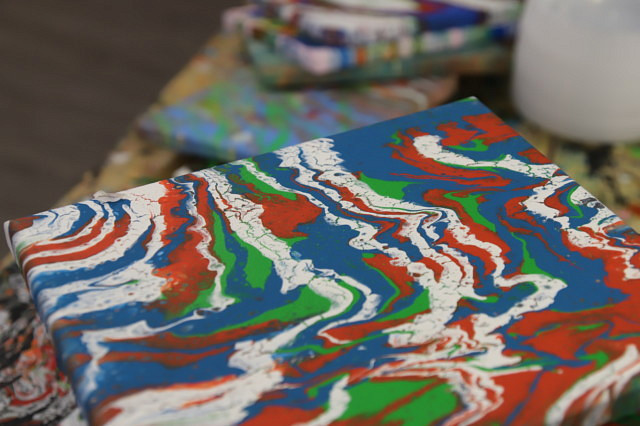 "We always ask kids who come on field trips asking who they think is an artist. Only a handful of students will raise their hands…and then we ask them if they like dancing, fashion, building with Lego…and explain that is all art."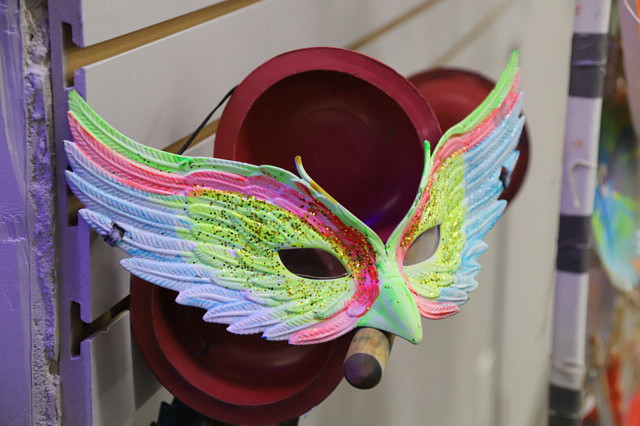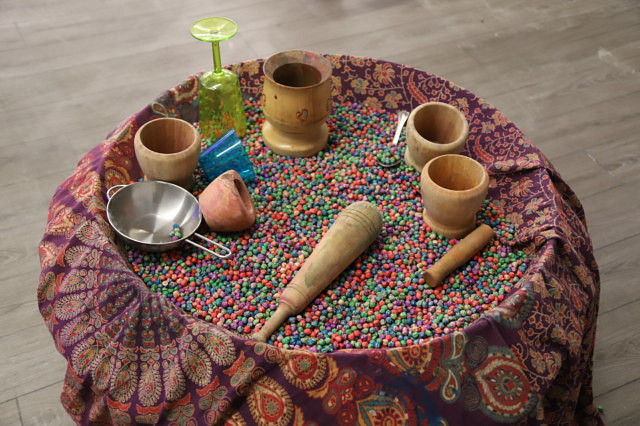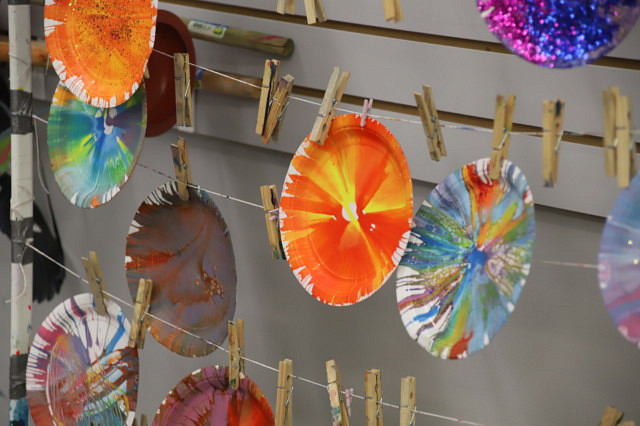 The Art Lab promotes "art play," which they specifically host as workshops, but also in teaching that there is no right or wrong way in doing art.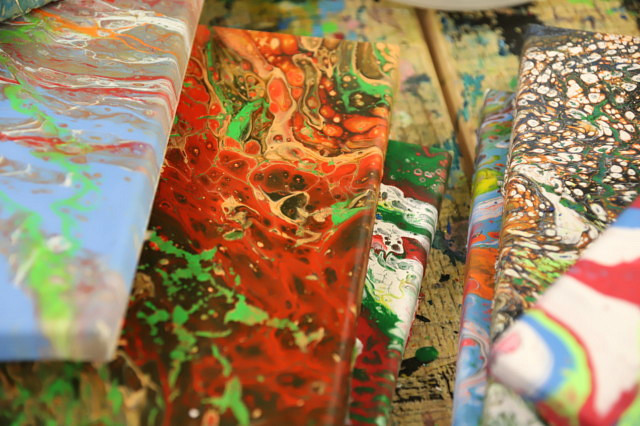 "A lot of the times with an instructional thing, people will be upset that their art doesn't look like the example," Matthew explains. "So we reinforce that there is no 'wrong' way to do anything and that there are just so many different ways to get to the end result." Matt especially loves Pour Painting Workshops, which supports that notion greatly as every art piece is completely different.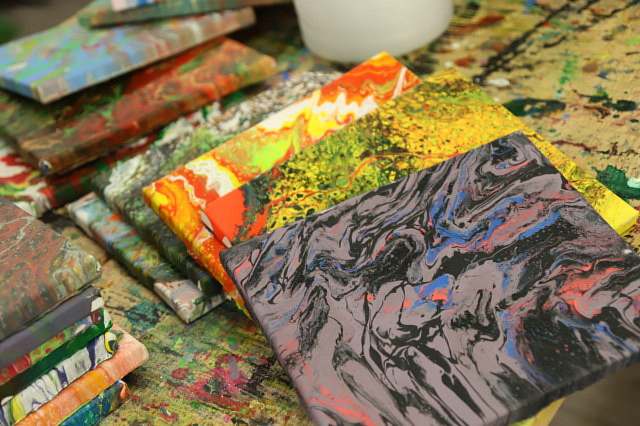 The Art Lab can host art parties for all ages, hold private events, hosts open Art Play time with art supplies set up for projects to do, private workshops such as pour painting, tie dye workshops, Slime Time workshops, Splatter Paint Parties and much more. Specialty workshops take place throughout the year, such as a Bob Ross paint night done in the past.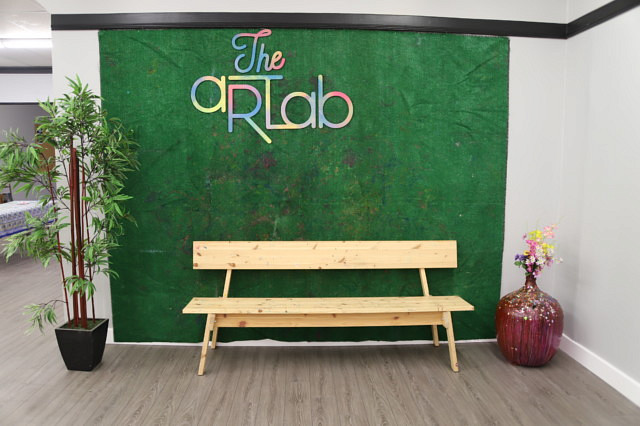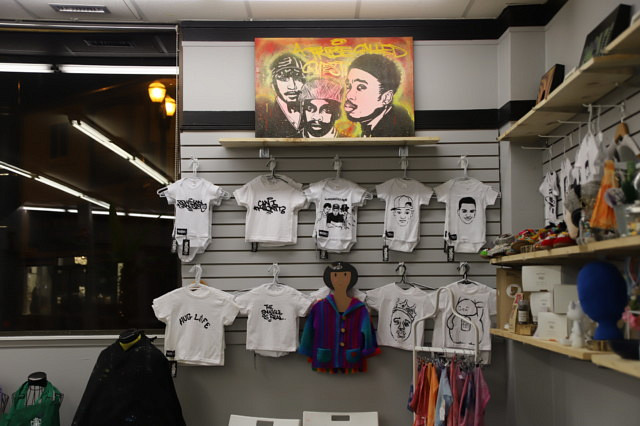 The business promotes that art is for everyone and welcomes people with any ability, young and old and of any walk of life. "We can take 18 months and up basically," Matthew explains.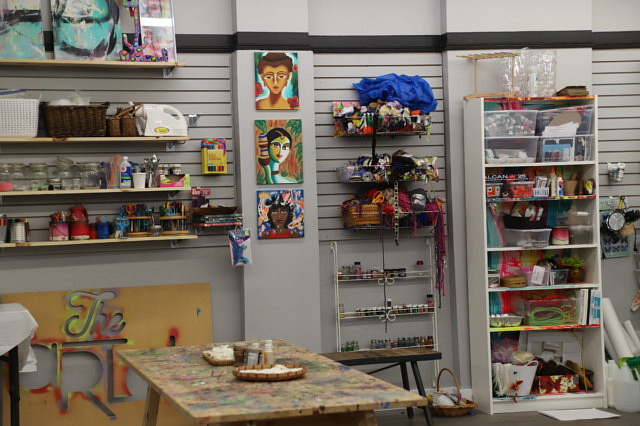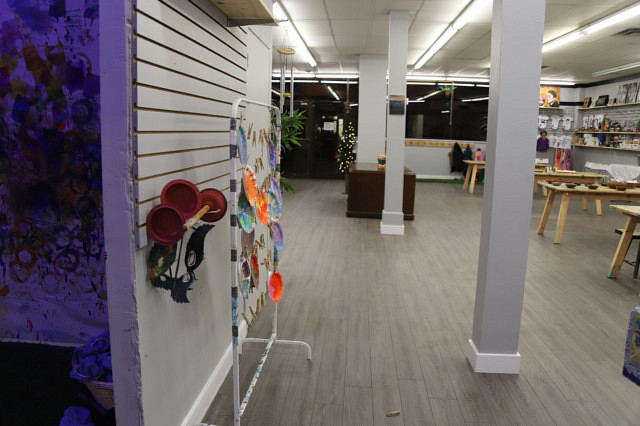 The Art Lab is looking to bring more activities in with the new year, including all-women Reiki followed by a pour painting session and open studio hours on Sunday afternoons.
Splatter activities take place in the lab's special Glow Splatter Room, which is adorned with UV light to make the painting experience fun as well as cool. Splatter painting workshops work great as a team-building exercise Matthew explains, saying that all ages utilize the room with great joy. "Adults use neon paint and kids are able to use the kids paint which comes out in the wash no problem."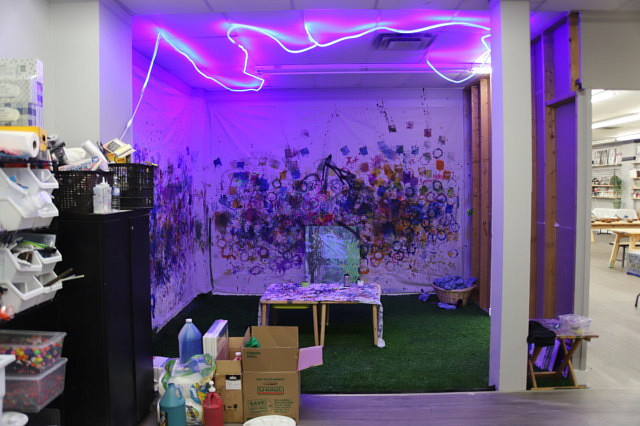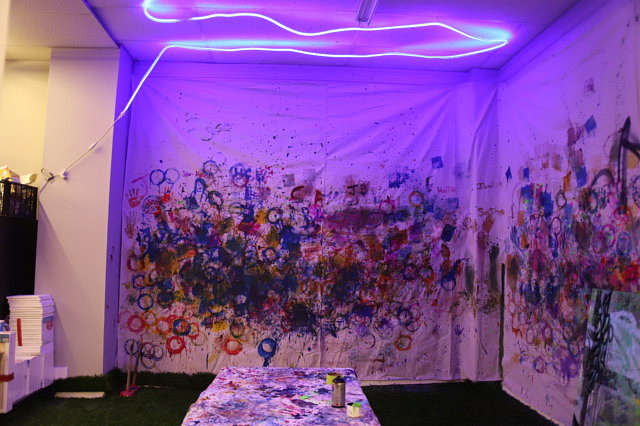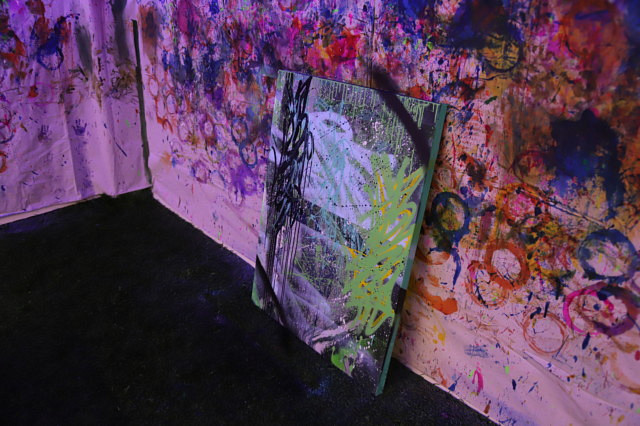 The Art Lab team also welcomes field trips of children and will even make their way out to class rooms, organizations such as Community Living, and day cares themselves when able (while also doing all the cleanup!).
"The best part so far since being open has been all the people we have met," Matthew explains. "The relationships we have made with other like-minded people, organizations, businesses….working with the community has been great."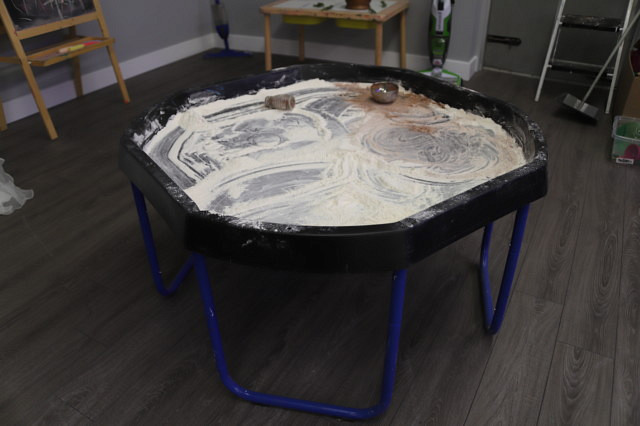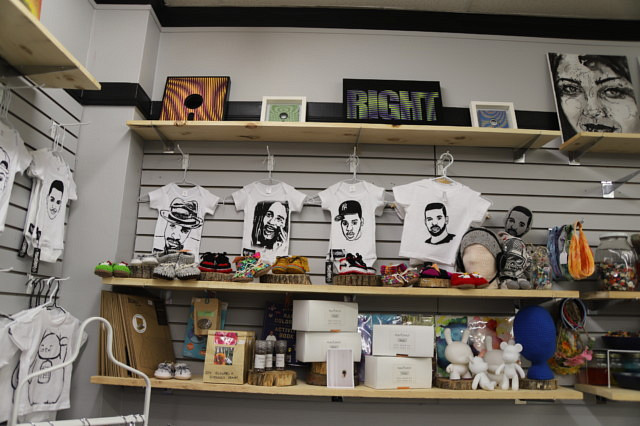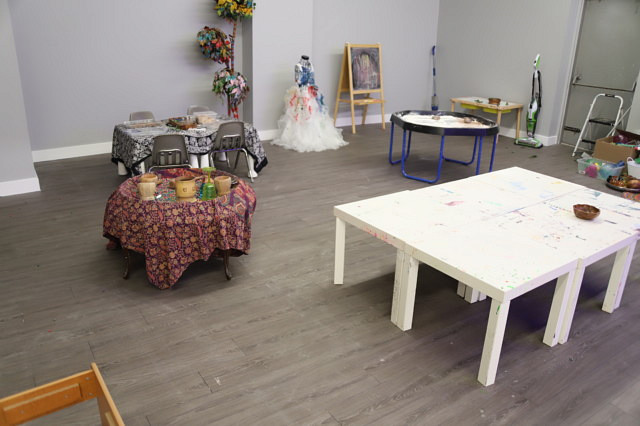 Both owners know the importance that art has in an individual's life, seeing the yes of kids, parents, and any participant light up with the enjoyment of seeing something that they made. "We are one of those experiences that leaves a lasting impression and has people wanting to come back for more of what they experienced," Matthew explains with a smile. "It's so fun to see kids making their own 'art labs.' "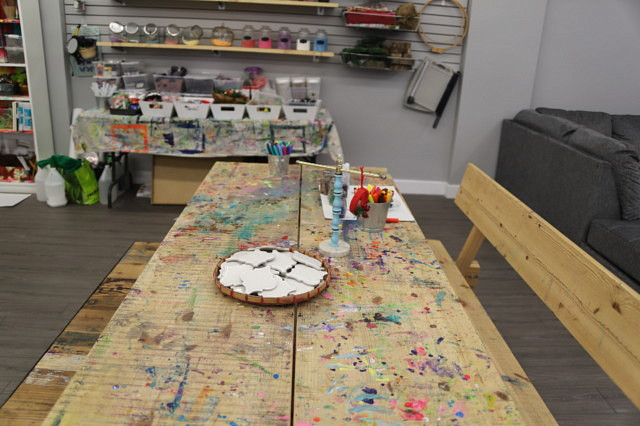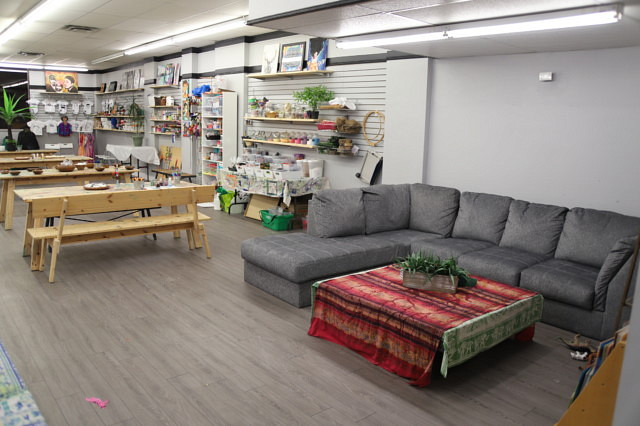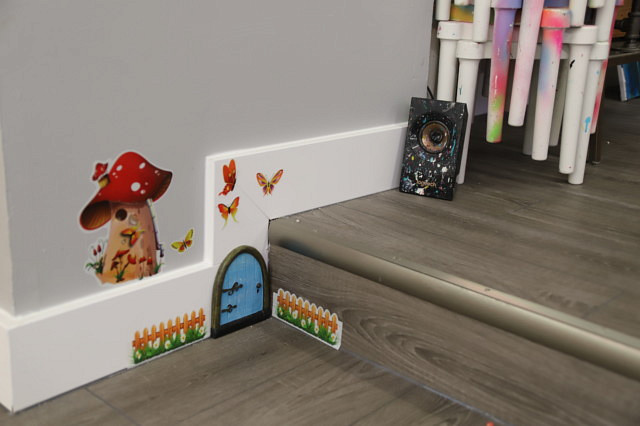 Arts and crafts are made during scheduled workshops and also doing the drop in times. The couple tries to include as much "upcycling" as they can when making projects for everyone to enjoy and also learn to reuse things for different purposes.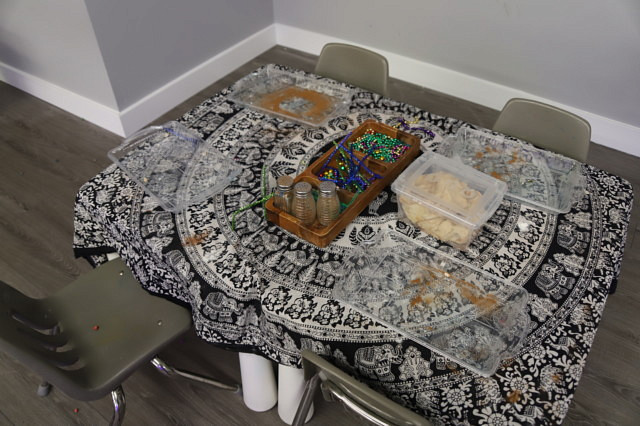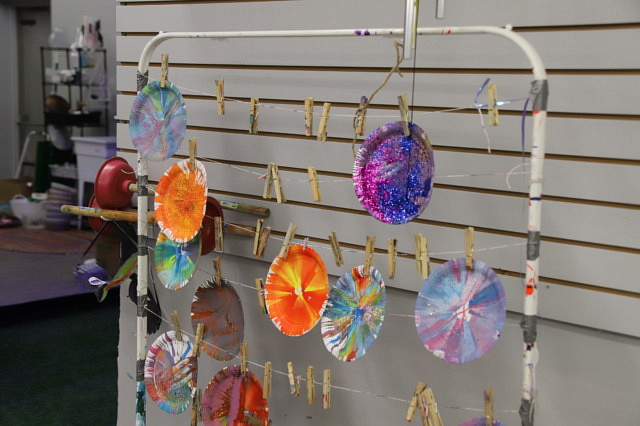 The Art Lab is suitable for the whole family, as everyone involved loves art play and wants to assist whoever comes by to be proud of what they create.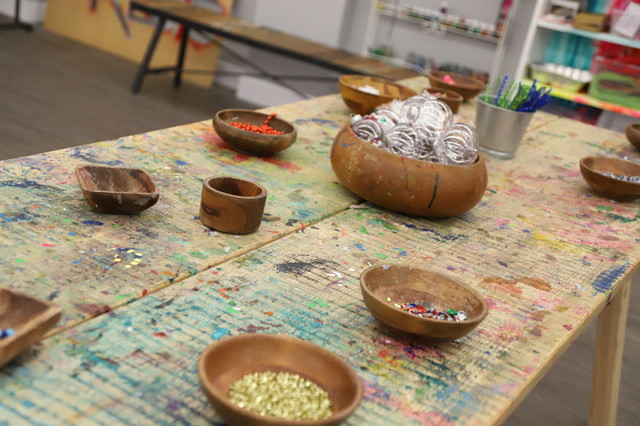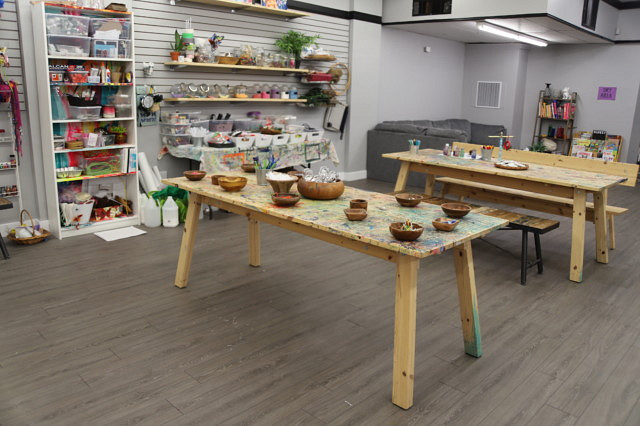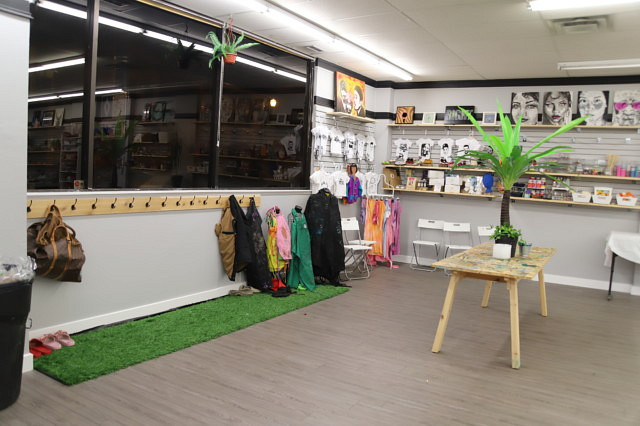 "It has been a lot of work, but also a lot of fun," Matthew explains reflecting on the journey they have gone so far with the establishment.
The new location will include a coffee bar in the new year serving I Luv Coffee and feature select snacks as well.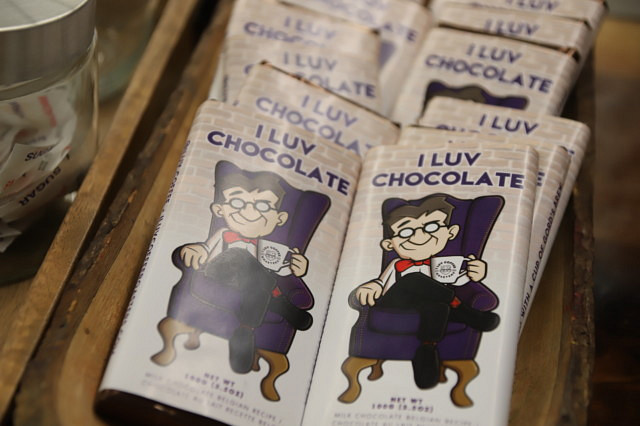 Take a look inside The Art Lab's new 2,800 square foot location at 894 Ottawa Street. Check out information on what the location has to offer, workshops, hours, pricing and much more on their website here. Keep up with what's new on their Facebook page here and Instagram here.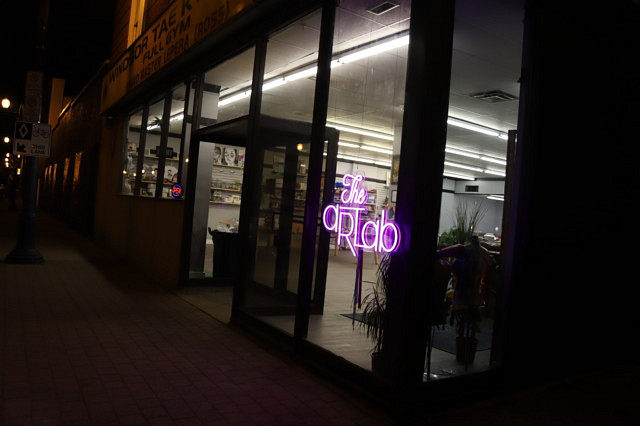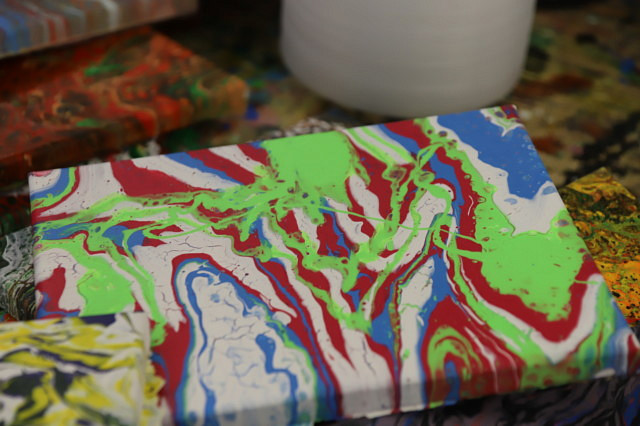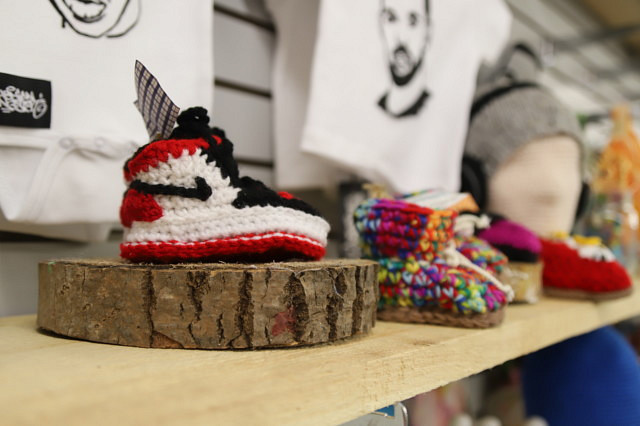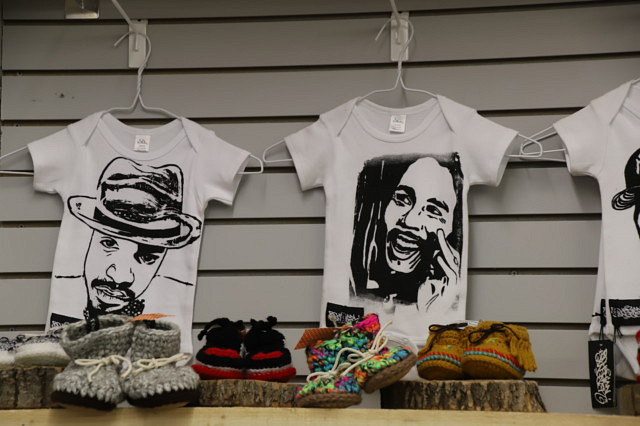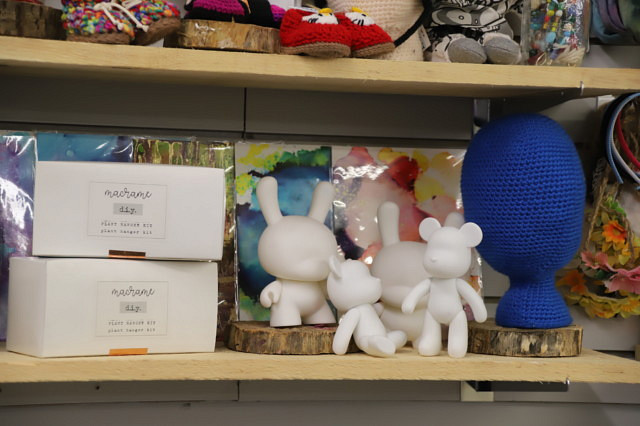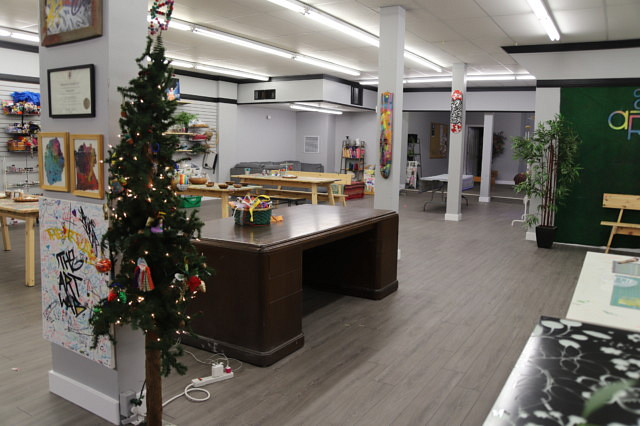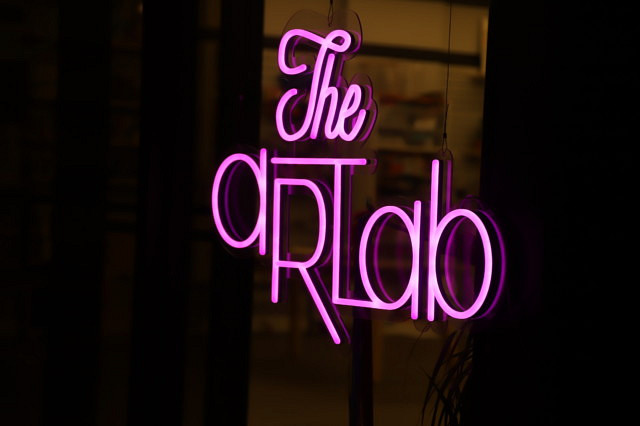 Content Continues Below Local Sponsor Message
Content Continues Below Local Sponsor Message
Content Continues Below Local Sponsor Message