2023 Scholars Honoured At The ATHENA Scholarship Luncheon
Saturday November 11th, 2023, 8:00am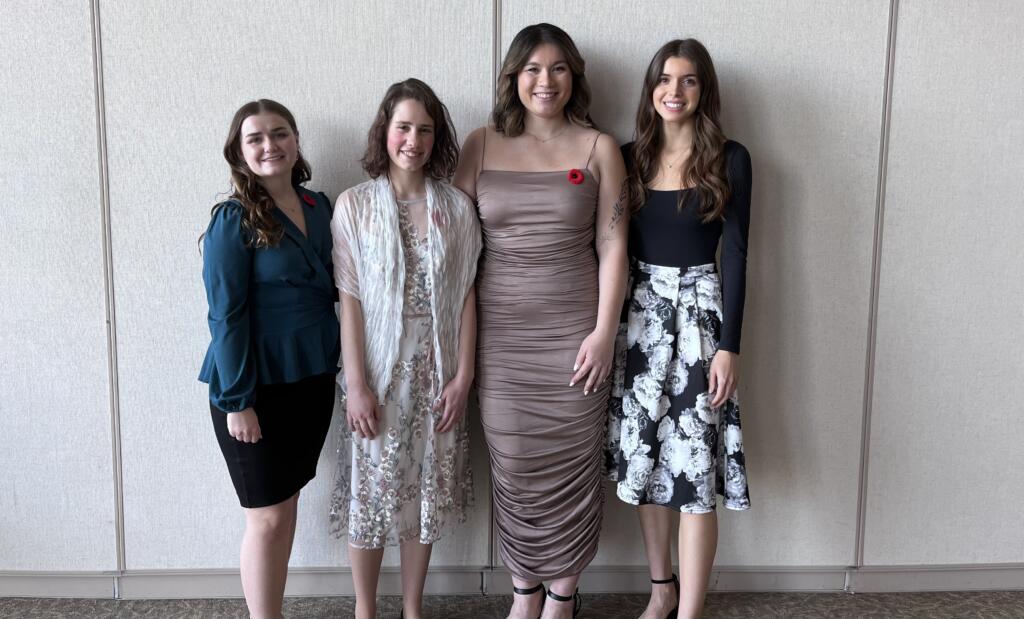 The ATHENA Scholarship Fund (Windsor) and the Windsor-Essex Regional Chamber of Commerce hosted the 2023 ATHENA Scholarship Luncheon on Friday.
The luncheon spotlighted four young scholars who were presented with their official ATHENA Scholarship Awards. This year's recipients are Gabrielle Gibbs, Annalise Gignac, Maegan Miklas and Hannah Wagner.
Gabrielle Gibbs, a dedicated student, excels academically while actively advocating for equality and change locally and globally. She's a final-year Juris Doctor student at the University of Windsor with a Bachelor of Arts in public policy and international business. Gabby volunteers with Probono Students Canada and helps refugee claimants through mock hearings. She holds leadership roles as president of Women and The Law: Windsor Chapter; and University of Windsor representative for Immigration, Refugee, and Citizenship Law Moot. Her career goal is to become a criminal defence lawyer and leave a lasting impact. Her exceptional academic achievements and commitment to diversity make her an ideal recipient of the Loretta Stoyka Scholarship.
Annalise Gignac, a high-achieving fourth-year mechanical engineering student at the University of Windsor, is passionate about empowering women in leadership roles, mentoring, and community improvement. She's a stellar leader as president of the University of Windsor Engineering Society and co-president of Women in Engineering. Annalise is a dedicated volunteer, tutoring with the Windsor Essex Children's Aid Society and receiving the Ontario Youth Service Award for her contributions. Annalise's career goal is to go to medical school and then open up a practice in Windsor either as a family doctor or pediatrician. Her commitment to promoting science, technology, engineering, and mathematics (STEM) success and community service makes her an exemplary recipient of the ATHENA scholarship, honouring Dr. Linda Mckay's memory.
Maegan Miklas excels academically and is dedicated to empowering women. She holds a bachelor's degree in immunology and human biology from the University of Toronto and is currently a third-vear student at the Schulich School of Medicine and Dentistry, Western University, Windsor Campus. Maegan serves as the Windsor vice president of the student council and actively participates in the Girl Guides of Canada to empower young girls. Her leadership roles include vice president of the Windsor, Schulich Hippocratic Council; and Windsor community and charity representative for her class council. Maegan aspires to pursue a career in obstetrics and gynecology or family medicine and is committed to becoming a community leader and advocate to enhance the quality of life in her hometown. This scholarship honours the memory of Melissa Macor, daughter of Loris and Michelle Macor.
Hannah Wagner, a fourth-year student in social justice and legal studies at St Clair College, combines outstanding academics with a strong commitment to community impact. She has held leadership roles as president of the Social Justice Club, ambassador for her program, and student class representative. Hannah has a history of volunteering and mentoring, including leadership at Parkwood Gospel Church youth group and involvement with Heritage Park Alliance Group's Young Adult Street Church. She aspires to pursue a career in the federal government after graduating in 2024, aiming to apply her leadership skills to enhance inclusiveness and community quality of life.
Selection criteria for this scholarship program include community involvement, potential for leadership, academic excellence and inspiring women to reach their full potential. The scholarships are valued at $5,000 each.
Content Continues Below Local Sponsor Message
Content Continues Below Local Sponsor Message
Content Continues Below Local Sponsor Message