UWindsor To Graduate More Than 5,200 This Week
Monday May 29th, 2023, 6:29pm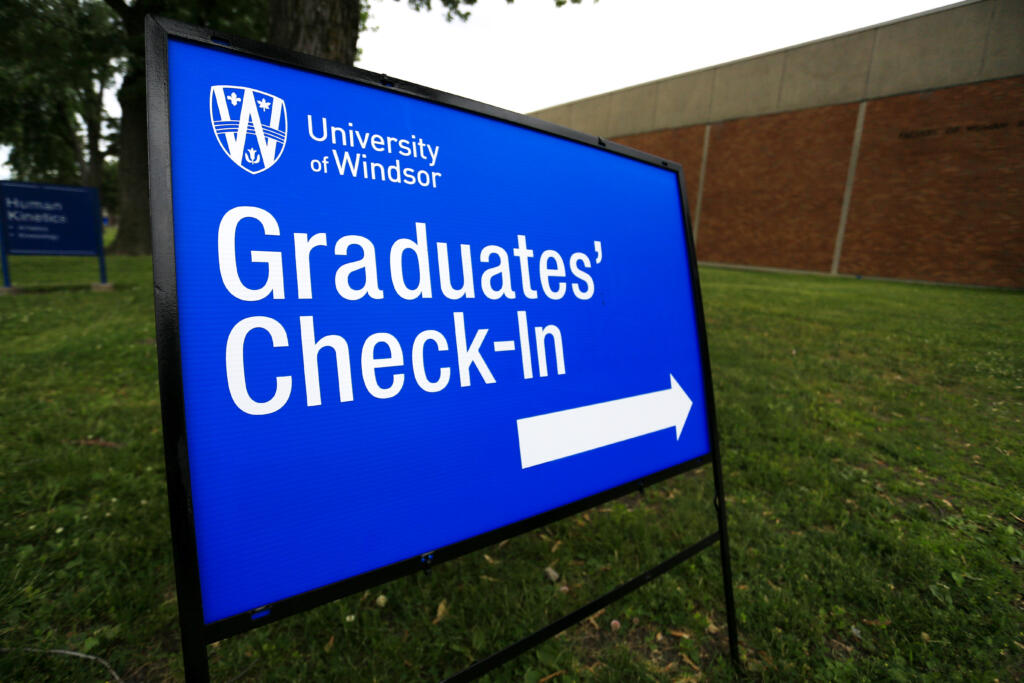 The University of Windsor will confer degrees on 5,234 graduating students during 11 sessions of the University's 119th Convocation ceremonies this week.
The University will also award honorary degrees to four individuals who have made outstanding contributions in the areas of athletics and advocacy, law and politics, education and Indigeneity, and youth empowerment and mobilization.
Receiving honorary degrees are Danielle Campo McLeod, Joseph Comartin, Cheryl Perera, and Myrna Kicknosway.
Danielle Campo McLeod (BSW 2013) OOnt, PLY, RSW, CYW is the Mental Health Lead for the Windsor-Essex Catholic District School Board. She is a social worker, coach, motivational speaker, and former Paralympic gold medallist and world record-holding swimmer.
Campo McLeod represented Canada at two Paralympic Games, winning seven medals including three gold, and setting eight world records. Today she inspires others with her story of courage in the face of seemingly insurmountable odds. She is a champion of resilience, wellness, and empowerment.
She will receive a Doctor of Laws degree honoris causa.
Joseph Comartin (BA 1968, LLB 1971) is a former litigator, educator, politician, and diplomat.  He began his legal career in criminal, family, and personal injury law and was instrumental in founding the Canadian Autoworkers Legal Services Plan. He also helped establish co-operative housing and the union's child-care centre.
On entering federal politics, he represented the riding of Windsor-Tecumseh from 2000 to 2015, also serving in such leadership positions as Opposition House Leader and Deputy Speaker of the House of Commons. Highly regarded by fellow MPs from all parties, he was thrice recognized as Canada's most knowledgeable parliamentarian.
Upon leaving elected office, Comartin took up an appointment as a distinguished political scientist in residence at the University of Windsor, where he taught ethics and reform in Canadian Parliament and a constitutional law course from 2016 to 2018.  From 2018 to 2022, he served as the Consul General of Canada in Detroit, representing Canada in Indiana, Kentucky, Michigan, and Ohio.
Comartin will receive a Doctor of Laws degree honoris causa.
Cheryl Perera is the founder and president of OneChild, the first organization in the world to empower children and youth to combat the sexual exploitation of children through prevention education, advocacy, and mobilization, survivor care, and survivor empowerment.
At the age of 16, Perera learned in high school about the sexual exploitation of children and was filled with anger and passion to eradicate this crime. At 17, she embarked on a solo, fact-finding mission to Sri Lanka where she visited the streets, slums, and brothels to meet with child victims, non-governmental agency workers, and law enforcement to learn how she could help. She partnered with the National Child Protection Authority and acted as a decoy — a 15-year-old victim of the sex trade — in a high-risk sting operation that resulted in the successful apprehension of a child sex perpetrator.
Today, her career spans 23 countries, where she has interviewed children in red-light districts and brothels; joined law enforcement surveillance missions; pioneered Canada's first prevention education program directed at schools; and has provided shelter and long-term comprehensive care to hundreds of child victims in Asia.
Perera will receive a Doctor of Laws degree honoris causa.
Myrna Kicknosway is elder-in-residence at Windsor Law. Her Anishinaabe Nozwin is Ishkode Makazin Kwe — Fire Moccasin Woman — and she is a Bodawatomi/Odawa Anishinaabe Kwe of the Loon Clan, residing at Walpole Island First Nation.
Her background and skills have led her to work professionally and voluntarily in the fields of education, counselling, economic and employment planning, federal corrections, environmental activism, and community development.
In her role as Elder-in-Residence, Kicknosway acts as a surrogate grandmother and is available to counsel students, faculty, and staff for mental, spiritual, emotional, and physical health needs from a holistic Indigenous perspective. She shares her expertise in Indigenous culture and traditions with younger generations.
Her life journey has led Kicknosway towards recognition of the interconnectedness of all humans, the significance of culture, language, traditions, and all those elements that help sustain life here, this place we call home.
In addition to her position at Windsor Law, Kicknosway is a visiting elder at Western University and Midewiwin of the Three Fires Midewiwin Lodge.
She will receive a Doctor of Laws degree honoris causa.
Content Continues Below Local Sponsor Message
Content Continues Below Local Sponsor Message
Content Continues Below Local Sponsor Message