Free Comics Coming To Windsor Once Again
Friday May 5th, 2023, 5:54pm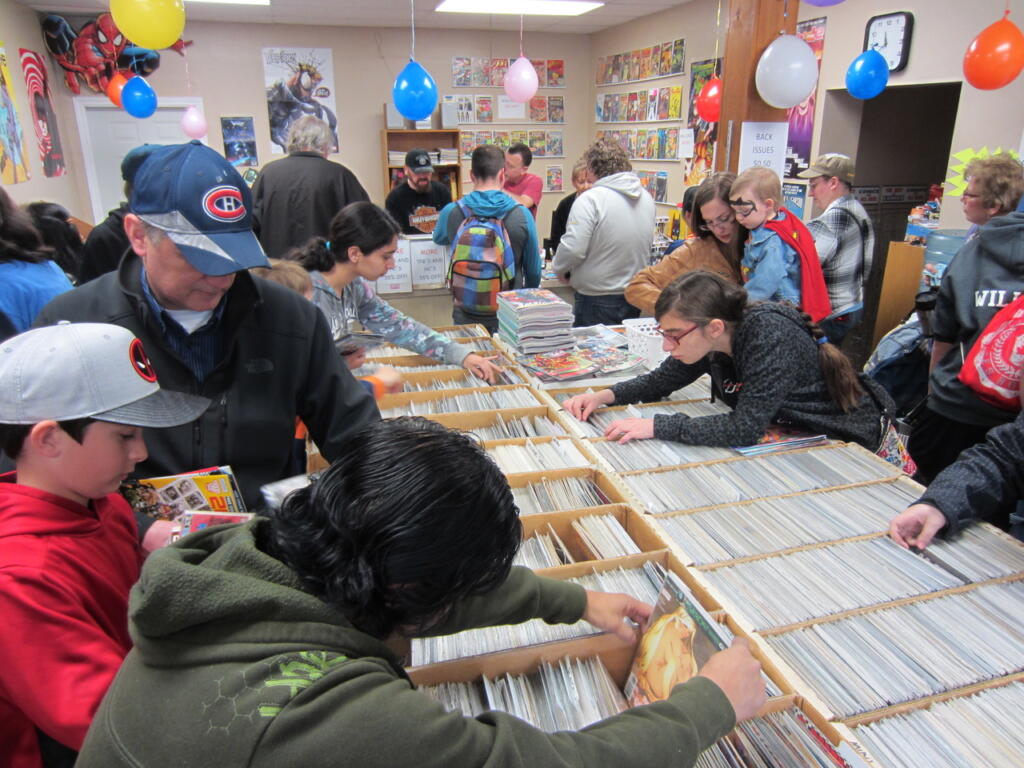 Continuing an annual tradition, a weekend of fun and discounts awaits local comic book fans.
Although the Guardians of the Galaxy are embarking on their final cinematic adventure, Free Comic Book Day (FCBD) shows no signs of stopping. Taking place since 2002, this year's May 6 event lets comic shop owners thank customers for their continued support.
Proving it isn't just a clever name, every store is offering free titles from major publishers.
"Marvel and DC Comics usually tend to be the biggest FCBD launches," said Border City Comics co-manager Tim Girard. "DC is releasing Dawn of DC #1, which will tie into the next phase of DC Comics that has just begun. Marvel's two biggest releases are Avengers/X-Men #1 and Spider-man/Venom #1. All of these books are a great introduction to Marvel and DC comics and are great jumping on points."
In honour of the event, major sales will also take place across the city. Showing it's no exception, Border City (located at 4449 Tecumseh Road East) has several deals on Saturday. Open from 10 a.m. to 5 p.m. with complimentary refreshments, the store will have a limit of five free comics (no duplicates allowed,) $2 box back issues, $2 newer shelf issues, 50% off in stock trade paperbacks, 50% off all wall books and 25% off all showcase books. Comic book grab bags will also be available for $10: Each one contains 10 issues that are either variants, first issues, older comics, rare books and gift certificates. With an approximate retail value between $50 and $100 or more, it's a big value for collectors.
A charity raffle is also taking place with all proceeds going to the Windsor Essex-County Humane Society. Tickets are $2 each or three for $5: First prize includes an Artfx Venom Renewal Statue, Artfx Carnage Renewal Statue and $100 Gift Certificate, which is valued at approximately $350. Second prize is a complete set of Batman Hush issues valued at approximately $250. Third prize is a Batman Omnibus by Jeph Loeb and Tim Sale valued at $160.
As the oldest comic shop in Windsor, giving back to customers is something Gerard enjoys.
"Being in business for over 35 years has allowed us to connect with literally generations of comic book fans," he said. "We've been fortunate to have many loyal customers over so many years. To see some of them bring their children and even grandchildren into our shop has been very rewarding.  We're very proud of that."
If one store isn't enough for comic fans though, Windsor has a solution. As the newest, Paper Heroes Comic Book Lounge & Collectibles (located at 2857 Howard Avenue) has its own sale mapped out. Spanning Saturday and Sunday, FCBD Weekend will host its biggest sale this year. Beyond free comics (with a limit of three per customer,) the store will have a door crasher and $5 mystery packs.
Other fun on site attractions are also planned.
"This year we have local artist David Duke at the store on Saturday and our annual charity BBQ in support of the Fight Like Mason Foundation," said owner Scott St. Amour. "They will also be on hand selling merchandise and bringing along a couple of special guests."
Those looking to support the Fight Like Mason Foundation can enter a raffle as well. With Tickets at $2 each or three for $5, the grand prize is a Boba Fett bust, $100 Paper Heroes Gift Certificate, original piece of artwork by Phil Sawyer and graded copy of Werewolf By Night #3. All proceeds raised will go directly to their cause.
Extending the event into a weekend isn't exclusive to Paper Heroes either. Teaming up with "Cartoon Kingdom and Rogues Gallery Comics once again, the three shops are connecting with comic book and local communities alike.
Having collaborated for several years now has also built up FCBD in the area.
"In previous years FCBD was a very individual store event," said St. Amour. "It's grown from 1 day to a weekend event that allows our stores to create bigger activities and bring in other locations to participate. In previous years we did things like the comic passport, our Epic Quest last year and this year our Mission Impossible themed scavenger hunt. Not only did we do things with the local stores, we've brought in other locations that wanted to participate."
People who visit all three stores, scan the QR code at each location and fill in an online form will be entered to win one of three prize packs. A side mission prize pack draw will also take place for those who visit the comic shops, Torus Doughnuts (located at 3090 Dougall Avenue,) Cedar Creek Hobbies (located at 5580 Walker Road,) Adventure Bay Family Water Park located at 401 Pitt Street West,) Chimczuk Museum (located at 401 Riverside Drive West,) Windsor Public Library (located at 6305 Wyandotte Street East) and Art Windsor Essex (located at 401 Riverside Drive West.)
Agreeing with St. Amour, the owner of Cartoon Kingdom thinks it's a win for all involved.
"We always had a lot of crossover between the stores anyway, so our partnership gives us a chance to entice others to check out stores they may not normally visit," said Nathaniel St. Pierre. "Each store is unique in its own way with some products you won't find anywhere else. I think the collaboration helps show that it really is a community that we are all part of and allows us to really celebrate together."
Marking their 25th anniversary this year, Cartoon Kingdom has some big sales and giveaways. In addition to their free comics, the store will also have a limited quantity of the FCBD exclusive Funko POP of DC Comics' Etrigan the Demon.
Heading downtown, Rogues Gallery Comics also has plenty of free comics and savings for customers. With a sale of 25% off store wide, the shop in Windsor's core is close to several scavenger hunt venues as well.
Thanks to its location, Rogues Gallery (located at 327 Chatham Street West) is no stranger to partnering with local businesses either.
"We try to add at least one new location or business every year to expand the area we cover," said owner Shawn Cousineau. "I'd like to think when these customers are going to additional places that perhaps they're sticking around for drinks or maybe dinner as well. This year we've added a waffle truck, Local crafter and a cosplay group to our roster, so it's always great to turn an in store sale promotion into a city wide event."
As recent comic book movies have under-delivered, a question of superhero fatigue has recently arisen. Although some shops haven't noticed an impact, others are seeing signs that indicate otherwise. Despite this, store owners feel it's been a bit exaggerated.
Even so, everyone is prepared for any mainstream shifts.
"I think it is certainly something that is real to an extent," said St. Pierre. "We've seen a noticeable decrease in the interest in the product and as a result carry less of it. We're fortunate that we're able to diversify our product offering so that we're not reliant entirely on superheroes."
Unlike the past however, comic books themselves now cover a diverse set of genres as well.
"Luckily there are so many other books on the market by companies that do not focus on the superhero genre," said St. Amour. "Check out books by Boom Studios, Image Comics, Vault, Scout and AWA if you want to try out something different."
This diversity is especially relevant to the area with one FCBD title too. A veteran in the industry, local creator Jeff Lemire's Fishflies is a horror comic set in a fictionalized version of Belle River. It's not the first series he's set in the area either: His previous graphic novel Essex County was recently adapted into a TV series for CBC.
Whatever draws fans' interest, one thing is clear: FCBD is bigger than ever and storer owners couldn't be happier.
"We've been participating in FCBD since it's inception," said Gerard. "The first year we did it, hardly anyone even knew what it was about. Now everybody not only knows about it, but look forward to it all year. It seems to get more heavily promoted every year and really has become the biggest day of the year for fans and shops alike."
Content Continues Below Local Sponsor Message
Content Continues Below Local Sponsor Message
Content Continues Below Local Sponsor Message