Local Theatre Company Uses Comedic Tone For Iconic Production
Friday April 28th, 2023, 5:30pm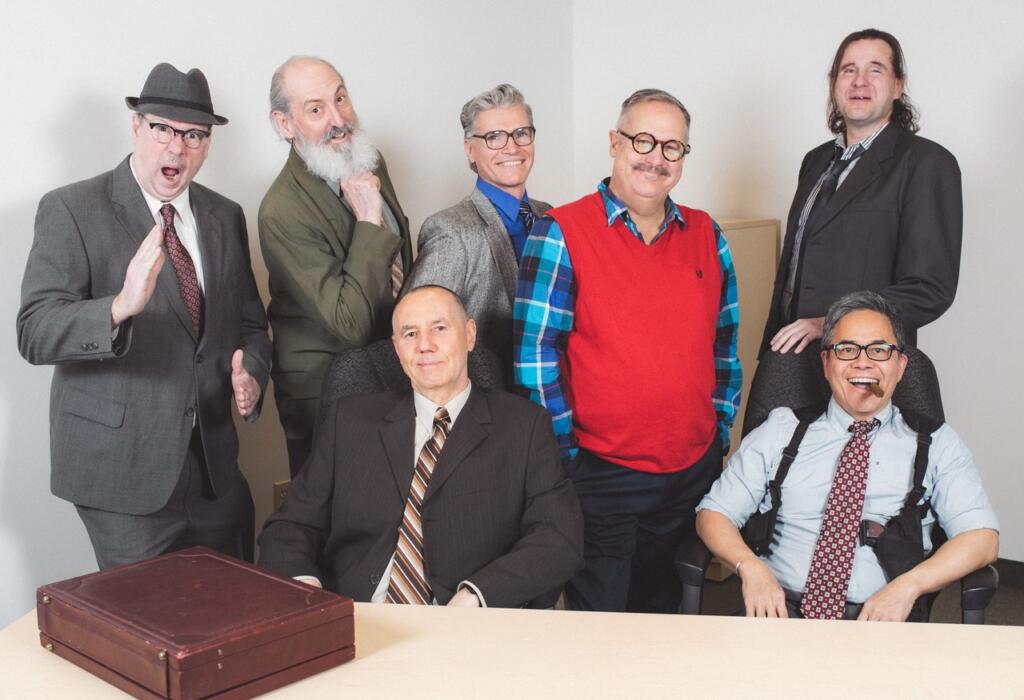 Providing a twist on a classic show, a Windsor theatre company continues to innovate.
Heading into the weekend, Post Productions is almost done their run of Glengarry Glen Ross at the Shadowbox Theatre (located at 103b – 1501 Howard Avenue.) Playing on April 28 and 29, the company has surprised many audiences so far with their fresh take and comedic slant on the material.
It's something Michael K. Potter had wanted to do for awhile under the right circumstances.
"I hadn't seen either the movie that came out in 1992 or a stage production in quite some time, but it's been on my mind for many years," said the director, who is also playing Richard Roma. "We at Post Productions had talked about producing it several times but wanted to avoid it until we had a take that felt fresh to us, in part because it's so well-known. It won the Pulitzer Prize, it's probably [David]Mamet's most produced play and the movie was a hit. So in a way we were worried that people were too familiar with the play and that it would be difficult to create a production that didn't just repeat what other people had done."
One way the company created their own take was by increasing the chaos and quickening act one's pacing. Doing so to match the second act better, they later realized the film took a similar approach.
When it came to the comedic tone, it was only a matter of remaining faithful to the story.
"It's a really funny script," said Potter. "It might be Mamet's funniest script. I've always found it odd that the movie and productions I've seen or know about take such a serious and somber approach to this story. Mamet was heavily involved with the movie and apparently even he didn't realize the script was funny. So our approach to the play didn't seem like a huge leap to be honest. Rather, it felt like a really faithful adaptation of the original script."
Joey Ouellette (Shelley "The Machine" Levene,) thinks this humour allows for more clarity.
"The comedic element right away helps to illuminate the ridiculousness of the actions of the characters," he said. "Humans are petty, they kick each other and claw at each other and don't really accomplish anything meaningful. I think other productions highlighted the greed and pettiness – it's much easier to laugh at it instead – you still see it, but if it's funny you can enjoy yourself immensely."
Set in early 80's Chicago, honour and loyalty in working class America are replaced by President Regan's brand of unregulated capitalism. Finding themselves in complete desperation, agents at a real estate company are put into a sales contest by management. While two winners keep their jobs (and possibly get a Cadillac,) losers are fired instead. This sets off two days of thievery, sabotage and manipulation. Working at a frenzied pace, it also introduces several memorable character moments and twists.
It was fertile ground for the cast and gave them lots to dig into.
"This play is like a well-organized traffic jam," said Chris Lanspeary, who plays James Lingk. "Each car is heading in different directions and desperate to reach their destination, but they can never get around each other. It's both fun and challenging."
Before sorting out their angle for the show, Post presented two of Mamet's other works: In 2017, Oleanna was the company's first production. American Buffalo was then a part of their 2019 season before the current play was originally scheduled for 2021. Thanks to Covid-19 however, it was pushed back until now.
Being postponed and rescheduled at least five times, the play lost 15 actors throughout the rehearsal process. Precasting all roles before applying for a license, Ouellette is the only actor left from that initial group: He was originally set to play George Aaronow before switching to Levene.
Unsurprisingly, such turnover created challenges. Due to the script being specific about ages, roles had to be targeted accordingly: A big theme of the play is how different stages of life can influence where you find yourself. Post also wanted actors they'd either had limited time with or hadn't brought in before. Wanting to shake things up, everyone was interested in seeing how new combinations would play into the production.
As actors dropped out however, an odd quirk about the area created another issue.
"Unfortunately in Windsor-Essex, for every 50 talented female actors there's one talented male actor," said Potter. "The pool of great male actors is pretty shallow. So right away we had a short list of who we would approach to play each character. Leven and Roma were already cast because we'd actually decided to go ahead with the play in 2020 due to the availability of two specific actors."
Still, having to shuffle things around ended up working out in the show's favour.
"Ultimately, our production ended up including people who had been part of our previous Mamet productions, which I think turned out to be useful in the end," said the director. "[Ouellette] and Mark Lefebvre, (Aaronow), were both in American Buffalo. I was in Oleanna and of course Fay Lynn, who was in Oleanna, fills a baker's dozen backstage roles for this production."
Doing their first read through, two actors were initially on vacation. As rehearsals started in earnest though, everyone else came in with their characterizations well thought out from the start. It's the kind of quality Potter doesn't usually see until a month before opening night. With that foundation, actors were encouraged to take ownership of their roles. This included thinking of their lives, relationships, perceptions and how they were viewed by others.
Going through the process, it also became a learning experience for the cast .
"The role of Detective Baylen was perfect for my neophyte level of dramatic acting experience," said Alex Alejandria. "I just imagined a caricature of a gruff, "suffers-no-fools" cop and added wayfarers and a cigar. I also decided to play him short and stocky for effect. Seriously, it has been a learning experience watching these guys through the creative process of putting on this show. I think their individual effort inspired and elevated each other's performances, culminating in what is truly a gem of a production."
Beyond inflections, reactions and tone, no characters changed dramatically before opening night.
"This is one of, if not the most experienced casts I've ever worked with," said Potter. "Pretty much everyone involved is a theatre veteran who knows what they're doing, their strengths, what kinds of questions to ask, how to make their character authentic and engaging in each moment of the story. I say this without complaint or insincerity: I barely had to do anything as a director."
Rehearsal issues came from a logistical standpoint instead. With other productions taking place at the Shadowbox Theatre, resourcefulness was needed to keep things moving. This meant rehearsing on the floor and using chairs to symbolize items.
Following this, renovations began on the venue and left the space off limits. Thankfully, the Downtown Windsor Business Improvement Accelerator offered some space to continue. It also let the company plan prop work and visualize furniture they'd need on set.
After dealing with these inconveniences, another issue soon arose upon returning to the theatre.
"Once we finally got back into The Shadowbox Theatre and were able to use the stage, I broke one of my prosthetic legs, ended up injured and fighting off a major infection," said Potter. "It left me unable to stand unsupported for more than a couple of seconds. As a result, I ended up spending two-weeks sitting in a chair in front of the stage reciting my lines. [Lynn] acted as 'proxy Roma' on stage so the other cast members could work on their blocking. I'd expected to have more time onstage to get used to where all the set pieces were, where and how to move, and all that – which is important because I'm blind and can't actually see the set or the other actors."
Filling the role despite wanting to retire from acting, the cast supported him any way they could.
"I'm amazed at [Potter's] courage in tackling the challenge of performing," said Lefebvre. "The entire cast have adapted our movement and vocals to help him stay oriented onstage."
It's this same collaboration that created the play audiences are now seeing. Allowing for fully fleshed out characters and counterpoints, the comedy provides breaks from darker moments. On the other side, sharing funny scenes elevates opposite emotions too.
It requires the ability to pull many elements of the production together.
"An intimate stage play affords the director and actors the opportunity to explore subtle nuances in both looks and gestures," said Lanspeary. "It makes the characters more flesh and blood than in a larger theatre. Comic moments can emerge organically from moment to moment."
After a long development process, several performances have now taken place. Receiving positive feedback, audiences that saw outside productions said it felt like a new play. For those unfamiliar with the show, many said they didn't realize it was so funny based on its reputation. — nobody expected the final twist either.
Having gone through so much to get here, Potter is proud of his cast and crew.
"I can't really imagine anyone else playing these roles anymore," said the director. "These gentlemen are doing better work than the more famous actors who played the roles in the movie. I think our production of Glengarry Glen Ross is better than any that I've actually seen in large part because we ended up with a team of cast and crew that are not only individually great at what they do, but also intelligent, compassionate, collaborative and not restricted by vices like egocentricity."
Presented in association with Waawiiyaatanong Feminist Theatre, remaining shows will take place at the Shadowbox Theatre on Friday April 28 and Saturday, April 29. Doors for both performances open at 7:30 p.m. with an 8:00 start time. Tickets are $25 each and can be purchased online or in person (if seats are still available.)
Although it's simple to follow, Post hopes people take something away from the complex story.
"It's a brilliantly written play," said Alejandria. "Other than the setting and the premise, the audience needs little else to watch the spectacle unfold. People will laugh and be shocked by the profanity and blatant racism. They will also be awed by the mastery of the craft in telling the story and they will forgive themselves for laughing then talk or think about the experience afterwards."
Content Continues Below Local Sponsor Message
Content Continues Below Local Sponsor Message
Content Continues Below Local Sponsor Message