Nothing Ordinary About Final Days Of Local Musical
Wednesday March 8th, 2023, 12:07pm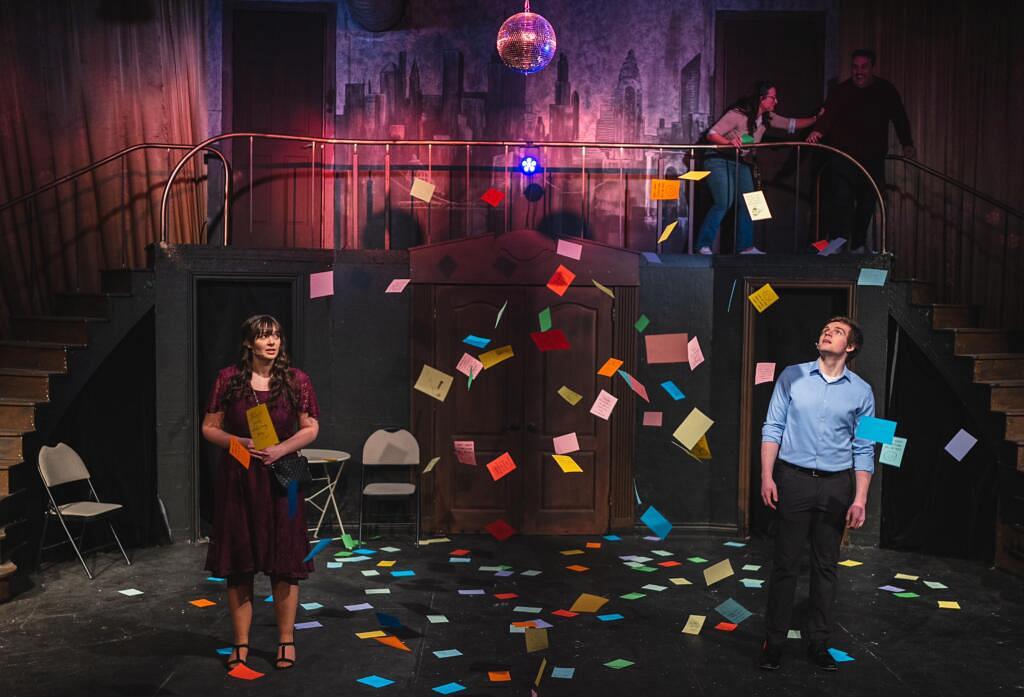 Celebrating 20 years of performances, a local theatre company is connecting through music again.
Having opened at the Kordazone Theatre (located at 2520 Seminole Street) on March 3rd, Ordinary Days marks Korda Artistic Productions' first big event of the year. Hosting concerts, Korda convos (their version of Ted Talks) and a coffee house previously, it's all leading to a big production of The Best Man in April.
In the meantime, the original musical was brought to its director's attention by the cast.
"I was approached to direct Ordinary Days by three wonderful singers/actors: Amber Thibert, Hope Forman and Calum McMillan," said Tracy Atin. "I was unaware of the show until they brought it to my attention. [Thibert] has wanted to do it since she had first heard it. Once I listened to it, I realised it was a perfect fit for our smorgasbord."
Taking place in New York, the play follows four young adults as their lives cross paths. Looking for love, fulfillment and happiness, the production uses music to showcase how their interactions come together in unexpected ways. With humour and poignancy, relatable experiences drive a story about making connections and finding simplicity in a city of 8.3 million people.
It's a concept that relies heavily on music strong enough to carry it.
"Although it is basically a song cycle, the characters and their circumstances are relatable and beautifully communicated," said Atin. "The lyrics are clever and heartfelt; the music is fun, poignant, and worthwhile. There was no way I was going to turn down an opportunity to work with such talented performers, especially when we added Ben Doncom to the quartet."
With music and lyrics by Adam Gwon, self-expression comes to the forefront. starring Thibert, Forman, McMillan and Doncom, actors convey their thoughts through several artforms. This includes character traits, and references to Virginia Woolf and the Metropolitan Museum of Art.
Using such groundwork, the location also becomes the production's fifth character.
"New York is a microcosm of the world," said the director. "Millions of individual lives like daubs of paint in a pointillistic painting. Each speck is a whole and complete life but also part of a bigger picture. New York is an artist's playground, a place where people come to find their destiny. It is both complex and romantic. The stories of the four characters, their connection to the big picture and to each other finds its perfect setting in the Big Apple."
Debuting in Australia in 2012, the musical has been staged in several locations throughout the world. This includes Paris, London, Buenos Aries, Dublin, Lisbon, Portugal, off-Broadway in New York and closer to home in Hamilton. Originally performed acoustically with accompanying piano, it also received new orchestration when debuting in New York.
Audiences can experience Ordinary Days themselves on March 10, 11 and 12. Friday and Saturday shows start at 8:00pm, while the final performance takes place at 2:00pm  on Sunday. Tickets are $25 each and can be purchased online.
Despite taking place in a foreign environment, those involved still think it's universally relevant too.
"In the context of the Covid pandemic, I think we are all acutely aware of our need to find where we fit in the big picture and our need for other people to connect with," said Atin. "Although the metaphor used in the show is the Big Picture… the idea of individual sounds creating a musical piece works too, I think. We're notes in the big symphony."
Content Continues Below Local Sponsor Message
Content Continues Below Local Sponsor Message
Content Continues Below Local Sponsor Message