New Online Clock At Erie Shores Healthcare Displays Wait Time For Low-Acuity Patients
Wednesday March 29th, 2023, 6:21pm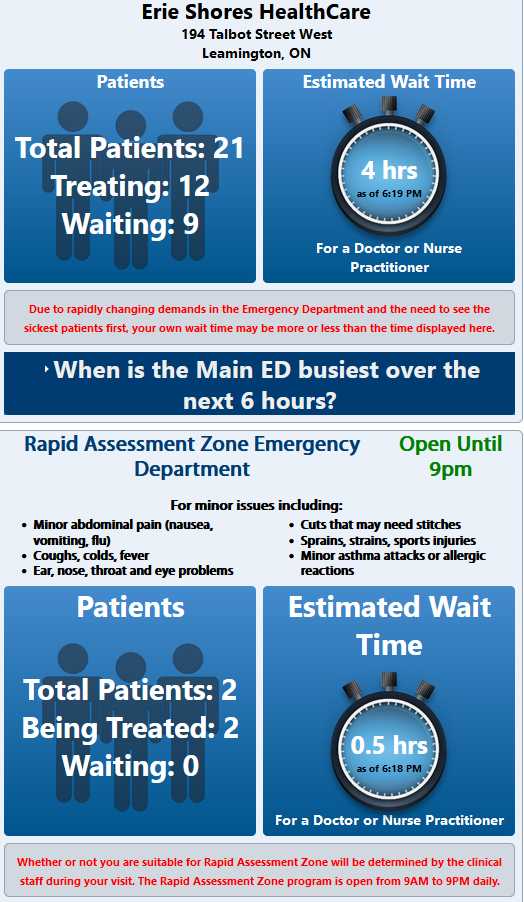 Erie Shores HealthCare has introduced a second emergency department wait time clock to help patients make informed decisions about their healthcare needs.
The new clock will display the expected wait time for the Rapid Assessment Zone within the Emergency Department.  The RAZ provides medical care for minor ailments and injuries, including minor abdominal pain, coughs, colds, fever, ear, nose, and throat and eye problems, cuts that may need stitches, sprains, strains, sports injuries, minor asthma attacks, or allergic reactions.
The new wait time clock will display the number of patients currently waiting for treatment, allowing patients to make informed decisions about when to seek medical care.
"Our priority is to provide our patients with the highest level of healthcare. We are confident that the new Wait Time Clock will improve the patient experience by providing them with real-time information about the expected wait time for medical attention," said Holly Kettle, Emergency Department Operations Manager at Erie Shores HealthCare.
Erie Shores is one of only three hospitals in the province to make wait times for low-acuity patients available online. To view the clock, visit their website here.
Content Continues Below Local Sponsor Message
Content Continues Below Local Sponsor Message
Content Continues Below Local Sponsor Message