Othered Group Takes A Stand In Authentic Comedy From Local Theatre Company
Friday December 2nd, 2022, 1:24pm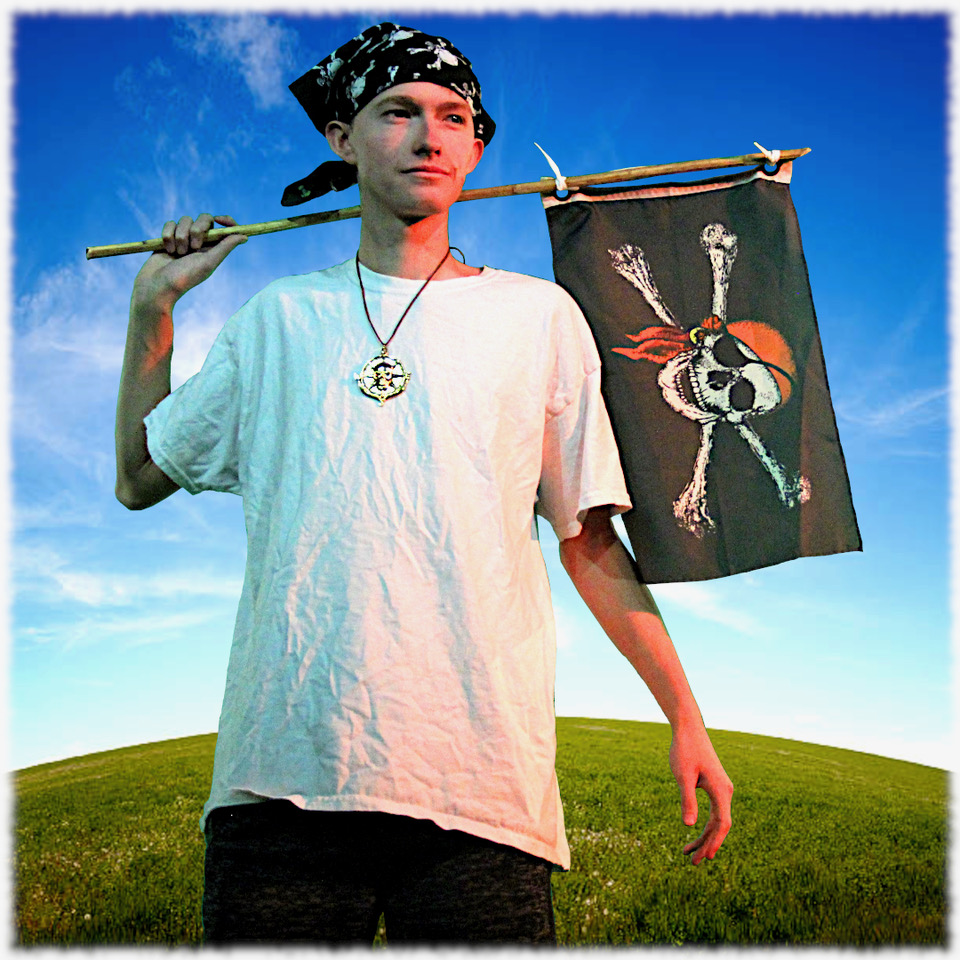 As the holidays approach, a local theatre is showing how vital and resilient a community can be.
Finishing their 2022 season with the second Windsor-Essex Playwriting contest co-winner, Post Productions is near the end of an important run. Performing Pirate Attack on the 1C Bus Going Downtown by Joey Ouellette, the company is shedding a light on a "othered" group and providing laughs in the process.
Playing at the Shadowbox Theatre (located at 103B – 1501 Howard Avenue) the show revolves around disabled characters, perceptions of normality and rights. Ensuring authenticity was also important however.
Even so, the production remains rooted in comedy for some important reasons.
"I've always been fascinated with civil disobedience," said Ouellette. "The play was inspired by protests by disabled people against inaccessible public transit. There are actually too many protests to list them all …a comedic approach is preferable because theatre is about making the audience feel. Folks quickly tune out of a lecture. What feeling is there in a report of information? The show is meant to be fun and interesting. I didn't set out to write a serious story about the disabled, I've written hundreds of plays about all sorts of people facing all kinds of challenges. This time I chose to write about some people who happened to be disabled and their lives."
Dealing with their own struggles already, a small group finds out the community centre they frequent is being shut down. Not waiting to be "saved" or ignored further, all involved rally around the cause to stand up for themselves instead. As a result, Claire (Shannyn Mcrae,) Ollie (Justin Mulder,) Aggie (Chantel Pare) and Shawn (Michael K. Potter) – pledge to stop Kelly Turnbull's (Emma Truswell) plans by pressuring the city to reinstate an area bus route.
With such diverse characters, auditions for the play turned into a unique challenge. Described as the most difficult in Post's history, two rounds were scheduled before call backs and further discussions occurred. Initially, plans were in place to cast someone with autism for Ollie and someone with Tourette's Syndrome to play Claire. Despite contacting agencies, organizations and charities working with disabled people in Windsor-Essex though, the search came up empty.
Based on his own experiences as a disabled actor, Potter believes visibility is a big reason why.
"I think a lot of it has to do with the fact that disabled actors don't see disabled characters portrayed on stage very often," he said. "They almost never see a disabled actor play a character that isn't necessarily disabled. So I think many disabled actors loose confidence; they're afraid that if they audition they won't be taken seriously. In many cases they're probably right about that …in fact, after one performance of Post Productions' very first play, Mamet's Oleanna, an audience member complained about being able to see that I had a prosthetic leg and said that I should have done more to hide that from the audience because it was distracting. It's only distracting if you view the world through an ableist and prejudice lens. There's no reason that character couldn't have a prosthetic leg. There's no reason he couldn't be autistic or have Tourette's Syndrome even."
Although they weren't able to find actors with such disabilities, many involved with the production still identify as disabled, neurodivergent and/or chronically ill — collectively described as "othered" by Post Productions. It's a mix that features veterans the company has worked with before and new talent with less experience.
Still, finding the right chemistry and dedication to getting things right remained crucial.
"Each of them has impressed us during the rehearsal process with their commitment to portraying these characters realistically in their full complexity, said Potter, who is also co-directing Pirate Attack. "They've been thinking through past experiences these characters must have had and what they dream of for their own futures. Since the first rehearsal I've been elated about the project because all of the cast members seem so passionate about it: they care about the story and they care about getting all of this right."
Ensuring characters weren't defined by disability was also part of the play's foundation. Discussing this often, it was important they were fully fleshed out with unique personalities instead. Having this in mind when writing his script, Ouellette's characters were inspired by disabled, neurodivergent, and/or chronically ill people in real-life.
It's something that added an extra dimension to each performance.
"Claire, for example, was inspired by an extraordinarily interesting and funny woman with Tourette's Syndrome named Jess Thom, who posts videos about living with Tourette's on YouTube," said Potter. "We viewed and reflected on other videos by people with Tourette's Syndrome as well. It was important to us and [Mcrae] to get the natural rhythm of the tics right, not by imitating a particular individual with Tourette's Syndrome, but rather by reflecting on the commonality of individuals with Tourette's Syndrome in regards to the rhythms and presentation of their tics. Then we used that as the basis for specific choices made to bring the character to life."
Using reality to inspire characters also helped give the play its unique voice. Allowing actors to experiment with what best fits their characters, this collaborative process extended such authenticity. Based on another real person, Ollie is a non-verbal autistic young man until seeing the Pirates of the Caribbean films. Having Ouellette write all his dialogue in pirate speak, it was important for Mulder to focus on what Ollie is saying and the intent behind it. Through discussion and thought, he found extra meaning in the dialog to present a full picture of its true message.
Writing disabilities as part of each character instead of their defining trait is also what excited many to produce the play. Feeling no shame for their conditions, each personality comes off as secure without the need to fit into a mainstream ideal.
Confronting general themes of frustration is what gives the show its universal appeal instead.
"One of the reasons that all five judges in the 2021 Windsor-Essex Playwriting Contest wanted this script to win is that it presented realistic, complex, flawed characters who happened to have disabilities," said Potter. "When their disabilities are foregrounded it's always because of how others react to them or because they feel they need to identify their disabilities to create a context that allows abled people to interact with them respectfully. None of the characters are used for inspiration porn – which you'll often find in things like Tim Horton's ads and Hallmark movies."
Such realism also extended to other elements of the production. Being a blind double-amputee, the actor is kept stationary for most of the play. Despite this, set designer/creator Fay Lynn rolled around in a wheelchair with her eyes closed to make sure the stage and backstage areas were safe for him. Doorway width, clear paths and appropriate room on stage were needed to ensure the set was fully accessible however.
Although it may sound simple, such effort still required everyone's dedication.
"Pathways and hazards were important," said Ouellette. "That sounds easy, but The Shadowbox is a small stage and everything was done intentionally to make things work. The setting is just one part of it. The real core of making things work is the attitude of the performers and how they help each other."
That self-support is part of the show and in a case of life imitating art, it's extended beyond.
"When abled and disabled people labour together they find commonalities and ways to make things work," said the playwright. "It's not that some people are productive and the disabled are not. Everyone has something important to contribute to the group. It just has to be configured so that it works. I know that everyone involved in this production is now more openminded than they were before."
It's a sentiment Potter echoes and feels will only change with more representation.
"The public's understanding of what disability is and what it implies is shaped by what they experience – not just in their real lives but also in the media they consume," he said. "This is why representation is important. It's easy to be inconsiderate of the needs of disabled people when they're invisible to you. Some disabilities just are invisible because they don't have any external characteristic that others recognize, yet they can become visible when you pay attention to patterns of speech and behaviour. The fact that many structures and services in our society are inaccessible or unnecessarily challenging for many disabled, neurodivergent, and/or chronically ill people isn't recognized by most people because they're not in a position that forces them to notice these things."
Presented in association with Waawiiyaatanong Feminist Theatre, remaining performances of Pirate Attack will take place on December 1, 2 and 3. Doors for each show open at 7:30 p.m. before the production begins at 8. Tickets are $25 each with 5$ going to Abode Respite Services Inc. Entry can be purchased online or with cash in person, availability permitting.
Beyond visibility for an overlooked group, everyone involved hopes the play makes people more aware and challenges their perceptions of normality in the process.
"I hope audiences come away from [Pirate Attack] thinking about the people existing around them who may be experiencing challenges that aren't being seen," said Potter. "People who are trying to communicate but aren't being heard or who want to show others what they're capable of but aren't being given the opportunity. I can do better. We can all do better. I also hope that this play sits in people's memories as something fun they can reflect on when they're feeling down. Most of all I hope that people who see [Pirate Attack] come away with a new appreciation of and respect for the beautifully wide spectrum of human existence. There's so much more to the world than what is 'normal', and it matters."
Content Continues Below Local Sponsor Message
Content Continues Below Local Sponsor Message
Content Continues Below Local Sponsor Message