A Very Vaudeville Christmas Arrives For Local Families
Thursday December 15th, 2022, 7:31pm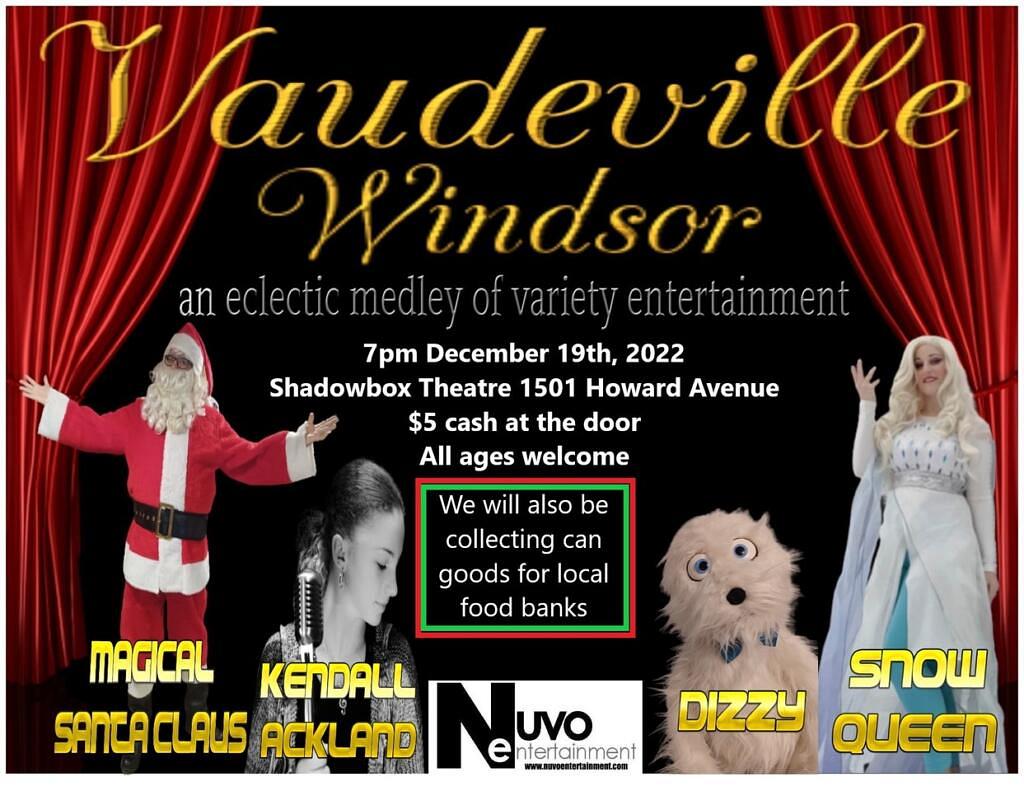 Familiar to local theatre goers, a Windsor venue is hosting some guests for a unique performance.
Vaudeville Windsor is ready for the holidays. Putting on a special show at the Shadowbox Theatre (located at 103b – 1501 Howard Avenue) on Monday November 19, the group is promising some variety for the entire family. With performers from across Windsor-Essex, it's an all ages show that people won't want to miss.
While past productions targeted those 18 and older, the format also translates well for children.
"The show is a very relaxed format," said organizer Bill Nuvo. "I host each show, so since I have multiple talents like magic, juggling, mentalism, musician, puppetry and more, you get a lot of variety just from me to begin with. With that in mind, I look through my friend's list and pick out two unique performers to each perform around 15minutes of material. The show really has no limits."
Doing his first run at the Dominion House in 2015, Nuvo began his current vaudeville shows after the pandemic. Wanting to help showcase his performing friends, he also felt the area should know about how much talent Windsor/Essex has. Building a great relationship with the Shadowbox Theatre after magic shows there in 2019, Vaudeville Windsor's first performance at the venue took place in August 2022.
For more mature audiences, the organizer has had a wide variety of guests so far.
"We've had comedians Curtis Coleman and Rob Kemeny, saxophonist Ted Hogan, comedy musician Jon Brett, Ukulele player Tim Bailey and country singer Chris Ould," said Nuvo.
When it comes to this family friendly version, there's no shortage of talent either. Appearing on December 19 will be a Santa Magic and Juggling show, Dizzy (a puppet from The Giggle Mat,) singer/dancer Kendall Ackland and Sylvia Ward playing EA Parties' Snow Queen.
It's a line-up Nuvo thinks will get everyone into the Christmas spirit.
"Well, the big jolly old elf himself will be hosting the whole show so I'm sure all will be excited to see him," he said. "You can't get much more Christmas than Santa. Dizzy is a snow monkey and lives up North, so he is already friends with Santa. He'll be chatting up a storm and slinging puns left and right. The Snow Queen is all about…well…snow so that goes hand in hand with Christmas time here in Canada. She will meet guests as they enter, tell a story and entertain on stage as well. [Ackland] will be singing some carols that are joyful and triumphant. I am sure the audience may join her as well."
Highlighting local talent remains Vaudeville Windsor's main purpose. Still, getting performers around one another has also inspired them along the way. An example was when Ould and Bailey performed a couple of songs after a quick chat. That show's unplanned collaboration is one of many created from experimenting on stage.
When looking for feedback however, it can sometimes make things a bit tricky.
"Honestly, it's been like Forrest Gump's box of chocolates," said Nuvo. "You never know what you are going to get. Sometimes the online response has been great, but then the audience was small. And we've had the opposite as well, with a small online response has been low and we had a great high energy audience. I'm still trying to figure out what that means, if anything."
As the organizer takes January off to do promotion, no performances in the Vaudeville Windsor series will take place in early 2023. This time gets reserved for Nuvo to send out his promo material to festivals, fairs and companies). Any productions being put on also get planned out around this time, including filmed content.
Monday's show starts at 7 p.m. with tickets available for $5 at the door. Vaudeville Windsor is also collecting canned goods for local food banks and asks the audience to take part by donating.
To keep track on the latest, those interested can follow Vaudeville Windsor and Nuvo through their Facebook page.
Content Continues Below Local Sponsor Message
Content Continues Below Local Sponsor Message
Content Continues Below Local Sponsor Message