Free Comic Book Day Brings Quests & Discounts To Windsor/Essex
Friday May 6th, 2022
Posted at 8:45am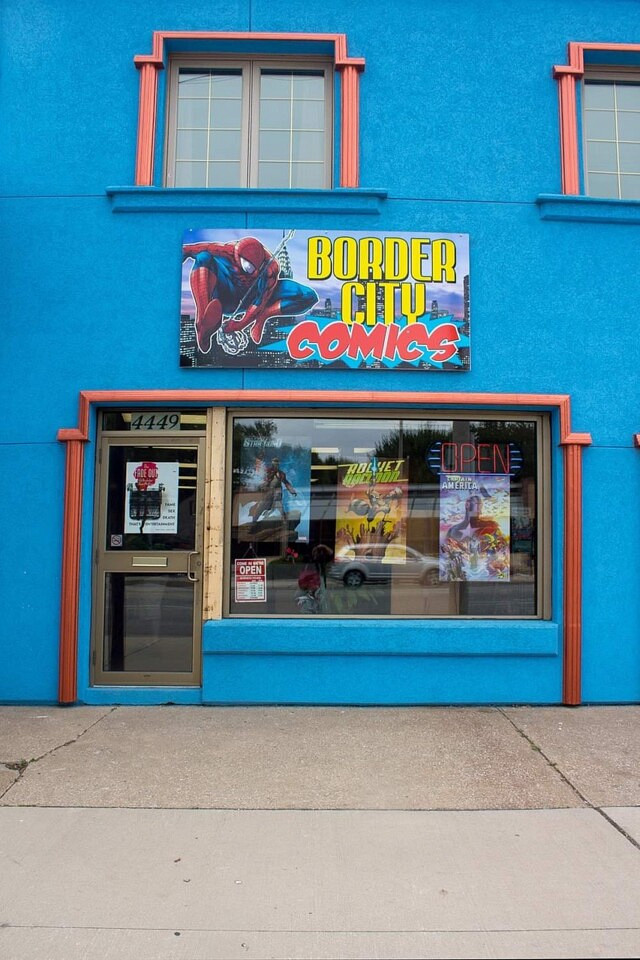 With a multiverse at the multiplex, a cornucopia of free comics is coming to local retailers.
Returning on Saturday, May 7th, Free Comic Book Day (FCBD) is being celebrated across North America. Riding on anticipation for Doctor Strange and the Multiverse of Madness, Windsor comic shops are ready with several deals.
Three specific stores are extending the tradition as well: Paper Heroes Comic Book Lounge & Collectibles, Rogues Gallery Comics and "Cartoon Kingdom are teaming up to make it a two day affair.
Done to offset Covid-19 restrictions originally, it's given them a new way to thank customers.
"Over the past couple of years, the feedback has been great about having the event over two days," said Paper Heroes owner Scott St. Amour. "Initially we started it to spread people out over the two days due to covid restrictions, but now we continue to do it to give people an opportunity to get out to all the stores and not be rushed for the one afternoon. It also allowed us to start creating contests and events that were a little bigger in scope like the passport raffle from last year and the new quest contest for 2022. People will have more time to complete them."
As mentioned, this year's joint contest is a quest taking customers across the city. With three prizes worth $200 each, there's plenty of incentive to make a few stops over the weekend. Customers who visit Cartoon Kingdom, Paper Heroes and Rogues Gallery only have to scan a QR code unique to each location and provide their information to be entered. As an example of what can be won, Paper Heroes' prize includes a Batman by Neil Adams trade paperback, hardcover copy of DC's Crisis On Infinite Earths, candy snack bag and $75 gift certificate for the store.
It's an updated idea for something that everyone's enjoyed over the past several years.
"The last few years we did our contest passport style," said Rogues Gallery owner Shawn Cousineau. "You would get it stamped at each location. This year we're going a little more digital with a QR code at each. We also thought that making it a quest was a little more nerdy than a passport."
Customers can also increase their chances for the May 9 draw by visiting side-quest locations to earn more entries. This allows people to see more of Windsor as well.
"We've done something similar the last couple of years as a way to encourage everyone to visit all participating stores," said Cartoon Kingdom owner/manager Nathaniel St. Pierre. "We were looking to change it up a bit so that it wasn't just the same thing and putting a fantasy/RPG game spin on it just worked. As for the side quests, Rogues was planning on partnering with the groups downtown like they have in the past. So with the quest theme we had decided on, it made sense to include them."
Becoming part of the Cartoon Kingdom family, Cedar Creek Hobbies joined while St. Amour approached another organization.
"DC is offering a super hero pets book so I reached out to Arms Bumanlag from the Windsor / Essex County Humane Society, a big comic fan as everyone knows," he said. "I pitched the idea for them to be one of our sidequest partners this year. We also have Windsor Public Library, the Art Gallery of Windsor, Artcite and The Chimczuk Museum on board.
When it comes to sales, retailers have plenty to offer. Although Border City Comics (located at 4449 Tecumseh Road East) is keeping FCBD a single day event, they're more than making up for it with many deals. Of course, being in business for over 35 years also sets them apart from the rest.
Greeting customers at 10 a.m., the first 50 will receive a reusable Border City Comics shopping tote. Staying open until 6 p.m., the store will have discounts such as buy one get one free graphic novels at the US price, 50% boxed back issues, $2 new release rack issues, 50% off all wall and showcase books. This year's free comic limit has also been raised to five-per-person.
In addition, a charity raffle will be held to benefit the Canadian Red Cross Ukraine Humanitarian Crisis Appeal, tickets are $2 each or three for $5. First prize is a  Sideshow Collectibles Spider-man statue based on art by J Scott Campbell. Second prize is a Moon Knight Omnibus and third is a Comic collection starter pack: It includes an FCBD short box, 100 bags, 100 backing boards, 20 hard plastic dividers and a random assortment of comics).
With the store limiting how many enter at once, owners ask customers to be patient and polite to ensure everyone's safety. Having extended hours will also help people get what they want.
Downtown, Rogues Gallery (located at 327 Chatham Street West) is close to many side-quest partners and also featuring a storewide sale. Aside from new merchandise, everything is 25% off . They also have experience with large crowds and making the day a fun event for everyone.
Open from 10am to 5pm, Paper Heroes (located at 2857 Howard Avenue) will have back issues at 50% off while trade paperbacks, hardcovers and graphic novels are marked down by 30%. All merchandise, statues, action figures, toys, Funko pops, collectibles and supplies will be 25% off.
Continuing another tradition, a barbecue for the Fight Like Mason Foundation is also planned.
Helping charity as well, Cartoon Kingdom (located at 4114 Walker Road) is maintaining regular prices for a good cause. Instead of a big sale, 10% of anything sold before tax will benefit Parkinson Society Southwestern Ontario.
Of course, the day also revolves around free comic books. With several publishers taking part, some titles are already expected to stand out.
"Some of the big titles this year are  Clementine, a new young adult spinoff of the Walking Dead," said Border City Comics co-manager Tim Girard. "From Marvel there's Avengers/X-Men and Spider-Man/Venom. From DC there's Dark Crisis #0. Spiderman and Venom are perennial sellers as is anything Walking Dead, so there's a lot of anticipation for those titles.  As for the Dark Crisis #0, it marks the beginning of the next big DC event that is sure to be huge."
Although mainstays like Spider-Man and Batman continue to sell, Another blast from the past has gained some momentum in the last year. It's only one of several trends too.
"The title that has really caught steam this year is Teenage Mutant Ninja Turtles,"  said Girard. "They've really had a remarkable resurgence.  We're also seeing a growing trend towards horror and crime comics."
Border City also notices a bump in sales for titles that get the comic book movie treatment. Whether it's new issues or key stories from the past, this noticeable difference is why FCBD was created in the first place: Attempting to support comic shops, the first event was held on Spider-Man's opening weekend in 2002.
Continuing for two decades,, it's come to mean a lot more than that however.
"It's a chance to come together and celebrate this incredible art form," said St. Pierre. "It allows us to show everyone how awesome they are."