Fourteen Gift Ideas For Valentine's Day
Saturday January 29th, 2022, 10:40am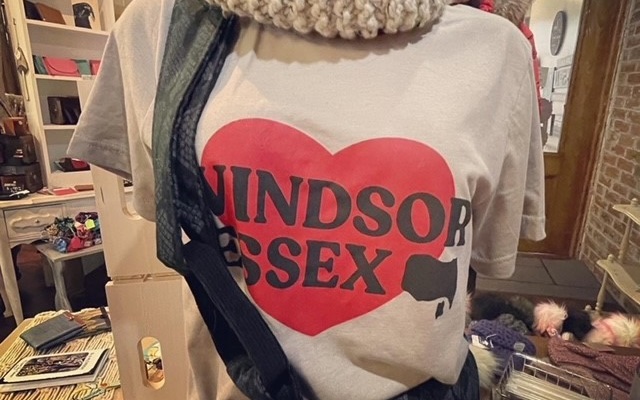 FOURTEEN Gifts to Show Your Love
Valentines is just around the corner and love is in the air!  Are you looking for that perfect gift for someone special in your life this Valentine's day? In partnership with the Urban Art Market, we've put together a small selection of items made in #YQG plus a few bonus items that are made in Windsor Essex so that no matter what kind of love you are celebrating you can easily show it with something local this year!
If you're looking for more ideas visit in store – or check out yqgmade.ca for our list of makers & artisans in Windsor Essex hand crafting unique & one-of-a-kind gifts.
If you're looking for more ways to celebrate you can check out our Valentine's Day Take Out Guide featuring foodie finds for every appetite- including beers, wine, spirits & ciders!  We've also found a list of select events if you plan to head out (socially distanced) with your loved one.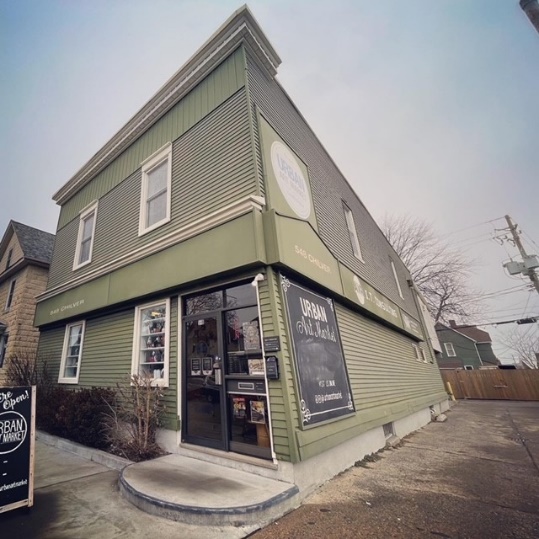 Partners featured in this blog that are available at The Urban Art Market: Lit Candle Co., Stray Sheep Co., North Shore quilting co., Crazy For Cushions, Southwest Shores, Akuku Felt, Culture Shock Jewelry, Live + Jean, River rock Pottery, Eyes To the Skies & Saxton Designs.
So whether you are looking to say I Love You to your partner, your pal, your parents or your pup we hope you'll #ShopYQG and love a little local this Valentine's Day!

Warm & Cozy
If your special someone loves to cuddle up, be cozy and relax – we have some perfect gifts for them! Check out Lit Candle Co. featuring unique blends like mint chocolate chip or merlot, all made in Windsor. Stray Sheep Co. is knitting you custom scarves, mittens, tuques and more (even booties for the little love of your life) to keep them warm all winter long! Or have them think of you every time they take a sip from their favourite tea or coffee with a mug from River Rock Pottery or Eyes To The Skies. They're hand turned mugs will become their favourite thing to wake up – other than you. Stuff them with bag of fresh roasted beans to make it an extra special gift.

Cute & Cuddly
If your special someone is crazy for comfort, give them something to cuddle into! You can check out a variety of unique creations from North Short Quilting Co. – and these owls are definitely something to give a hoot about! You can also add a splash of design to their house with a pillow from Crazy For Cushions – they will LOVE this throw pillow 100%. Or gift them a 2022 version of the classic conversation heart from Akuku Felt. They can put these hand crafted felt hearts in their pocket so they can think of your love whenever they reach in there. Akuku Felt also offers LOVEly garlands to help you decorate for Valentine's Day!

Let them Wear It
Sometimes the best gift if something that they can wear! Weather it's a wearable – or something that blings – we got three great ideas! Shop Livi + Jean Jewelry for this statement necklace – they'll definitely want to show it off at your next dinner event. Or check out the selection of pieces from Culture Shock Jewelry – handmade pieces with a nod to the artisan's indigenous heritage. You can also let them show off your love for them and for Windsor Essex with a #YQGproud shirt from Southwest Shores. The Windsor Essex "WE Love Tee" is the perfect tee for Valentine's Day!

Tasty Treats
If your significant other has a sweet tooth – we got you covered! Pre-order your dessert from Bad Witch Bakery – these cute cheesecake cupcakes will let you sample a ton of flavours on Valentine's Day. If you can't decide what to do on date night Marcuterie has everything for you – custom charcuterie boxes for every occasions. They can take you from appetizers with their traditional charcuterie box to dessert with a s'mores box, to even movie time with a box filled with candy treats! Talking about movie night – don't forget to pre-order the Valentine's Day tower from What's Poppin' Popcorn Factory with a special Valentine's Day blend, traditional bucket, and a gourmet chocolate selection.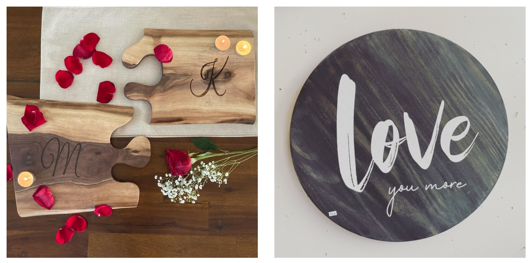 They Wood Love This
Sometimes relationships are a puzzle – and let Michael Difazio Reclaim Artistry. These custom black walnut charcuterie boards come monogrammed with each of your initials. Each board one-of-a-kind. If you want showcase love in a different way pick up a piece from Saxton Designs who creates custom vinyl wall art. Pre-order something extra special in advance, or shop in store for a wide selection of pre-designed pieces.
If you're looking for more ways to celebrate Valentine's Day with your loved one you can also check out our Valentine's Day Event Guide for more specials, gift ideas, and special dining features just for February 14th at select locations across the region.
Sponsored story by Tourism Windsor Essex. For more details on Tourism Windsor Essex click their website, or visit them on Facebook, Twitter, or Instagram.
Content Continues Below Local Sponsor Message
Content Continues Below Local Sponsor Message
Content Continues Below Local Sponsor Message